Thanks for stopping by to read my comprehensive Crowdology review. One of the commonest questions people ask when it comes to making money online is if it's possible to make money from completing surveys online.
Yes, you can earn from completing online surveys. However, there are many scams out there.
Crowdology has different surveys with different lengths and rewards. Its minimum threshold is also low but some pay rates are small.
In this Crowdology review, we will take a look at how Crowdology works, its pros and cons, and common questions that prospective users ask about Crowdology. These will help you decide if it is the right online survey site for you.
Quick Review
Here's a quick Crowdology review: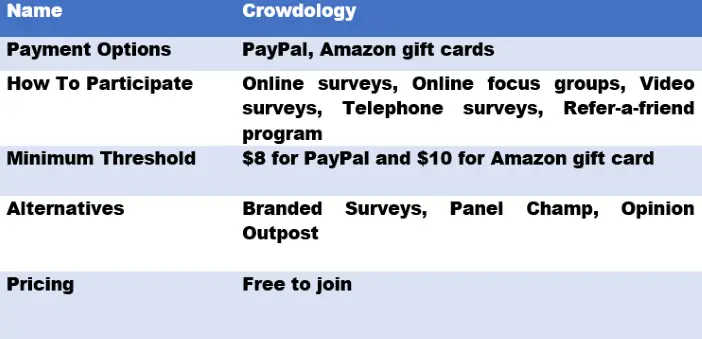 Detailed Guide
What is Crowdology?
If you are familiar with completing online surveys, then Crowdology should not be strange to you. It is a company that offers people the opportunity to make money online by completing surveys.
Just as it is with other companies in the same market, it gathers information from consumers. The company uses the information gathered for research purposes and sells the results of the research for profit.
Crowdology does not offer anything different from what other survey panels offer, but they claim to do things in a better way.
The website appears new and easy to use. It offers surveys of different lengths and rewards. Its minimum payout is low; thereby making it possible to withdraw your earnings within a short period.
How Crowdology's Sign Up Process Works
Crowdology has a simple sign-up process. Simply supply and verify your email address and you're on your way to earning from the platform.
You must be a resident of the United States or the United Kingdom and must also be at least 18 years old before joining Crowdology.
It is free to join Crowdology. After entering your email address, the site will send a confirmation email to you. Click on the link in your email to confirm that the email is yours.
Once you do this, you will be redirected to the website. At this stage, you need to complete your Crowdology profile with your details.
Completing your profile helps Crowdology to determine your demographics; this is important since the site will use it to match you with relevant surveys.
Ensure that you are honest with the answers that you provide at this stage so that you can receive a good number of surveys that you are qualified for.
How Crowdology Works
Crowdology is currently available to those in the United States and the United Kingdom. Its mode of operation is simple; simply sign up and provide answers to your profile questions.
The essence of completing your profile is to help Crowdology match you with surveys that are relevant to your demographic. However, with all the disqualification complaints flying around the internet, Crowdology needs to improve its vetting process.
The surveys range between 2 and 15 minutes and the pay is between $0.24 and $2.00. Once in a while, you will receive a long-term study (i.e. a survey that contains different questions spanning over several weeks) that pays about $10.00.
One more thing…
You will receive lots of surveys that are not relevant to your interest. So be prepared.
How To Make Money With Crowdology
You can make money with Crowdology through the two methods discussed below:
1. Completing paid surveys
Crowdology is designed for completing paid surveys. To participate in these surveys, you need to register and create an account.
Ensure you complete your profile so that Crowdology can match you to relevant surveys. You will find the surveys that you can complete in your dashboard area.
The surveys that you will complete are not long. You can easily complete them within 2 to 15 minutes. Once you complete a survey, you will be rewarded through the platform's point system.
Note that Crowdology has the right to withhold your payment if they suspect that you are not honest with the answers you supplied in your surveys. So, ensure that you provide honest answers so that you don't end up wasting your time.
You may be wondering how Crowdology detects false responses. Well, I guess they do so through answers that are not detailed enough.
When I checked Crowdology reviews on TrustPilot and other review sites, I came across lots of people complaining about their money being withheld by Crowdology. This issue of not giving honest answers must have been responsible for this.
So to avoid this, ensure your answers to the surveys are as honest and detailed as possible.
2. Sweepstakes
Crowdology holds sweepstakes frequently but there is no information about how often the sweepstakes are available. The platform has little information about how the sweepstakes work and how you can participate.
The mode of operation of sweepstakes varies with survey sites. Some platforms, such as LifePoints, automatically enter you into their sweepstakes when you don't qualify for surveys. On Crowdology, you will find the previous winners of their sweepstakes from a couple of years back.
Although they are free to participate, I wouldn't focus so much on the platform's sweepstakes.
How Much Can You Earn On Crowdology?
The amount you can earn from Crowdology or any other online survey website depends on different factors such as how active you are on the site and the number of surveys you complete.
You won't just be asked to complete any survey; you need to meet the ideal audience of the owner of the product or service before you qualify for a survey.
Users on independent review boards complain about not getting lots of surveys from Crowdology.
Crowdology states that you can earn up to $10 per survey. However, surveys that will pay you this amount are not common. Most of the surveys that you will come across on Crowdology will pay you between $0.50 and $2.50; a range that is okay for short surveys.
Long surveys (that may take you about 45 minutes to 1 hour to complete) can pay you up to $10 but they are rare.
See also: Automatic Survey Takers
How Crowdology Pays Members
A big advantage of Crowdology is that the platform does not have an elaborate point system. They make use of dollars and cents.
Payments can be made through PayPal or Amazon vouchers. Crowdology pays within 48 hours of requesting payment (although some members complain their payments are delayed).
Minimum Threshold
There is no official payout threshold on Crowdology, but the withdrawal methods (PayPal and Amazon) do. You need to earn at least $8 to withdraw via PayPal and must earn at least $10 if you wish to withdraw through an Amazon gift card.
Crowdology Alternatives
Unfortunately, most of the survey programs that are promising to make you lots of money on the internet are scams. The good news is even though many survey panels are scams, we still have some that are legit; the ones that can make you money.
Here are some of the reliable survey panels:
Pros
Crowdology has a clean, nice website. The website is well laid out and simple to navigate.
There is a good number of surveys on the platform. You will also be notified when there are surveys that you qualify for.
Some of the surveys are long and they don't pay pennies. This helps you to increase your balance faster.
The minimum threshold is low and you will be able to withdraw your earnings after completing several surveys.
Cons
Crowdology has a large profile section and you may need to spend some time filling it.
The surveys don't pay much attention to the details you supplied when setting up your account. As a result, you will need to be pre-qualified before completing surveys and you will not be compensated if you are disqualified from taking any survey.
Some of the surveys are long and boring and do not pay well.
You may have to wait for about 4 weeks if you want to withdraw your earnings through an Amazon voucher.
See also: How Do Online Surveys For Money Work?
FAQs
How much can you earn from Crowdology?
Crowdology pays a fair amount per survey. On average, Crowdology pays about $1.25 per 15-minute survey. This amounts to about $5 per hour. When compared to most of its alternatives, this pay rate is very low.
Is Crowdology legit?
Despite the issues some users have with Crowdology, there are lots of users that have received their money. So, this makes it a legit online survey site.
How do I delete my Crowdology account?
You will find a link to deactivate your account in every email you receive from Crowdology. Alternatively, you can send an email to them via support@crowdology.com.
How much are Crowdology points worth?
Crowdology does not use a points system. This helps you to know the exact amount each survey is worth. You will see the values of each of the surveys displayed in dollars.
Is Crowdology accredited by the BBB?
Before you join any online survey site, ensure you carry out a background check to know the companies behind the platforms. The first place you can check is the Better Business Bureau.
Unfortunately, we cannot find any listing for Crowdology on the BBB site. This means that Crowdology is not accredited and rated by the BBB.
I am disappointed by this since they are operating in the United States and are targeting US consumers and companies. But since their members are receiving their payments, I don't think this should be an issue.
How do I contact Crowdology customer support?
You can contact Crowdology through phone, email, or their contact form that you will find on the Crowdology site.
Is Crowdology free?
Yes, it is free to join and use Crowdology.
Can you complete Crowdology surveys with your mobile phones?
Yes. Since the Crowdology website is mobile-friendly and responsive, it is easy to complete the surveys with your mobile phone.
See also: Best Surveys for Money Apps (+ How to Choose the Ideal Survey App)
Conclusion
Crowdology Review Final Verdict: Is Crowdology Worth It?
Crowdology is legit. However, it is not the platform you need if you want to make real and sustainable money online.
In this Crowdology review, I have demonstrated that the site is legit. Members receive regular surveys that they can complete. They are also paid on time and there's a low minimum threshold.
Crowdology has a decent reputation and members can earn more than $20 per month on the platform. Thus, it is not a substitute for your full-time job but a way to make extra money in your spare time to foot your bills.
The platform is suitable for students, retirees, and stay-at-home parents that are looking for easy ways to make extra income in their spare time.
If you loved this review, you will also love our LifePoints review. Also, learn more about our regularly updated list of the best survey platforms where you can make money online.