If you've been looking for a detailed Crowdspring review to clear your doubts about Crowdspring, you're in the right place.
Crowdspring has a pool of designers that work on graphic design projects. Although they have the option of adopting the traditional style of hiring a single designer outright, they decide to allow designers to receive different options for about the same pay; thereby increasing designers' chance of getting what they are looking for.
On Crowdspring, designers can work on different types of design-related projects. In this Crowdspring review, we will consider how the platform works, its pros and cons, and other features that you need to know.
Quick Review
Here's a quick Crowdspring review: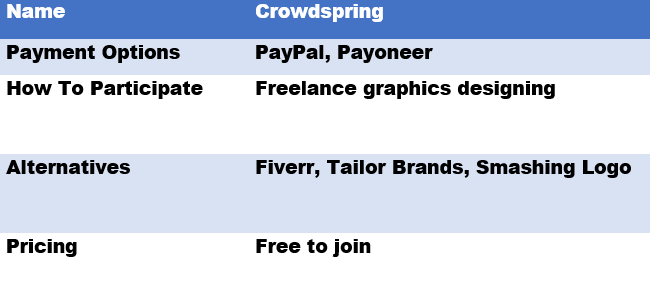 Detailed Guide
What is Crowdspring?
Crowdspring is a freelance platform that specializes in building brands. It offers a wide variety of graphic design projects, illustration, business content, and design projects.
Brands that are interested in building their businesses will find different choices for their projects on the platform. Such brands will find lots of ideas from designers on the platform and they can choose from the pool of designers on the site.
Crowdspring caters to competitive freelancers. It saves businesses lots of money since they can find deals on the platform instead of hiring a team of expensive creative organizations.
How Crowdspring Works
The next section of this Crowdspring review is to understand how the platform works.
It is free to join Crowdspring and anyone from anywhere in the world can join the platform. Simply visit the signup page and register as a 'Creative' (if you want to offer graphic design services) or as a 'Client' (if you are a business owner that needs graphic design services).
The registration process is simple; all you need to do is choose a username, provide your email address, and create a password.
Submit your information and Crowdspring will send you an email. For you to be verified as a designer on the site, you need to provide your identity documents.
Hence, ensure that the name you registered with on the website is the same as what you have on the documents.
You also need to provide your phone number to receive a verification code. The company will also ask for a photocopy of your passport, driver's license, or any photo ID card issued by the government.
You also need to send your photo taken through a webcam. All these documents and your photo must be submitted to Crowdspring.
When you are submitting the documents, you will also submit three samples of your work. Once the company verifies your identity, a verification code will be sent to your mobile phone.
Enter the code in your account. Once you do this, you will be able to search categories and pick projects that you can work on.
Pricing
Although Crowdspring is free to join for designers, the platform has different project levels with different pricing for clients.
The more clients pay for a design, the better the quality of the design they should get. However, this is usually not the case. The company takes a whole 40% commission from each transaction.
Irrespective of the type of project (whether a contest or 1-on-1), they charge a 40% commission.
This is like a broad daylight robbery. Those that are at the receiving end are the designers that end up spending lots of hours pitching on contests without the assurance of getting paid; whereas the platform benefits from every transaction.
So as a designer, you need to consider if deducting 40% from your pay is worth the hours you invest while clients also need to think if paying 40% more for the site's fees is worth the risk to have a series of random designers that stumble on your project.
Crowdspring Benefits
The cost-effectiveness of the platform is the main benefit of Crowdspring. It also offers many project ideas and creates the opportunity to work with private creatives (i.e. designers). Here are more details and other benefits that Crowdspring offers:
1. Cost-effective
Crowdspring gives businesses that they will only pay within their budget since the price is included in the poster of a project. This prevents going over the budget and also allows them to receive ideas and outcomes that are up to their standards.
2. Huge selection of design ideas
When a client posts a project, the client will receive many ideas from the designers on the platform.
They have the option of working with groups of designers and offering feedback. They can also ask for revisions and determine the period they want the project to be delivered. This helps the clients to streamline their choices and hire the best designer with ideas that match their requirements.
3. Private collaboration
Although Crowdspring is a crowdsourcing platform, businesses also have the option of posting projects in private so that they can work privately with the designer of their choice.
This happens within the system, which implies that they can use the project management tools. They will also have access to the site's customer service.
4. Project quality
After choosing the best designer, clients can then proceed to work with the chosen designer. They can customize the designer's ideas by providing more instructions. The client can also provide feedback that will ensure that the best quality is provided.
5. Money-back guarantee
When a client posts a project, the amount the client is willing to pay will be deducted from their accounts.
If the client does not receive enough entries or if the final design is not up to the client's expectation, Crowdspring will refund the client in full.
Types of Projects Offered On Crowdspring
There are many types of projects that people can do on Crowdspring. The projects are in the following categories:
Business cards
Logos
Logos and Business Card
Logo plus Social Media Assets
Letterhead and Stationery
Work 1-on-1
Company and Product Name
Tagline
Product Design
Packaging Design
Package Graphics
Design Consultation
Banner Ads
Blog Themes
Icon, Button, and Widgets
Email Template Design
Landing Page Design
Mobile App design
Social Media Assets
Website Design
Create a Brochure or Menus
Vehicle Wrap
Infographics
Presentation
Outdoor & Signage
Postcards or Flyers
Posters
Illustration
Tattoo design
Wall or Mural Art
Creating Merchandise
T-Shirt design
Clothing design
Book Cover Design
Magazine Cover Design
How Crowdspring Pays Designers
When you are awarded a contract and the client is satisfied with the final project, it will take about 14 days for your payment to reflect in your account.
The client needs to make the final approval before you can withdraw the funds from the platform. Crowdspring usually processes the payments on Monday, Wednesday, and Friday of each week.
However, if any of the processing days falls on a legal holiday in the US, the processing will be postponed to the next time the company processes payment.
If the payment is your first payment or if the account is new, Crowdspring will hold the payment for 30 days.
You can be paid through PayPal or Payoneer. Your payment will reflect in your PayPal or Payoneer account within hours (depending on the payment processor you're using) after Crowdspring sends it.
Crowdspring Alternatives
Pros
1. Access to many designs
Crowdspring advertises many designs for each of the projects posted (clients can have access to as many as 90 designs).
Depending on how exclusive your project is, this number goes down to about 24. These designs are finished projects (nor just proposals). This means clients can expect to receive different ideas from the submissions.
The platform also trims down the applicants based on their experience and ratings. Crowdspring will only allow designers that meet certain criteria to bid on the most expensive projects. This means that they are incentivized to come up with many designs and work on different projects. This is the heart of Crowdspring's operations.
2. Access to additional input on designs
Most freelancing sites hinder clients from giving as much feedback as they want on projects delivered by freelancers. This may be helpful because it protects both parties.
However, if you are faced with the task of deciding between lots of top-notch projects, it will not be convenient if the design cannot be shown to other people.
Crowdspring has different ways to tackle this challenge. One such approach is to conduct polls and create presentations that other people can have access to remotely.
Most of the presentations are locked by password (it is still advisable to take down the presentations when you are done in case the password leaks).
The ability to share designs with different people and get feedback from them is important in choosing a graphic. This is usually the case because your audience may not want the design you like. Having a design that appeals to your audience is important in your marketing efforts.
3. Opportunity to collaborate with teams
This is not available for all projects; it is usually found at higher levels. At these levels, Crowdspring allows members to invite others to manage their projects.
This form of collaboration is an important theme of the website that clients and designers can take advantage of.
Cons
Although Crowdspring is a great source for getting top-quality designs, it has some flaws, but here's a major drawback:
Clients may that the designs were rushed
Crowdspring pays designers well, but that is if they win a bid. This compels designers to submit different designs to several projects. Since they are not sure of getting paid, they will not be able to scale their business.
For clients (i.e. business owners posting projects on Crowdspring), the designer may spend less time working on your project than they would if they were hired via an exclusive and less-crowdsourced avenue.
When you combine this with the high fees charged by the platform, you will come across projects of low quality despite paying more.
I'm not saying all the designs you will see will be bad. I'm simply saying that good design and excellent design are different.
The other drawbacks of Crowdspring include:
Each design is a competition and the client will have to view all the jobs submitted. If your design wasn't selected, you will not be paid for your time and effort.
Since some clients only choose to work with a few designers, this makes it hard to be selected.
Many designers spend hours working on projects and do not receive any compensation.
FAQs
1. What types of projects can I post on Crowdspring?
As stated earlier in this Crowdspring review, the platform offers lots of different categories that you can post your logo, web, graphic, industrial design, and naming projects.
Visit the website to check out examples of the different types of projects you can post on the site.
2. What is Crowdspring and how does it work?
Crowdspring prides itself as the world's leading crowdsourcing platform for logo design, graphic design, web design, industrial design, and writing services.
Small businesses and entrepreneurs use this platform by posting their requests when they need the projects, and the amount they are willing to pay.
After posting their requests, tons of creatives from different countries around the world will submit different concepts for the client to review until they choose the one that suits their requirements.
As a client, you can easily get started with Crowdspring; simply post your project, wait for designers to submit ideas, and choose the designer you will like to work with. You are free to name your price, set the requirements and the schedule.
Conclusion
Crowdspring Review Final Verdict: Is Crowdspring A Legitimate Site For Graphic Designers?
Thank you for taking out the time to read this Crowdspring review to this stage.
So, is Crowdspring a legitimate site for graphic designers?
Yes, it is. Despite the issues some designers have with the platform, Crowdspring is legit because they pay designers for designs that have been approved by the clients. The platform processes payments thrice every week and they pay promptly.
However, the platform is very competitive and it is not easy to win every contest. The client that created the contest will select the design that meets their requirements.
It is, therefore, not easy to enter contests and earn money. Some clients prefer working with designers that are well established with a high reputation and rating. This makes it challenging for newcomers on the platform to get jobs.
As revealed in this Crowdspring review, you could be submitting designs on Crowdspring for a month and never earn a penny.
If this approach is not encouraging, you can also check out:
If you are interested in learning more about how you can make money online without any skill, check out our InboxDollars review or learn more about the best paid survey panels that pay their members for completing simple tasks online.