Do you want to save up to 40% on hotel stays and daily purchases? This Dosh review will show you how you can get cashback on your purchases without coupons or scanning receipts.
We all love cashback. Who won't love earning cashback on stuff they buy? It's like free money.
However, if you're like most people, you may not have time to save your receipts and keep track of all the rebates and tons of cashback opportunities. This is where Dosh comes in.
In this Dosh review, I will shed light on what Dosh is and what it has to offer so that you can decide if it is the ideal cashback app for you.
Quick Review
Here's a quick Dosh review: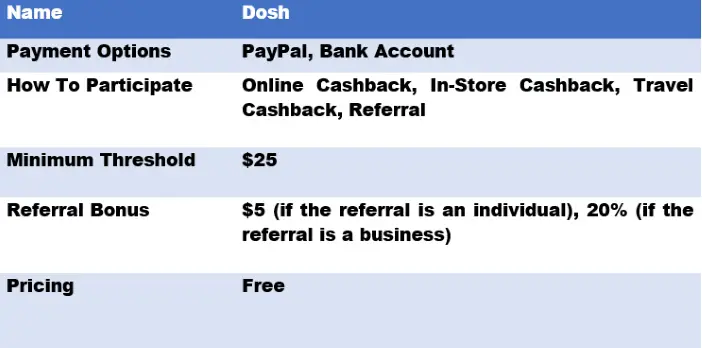 See also: How to Make Money with Receipts
Detailed Guide
What is Dosh?
Dosh is a cashback app that gives automatic cash back for shopping, dining, or travel purchases. If you're a member, you can earn about 10% cashback on their partner restaurants and retailers. Dosh also offers up to 40% cashback on hotel stays.
Dosh is the only cashback app that offers cashback without the stress involved. You don't need coupons or promo codes. Also, you don't need to scan receipts or click on any special button. All you need to do is to shop normally and get cash back.
How Dosh Works
Dosh offers automatic cash back; that is its most important feature. You do not need to save and upload your receipt or track discount codes, which is always a hassle.
Instead, all you need to do is to connect your debit or credit card and Dosh will track the discount codes on your behalf. The app will scan your transactions and find the ones that are eligible for cashback offers. It will then transfer the cash directly to your Dosh wallet.
With the help of Dosh, you can save at least $25 and withdraw directly to your bank, PayPal, or Venmo account. You can also donate your dosh savings to the charity of your choice.
To join Dosh, simply download the Dosh app on your phone. Then go through the app to see the offers that are available for the week. You can also find the offers later if you want to go straight to signing up.
Dosh will request some personal information while setting up your account. You will be asked to provide your email, phone number, your name, as well as a password.
The last step, which is the most important, is to enter the account number of your debit or credit card.
Dosh does not store your data nor do they store your card number or bank information. None of your information is stored on Dosh servers. They use Braintree (a PayPal payment processing service).
After signing up, you can decide to enable notifications, allow Location services, and start choosing your preferences while browsing for deals.
Read also: Cashback and Rewards: Which Is the Better Deal?
How To Make Money With Dosh
There are many ways through which you can get cash back or make money on Dosh:
1. Link your card and earn $5
When you link your credit card to the Dosh app for the first time, you will instantly receive $5 in your Dosh wallet. You don't need to unlock this bonus; you will get it once you link your card to the app. You can also add more cards for more cash.
2. Online cashback
If you shop online frequently, then you'll find the Dosh app useful. When you buy something online at a store that partners with Dosh, the amount will go directly to your Dosh wallet.
3. In-store cashback
If you buy a new pair of shoes at Nike, you will receive 4.5% cashback. Also, if you buy from Jack in the Box, you will receive 7% of the money you spent. All these will be done without a coupon, receipts, or scanning. Just accumulate the cash in your Dosh wallet.
4. Travel cashback
When you book hotels using Dosh, you will get cashback every night that you stay in the hotel. Dosh partners with over 600,000 hotels in the world. You can get up to 40% cashback when you book a hotel through Dosh.
5. Referral
Once you sign up on the Dosh app, you will come across the option 'Refer' on the dashboard. This is where you will find your referral code. You can send the code to your friends and loved ones. If one of your referrals downloads the app and links his or her card, you will earn a referral bonus of $5.
You can earn big by referring businesses. If you refer a business to the Dosh app, you will earn 20% of the business's Dosh fees for two years. You need to agree to some terms and also fill out a form to be eligible.
Customer Support
Dosh's customer support is limited when compared to its competitors. If you want to ask a question or need support on an issue, you will need to go to their "Contact Us" page. On the page, you will find different sections for common inquiries such as 'Your Account' and 'Cash Back Offers.'
When you click on any of the sections, you will be taken to a page with common FAQs for the subject. The answers to each of the questions are in a blog format. You will find a purple popup in the corner of the platform's desktop screen. This helps you search for specific topics that you need more information on.
If your question has not been answered, submit a request by using their email ticketing platform. This is a frustrating route because you have a limited way of following up on your inquiry. But it is better than not being able to ask any question at all.
Most of the Dosh reviews dropped by customers are positive. The Dosh team is informative and also timely in giving feedback. Many users also discovered that their challenges are resolved promptly by Dosh's customer support team.
How much can you make with Dosh?
It is free to download and use Dosh. You can earn the minimum in cashback if you shop online or eat out frequently.
The app examines your credit card purchases and rewards you when you buy from their retail partners. Just like other cashback companies, Dosh credits your account 60 to 90 days after your transaction to be sure that you do not return the item you bought.
You need to earn at least $25 before redeeming your rewards. When compared to other cashback platforms, this figure is average. You should be able to accrue this within a short period because Dosh can track all the purchases made via your card.
Once you earn this minimum amount, you can decide to receive your money either via a direct deposit or transfer to your PayPal account. You can also donate your rewards to charity.
If you're interested in how long it takes for your money to get to your account, Dosh pays out your money once they receive your withdrawal request. This can take between 3 and 5 business days, depending on your bank.
How To Maximize Your Earnings on Dosh
Once you start using Dosh, follow the tips below to get the most cash back possible from the app:
Stack Dosh with a rewards credit card to increase your returns.
When you are swiping your card, always choose credit.
Check for dosh offers before you shop online. You might get some cash back for buying an item that you wouldn't usually receive rewards on.
To get a good deal on hotel stays, compare hotel rates to other travel destinations.
Read the terms and conditions of all cashback offers to see if there are spend requirements. Some stores have lifetime maximum cash back limits.
Refer your friends and loved ones to earn more. Although the referral bonus is $5, Dosh sometimes runs promotions for higher payouts.
Save to redeem larger amounts above the $25 minimum threshold.
Dosh Alternatives
Read: Swagbucks vs Ibotta
Pros
Dosh's rewards are automatic
You can earn rewards for referrals ($5 bonus) and hotel bookings
The platform offers flexible payout methods
It partners with many popular and local retailers
Cons
The app is not for cash spenders
You need to use the linked debit card as a credit card so that you can earn rewards
Dosh does not pay as much as other referral programs
Accounts that are not active will be subject to maintenance fees
You cannot link all cards
Dosh is only available to residents in the United States
FAQs
Is Dosh legit?
Yes, the Dosh app is legit. The app has many users and good ratings. Most of the top retailers and credit card companies partner with Dosh; thereby making Dosh a legitimate app.
Which countries can use Dosh?
Dosh is available to residents of the United States and some other countries. The company is based in Texas but serves other parts of the world.
What are the costs?
It is free to use Dosh. If you are not active on the app for 12 months, you will be charged $4.99 as the maintenance fee. This will be deducted from your Dosh wallet.
How does Dosh pay users?
Dosh earns through a simple process. You pay for things you buy at the stores they partner with, and a small portion of your purchase will go back to your Dosh balance.
Once you earn at least $25, you can withdraw the balance via your PayPal or bank account. You can withdraw your referral bonuses through these methods as well.
How does Dosh make money?
Dosh makes money by taking a portion of each transaction. This is the same way through which most cashback platforms work.
The company will get a commission for referring you to partner retailers. A portion of the commission will then be passed to you and other members. Since Dosh makes money by sending users to partner retailers, you will not pay anything to use the app.
Can I delete my Dosh account?
Yes, you can. However, customer support will assist you to do this. You can use the termination request to submit a ticket to the support team. The support will help you to delete your account.
Note that you will forfeit any money in your account. It is, therefore, important to withdraw your earnings before requesting to delete your account.
Conclusion
Dosh Review Final Verdict: Is Dosh Right For You?
If you buy things at stores that partner with Dosh, you don't have anything to lose by signing up for the dosh app. You will get cashback when you make purchases with your linked credit card. In addition, you don't need to do any other thing for your rewards to accumulate.
However, Dosh is not perfect. Not everyone likes the idea of linking their credit cards and bank accounts to an app. Some stores also pay as little as 1% as cashback. If you rarely shop or you usually shop in small local stores (and not big brands), it may not be worth it to download the Dosh app.
You may consider downloading the Dosh app if you…
Spend lots of money at major stores regularly and know you can earn a reasonable amount of cashback every month.
Love earning travel rewards or cash back through your favorite rewards credit card and you're looking for ways to increase your earnings.
Believe you can refer lots of friends and are interested in earning $5 per referral.
Love downloading apps to your smartphone and you're not bothered about linking your credit card and banking information to the app.
Can wait to earn $25 every time you want to withdraw.
Thanks for taking the time to read my Dosh review. If you believe this cashback app is right for you, go ahead and sign up for the app.
For more options and better-earning opportunities, you can check out our Swagbucks review.
Also, don't hesitate to go through our list of the best cashback platforms for more Dosh alternatives.