Are you looking to get paid to test games?
Video game testing jobs are one of the best ways to earn money online. It seems like a lot of people are getting into the idea of video game testing, which means that there are great opportunities to get hired.
Well, this article is for you. I've put together a list of sites that pay you to test games. All of these websites are legitimate and offer various ways to make money playing games.
Let's dive in.
Quick Review
SEE: Legit ways to make money playing games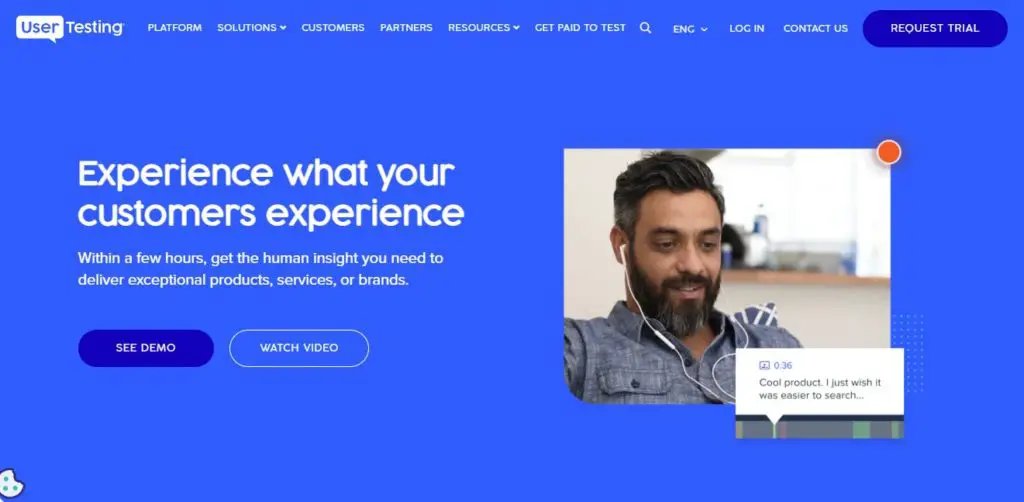 UserTesting is an online platform that allows companies to test their websites, apps, prototypes, or any other kind of software in a real environment. The platform pays you to evaluate websites, mobile apps, desktop software, web services, and more. 
This is the place where you can make money testing new products and companies' digital services. Globally, they provide honest feedback from real users about a variety of companies' digital products.
Pros
Test guidelines that are clearly defined and easily understood
Systematic, transparent, and user-friendly process
Sign up is easy
You do not need to provide any documents or certificates for registration
Take tests for a reasonable price
Cons
Qualifying for the test is challenging
This job requires good English and tech skills
There are fewer opportunities if you live far from the United States
It takes a considerable amount of time for their mobile version to come up
Payment 
Paying for each test depends on its type and duration. The standard pay ranges from $3 to $60 for each test. Typically, a test is worth $10 on average. Also, they have interviews with higher pay for testers. Payments are made via PayPal.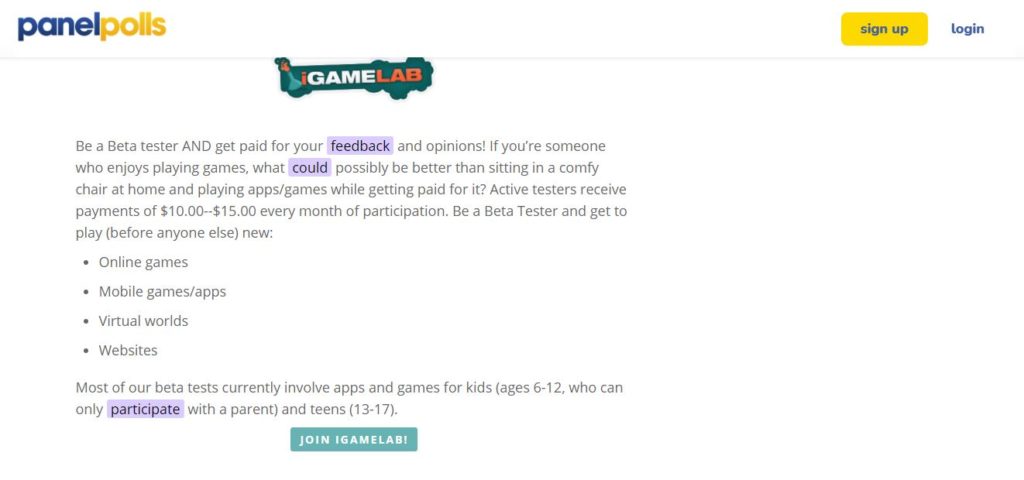 If you like playing games and would like to get paid to test games, then you should consider testing games with iGameLab. iGameLab is a social network that lets gamers test, give feedback and get rewards from developers behind the game.
The iGameLab panel invites Los Angeles residents aged 9-18; however, parental approval is necessary for youth under 13 to join. You can participate in onsite research activities such as tests of games and websites, focus groups, and one-on-one consultations, all at the iGameLab.
Pros
Their track record is impressive, and they partner with a variety of clients
You can register for free
Anyone in a family can earn money and join at the same time, including children
The minimum payout amount is not as high as those of other survey sites
Cons
A check is the only way to convert your points into cash
The brand they work with is an international one, yet its location is limited to the US.
To participate in their in-person focus groups, you must be in New York City or Los Angeles
Payment 
Users on the site earn between $10 and $15 for every month they are active. Participants receive payment immediately after completing an activity.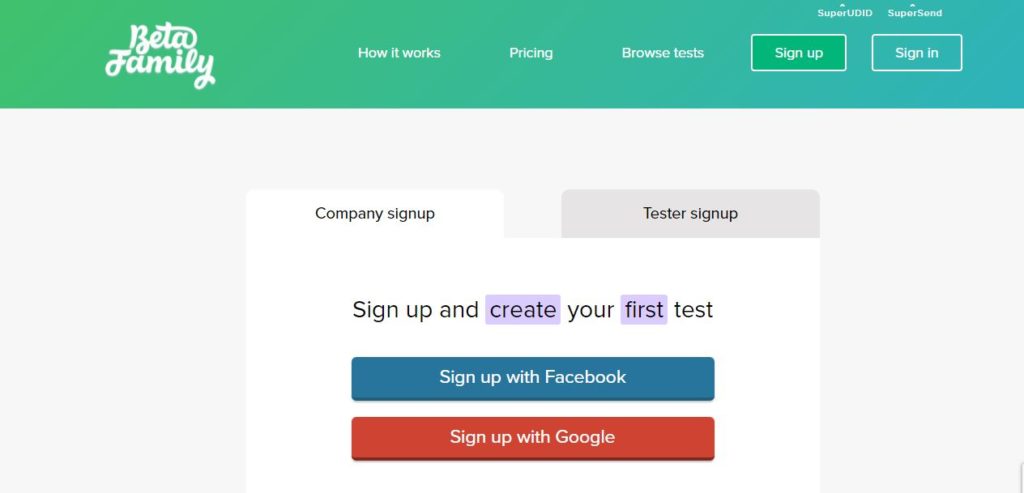 Beta Family allows testers to crowdsource iOS and Android apps for testing. The developers can obtain an honest evaluation of the user experience by having their apps tested by real people. 
The site enables developers to test their apps before they go live for bugs and errors. As a beta tester, you'll check the app for bugs and report them. 
You need to report all the bugs you have found as well as your thoughts about the new app at the end of the test. You must have an Android, iOS, or wearable device to become a game tester on this site.
Pros
Participate in beta testing on both Android and iOS devices
Cash is the mode of payment for Beta Family
Cons
For newbies, getting into paid beta testing can be a daunting task
It takes 30 days for the company to process the request and send you the funds.
Payment 
They pay $10 for any test lasting 45-60 minutes. The payment request is possible once your account amounts to $50. You receive a credit to your bank account within 30 days of making the payout request.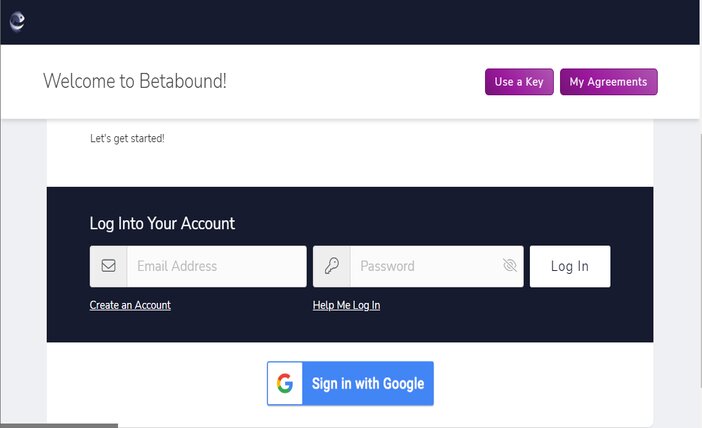 Ever heard of Betabound? Betabound is a reliable game-testing website that will pay you with little to no experience. The only requirement is being at least 18 years old.
One thing I like about Betabound is the fact that they deal with some of the big companies in tech. It's really a great thing to test games and provide feedback for such big companies.
In other words, you're indirectly having your voice in the decision-making of products before launching. And it's free to sign up
Pros
You don't need any experience
Anyone can join
Receive emails about upcoming test
Start applying for available tests immediately after registration
Cons
Projects with restricted access
Payment 
Your ability to perform the test and other factors like its complexity will determine how much you are paid per test. 
You will, however, only receive your reward as gift cards, products, and other incentives depending on the company.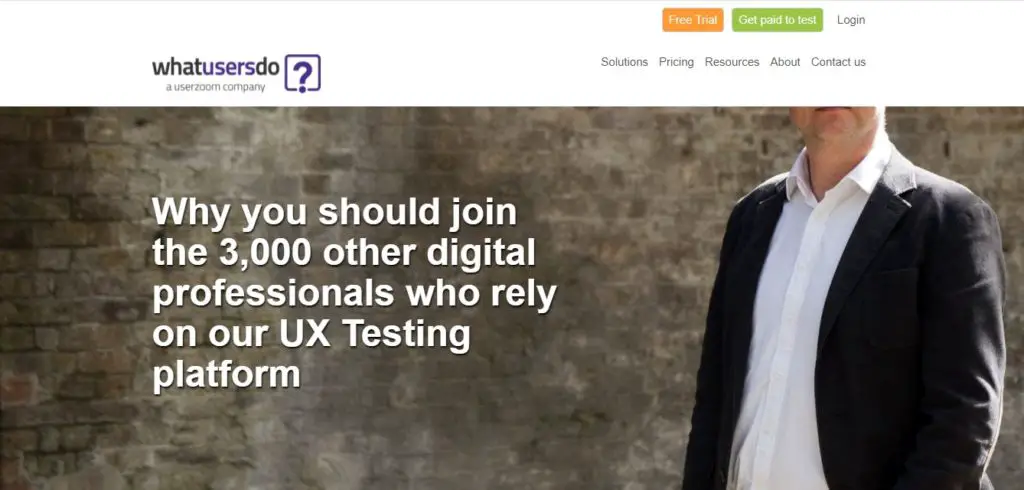 Get paid to test games with Whatusersdo. These guys take user analytics for industries like gaming, gambling, retail, ad tech, and more. They visit actual websites and test what happens when they do certain things.
As per their website, they provide approximately four tests a month. But as you complete more tests, your quality score will vary based on your demographics.
Pros
Other websites don't offer refer-a-friend as well, so this is a great feature
Earn extra cash from home in an enjoyable and stress-free way
An internet connection, a laptop, and registration are all you need
It is usually quite enjoyable to take the tests
Cons
The tests you receive are few and far between
You will receive your payment on the 25th of the following month
Payment 
Essentially, they pay $10 for a test that lasts 20 minutes. Once you complete the task, you will receive the payment via PayPal. The payment process for tests conducted in the previous month takes place on the 25th of each month.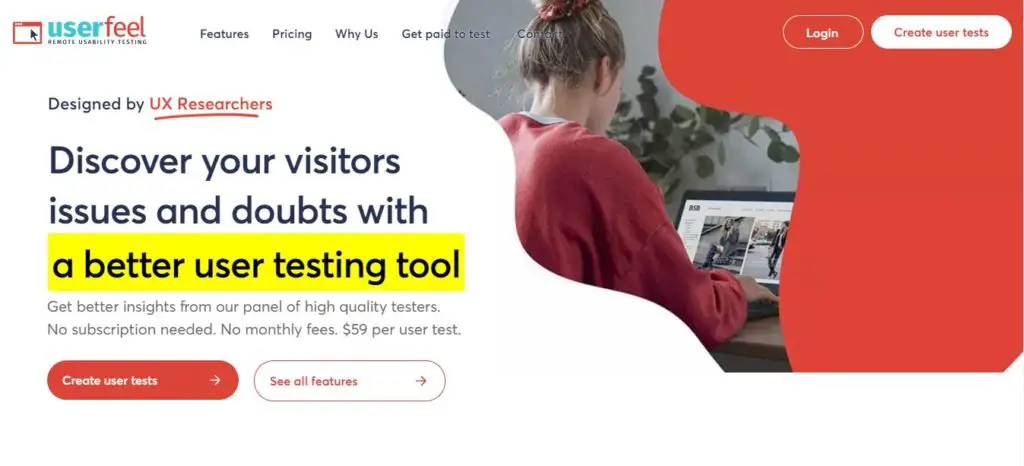 Whether you are testing websites or mobile apps, Userfeel is a beta-testing company you can sign up for. This company pays you for the usability tests you perform on apps. You provide your opinions on the apps you test.
In addition, you must be 18 or older to join Userfeel. To become a potential tester, you will need to complete a qualification test. For this, you will need the screen and voice recording software from Userfeel.
Pros
There is a PayPal payment option
The reward per task is high
Simple to use and easy for beginners
You don't have to reach a certain threshold to get paid
Cons
Limitations to earning potential
The payment process takes quite some time
Work to get paid involves a decent amount of effort
Payment 
It will take you just 15 minutes to complete each test and you'll be paid $10. It is also possible to earn between $100 and $200 from this company each month. Payouts are made each week through PayPal.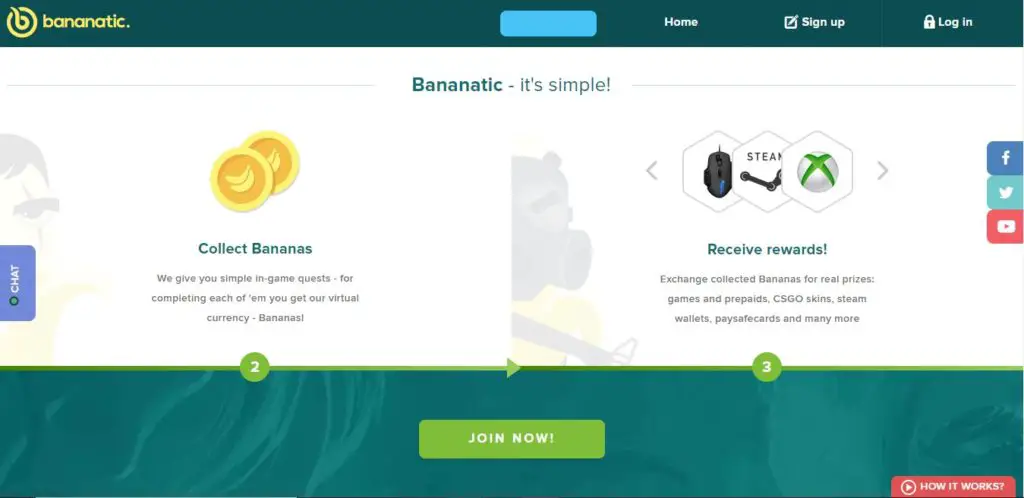 If you want to get paid to test games, Bananatic is a viable option. Although there is always something available, rewards are usually small. However, if you enjoy playing games, this site might be perfect for you.
Users can begin earning as soon as they register with the online games they wish to play on the website. You can play popular games like World of Tanks and Star Trek Online among others.
Following that, players collect bananas (points) by completing quests. The quest can be something as simple as earning a certain score or winning a certain number of rounds.
The player must submit a screenshot for proof of their completion of a quest. Upon verification of your screenshot, you will receive your bananas within 48 hours. You can also earn bananas by testing apps, shopping, and viewing ads on the website.
Pros
Earn rewards through fun ways
Multiple payment methods are available
The registration process is simple and easy
Provides a mobile app so you can manage your offers
Cons
Lack of earning potential
The process is a bit lengthy
Payment 
Depending on your activity on Bananatic, you will earn a specific amount. Users of Bananatic receive bananas (points) from playing games that can be redeemed for free PayPal cash, gift cards to Amazon, Steam games, and more.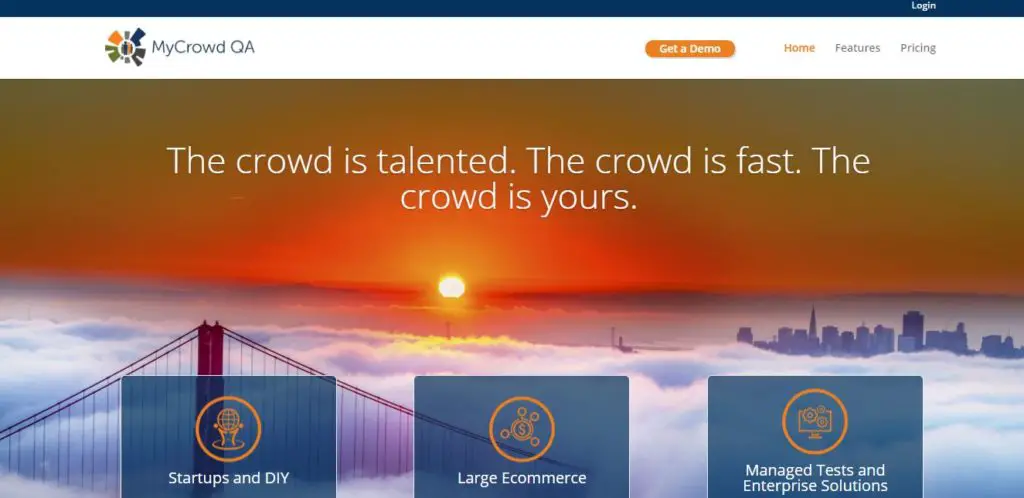 MyCrowd helps owners of websites and apps find bugs on their websites and apps using crowd testing. Currently, the company has one of the most powerful crowd testing platforms available. Furthermore, the company is able to perform UX Testing, QA Testing, and Functional Testing for any website or app that needs testing. 
It hires testers around the world who use a variety of devices. In this way, you can be sure the results are correct and find any bugs on the website or app. The company accepts applicants 18 years of age and older.
Pros
Authentic platform
Globally accessible and free of charge
Tests are instantly available
You can either look for bugs or write reviews
PayPal payments made quickly
Cons
The potential income is very low
A strict approval process
Other testers are fiercely competitive
Rejection rate is high
Payment 
The more bugs you find, the more money you will earn. You are paid between $2 and $15 per bug, depending on how serious it is. As soon as your bugs have been approved, you will receive payment via PayPal.
SEE: How to Get Paid for Reviewing Products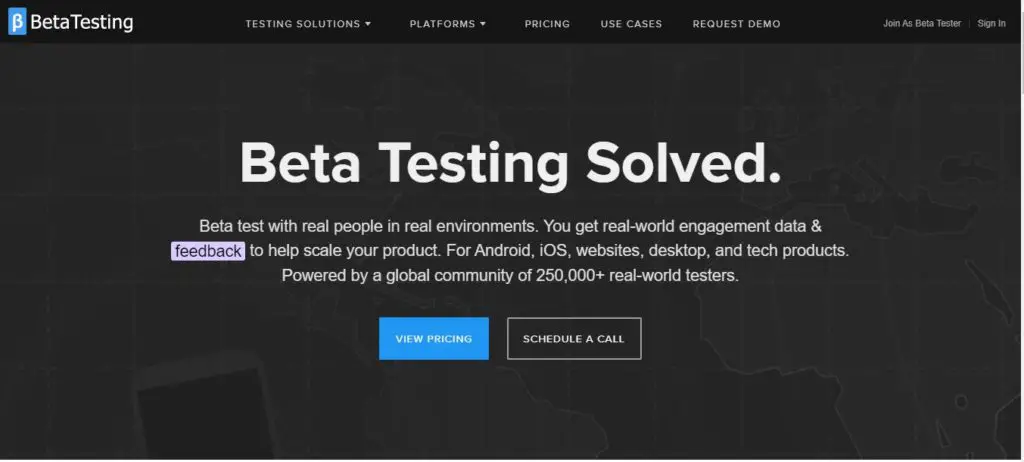 With BetaTesting, there is a fun way for anyone to make a few extra cash and contribute to new product development. However, it isn't designed to replace a career. Based on your interests and demographics as well as your quality feedback history, you may receive more or fewer tests. 
It is possible to receive between 0 and 5 opportunities per month. The age requirement is 18 years or older. Additionally, you must be fluent in English. Last but not least, you must have a computer or Mac that you can run the test on.
Pros
A straightforward and simple method for testing with real-life users
It is easy to distinguish and segment testers with a variety of devices and OS versions
Cons
It takes some time to learn how to use the platform
Payment 
As a BetaTester, you get paid to test sites & software, and new applications (including games). In most cases, you'll earn $10 – $20 per test (or more). Furthermore, they make payments via PayPal 7 days after a project ends.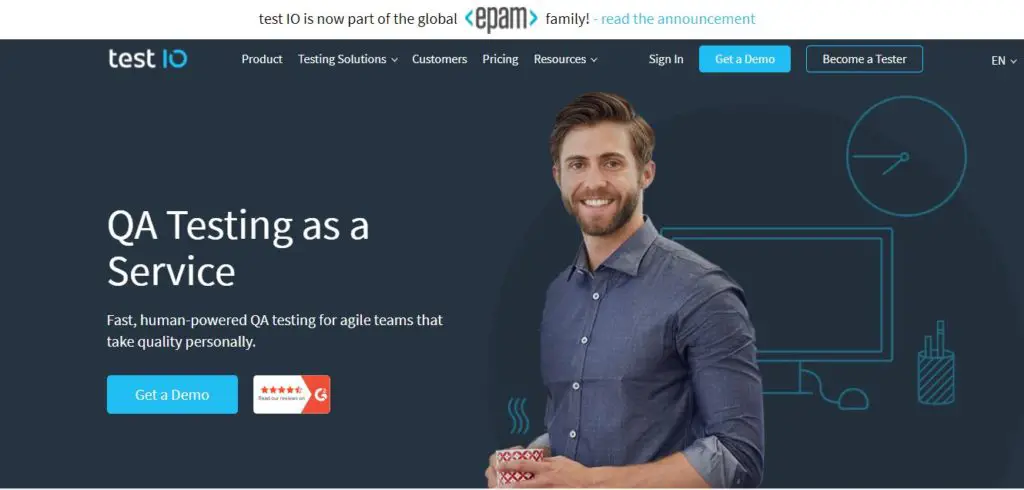 Play games and get paid for it with TestIO. Basically, they need you to find bugs and beta test apps for them. It is also necessary to be technically efficient to work for this company. You can sign up for free and get started to earn rewards within minutes.
Pros
Mobile brand impressions are positive
Insights into real-world products and devices
Provides help with resolving bugs prior to release
Cons
Test types are few and basic
There is too much precision in the reports
Having to re-verify items again when reporting bugs twice can consume a lot of time
Payment 
The maximum reward per test is $50. If you report a bug, this company will pay $3 to $5 per bug. You receive your payouts on the 19th of the month you requested them. Payoneer or PayPal are two ways to get paid.
How Much Can I Get Paid to Test Games?
The amounts paid for bug testing games vary widely depending on the scale and requirements of each project. Expect to be paid anywhere from $10 to $100 per hour, depending on the company and the type of work performed.
SEE: How to Get Paid to Do Nothing
FAQs
What exactly do game testers do?
Game testers play new games and give feedback to the game's developer. If a tester finds a bug in the game, he or she will report it to the developer, who will try to fix it before releasing the game on the market. Some of the most popular video games ever were first tested by people just like you.
How do you become a game tester?
The majority of game testers find work on their own, searching for jobs online or applying with individual developers.
There are a few ways you can become a game tester. One way is to contact a company directly and apply for an open position offered. As the gaming industry grows, more and more companies start hiring for this field. 
You can also create a free account on a website that offers video game beta testing as a volunteer activity. This will allow you to test games from many different companies at once without having to deal with any of them directly.
Do I need any programming skills if I want to get paid to test games?
No, you will not need to know any programming skills to get paid to test games on any of the websites. However, if you have some programming skills, this can be beneficial to your work.
How long can I get paid to test games?
You can get paid to test games on these websites for as long as you like if you complete the offers. If you want the most money with the most ease, do it for about 10 to 20 minutes per day. 
Besides, testing games takes no special skill and can be done in your spare time. The best part is there is no limit to how much you can make paid testing games. Besides, some testers take on multiple gigs and make a full-time living testing video games online from home.
Final Thoughts
Want to get paid to play games? These are websites that will pay you for your valuable time testing games. Playing video games is fun by itself but imagine being compensated for it too. It's a great opportunity many are exploiting to make some extra money and you can join them also today.
Overall, with UserTesting, you not only get paid to test games, but companies get brilliant insights to deliver amazing products, services, and brands. Therefore, it is easy to see why it is the best.
However, if you're a beginner looking to get paid to test games, Userfeel is an excellent option to start with.
With so many websites and companies paying people to perform different tasks, there are numerous opportunities to make money online. For example, here are the best paid survey panels ready to pay you for giving your opinion on different topics.
Also, you can make money just from watching videos, cool yeah? Here are apps that will pay you to watch videos. Additionally, Surveystor is your one-stop for everything you need to know about Get-Paid-To (GPT) sites. You are sure to find whatever information you are looking for.
In conclusion, feel free to explore the blog at your convenience. Thanks for reading.
Ready to try UserTesting?
Get paid to test games by clicking the link below.