Hello and welcome to my Google Opinion Rewards review. Google Opinion Rewards is a very useful Survey app. It is an app that Google created to "reward" you for answering questions with your opinion. It's a great way to earn some passive income and the rewards (Google Play store credit) are pretty useful. 
This app is quite flexible in what it requires of you. It's easy to get started, rewarding, and takes very little time, so that's awesome. I'm sure you've heard about the Google Opinion Rewards App, either via a friend or through the news. 
Maybe you're thinking, "Signing in to an app and answering a couple of questions for some Google Play credits? No thanks." Or maybe, you've heard of it but don't know all of the details. I promise you that Google Opinion Rewards is worth it.
Nonetheless, I am here today to give my honest review of the survey app. Without much ado, let's get started. 
Quick review
Eligibility: 18 years and above
Supported devices: Mobile (iOs and Android)
Average Payout per survey: $1
Survey duration: Less than a minute
Minimum earnings to cashout: $2
Payment options: PayPal or Google Play credit
Cashout period: When your balance reaches $2, payments are made automatically.
Signup bonus: None
Detailed review
What is Google Opinion Rewards?
Google Opinion Rewards is a fun, easy way to make some extra cash by answering quick surveys on your phone. 
Google sends you surveys related to things like shopping, local businesses, and trending topics and you get paid for them. 
You'll get points for every completed survey, and those points can be sent to your PayPal account or spent on Google Play credits.
Is Google Opinion Rewards legitimate?
Yes, Google Opinion Rewards is a legitimate free app available for both Android and iOS. This app helps Google deliver more useful and relevant search results, as well as get to know the things people care about—so they can do more of what matters to them. 
The goal of the survey app is to collect feedback from survey respondents so that we can continue enhancing our experience with Google products and services. To provide those products and services in the future, we need your help.
Take surveys in your spare time to earn Google Play credits! Google Opinion Rewards is legitimate, and you earn actual money if you qualify for surveys.
Is Google Opinion Rewards Worth it?
Google Opinion Rewards is an application developed by Google which rewards the user with gift cards for answering short surveys used to improve products and services.
For anyone who has never heard of Google Opinion Rewards, you just might be missing out on a pretty sweet deal. With Google Opinion Rewards, you will get points for giving your opinion to Google.
It's nice because you get a notification when a survey is available, and the surveys themselves are easy to take. Unlike most survey-taking platforms, you do not need to check a website more than once each day to see if you have any surveys available. 
As far as limitations go, the only major downside is that you have to finish the survey within 24 hours or it expires. Google Opinion Rewards cannot be a primary source of income, yet it can serve as an interesting side gig for folks who have some free time.
How Does Google Opinion Rewards Work?
Google Opinion Rewards is a quick and easy way to tell Google your opinion on things like ads, services, and experiences you care about. Standing in line or catching a ride on a train can be great opportunities to complete short surveys.
Several other organizations collaborate with Google for consumer feedback on their products and services. Google Opinion Rewards allows companies to take short surveys, and the results help them make important decisions. 
When you use Google Opinion Rewards, you share your opinions on different topics in return for a PayPal or Google Play credit. Opinion Rewards sends you surveys based on your background and interests, so you must continue to provide accurate information about yourself. 
These surveys cover a wide selection of topics, including opinion polls, hotel reviews, and merchant satisfaction surveys. One fascinating thing about this survey app is that Google will notify you of any surveys waiting for you.
How to use Google Opinion Rewards 
Sign up
Signing up for Google Opinion Rewards doesn't require a credit card. All you need is an Android running 4.1 or higher and an iOS running version 10.0 and above. 
It's easy – download the app and answer some questions about yourself.
Once signed up, you will need to confirm your eligibility by providing your location and age.
Note: the app is available for download in the following countries; the United States, Germany, United Kingdom, and Canada. In addition, You must be 18 years of age or above to use the app.
Earn rewards
After signing up, Google Opinion Rewards will send you surveys based on your interests. With each survey, you'll receive a set amount of points. Each survey provides different credits based on how many questions you ask and how long it takes to complete the survey. 
Getting credit does not require answering questions in a specific way. As a result, your opinion may be valued more when it is answered honestly, and you may receive more surveys.
Google Opinion Rewards payment options
Google play credit
To redeem your credit, you simply need to tap "spend your play credit" on the app home page or purchase directly from the store. 
You can choose your reward – whether it's music, books, or movies – and enjoy them! Google play payment option is available for the users of Android devices in select countries. 
This payment option is very easy to use and allows users to add funds to their Google account by simply answering a survey question. 
After answering a survey question, users will receive their earnings in the form of Google play credit that can be used on their android device or any other Google account registered with a valid payment method.
PayPal
Also, you can transfer payments to PayPal. Google Opinion Rewards will send a PayPal payment to your registered email address every time $2.00 of payments is accrued in your account. 
You'll receive these payments in your PayPal account if your Google Opinion Rewards email address is the same as your PayPal email address.
Note that your accrued credits expire 1 year after the credit date.
What about customer support?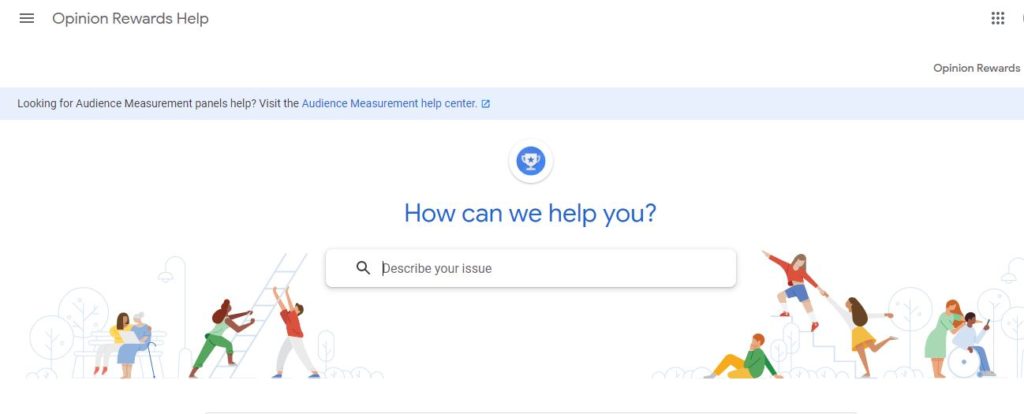 Google offers support for all of its products. There is a contact form where users can submit their questions. 
Submit your concerns to the Google team and they will work with you to fix any problems or answer any questions that you might have through a variety of methods including email or over the phone.
Pros of Google Opinion Rewards
1. Google is a well-known and credible company
Google has gained the trust of millions of users and is a popular brand. 
The reputation of Google is a very good thing for the app because it means that many people will stay using the app. 
By being a popular and reputable company, it's already easy to believe that Google will pay you for your opinion.
2. The surveys are short and easy to complete
Google Opinion Rewards is a great app that allows you to earn money by giving your opinion on surveys. 
The surveys are pretty easy and short to do so you can do them on the go while waiting for something. 
Since the surveys are short, you do not have to sacrifice your time or anything else for that matter. 
3. It is compatible with both Android and iOS devices
Google Opinion Rewards is a neat app developed by Google for smartphone users. This is a survey app that helps you to earn some rewards. 
You have to answer surveys and market research questions with just a few minutes of time investment. It is the easiest way to earn gift cards or make money online from the comfort of home. You can redeem your earnings on both Android and iOS devices
4. You can easily navigate the app
A simple user interface that allows you to navigate the app in seconds is set up in a way that will blow your mind. This will allow you to spend less time trying to figure out where something is and more time doing surveys.
Cons of Google Opinion Rewards
1. Mobile app only
The app is only available for mobile, meaning that you cannot access the interface from a web browser. This sort of hinders the purpose of using Google Opinion Rewards as a means to make money.
2. Limited to 1 or 2 surveys a week
The problem with having a limited of 1 or 2 surveys per week is that you won't have much earnings. In addition, you get the surveys randomly so you don't know if you'll get them in a week or not.  
Also, the reward for each survey ranges from $0.10 to $1, hence the average reward per week is less than $2. I think Google should allow users to complete more surveys and increase the average reward per survey.
3. This app is only available in some countries
I like Google Opinion Rewards! I was even more excited to discover that I could get fun little survey questions sent right to my phone to earn some free Play Store credit. 
Yet, I'm sorely disappointed that the app is not available in more countries. 
4. There is no referral program and signup bonus
Google Opinion Rewards survey is a great way to earn Playstore credits and cash, but sadly the survey app does not offer a referral program or signup bonus. 
I mean C'mon Google, you have such a huge audience that doesn't have to use your referral program but still, your referral program can be useful when you have other offers with coupons. I hope this will be changed shortly.
5. Your Play Credit expires after a year if it is not used
We are all used to having our gift cards expire after so many years, that is true. 
Well, Google Play Gift Credits are no different, and in the case of Google Opinion Rewards, your earnings will be gone if you don't use them within a year. 
If you want to avoid losing the credit that you have long deserved, please ensure that you use your credit within 12 months.
Alternatives to Google Opinion Rewards
Check out other reviews on the blog.
FAQs
Does the balance of my payment expire?
Yes. You have to use the same email address for PayPal and Google Opinion Rewards within 30 days to receive one payment and all future payments automatically. 
The initial payment will expire if you don't accept it within 30 days.
How much do I receive per survey?
A typical Google Survey may award you 10 cents to $1. The payout amount varies and is measured by the number of questions in the survey, as well as the amount of time one takes to complete the survey. 
The best part is that surveys are quick, fun, anonymous, and we will never ask for your personal information. Your opinion is more valuable when you are honest, making it more likely that you will receive more surveys.
Can I complete additional surveys to make additional money?
No. As of the time of this review, you can only answer surveys that are given to you, and your answers will be used to determine your eligibility for other surveys in the future. 
Thus, be as honest as possible when giving your opinions.
Learn more: Importance of honesty when giving opinions on paid survey sites.
Who can use Google Opinion Rewards?
Anyone with a smartphone (an Android running 4.1 or higher and an iOS running version 10.0 and above) and an internet connection can use the survey platform!  
Also, you must be 18 years old or above. Finally, you must be a resident of the accepted countries (the United States, Germany, United Kingdom, and Canada).
How long is the Google Opinion Rewards survey? 
Google sends you surveys randomly, so you might not get them every day. Several methods are used by Google to detect non-compliant users and gamers. 
Generally, each survey ranges from 1 to 4 questions. Google tries to keep each survey short! (in most cases, less than a minute).
What's the catch with using Google Opinion Rewards on mobiles?
The app is available on both Android and iOS. Nonetheless, iOS users can choose cash rewards instead of Google Play credits, and only Android users can earn Google Play credits.
Final thoughts
Finally, this article covers the Google Opinion Rewards review, an official app by Google that surveys users' questions about their daily life. In return you receive Google play credits that help to boost your credit card/game balance. 
Google Opinion Rewards is a fun way to make money and answer opinion-based surveys. The opportunities are endless and the topics you can survey are diverse. The app runs smoothly and the surveys are simple to complete. 
You will be glad you took this survey when you earn a few dollars in your spare time. Nonetheless, everything has its downsides. 
As a reputable company that is always trying to improve itself, hopefully, Google will look into the critics mentioned in this article and devise an approach that best meets the needs of the public.