Harris Poll Online is a well-known polling panel that has been around for a long time. Is Harris Poll Online, however, legit, or is it a rip-off and a waste of time? You will get to know everything in this complete Harris Poll Online review.
However, let me start by saying that this is a legitimate survey platform so that we can get that out of the way. But this does not guarantee that it would be the best survey platform for you.
This Harris Poll Online comprehensive review will provide you with all the pertinent information needed, so you'll know exactly what to expect and whether you can join.
Quick Harris Poll Online Review
What makes Harris Poll Online shine?
Easy to use
Completely free to join
Safe to use
Has a mobile app to take a survey on the go
Sends invitation when surveys are available
Low payout threshold
Have been in the business for 45 years
Good customer support service
Rewards member even when disqualified
A large variety of gift cards and other rewards
Detailed Harris Poll Online Review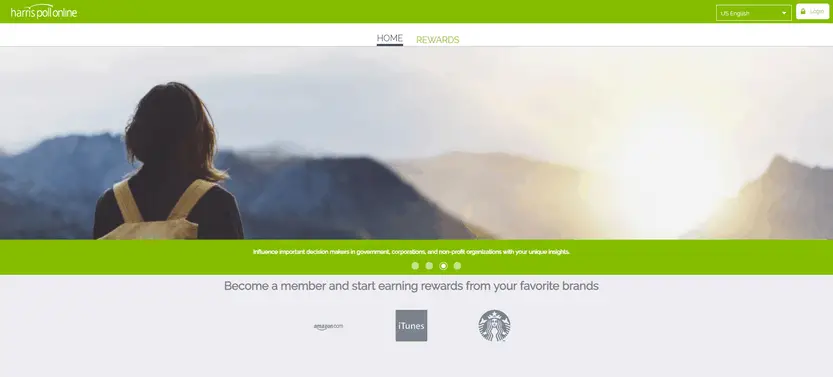 What Is Harris Poll Online & How Does It Work?
In the competitive world of paying survey platforms, Harris Poll Online is one of your many choices.
Owned by Nielsen Research, which is one of the most reputable firms in the market research industry, Harris Poll Online has been in an existence for 45 years.
Can a scam ever last that long? Impossible.
When Nielsen is behind a survey platform, you can be assured that it is reliable and legitimate and that it will payout.
Of course, it doesn't guarantee it's worth your time, and that's what this in-depth review will help you figure out.
Unlike other Get-Paid-To sites, such as Reward1, where you can earn in a variety of ways, Harris Poll Online has mostly two ways to earn, but you can also find some earning opportunities occasionally.
Who is Harris Poll Online For?
To become a member of Harris Poll Online, you must meet a few conditions. To begin with, you must be 13 years old or older.
Just the US and Canada have access to the platform.
If you don't live in one of these countries, you should look up some of the other reliable survey sites instead (more about the top alternatives later).
Even if you live in the United States or Canada, it could be beneficial to visit other polling sites in addition to Harris Poll Online to improve your earning potential.
You should be mindful, though, that they do not often welcome new members, and you would often be unable to find a joining link on their website, which can be frustrating.
How Do You Get Paid On Harris Poll Online?
Obviously, how you get paid and what rewards are available are critical features of any survey platform.
When participating in Harris Poll Online surveys you earn HIpoints. I don't know why it's called HIpoints, so I'll just call them points to avoid confusion.
There are a variety of Harris Poll prizes you can redeem with these points.
In my opinion, Harris Poll Online's biggest disadvantage is not paying cash and not having the ability to trade your points for cash.
PayPal is a convenient and fast way to receive cash from survey sites, and I think any survey site that means business should make everything convenient for their members.
However, there are other fantastic benefits as well, and if you join Harris Poll, you'll still get amazing options to redeem your points.
Many gift cards are available, such as Walmart, Amazon, iTunes, and some restaurants. You may also use the points to purchase magazine subscriptions and airline miles.
I'll admit that the number of gift cards and prizes it provides is pretty good, and depending on your tastes and buying habits, they can be as good as cash in some ways.
If you've accumulated 1,250 HIpoints, you'll be eligible for a gift card. This is the same as $10. This makes it easy for you to figure out how much the surveys you'll be given are worth before you say yes or no to them.
If you are not eligible for a survey, the 15 points you will get as a consolation prize will be worth 12 cents.
This will not, however, earn you many points. But, I like that they offer you a reward, as not all survey sites do.
You just need to be mindful that if you are not active for 12 months, all of your HIpoints will expire.
As a result, you must complete at least one survey or engage in at least one other research project each year. If you don't, the money you have in your account would be lost.
SEE: Best Survey Sites for Money That Pays Through PayPal
What Does Harris Poll Online Offer?
1. Paid Surveys
On Harris Poll Online, paid surveys are the most popular way to make money. It isn't the most promising platform, and you shouldn't plan to get surveys every day.
However, polls are also conducted on a daily basis. You will get an email invitation until a survey is open.
You may not often be eligible for the surveys available on this platform, which is also a normal occurrence on other survey platforms.
If you don't meet the requirements, you'll be given another survey if one is available at that moment.
Harris Poll Online is simple to use and it always keeps you in the loop by sending an email invitation when a new survey is open.
However, you should not look forward to more than 3-5 surveys a month, so it should not be your only survey platform if you want to make a lot of money.
You can simultaneously use the platform with other reliable survey sites like GrabPoints and SurveyJunkie.
One of the best things about Harris Poll Online surveys is that even though you are not eligible, you'll still get 15 points and a chance to enter the sweepstakes.
2. Sweepstakes
A $10,000 lottery is conducted by Harris Poll four times a year, and all participants are automatically eligible.
In return for each survey that you take, you will receive an entry into the sweepstakes. This applies even if you are disqualified or fail to finish the survey.
It's a bonus shot, but there's always a chance to win, and if you're lucky, you might be able to get a significant increase in earnings.
3. Other Earning Opportunities
As previously stated, Harris Poll Online primarily provides two earning options.
If you are a member, it does sometimes provide other opportunities to engage in research and make money off it.
There are times when members are asked to participate in online focus groups, bulletin-board style, or an online chat room.
Furthermore, you may be asked to take telephone or in-person interviews, or direct mail surveys/research projects.
In some cases, you will also be required to install software on your computer or your mobile phone to participate in research.
These other earning options are, of course, entirely optional, but if luckily you get them, they can be a perfect way to receive additional rewards and get your voice heard.
However, you don't get to receive invites for these opportunities too often (if ever).
Harris Poll Online Pros
1. Completely Free And Easy To Use
Harris Poll Online is one of the easiest survey sites you can use to get started making money online.
It's free and very easy to join.
You get paid per survey, and it's flexible, which means if you don't like or have time for a particular poll, you can skip it and move on to the next available survey with no consequences.
The best part is that you can get started immediately after signing up.
Harris Poll Online offers surveys on fashion, sports, home and garden, beauty and lifestyle, and more.
Participate in as many surveys as you'd like for a chance to win cash and great prizes.
2. Earn Rewards On The Go
Using a survey platform on a mobile device can be a convenient way to make some money anytime it suits you.
Since Harris Poll has its own app, this is quite easy.
Therefore, if you're a member, all you have to do is download the app and you'll be able to view the surveys right from your computer.
Both Android and iOS users can download the Harris Poll app. Go to your app store and search for the app if you want to download it.
The only thing you need to keep in mind is that the app's name is Harris Panel.
3. Offer A Variety Of Gift Cards
If you are a fan of shopping, Harris Poll Online is ready to give you an opportunity to spend.
They have a variety of gift cards and rewards: Amazon Gift Card, iTune Gift Card, Walmart Gift Card, and many more.
Choose what suits you the most and get your earned points redeemed for real goods or even eat out at one of your favorite restaurants.
4. Good Customer Service
On a survey site, being able to get help is critical.
Well, you might never need it, but knowing that it is available means a lot about the platform.
There are two options to get help on Harris Poll Online. The simplest method is to visit their FAQ page, which contains a number of useful responses.
However, if possible you have further concerns or need additional assistance, you can then use their website's contact page.
It will require you to first fill out your name and email address, then you can state what your main problem is.
Most of the time, you'll only get links to the FAQ section instead of the alternative to upload a ticket. You may, however, request a ticket for some of your concerns at the end. So, if you need to contact support, this seems to be the way to go.
If you have a concern about Harris Poll Online, for example, there is an opportunity to express your views and send your ticket.
5. Get Rewarded Even When You Get Disqualified
You will automatically become eligible for the Harris Sweepstakes if you attempt to complete a survey but are rejected in the process.
Additionally, you will have the option to participate in other available surveys.
Harris Poll Online Cons
1. Not Meant For Global Audience
Harris Poll Online is only available in Canada and the USA, which is really a drawback for the platform.
This is because it does not allow its users to perform surveys from any global location.
So you may not have the chance to register with this platform if you are from outside the USA or Canada.
2. Few Earning Options
Income potential is another area where Harris Poll Online falls behind. Harris Poll offers fewer earning options than other survey sites. These include surveys, paid surveys, sweepstakes, and occasional offers.
Those who prefer to complete surveys may find more to offer them at Harris Poll than those who enjoy other online activities.
Alternatives To Harris Poll Online
There are many other services like Harris Poll Online that lets you take surveys and perform various research tasks in order to make money in your spare time. These sites include:
Harris Poll Online Review – FAQs
How long are the surveys on Harris Poll Online?
The average time to complete an online survey is 5 to 25 minutes. Short surveys will take about 5 minutes, while longer surveys will take about 25 minutes.
These manageable survey lengths will hold your interest and keep you from being bored too easily.
However, special offers, such as mobile interviews, focus groups, and even surveys about individually downloaded apps might take more time.
What is the minimum threshold?
You won't get to exchange your HIpoints for e-cards until you hit 1250 points (equivalent to $10).
The majority of people who take part hit this point after participating in about 10 polls.
E-cards or gift vouchers from iTunes, Amazon, Starbucks, and other retailers are among the rewards you can get with your HIpoints.
What amount of money can you possibly earn on Harris Poll Online?
As mentioned earlier, on this platform, do not look forward to more than 3-5 surveys a month in most cases.
In comparison to some other survey sites, this is not a good deal. This means that you won't be able to make a lot of money on Harris Poll.
However, you can sometimes receive additional offers that will help you increase your earnings, and if you are fortunate enough to win the sweepstakes, you can receive a very cool bonus.
In addition to Harris Poll, if you want to increase your earning potential, you can join some of the best paying survey sites.
It's important to note that no matter how many or which survey sites you register with, they won't make you wealthy or provide you with a full-time income.
How long does it take to cash out?
Most points will be added to your account within 10 minutes of your participation, although it is possible that the payment will take up to 24 hours to appear in your account.
You can get your e-code within 24-48 hours of cashing in your HIpoints if you are redeeming them.
Harris Poll Online Review Conclusion
Harris Poll Online is a worthwhile investment. It is entirely dependent on your personal interests.
It does not provide as many earning options as some of the top-paying survey platforms, so it will take some time to earn some real money here, and you shouldn't see it as your sole source of income.
However, it could be worthwhile to use it as an additional platform because it provides an interesting range of perks, with a decent chance you'll be able to access at least one of them.
Ready To Join?
If you think Harris Poll Online is the place for you, as previously said, joining can be difficult. Unlike other survey sites, Harris Poll doesn't accept new members often.
If they are currently accepting, however, you can simply click the button below and select your country (remember you can only join from the US and Canada).
You then only need a username and password, some basic information, and a few more steps.
If you are unable to register, that is because they are currently unable to welcome new members.
There is the highest probability that they will accept new members at the beginning of a month, so you may check back.
However, while waiting, I would recommend checking out the other legit and reliable alternatives to Harris Poll above.