If you are looking for a legit site to earn a few extra bucks clicking ads, Paidverts is the PTC site for you.
Paidverts is a fun way to earn money online. It's is a global advertising network that allows you to earn money by viewing and clicking ads, playing games, and completing offers.
In this in-depth Paidverts review, you will get to know how the PTC platform works, what it offers, how to join, what you can earn, and also the pros and cons.
This review will help you decide if Paidverts is worth your time. Let's get started.
See also: Everything You Need To Know About PTC Sites
Quick Review
What makes Paidverts shine?
Easy to use
Free membership
Offers plenty of earning opportunities
Site is mobile-friendly
Has a mobile app
Multiple payment methods you can choose from
Uses a ticketing system for a more organized support method
Detailed Review
What Is Paidverts?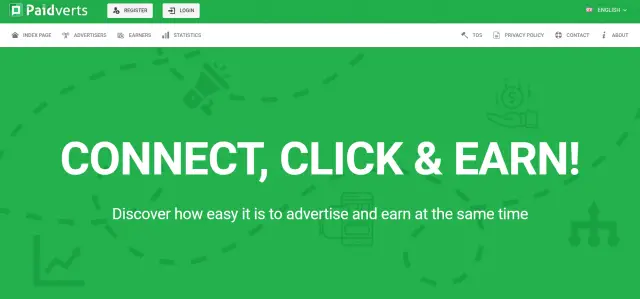 Paidverts is a free pay-to-click (PTC) platform that rewards its members for participating in watching advertisements and doing some little tasks.
The key to Paidverts' success is that it is entirely free to join and participate, with optional upgrades available; Paidverts also offers text ads, email ads, banner ads, and other advertising styles.
Paidverts was a promising PTC site when it initially launched, with the potential to transform the way PTC sites operate. When it originally started, it provided dollars instead of cents.
As a result, people began flocking to it. It began to lose money after some time and a few setbacks. As a result, the founder sold it to a separate firm.
Paidverts' business strategy changed after that. It currently uses Bonus Ad Points (BAP) as its primary currency, which may then be converted to actual money.
How Does Paidverts Work?
A Bonus Ad Point is the most basic idea in Paidverts. Each BAP is worth $.0005 in actual money.
The BAPs are also used to create the adverts you see in Paidverts. To put it another way, you'll be exchanging BAPs for actual money.
You must have BAPs in order to get advertisements, and you must have numerous BAPs if you want higher-value ads, such as in dollars.
What Are Paidverts Membership Options?
Upgrades to your Paidverts subscription are available. These improvements are referred to as Super User Upgrades, and they are aimed at helping you to earn more.
Mini Upgrade
The Mini upgrade will cost you $2.99. This upgrade is valid for a full week.
Paidverts will provide all 10x 1% ads with prices ranging from $0.01 to $0.49 apiece when you purchase this upgrade.
Simply said, if someone purchases an ad campaign bundle, you will have precedence in seeing the advertising.
If someone buys a $100 ad campaign, for example, it will generate ten $1 advertisements that will be dispersed at random to all users. However, upgrading your membership will give you precedence and give you a higher chance of seeing those adverts.
It is important to note that you will have to share priority with other members who also upgraded their membership.
Mega Upgrade
This upgrade costs $19.99 and is valid for seven days.
It functions similarly to the Mini Upgrade. The only difference is that it will send all 10x 1% advertisements with values of $0.50 and above.
Another guarantee that these upgrades will benefit you is that if your upgrade does not provide at least $2.99 or $19.99 worth of sponsored advertisements, it will be automatically extended for another 7 days.
Then it will keep extending for another 7 days till the minimum ad quota is delivered.
That's a solid guarantee. However, in my opinion, it will not be worthwhile. Why should you pay for something that you should be able to obtain for free?
I don't like it when sites like these charge you a fee in general. However, as compared to other PTC sites with premium membership choices, Paidverts' membership costs are at least fairer, and you get the above-mentioned assurance.
So, this is a positive feature in comparison to many other PTC sites.
Who Can Join Paidverts?
Paidverts has the advantage of allowing you to join regardless of where you live.
By clicking on the button below, you will be taken straight to their registration form.
Getting registered is a straightforward process. You just fill up the required fields, and you are good to go. But this is typical with PTC sites. So there's no surprise there.
How Much Can You Possibly Earn On Paidverts?
It's a good idea to obtain a solid understanding of how much money you can make before you join a platform.
In the case of Paidverts, let me just say that if you're trying to make a lot of money, this isn't the website for you.
1 BAP is equal to $0.0005, which isn't much. So, if you manage to amass 2800 BAPs in a week, you will only be able to earn $1.4. That's a very small sum.
The only way to get a good payment is if you win the 1,000,000 BAP prize in the Click Grid game. That works up to about $500, which is a decent jackpot.
To earn that much money, you only get 20 opportunities every day, and every opportunity is worth one BAP.
Since it's only 100 grids there, that means you only have a 1% chance of winning. So, if you're going to play the numbers game, it's simply not worth it, in my opinion.
Even if you factor in the revenue from the referral program, there won't be much of a change because you'll only get 10% for each referral.
Assume that each referral likewise receives 2800 BAPs every week. That means you'll get $0.14 for each recommendation you make. Only when you have 100 or more referrals earning the same amount (which will equal $14) will it be worth it.
Paidverts' earning potential is simply too minimal when you consider the amount of time you'll need to devote.
How Does Paidverts Pay Its Members?
Now comes the crucial part: determining how you will be compensated. You may claim the money you've earned in numerous ways with Paidverts. However, let me be the first to inform you that PayPal is not one of them.
Payza is one option for requesting money, and it may be an alternative in some nations. Payza, on the other hand, has been shut down in a number of countries, so it might not be the greatest option. Apart from that, here's a list of alternative payment options you might ask for.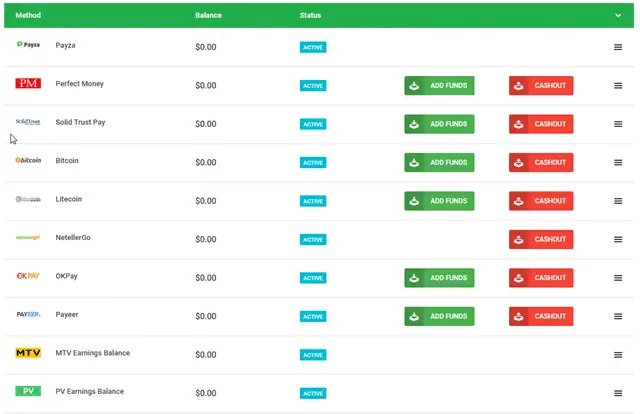 I consider this one of the positive aspects of Paidverts. Getting paid is easier with numerous methods for requesting payment.
Many sites do not offer so many options for payment, which makes this a good thing for them.
A specific payout method can be requested on the dashboard by clicking the Cashout button. Minimum cashout amounts and costs vary by payment type and are subject to change.
How Can You Make Money On Paidverts?
1. Get paid to click ads
Paidverts' primary source of revenue is from sponsored ad clicks, which is why it is commonly referred to as a PTC site.
However, it isn't as simple as you may imagine, where you just click advertisements and get money right away.
The first step is to start accumulating BAP. The amount you will be paid is determined by the quantity of BAP you have collected.
So, before you start watching ads, the first thing you need to do is start accumulating BAPs. Every day, you'll get a set of 16 activation advertisements, with which you may earn BAPs.
You'll be able to earn 400 BAPs every day if you use those 16 activation advertisements. This is the method through which you will make actual money.
The more BAPS you have, the more paid advertisements you'll get. As with all PTC alternatives, it will not be a large amount of money, but it is a legitimate way to earn money.
2. Cash Offers
On Paidverts, cash offers are a more direct method to make money.
In the same way as any Get-Paid-To (GPT) site, this method of earning allows you to earn money immediately by just clicking on the accessible offers.
Click on a link that interests you, and you are taken to the offer's webpage. To receive the incentives, you need to fulfill the requirements of the offers.
Sometimes you must take a quiz, other times you must register on a website, and other times you must submit a survey.
This is, in my perspective, a faster method to make money if the prizes were a little larger.
Many of the same offer walls are accessible on numerous GPT sites, and I believe that on a site like ySense, you receive greater value for your time for many of the same offers.
Higher-yielding offerings need more effort, which is to be expected. Some deals are excellent, while others are not, so check the terms and conditions carefully before accepting any.
See also: ySense Review
3. Click Grid
Click Grid is a type of game in which you can win money or Bonus Ad Points. If you've used other PTC sites, you'll recognize this option because it's utilized by a lot of them.
The concept is that you will be presented with a grid-based picture. You just select the grid you want to click on.
You will be given 20 opportunities to click one grid each day. One BAP will be charged for each click. When you click a grid, a sponsor's site will open, which you must view for at least 30 seconds.
Your score will be displayed afterward. You can actually spend BAPs through this clever setup.
If you think about it, that's only 20 BAPs each day for a chance to win a hundred dollars or a million dollars in BAP.
When compared to other sites that provide Click Grids, this is a very good prize to win.
Of course, you have to be very lucky to get it, and most rewards will be a lot smaller, so don't expect to consistently make money this way.
See also: Scarlet Clicks Review
4. Referral program
Paidverts also offers a referral program, which allows you to make money by referring people to the site. It's a form of passive income in which you are paid for each person you invited and joined the site.
This is a fairly typical way to make money on PTC sites. In addition, you will receive 10% of the revenue generated by each ad that your referral watches or clicks.
Considering each ad will only allow you to earn a few cents at most, don't expect to earn much unless your referral is very active on the site.
See also: How to Get Referrals For PTC Sites
5. Play Games
Playing games is another method to earn BAPs. When you go to the Games area, you'll see a selection of games where you may earn Bonus Ad Points.
The concept is straightforward. You earn BAPs by playing the games listed.
The issue is that earning BAP this way is time-intensive. As you can see from the image below, each game you play will only earn you a small amount of BAP.
You'll have to play more games if you want to accumulate more BAP. Therefore, you'll have to spend more time playing, which is, in my opinion, better spent doing something else that will yield greater rewards.
See also: How to Get Paid to Test Games
6. Buy Ads
This way of making money will need you to spend money before you can make money.
When you purchase a $1 ad pack, you will enjoy numerous perks. For starters, you'll get 2400 BAPs straight away.
Then you'll get 50 visits to your chosen website, each lasting 30 seconds. Last but not least, your banner ad will receive 50 impressions.
If you're new to PTC, I wouldn't suggest investing because it will take a long time before your investment yield.
In addition, I am wary of deals that need you to spend money before receiving something in return. There are lots of alternative ways to make real money that don't require you to spend money.
If you read up on what PTC, Get-Paid-To, and Survey are in this guide, you'll learn what's different between them and what to do to better spend your time earning real money.
See also: PTC, GPT, and Survey Sites: How Are They Different?
Pros
Free membership
Offer plenty of earning opportunities
Has a mobile app
Offer plenty of payment methods you can choose from
Uses a ticketing system for a more organized support method
Cons
Low rewards
It's time-consuming
Not very user-friendly
How can I get support if I have an issue?
Paidverts provide you with a ticketing system for any problems you may face. Simply log into your account and use the contact icon in the upper right-hand corner.
A short glance at their Facebook page reveals that they interact with those who leave comments on their postings. This means that they make an attempt to fix any concerns that members may have.
Can I Earn On The Go With Paidverts?
You may use a mobile device to access Paidverts in two ways. One, you can view their site and log in using a mobile browser.
The site is quite responsive and will adequately show all of the material. This version functions in the same way as a regular desktop browser.
Another alternative is to download and install their mobile app on your smartphone or tablet. Both Android and iOS smartphones are supported by the app.
So, if you're looking for a more easy method to accomplish things in Paidverts, this is the way to go.
FAQs
Is it safe to use Paidverts?
Yes, Paidverts is entirely safe. You can use it to make some extra money online.
Do you have to pay to use Paidverts?
No, you are not required to make any payments in order to use Paidverts. It is a completely free online advertising platform where you get paid for viewing the advertisements.
How long does it take for Paidverts to start paying?
The answer to this question is, as fast as your traffic builds up. It's not just about the quantity – Paidverts members are of all sizes and from all over the world. It's about quality as well. Quality advertising, quality users, and all that means- traffic!
Is it compulsory to upgrade my membership?
No. As a Paidverts member, you have the option to upgrade your membership at any time. When you do so, you will continue to get all the benefits of your current membership level, as well as gain access to the higher-level perks.
Conclusion
Paidverts is a legitimate platform that can help you make some money. However, you must commit a substantial amount of time in order to generate a decent income, and learning to use the platform takes time because it is not particularly user-friendly.
Since this is how PTC sites work, it's a fact that you won't be able to make a lot of money. In my opinion, I would recommend you register with other similar sites (in addition) with higher rewards.
As a result, I suggest that you look into the Best PTC Sites that will really pay you to click ads.
Ready To Join?
You can easily sign up on Paidverts for free. You will be sent to a sign-up form after clicking the button below. After signing up, and filling out a few details, and you can begin clicking Ads.