It's hardly reasonable to ask if PaidViewPoint is a scam or not.
PaidViewpoint is run by AYTM (Ask Your Target Market), a reputable market analysis firm with millions of members around the world.
They provide their users with legitimate surveys and pay them on schedule.
While certain participants will have varying degrees of satisfaction with the program (international users might have difficulty finding full-paying surveys that aren't $0.03 'trait surveys,' for example), this does not suggest that the panel is invalid, let alone a scam.'
This PaidViewPoint review provides you with a better idea of how the company operates and what it offers.
In this review, we'll go through the survey company's advantages and disadvantages, how to sign up and start earning money, and how much money you might make using the platform.
Without wasting any time, let dive into the review.
PaidViewPoint Quick Review
What makes PaidViewPoint shine?
Offer referral program
Multiple payment methods
Flexible offer options
Fast payment process
Anyone above 16 can join
Registration is free
Comprehensive FAQs section
Has a mobile App.
PaidViewPoint Overview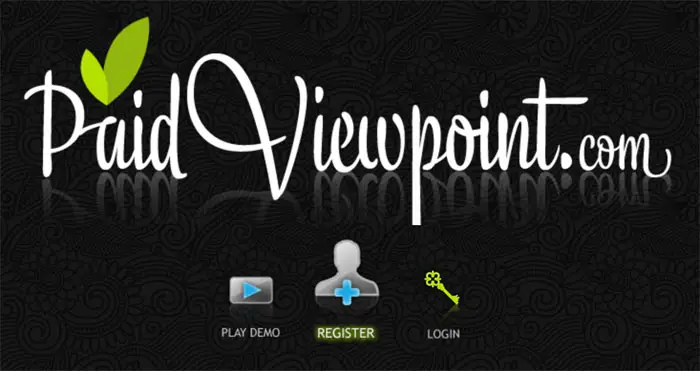 What Is PaidViewPoint & How Does It Work?
PaidViewPoint is a market research survey website that is wholly owned and run by Ask Your Target Market (AYTM) Company, which is written on their website.
AYTM is based in San Francisco, California, and describes itself as a pioneering organization dedicated to providing "easily available and affordable" market analysis to both small and large companies.
By creating a panelist account and participating in the surveys presented here, you are assisting them in furthering this agenda, which the organization rewards with cash.
PaidViewPoint is one of those survey sites that offers you an opportunity to earn extra cash on the side.
You just have to complete surveys that help them offer marketing research solutions to their clients.
This is a unique survey site built on core principles that protect your interest(s) as a survey participant. Some of these are:
You never get screened out of a survey once you begin to participate.
Your privacy is respected – you don't have to even use your legal name when opening an account with them.
Surveys are made fun to participate in.
These are core things not common to other survey sites, and they pay quite well in cash for each survey you participate in.
What's not to love about PaidViewPoint?  
If you have an opinion, then PaidViewPoint wants to pay you for it.
As a member of their panel, you will be able to take part in online surveys on a range of topics covering shopping habits, food and drink, lifestyle, the latest trends and much more.
Each survey takes just 5-10 minutes to complete and is absolutely confidential.
Once you join, check for new surveys by checking your dashboard (PaidViewPoint does not usually notify via email), and it is recommended that you log in regularly to be able to partake in high-paying surveys.
What Does PaidViewPoint Offer?
1. PaidViewPoint Surveys
You can take periodic or daily surveys. Daily surveys are called Trait Surveys by PaidViewPoint.
You can take these to steadily increase your earnings while waiting for the regular surveys.
Trait surveys don't only increase your earnings, but also your Trustscore – a system invented to check the consistency of survey participants and probably offer incentives based on those.
The length of the survey varies, but it usually lasts between 5 and 6 minutes.
To offer a Twitter-like feel to all surveys, the number of characters in a question (120-240) and survey answers (90-120) is restricted. There are just a few options for answers.
A survey's overall number of questions is usually limited to about ten.
2. Referral Program
PaidViewPoint has a lucrative referral scheme that pays you 20% of what the person you referred receives for participating in surveys.
In other words, you earn 20% from your referrals when they take surveys other than "Traits Surveys".
You would more likely earn more if you will refer people from the United States in particular. And the more you refer, the more you earn.
However, to qualify for this, you must have at least 100 ACTIVE friends/referrals.
Your referrals must be active, which means they must have been a participant for at least 30 days and visit the site and complete surveys on a daily basis.
3. TrustScore Scheme
The patent-pending TrustScore method was created by PaidViewPoint to evaluate and incentivize survey respondents' honesty and accuracy.
The higher your TrustScore, the more survey you can receive to participate in. With a high TrustScore, you'll be able to access the most surveys every month.
Achieve a Trustscore of 9,000, and you'll be in the top 10% of users. As a result, you'll earn even more money per response.
PaidViewPoint Pros
1. Privacy
PaidViewPoint is unique among survey sites in that it does not require you to verify your name or mailing address.
In other words, you can register on the platform without revealing your identity.
Of course, you must have your name and address while signing up, but there is no verification process.
Below are the 3 information the site requires for your registration:
General demographic information (gender, birthdate, postcode, etc.)
Your contact information (to activate your account via an automated code)
Your PayPal account's address that you will use to collect your earnings.
2. PaidViewPoint Mobile App
PaidViewPoint has changed the way you will complete online surveys.
Through their super-customized app, it gets easier than ever to make money from survey taking and cash out directly from the app.
The PaidViewPoint mobile app allows you to complete paid surveys on your Android phone or tablet.
It's the easiest way to get started in paid opinion research, and it provides immediate access to your dashboard.
Cash-out at any time, directly from the app. Respond to surveys anywhere – at home, at work, even on a walk, or in the car.
With PaidViewPoint, you'll know how much available cash you've earned and how long it will take for your funds to clear – right from your smartphone or tablet.
3. Sign Up Bonus
PaidViewPoint is a social research company that sends out surveys for companies and organizations to help them better their products.
One of the great things about this survey site is that you get $1 for signing up and more for referring your friends to join.
However, this sign-up bonus is only available to U.S. panelists (members that are from the USA).
4. Cash Rewards
One thing that is unique about PaidViewPoint is that you get paid cash and not the complicated point rewards for completing surveys.
No more worrying about points from taking surveys.
I know that there are a lot of survey sites out there and most of them offer points as rewards.
The problem with points is that you could find yourself redeeming those points for something you will never use or need.
You probably have a lot of unused gift cards at home. That's why PaidViewPoint cash reward is the best online survey reward system out there.
5. Invitation For Only Surveys You Are Qualified For
What truly separates PaidViewPoint from other survey sites is that they only send out invites to surveys that you qualify for.
No more spamming your email with invites to surveys where the opportunity and requirements don't match your specific profile.
Instead, its invite-only system allows you to select the surveys that are right for you.
However, the platform doesn't usually send invites through email. So, do well to always log in to check your dashboard for invites.
6. Short Surveys
PaidViewPoint is one of the top market research companies in the world.
Their surveys are developed by professional researchers and they take anywhere from 1 to 6 minutes to complete.
You can simply log in and complete their surveys on your schedule, it's always up to you.
PaidViewPoint Cons
1. Low Earning Potential
There's little pay, but you'll get what you've earned, albeit it takes a while to accumulate a substantial sum.
If you only do a few surveys per month, the $15 reward threshold can be difficult to meet, which is why it's so important to work on boosting your TrustScore.
Alternative to PaidViewPoint
Below are some alternative legit survey sites that can help you get some extra cash.
FAQs
How much money can I make on PaidViewPoint ?
The amount of money you will make working with this company is determined by your TrustScore. Also how active you are, and the number of referrals you've invited will influence your earning.
How can I maximize how much I earn on PaidViewPoint?
Increasing your TrustScore is the most surefire way to increase the amount of money you make from PaidViewPoint surveys.
The more you engage with the survey site, and provide clear, quality answers to their questions, the more quickly your TrustScore will rise.
The higher your TrustScore, the more surveys you'll be offered that are relevant to you. And that has a high likelihood of paying off in terms of cash.
For a higher ranking, you'll not only be assigned more surveys than the rest of the group, but you'll also be earning more per survey.
Who can join PaidViewPoint?
PaidViewPoint allows anybody over the age of 16 to sign up as a panelist.
For payment processing, you only need a valid email address, a working phone number, and an active PayPal address.
What is the minimum amount I can withdraw from PaidViewPoint?
To be eligible for a cash-out, you must have a minimum of $15 USD in your account. The cash-out button in your account will become active once you hit that amount.
Your request will be processed after you press "cash out," and the funds should appear in your PayPal account within 72 hours.
Can I trust online survey platform?
Surveys are becoming increasingly popular among businesses as a means of getting insight into their consumers' needs and wants.
In marketing and customer service strategy, most companies now use surveys.
It is true that survey sites present many business opportunities. However, they also pose significant risks of abuse if you employ the site to conduct real business research.
Here are reliable and reputable paid survey sites you can trust.
Conclusion
It is important to consider several things when deciding which online survey site to use.
For example, an online survey website must have a track record of honoring its members, have responsive customer service, and use a secure payment processing system.
More specifically, it should have adequate procedures in place to safeguard the private data, either by sound data security protocols or through actually not gathering confidential information about its members.
PaidViewPoint has clearly met the majority of these requirements, as shown by the thorough review above.
PaidViewPoint is a GPT platform that aims to deliver its members easy, convenient, and safe online earning opportunities every day of the week.
If you want a simple job that will be an extra source of income, PaidViewPoint is the place for you
Kindly check out our review on OpinionWorld which happens to be another survey website.