Are you looking for a detailed and honest Panel App review? You're in the right place.
If you think that you can only make passive income by investing in stocks, real estate, and bonds, then you need to have a rethink. There are many online opportunities that you can take advantage of to earn passive income.
One of such opportunities is offered by Panel App; an app that allows you to make money online by installing it on your phone.
Although this type of opportunity will not make you rich, it offers an effortless way to make money in your spare time wherever you are. You can make between $5 and $10 per month with this app.
But is it worth it?
Keep reading this Panel App review to find out.
Quick Review
Here's a quick Panel App review: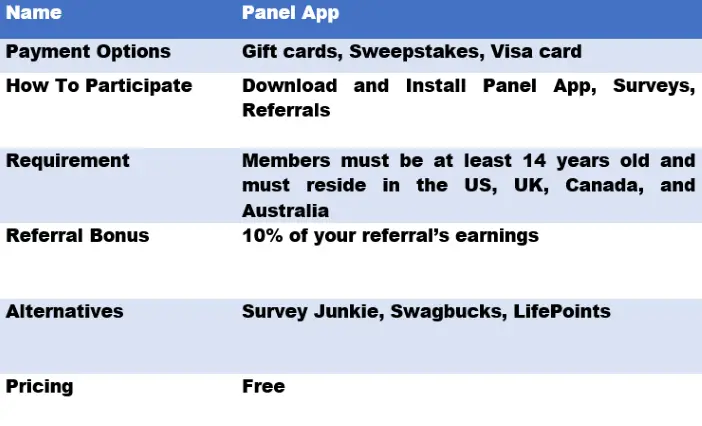 Detailed Guide
What is Panel App?
Panel App is owned by Placed; a company that specializes in gathering data. When you install the Panel App on your phone, it will automatically gather information about your phone and then reward you for it in points.
You can easily earn points by going through your day without opening the app. The app will automatically open and run in your phone's background, even if you restart your phone. All you need to do is to leave the app installed on your phone and sign up for a new account.
This implies that the only time you will have to open the account is when you want to withdraw your earnings. Panel App uses a small CPU space, so you don't have to worry about the speed of your phone.
You can receive the earned points in the form of gift cards or sweepstakes. When you have accrued enough points, you can withdraw to have any of the gift cards of your choice sent to your email.
Panel app is compatible with all iOS devices, but it is limited to certain Android phones. If your Android phone is old or has a small RAM, your phone may not support Panel App.
To find out if you can use Panel App on your phone, simply go to the Google Play Store and install the app. If you're unable to open it, then it means you need to get a recent phone.
SEE: The Ultimate Guide To Online Surveys: The Only Online Paid Survey Guide You Need
How To Sign Up For Panel App
Panel App's signup process is straightforward and can be done in the 3 steps highlighted below:
Download the Panel App to your phone
You can download and install the app on your Android or iOS phone by going to their website. Don't forget that only specific types of Android phones support Panel App. As stated earlier, the best way to know if the app will work on your phone is to try and install the app.
Once you download the app, open it and hit the 'Accept' button to create an account. You can support Surveystor by using our referral link here.
Create an account
To create an account, you will be asked to provide some information such as your email and phone number. You will use this information whenever you want to log in.
You will be rewarded with 100 points as a signup bonus.
Click the join button
This will give you access to Panel App. The app will ask you to enter more information and once you provide these details, you will be granted access to the app.
Ensure you keep the app installed on your phone so that you can keep earning points. Once you earn at least 2000 points, you can request payout and cash out via gift cards or participate in sweepstakes.
How Panel App Works
Now that you know how to sign up on Panel App, let's take a deeper look at how it works. In the section below, I have explained how you can earn points with Panel App, as well as how you can redeem the points.
1. Let panel app run in your phone's background
This is the main way through which you can earn points with Panel App; it is also the easiest way. Simply open the app and let it run in your phone's background. It is an easy and passive way to earn points.
2. Complete surveys
Another way to earn points on Panel App is to complete surveys. Panel app sends out surveys periodically. These surveys are based on where you live and the places you visit.
You have a high chance of receiving these surveys if you visit lots of places with the app running in the background of your phone. The app must be installed on your phone for at least one week before you can start receiving the surveys.
3. Referral
Panel app does not have a code that you can share with people to earn points.
However, the app has a referral link that you can share with your friends and loved ones. Referring people to join Panel App will earn you some points.
When someone signs up on Panel App via your referral link, you will be rewarded with 10% of the points they earn.
You can refer your loved ones by following these steps:
Go to the 'Referrals' tab.
Tap on the yellow button with a plus button (on Android phones) and a share icon (on iOS phones).
Panel App will show different ways through which you can refer people (Facebook, Google+, email, or text). Choose the option that you like.
After choosing the method you want, the app will send your referrals a link where they will need to complete a form. All they need to do is to enter some information, such as email address and phone number.
Panel app will then send your referrals a download link via the method they chose earlier. This will log them as a referral.
Your referrals will then be asked to create their accounts.
That's all. Once your referrals start earning on Panel App, you will earn 10% of their earnings. It may take about three days before you find a new referral on your all-time referrals counts.
If you don't see your new referral on your account after three days, then you should get in touch with the Panel app support team.
When you contact the support team, you will need to provide the phone number and email address that your referral used while signing up, and the date that you referred them.
How Much Can You Make on Panel App?
If all you do is run the app without completing surveys, you can earn between 20 and 30 points per day. Based on how experienced you are, most tasks on Panel App pay between 10 and 50 points. This means you can earn at most 3000 points in a month. Panel app pays $1 for every 1500 points.
As you can deduce from what we've covered so far in this Panel app review, this is not a platform that you should give up your full-time job for. However, it offers an easy way to earn passive income.
How To Withdraw Your Earnings
The minimum threshold on Panel aAp is 1500 points ($1). However, different withdrawal requirements are depending on your rewards. For instance, to redeem your points for sweepstake entries, you will need to pay 25 points.
Some sweepstakes cost is as high as 100 points depending on the value of your withdrawal. To redeem a gift card, you need to earn at least 2000 points to get a $2 Amazon gift card.
The PayPal withdrawal option is no longer available on Panel App. The closest option to this is the Visa Card.
Panel App Requirements
To join Panel App, here are some requirements that you need to adhere to:
You must be at least 14 years old and must reside in Canada, the United Kingdom, the United States, or Australia.
You must have an iOS phone (8 or newer) or an Android phone (4.0.3 or newer).
Panel App Alternatives
Read Also: How To Do Surveys Fast: 9 Tips For Completing Online Surveys Faster
Pros
Legitimate mobile app
It sounds too good to be true when you learn that you can make money doing nothing. Panel app made this claim legitimate. The app will pay you for installing the application and keeping it open on your phone. Also, you will earn more points if you complete surveys and refer friends to download and install the app.
Easy way to earn points
Unlike other survey apps, Panel App allows you to earn points by doing nothing. You don't need to buy or download other apps, or complete offers. Panel app allows you to earn passive income without any stress.
Cons
The pay is very low
You can barely earn $20 in a month with Panel App even if you complete all the surveys and refer thousands of people to sign up. Hence, if you need a stable source of income, you need to look for other alternatives.
Not open to everyone
Panel app is only open to people in some states in the United States, Canada, Australia, and the United Kingdom. If you don't live in these areas, you cannot download the app on your phone. If you make use of a VPN, the app will not work effectively on your phone.
Surveys are limited to locations
The number of surveys that you will have access to is determined by your location. In some cases, you can get two or more surveys, while you may even get nothing at all. You can increase your chance of completing a survey by ensuring that the app is open and by visiting different places, like restaurants, groceries, and malls.
FAQs
1. Who is Panel App for?
Panel App is meant for those living in the United States, Canada, the United Kingdom, and Australia. Although you won't make a lot of money from the app, it won't cost you anything to keep it installed and open so that you can earn points.
You can exchange these points for cash or an Amazon gift card. Panel app is also for those that want to get a gift card for completing surveys and referring their friends and loved ones in their spare time.
2. What are Panel App points worth?
You need to earn a particular number of points before you can redeem them for cash rewards. The value of your points is not simple to determine because different prices need a different number of points.
As at the time of writing this Panel app review, here are some of what your points can make you:
5000 points: $5 Amazon gift card
5000 points: $5 Visa Card
20,000 points: $25 Amazon gift card
20,000 points: $25 Visa Card
3. Is Panel App a scam?
No, Panel App is not a scam. There are many positive reviews about the app online which is a good sign that the app is legit. But if you are looking for an opportunity that will replace your full-time job, Panel App is not what you need due to the low pay rate.
Although Panel App is not a scam, there are some things that you need to pay attention to, such as your privacy. You will be asked to share your location from time to time to boost your chance to complete more surveys. If you don't like this, then Panel App is not for you. But the good news is that no one has ever complained about this.
You can learn more about Panel App's privacy policy by visiting this link.
Conclusion
Panel App Review Final Verdict: Is Panel App Worth It?
Judging from all that we've covered in this Panel App review, we can conclude that the app is legit and safe for making extra money in your spare time. However, the app has a very low earning potential.
Also, some people may see the app as being too intrusive because it monitors your movements and what you do with your phone. As a result, you may not like the Panel App unless you are comfortable with sharing your movements and activities.
If you need a non-intrusive app that you can make money from, check out our Survey Junkie review.
You can also increase your earnings on online survey panels by reading our detailed guide on 'How to earn with online surveys.'