Are you a survey taker who is interested in connecting with researchers who need people like you for their studies? Respondent is the answer.
Respondent is a legitimate survey platform that connects you, as someone who wants to fill out surveys, with researchers who want to conduct research, for a fee.
In this in-depth Respondent review, I will talk about who can register on the platform, what it offers, how to join, how much you can make, and the survey platform's pros and cons.
Respondent Quick Review
What makes Respondent shine?
Payment via PayPal is available
Free membership
The site is mobile-friendly
Pays quite well for each project completed
Available globally
Multiple earning options
Respondent Detailed Review
What is Respondent?
Respondent is a survey platform built specifically for the mobile generation. Respondent provides quick and easy access to leading consumer research panels with real incentives.
The platform offers instant rewards such as cash and other prizes and gift cards, delivered by email or PayPal, for opinion surveys ranging from pre-release movie previews and TV pilots to marketing campaigns and university projects.
Respondent, unlike other platforms that provide research opportunities, collaborates with businesses that want in-depth research in a certain industry. As a result, the site concentrates on attracting responders who are experts in specific fields.
See also: Best GPT Sites to Make Money Online
Who Can Join Respondent?
The beauty of Respondent is that it is accessible from anywhere in the world. Regardless of where you live, you will be able to become a member.
You can register with your email address or by logging in with your Facebook or LinkedIn account. After you've decided which form of registration to use, you'll need to fill up your profile.
While Respondent isn't too picky about whom they let on the site, there are a few conditions you must meet:
You must be at least 18 years old
You must be a business professional
Have a work email to verify your identity
Have a PayPal account
While Respondent states that they have worldwide possibilities, most of the research you'll see is targeted towards US citizens. Being a US resident isn't required, but you'll get more benefits if you are.
Who are the business professionals accepted on Respondent?
Marketers
Executives
Software developers
Enterprise software users
Business owners
Sales and support
How Much Can You Possibly Earn On Respondent?
The amount of money you can make on crowdsourcing platforms like Respondent is mostly determined by how many projects you can finish and how well the platform pays.
To finish as many tasks as possible, you must first ensure that your profile is complete and up-to-date.
You'll see a profile checkup when you first log in. This will be your guide to completing the steps necessary to begin participating in projects.
Keep in mind that you may only apply for three projects in a 24-hour period. So, to avoid squandering your opportunities, pick cautiously which projects to apply for.
To increase your chances of being accepted, it is a good idea only to apply for projects that you are confident you can qualify for.
According to your profession, here's how much you can expect to earn: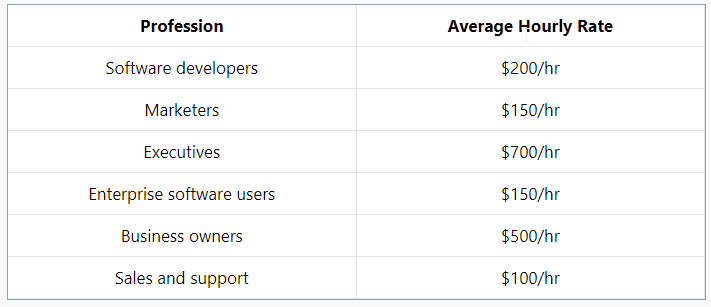 Overall, I can conclude that Respondent has excellent earning potential as long as you meet the project requirements.
See also: Crowdology Review
How Does Respondent Pay Its Members?
Respondent only offers one type of payment method, which is PayPal. So, ensure you have a PayPal account before registering.
Your money will be forwarded to your PayPal account automatically. However, don't expect to get the entire amount because each payment will include a processing fee.
The processing charge is 5% of the transaction amount, or $1, whichever is greater. So, if a job pays $150 upon completion, you should only expect to get $142.50 in your PayPal account.
In my perspective, 5% is a pretty hefty charge when compared to other survey sites. However, the incentives for each project are often rather large, so it may still be worthwhile if you qualify.
The benefit of the Respondent payment method is that it is automated, and you will not be required to achieve a specific level in order to get your money via PayPal.
See also: Panel Champ Review
How Can You Make Money On Respondent?
1. Projects
Projects are essentially research study opportunities that you may take part in. Once you've joined Respondent, you'll be able to go into their member dashboard and see all the projects you're eligible to work on.
However, you must first apply for a project before you can begin working on it. The firm that made the request will then go through your credentials (based on your profile).
Consider this to be a job interview because you must complete a qualifying screener before applying for a project.
Keep in mind that you will not be compensated for completing the screener, and you will only be able to apply for three projects every 24 hours. Their screener is simply a means for Respondent's partners to see if you meet the requirements.
Each project offers will also specify how much money you will make and the sort of project you will be working on.
There are two kinds of projects available. The first is the in-person projects, while the second is the online version. Below is the breakdown of both types of projects available.
Remote Projects
One-on-One Interview: takes place through video chat, phone, or other forms of distant contact.
Focus Group: a conversational style group with many participants (usually 6-8). Distant focus groups are generally held over the phone, via video chat, or through other means of remote contact.
Unmoderated Study: There is no direct interaction with an interviewer, researcher, or moderator in an unmoderated study. Online surveys and UX testing are common instances of unmoderated studies.
Diary Study: This takes place over a period of time and needs you to keep track of your involvement on a regular basis.
Other: If you don't see your chosen sort of research in the list, you can choose "other" to indicate your interest in other distant studies.
In-person Projects
Any research project that involves you meeting the researcher is considered an in-person project. Projects that are conducted in person typically involve interviews or focus groups.
2. Referral Program
You can also make money from the Respondent's referral program.
There are two options for inviting others to join Respondent. You can share your invitation link for a specific project or your general invite link for joining Respondent.
In any case, you'll get a $20 incentive for each person you refer. Note, you will only get one referral incentive if you suggest the same individual to several studies.
Your referral must, however, earn at least $75 in incentive payments through the study before you are eligible to receive your referral bonus. As a result, I don't think earning from their referral program is that easy.
You must ensure that the people you invite are truly interested in joining the site.
See also: Best Ways to Get Referrals for Paid Surveys and GPT Sites
Can You Access Respondent Platform With Phone?
When it comes to a site like Respondent, you can't argue that using it on a mobile device is the best option.
Almost every project will require you to use a computer or other computer-related device.
However, you can still access the respondent website using your mobile devices. The platform is mobile-friendly, so you'll have no trouble navigating it.
In particular, this feature can be useful if you need to check your application status or completion status for projects you've worked on.
See also: Smart App Review
How Reliable Is Respondent Customer Support?
Respondent has a pretty comprehensive FAQ section that covers most of the site's main features.
So, if you have any issues, I recommend that you first look through their FAQ section before contacting their support service.
If you can't find the solution you're searching for, you may email them at support@respondent.io with your question.
Since their website has no contact form or means to file a support ticket, this is your best option to contact their customer service team.
If you're emailing about a project you're working on, be sure to mention the project name, the date you worked on it or will work on it, and your worry about it.
Overall, even if they don't have a contact form, they do give a good means to reach their customer service staff. When sending your query, just make sure you follow the guidelines.
Pros
Payment via PayPal is available
Free membership
The site is mobile-friendly
Pays quite well for each project completed
Available globally
Cons
Limited project opportunities offered
Does not guarantee you will be able to earn on a regular basis
Relatively high payment processing fee
Alternatives To Respondent
There are many other GPT sites like Respondent that lets you take surveys and perform various research tasks in order to make money in your spare time. These sites include:
FAQs
How much does it cost to become a member on Respondent?
It's completely free to join, so you'll never have to pay to take surveys. Doesn't matter where you reside. Many survey opportunities on Respondent are open to US residents. Limited survey opportunities can also be available in other countries.
However, the Respondent automatically collects a 5% fulfillment fee on each incentive paid to you for your participation.
What is the best way to qualify for Respondent survey?
The only universal requirement for participating in a Respondent survey is that you must be over the age of 18.
However, the best way to qualify for a Respondent survey is to get your profile completed and ready for Respondent surveys. The more days you have actively worked towards your qualification the more likely you will be invited to participate in a Respondent survey.
It is important to complete all sections of your profile, or your information may not match what they need to make sure that you are invited to participate in a Respondent survey.
What happens if am not qualify for a project?
Filling out the required information will ensure that your information matches the relevant projects. If you do not qualify for a project, Respondent will use your information to determine if any other projects are appropriate and let you know about them. The choice to participate is always yours.
How many surveys can I take in a month?
You can take as many surveys as you can handle. There is no limit to the number of surveys you can take. You're only limited by the availability of survey opportunities and your ability to complete surveys that match your demographic screen.
Conclusion
Respondent is a good site to make a little additional dollars, in my view, because they pay well and you may get paid quickly.
However, don't anticipate the money you'll make on this site to be able to replace the income you'd get from a full-time job.
Since the surveys and projects they offer are mainly seeking very specialized participants, I recommend making this a secondary site to earn from.
There is no way for you to make money from Respondent regularly. Thus, finding other sites to complement what you might earn from it is a wise decision.
Check out the Best Paid Survey Panels that will allow you to make a few extra dollars on a regular basis. All the sites on this list have a high earning potential.
Also, if you liked this review or looking for a site with plenty of earning opportunities, check out my Swagbucks Review.
Ready To Join?
You can easily sign up on the Respondent platform for free. You will be sent to a sign-up form after clicking the button below. Since the registration is fast and simple, you may begin earning right away.