Shopping is better with Shopkick app. Whether you're on your phone, or in a store, Shopkick offers ways to get rewarded for shopping. The app is completely legal and completely safe to install and use.
It has been downloaded by over 30 million users and Shopkick has received an A+ rating from the Better Business Bureau.
In this in-depth review, I will talk about how the shopping app works, what it offers, how to join, how much you can make, and also its pros and cons.
Quick Review
What makes Shopkick shine?
Easy to use
Free membership
Several earning opportunities offered
Payment via PayPal is available
Shopping made fun
Shop and earn on the go
Offer referral program
Detailed Review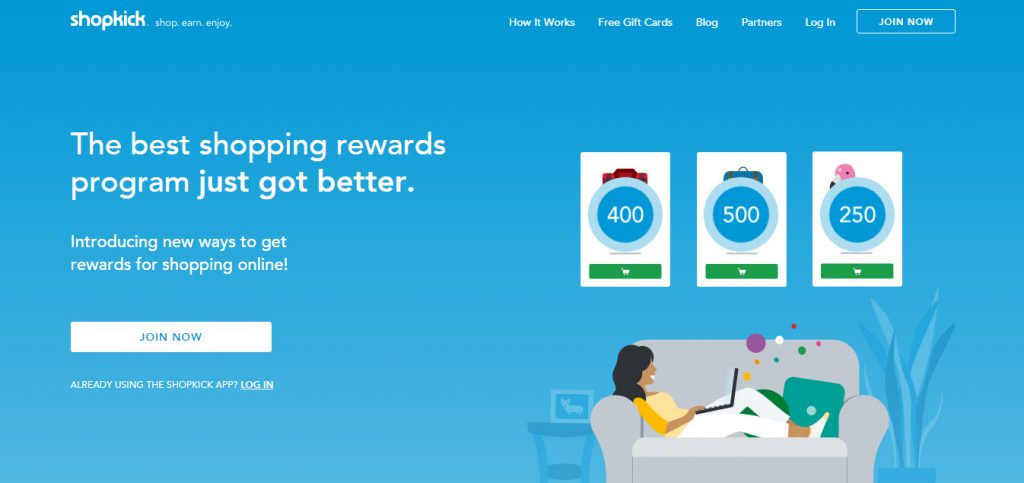 What Is Shopkick & How Does It Work??
Shopkick is a popular shopping reward app that lets you earn points for shopping (online and in-store) and doing little tasks.
The app gives you points for completing tasks such as shopping, watching videos, canning items, submitting receipts of in-store or in-app purchases, and more.
Why not be compensated for doing activities you'd be doing anyway?
Since its inception in 2009, Shopkick has awarded its customers with more than $85 million in gift cards, according to reports, and the app was recently bought by Trax.
Trax claims to be the world's leading provider of retail analytics and computer vision. The cooperation between Trax and Shopkick is anticipated to improve shopper engagement solutions.
As a result of this cooperation, huge advancements are likely to be part of Shopkick's future.
See also: Are Cashback Sites Real- A Guide To Understanding them!
Who Can Join Shopkick?
Only US residents can use Shopkick. Therefore, this app isn't for users outside the United States.
In the US, however, you must be at least 14 years old to register. To use Shopkick, you must have your parents' permission if you are under the age of 18.
To use the app, all you have to do is download it from the proper app store. Once it's done installing, you may begin the registration process. You can start using it once you complete registration.
How Much Can You Possibly Earn On Shopkick?
With Shopkick, there is no limit to how much you may earn, and each incentive comes with a different amount of kicks to help you earn the gift card.
For example, simply stepping into a store that you needed to go to anyhow can reward you 80 cents. You can earn $1 for referring a friend, and you can get 3 kicks by watching each 10 to 30-second video.
In general, 250 kicks will earn you $1 in gift cards. Once you reach 500 kicks, which is worth $2, you may redeem your gift cards.
How Does Shopkick Pay Its Members?
You will receive a certain amount of kicks (Shopkick's currency) for each action you perform with Shopkick.
It's merely their way of referring to the points you've accrued. The kicks you've collected can then be exchanged for gift cards.
They provide a large selection of gift cards from which to pick. Here's how many kicks you'll need to get a particular number of gift cards.
$2 = 500 kicks
$5 = 1250 kicks
$10 = 2500 kicks
$15 = 3750 kicks
$25 = 6250 kicks
So, if you want to redeem a gift card, you'll need at least 500 kicks. You may also cash out your earnings using PayPal.
Overall, I enjoy that Shopkick provides a variety of payment options, even though the kick-to-dollar conversion ratio might be more user-friendly.
There are many gift cards to pick from, and you can even withdraw your earnings through PayPal, so it definitely has decent payment choices in my view.
See also: Why Cashback and Not Discount: The Advantage of Getting X% Back
How Can You Make Money On Shopkick?
1. Check-in
By just checking in to a certain retailer that has partnered with Shopkick, you will be able to earn some "kicks".
It's similar to how you use the Foursquare app. The only difference is that with Shopkick, you'll get paid for it.
When you're in a store, open your app and check the Kicks Nearby area to see whether the location is listed as a spot to check in. If that's the case, simply click the button to claim your prize.
You don't even have to necessarily walk into certain stores before you check-in. You may simply walk by and still make money. So, if you're at a shopping center, check your app to see if there are any stores where you may check in.
The number of times you may check in is limited. So, if you can't check in any longer, you've definitely reached your limit.
See also: Shopalong Review – Should You Join or Pass?
2. Cashback Offers
Participating in cashback offers is another way to earn points. This cashback site provides offers in the manner that you would anticipate from a cashback site.
Simply go log into the app and navigate to the Kicks Online area. After that, you'll see a list of stores where you may shop. Simply select your preferred retailer and check to see if any special deals are available.
You will receive a set amount of kicks once you finish the purchase utilizing the app's offer.
When you add your credit card to the app (which you will use to make purchases through the app), you will also get bonus kicks.
You may also take advantage of in-store cashback deals. Simply go to the "Kicks Nearby" area and choose the store you're presently visiting. Before the purchase is done, tap the credit card icon and have the cashier scan your QR code.
3. Scan Barcodes
You may also earn kicks by scanning barcodes at stores that partner with Shopkick. You are not required to purchase the item you are scanning.
A list of the available retailers will appear when you open the app for the first time. By clicking the store listing in the app, you'll be able to see everything that can be scanned at the store.
Scanning an item's barcode is all it takes. An additional image will then need to be scanned. After completing it, you will receive the kicks as long as you follow the instructions.
It's important to remember that you don't have to buy the item to get the reward.
4. Watch Videos
Watching video advertising on the app can also earn you points. When you first open the app, there is a section where you may earn kicks by watching videos.
To earn kicks, all you have to do is complete viewing the video. You won't usually get a lot of kicks from this, but it's a great method to boost your account's kicks without putting in a lot of effort.
It also includes a daily restriction on the number of videos you may view, so it won't take up too much of your time.
5. Quick Kicks
As the name indicates, quick kicks involve minimal time and are one of the quickest methods to generate money with Shopkick.
To locate fast kicks, just head to the Discover area of the app. You'll notice brief videos that you need to view. However, unlike the "Watch Video" section, videos in this section are considerably shorter, and you must watch three at a time to earn one kick.
6. Scan Receipt
Check your Shopkick app before making a purchase to verify if the item you wish to buy is eligible for earning points. This way, you may earn money for goods you'd otherwise have to buy.
In general, any store that rewards you for scanning certain products will also reward you for purchasing and scanning your receipt. Simply search for a receipt logo underneath the item that qualifies for points.
Simply verify all of the goods you've purchased and then touch the 'Claim' button at the bottom to claim kicks for them. The camera will open when you click the button, prompting you to take a picture of the receipt. It's that simple.
7. Shop With Linked Cards
When you browse the Shopkick app, you'll see that not all stores reward you for scanning receipts.
Instead, some offer something far more convenient and simple – shopping with a linked card. You can take advantage of this feature by going to Settings in the Shopkick app and selecting 'Link card'.
When you pay with a linked card, any purchases at the store, not just those on sale, will earn you kicks. For every $1 paid, you will receive kicks.
8. Online Shopping
Also, using the Shopkick app to shop online can earn you kicks on your purchase.
To see all of the qualifying stores that give points for online shopping, click the 'Kicks Online' area.
Depending on the store you choose, you will be able to see what points you can earn for your purchases. Shopkick, for example, lets you earn 3 kicks for every dollar spent on eBay.
9. Referral Program
The last option to earn Shopkick points without spending money is to invite friends to download the app. Invites on Shopkick may reward you up to 25,000 kicks, which is the equivalent of inviting 100 friends.
You will receive 250 kicks for each person you refer to Shopkick. In addition, your friend will receive 250 kicks.
You'll receive your 250 kicks as soon as your invited buddy comes in or scans during the first seven days of joining up for Shopkick. Just make sure they sign up for Shopkick using the URL or code you provided them.
Pros
Several earning opportunities offered
Payment via PayPal is available
User-friendly
Cons
Low rewards
Only available in the US
Most earning opportunities will require you to go to a certain location
Some of Shopkick Partner Stores
Walmart 
Target
Ulta
Lowe's 
JCPenney
Starbucks  
Amazon
Best Buy
Uber
Nike
Procter & Gamble
Kroger
See also: Cashback and Rewards: Which Is the Better Deal?
FAQs
Can you use Shopkick on phone?
Yes, as a matter of fact, it is best used on a mobile phone rather than a tablet or an iPad. The app is available to iPhone and Android users. You'll be prompted to register using your email, Facebook account, or phone number, as well as a password after you've downloaded the app.
You may start earning "kicks" right away when you've confirmed your account (Shopkick points).
How do I find out which store is available in my area?
The fact that Shopkick is only available at participating retailers is an apparent drawback. You won't be able to use the Shopkick app if you don't live or work near these stores.
Signing up and checking out the available stores is the only way to find out which stores Shopkick sponsors in your region.
How does Shopkick make money?
Shopkick is compensated by its merchant partners for bringing customers into their store.
Shopkick, for example, encourages you to visit Target and scan an item by paying you. Once you're there, there's a good chance you'll buy something, or at least a few items.
Shopkick is compensated by Target for sending you (and other customers) to their store. That's all there is to it.
Conclusion
If you do all of your shopping in your area, Shopkick can be quite useful. That's because you'll be able to take advantage of the majority of the app's offerings.
It's also beneficial if you like to purchase online because it offers great cashback benefits. However, if you don't do any of those things, this app will be of little use to you.
Other websites and apps are available if you want to earn efficiently. Check out the Best 10 Cashback Platforms: Earn Rewards for Shopping Online. You can earn some extra income by taking advantage of the sites on this list.
Additionally, you will find a site that you can join no matter where you live. If you liked this review, you may want to read my Ibotta Review.
Ready To Join?
You can easily download and sign up for Shopkick for free. By clicking the button below, you can download, install and fill out a few details, and you can begin earning kicks right away.