Survey Junkie is a LEGIT survey site. Survey Junkie is one of the reputable and reliable online survey sites that has preferred prestige to fame.
It doesn't promise to make you rich, but you're certain of not getting robbed or scammed. If you were to make money while you relaxed, how would that be?
Interestingly enough, there are many ways to earn a little extra cash with almost zero effort. It can be difficult to find additional income while you work full-time and have a family.
While extra money is available, "free time" is hard to come by. That's where an online survey comes in.
Getting money from Survey Junkie is a great way to work from your couch. Earn money by providing your opinion. And guess what? Registration is completely free.
How does it work? Read on to find out.
Quick Review
What makes Survey Junkie shine?
Free-to-join membership
Easy to use
Members are rewarded immediately
Honesty and straightforwardness
Chances to earn extra points
Offers multiple payment channels
Convenience
Money Just for Trying
Survey Junkie Overview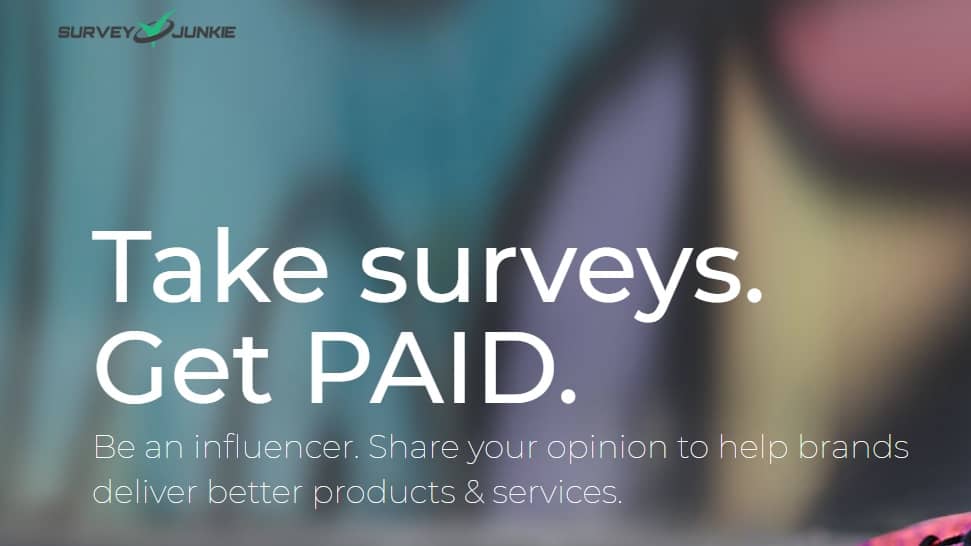 What is Survey Junkie?
Survey Junkie is an online survey platform that pays its registered members for sharing their opinions with them.
One of the older existing panels was established in the year 2005, then launched in the year 2010, which has given them an over-a-decade existence ground.
It is a well-designed, straightforward forward and honest system that rewards its users accordingly, as soon as they complete assigned surveys.
Market research is an important tool used by many companies to find out what their potential customers want. 
Surveys and focus groups are part of this process – that's where you come in as a member of Survey Junkie.
The survey site partners with companies in need of feedback from customers just like you. 
Surveys could be about automobile satisfaction, electronic innovation, makeup, or advertising effectiveness – you get paid to express your views.
Earning a whole lot from this platform is not guaranteed but you're more than certain of its legitimacy.
This platform was founded and established in Glendale, California, and has since been in business for years, coupled with the A- rating awarded to them from Better Business Bureau (BBB).
For any online paying site to get a rating from the BBB platform, it proves that the site has been tested and trusted.
How Does Survey Junkie Work?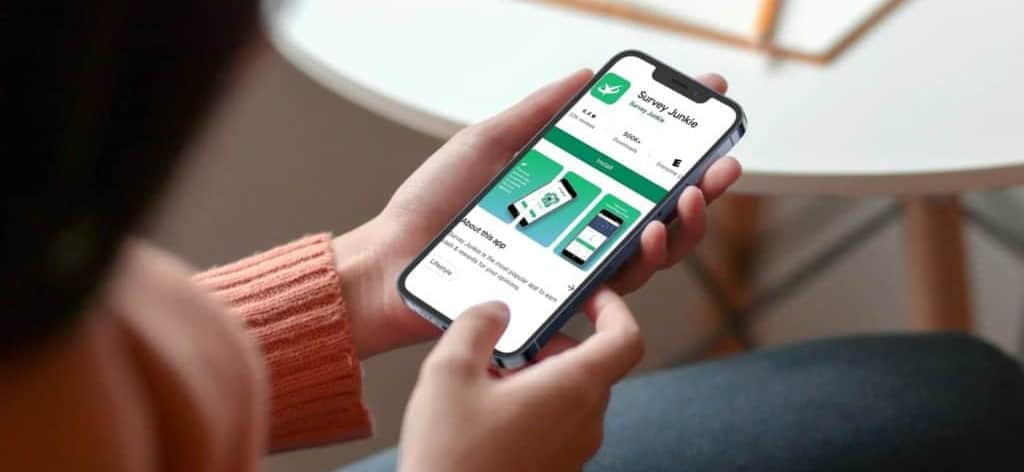 To start earning on Survey Junkie, a membership account setup is required. Glad to announce to you that this account creation is generally free and easy to set up.
In a couple of minutes after setting up your membership profile account, the company awards you points without answering any survey yet.
Really?
Yes, you get twenty-five points for just signing up and fifty points for successfully completing your profile. So, you already earn 70 points by merely setting up an account on the website.
Just as though the platform has been waiting for your entry, series of available surveys are immediately sent to you through your email, alerting and urging you to start completing them, thereby getting rewards in the process.
Earn real money taking survey opportunities with Survey Junkie. 
You'll be asked a few questions about your experiences with specific products after selecting the surveys you wish to participate in. 
Sounds pretty straightforward, doesn't it?
Who is Survey Junkie Made For?
You will find Survey Junkie to be perfect for you if you're someone who needs a few bucks from time to time.
Simply take a survey or two during your free time to earn some quick cash.
People of all ages and backgrounds can take surveys, even if they have just a few minutes available. If you enjoy giving opinions on ads, products, and services, Survey Junkie is a great place for you.
So anyone can join?
Not really. Those who expect to make money while sleeping can not join. It's easy to earn money with Survey Junkie, but it won't pay you if you do nothing.
It is a lot more time-consuming, and you don't get residual income from surveys. So, don't sign up if you're basically looking for residual income.
Also, the site is not for people looking to get rich overnight. It's bad news that you aren't going to be able to fund an early retirement just by taking surveys.
In other words, if you have high expectations, steer away from Survey Junkie.
What Does Survey Junkie Offer?
Sign-up Bonus
Sign up for free and earn 75 points.
Another method of earning points is through the Sign-up bonus. This bonus offer comes only once, and that is during registration.
The company awards you 25 points for signing up, and 50 points for completing the profile survey, summing up to a total of 75 points.
Survey
The major way of earning on this website is by participating in their paid online surveys.
Log into your account whenever you have some free time to see which surveys are available.
There is an estimated amount of time it should take to complete each survey as well as the number of points it is worth.
Once you click "Start Survey," you'll be taken through a few simple screening questions. These include things like your age and income level.
After that, they go into details regarding the survey subject. Once you meet the company's requirements, you'll be able to complete the survey.
If not, you won't be allowed to complete the survey. However, as long as you give it a try, you'll earn a couple of points.
It's hard to predict what kinds of questions you'll be asked since survey topics vary.
Getting rewards is easy at Survey Junkie, and it doesn't take much to figure out the value of the points in real money.
For each point you earn, you'll make one cent ($0.01), so if you get 50 points in one survey, you'll make 50 cents.
Watching Videos
There are even times when you will be asked to watch advertisements and comment on it.
Businesses are collaborating with Survey Junkie to discover how consumers are using their products and services.
You can gain points by watching short videos, which you can then be swapped for cash or e-gift cards.
Although it has minimal rewards, it is a great addition to the site that could help you get more points.
Earn money while sitting on your couch watching ads and giving your opinions.
Focus Groups
Participation in focus groups is another way to acquire "fun" money that can be supplemented by taking surveys. 
It is a different form of expressing your opinion than the traditional survey, and you can even earn more money. 
If you fit the ideal customer profile (the ideal type of customer they seek), you could be eligible to earn huge money.
Survey Junkie Pros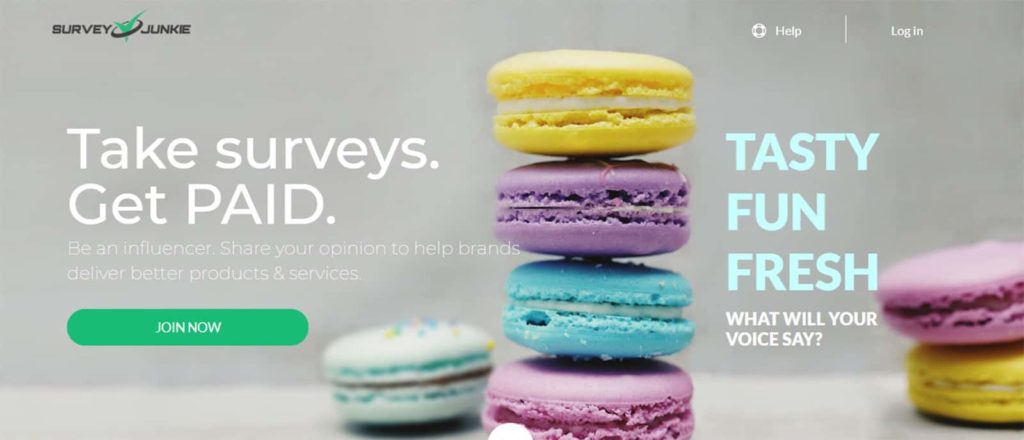 Conveniency
Survey Junkie is completely convenient because you're able to make money while in the comfort of your home.
The surveys can be completed if you have a laptop or mobile phone and internet access.
You could earn money with Survey Junkie whenever you find the time during the day to complete surveys while standing in line at the DMV, or why watching your favorite TV series.
Your earning opportunities are endless with any device that is connected to the internet.
This is great for unscheduled 5-minute intervals.
Furthermore, these questions aren't hard to answer – all you have to do is answer what you think about products and ads. And you get paid.
Free-to-join Membership
Sign up and take surveys with Survey Junkie for free.
Survey Junkie members are invited to participate in surveys to give their opinion on products, services, and topics free of charge.
A regular survey taker will find this the ideal site for making some extra pocket money or filling in between jobs.
This is one of the active and paying survey communities on the internet.
Every day, thousands of people take surveys that last for a few minutes, covering topics from household products to services, without paying any money for registration.
Instead, they get appreciated with rewards. 
For each survey you complete, you'll receive points you can redeem for gift cards, or withdraw through PayPal or bank transfer. 
And don't forget, you also get 75 points for setting it up and completing your profile registration.
Get Paid For Trying
Who pays people when they are not eligible?
On Survey Junkie, you won't be able to qualify for every survey, but nothing is too big to worry about.
You get a small number of points (usually 3 points) every time you start the survey process and find out you aren't qualified to finish it.
Regardless, you at least receive something for your time even if you do not meet the requirements for the survey.
Easy To Use
Making it a lot easier to access the website on a mobile device, the platform's landing page is mobile-friendly.
It's easy to navigate through the site, even if you're a new member and have never used or made money from an online survey site before.
A lot of survey sites make things harder by having you complete a ton of tasks to get paid.
It may sound like the best thing at first, but it can be hard to figure out what you're doing, especially for a newbie.
Their main focus is surveying at Survey Junkie. Maximizing your earnings doesn't require deciphering complicated rules.
Some online survey companies, for example, pay people by means of offers.
You are required to sign up in these instances for a free trial membership but not with Survey Junkie.
There's no hassle trying to cancel before you get charged with Survey Junkie because you don't do offers.
Multiple Payment Options
There are some of the most well-known payment methods on Survey Junkie you can use to withdraw your money.
PayPal, Amazon gift cards, and other gift cards used by big retailers can be used to cash out your earnings.
Note that these e-gift cards are recognized by online retailers who accept them as a mode of payment.
The equivalent points needed to apply for the e-gift card are about 500-1000 points, though it varies on the desired choice of card.
While the equivalent amount of points needed to transfer to your PayPal account is about 100-200 points.
This implies that with two or more surveys successfully completed in a day, you can make your first withdrawal to your PayPal account.
Interestingly, you can even choose to get your rewards via a bank transfer (an option they recently added), so redeeming your rewards is pretty easy.
Get Rewarded Immediately
Survey Junkie puts surveys at your fingertips. Simply sign up, set your availability, and get ready for action.
There is no room for delayed payments on this platform.
Whether you answer one or one hundred surveys, you can expect rewards within 24 hours of completing a survey.
Since Survey Junkie pays with points that can be redeemed instantly for real money.
Honesty & Straight-Forwardness
This is not something big, but it is worth stating as one of the pros of the platform.
On logging to the site, boldly inscribed on the site are words that read, "You will not get rich by taking surveys".
This statement is 95% true, the platform doesn't promise to make you rich, but you're certain of gaining extra bucks.
That alone is enough to guarantee you won't be dealing with internet fraudsters when you sign up.
Survey Junkie Cons
Not all surveys are open to you
Often you will try to start a survey and be disqualified after answering a few screening questions.
It is possible that you might end up filling out a survey you might not be able to finish for full point value. This often happens when your demography is different from the survey requirement.
Survey Subjects Not Known Beforehand
In relation to the disqualification issue, there is no information about the survey subject in the survey listings.
As a result, you don't know if this is a topic you might be interested in or have a lot to say about.
This is one of the drawbacks Survey Junkie needs to work on.
Not all surveys you would be interested to participate in, so it would be nice to know beforehand what you're about to get into.
Accounts Easily Get Flagged Down
It's either an account is getting an outright ban or disqualification for not meeting up with the platform's criteria.
Or consistently going against the rules of the platform. Also, dormant accounts have tendencies of getting banned.
So, you might not get much chance to earn rewards before you're removed.
No Sweepstakes Entries
Sweepstakes are promotional or bonus offers presented by the platform to enable registered members to compete amongst themselves in winning the Cash Prize.
This means members don't have an offer to look up to in making more earnings except for the survey.
Alternatives To Survey Junkie
Below are 10 worthy alternatives you can check out:
FAQs
Is Survey Junkie legit?
Needless to say with the above review, yes. Survey Junkie is an online site that allows people to make money by filling out surveys.
Even, according to many reviews and testimonials, Survey Junkie is one of the few legit paid survey sites out there.
How Much Can I Earn from Survey Junkie?
Survey Junkie offers you the opportunity to earn as much as $5.00 per hour completing surveys based on your demographics.
You'll also get the chance to join focus groups on Survey Junkie in addition to filling out surveys.
As a part of a focus group, you can earn significantly more money. You can make anything from $50 to $100 per hour in some cases.
What information do I provide to set up an account on Survey Junkie?
It takes about two minutes to start using Survey Junkie.
Before you can create an account on the website, you need to provide the following personal information:
First name
Last name
Gender
Date of birth
Country of residence
Postcode
Make sure to complete your account as soon as possible after signing up. By doing so, you'll get more surveys with better rewards, according to Survey Junkie.
Are Online Surveys Safe?
Some survey sites are safe, while some are scams.
Businesses are increasingly using online surveys to gain valuable insight into their customers and collect opinions about their needs and wants.
Most companies now use surveys in their marketing and customer service strategies.
While survey sites provide valuable business opportunities, the risks of abuse are just as great as those of conducting legitimate business research.
So, watch out for illegitimate survey sites. Here are reliable and reputable paid survey sites you can trust.
Conclusion
Despite being a genuine company and paying real money, Survey Junkie does not promise you will become rich overnight.
The company is true to its word and does really pay you to complete their surveys. No simpler explanation could be given than that.
They can be adopted as platforms where you earn extra income. It's never an online paying site where you decide to quit your job and devote time to it.
Just like every other online survey site, Survey Junkie can never replace your steady income, full-time job.
However, it may contribute as much when it comes to saving for emergencies, vacation plans, or just having cash on hand to get take-out occasionally.
Survey Junkie is a great way to fill your wallet, so if you're looking for another method to make extra cash, check it out.
You have nothing to lose trying it out since it is free and registration is simple.
Are you interested in exploring other surveys for money sites like Survey Junkie? Here are the Best Paid Survey Panels I recommend. Thanks for reading.