Is TimeBucks a legit survey site? Is it worthwhile to join TimeBucks? You will find out everything in this complete TimeBucks review.
If you're looking for a side hustle, you may have considered doing surveys. But it's important you register with a trustworthy platform.
Timebucks is one of the many free "Get Paid-to" websites where you can earn some extra cash quickly. TimeBucks, unlike most businesses, deals in cash and Bitcoin rather than gift cards or points.
Furthermore, in order to begin earning, you do not need any complicated skills or expertise. Does that make it reliable enough to register with? Well, read on to find out.
In this TimeBucks review, I'll go over the features, pros, and cons of the survey platform and see if it's right for you.
Quick TimeBucks Review
What makes TimeBucks shine?
Pretty user-friendly
Pays in cash and bitcoin
A large variety of opportunities
Multiple payment methods
New users get a FREE $1.00 sign-up bonus
Good customer support service
Registration is free
Available to everyone worldwide
Low payment threshold
Get paid every week
Mobile app to take surveys on the go
Detailed TimeBucks Review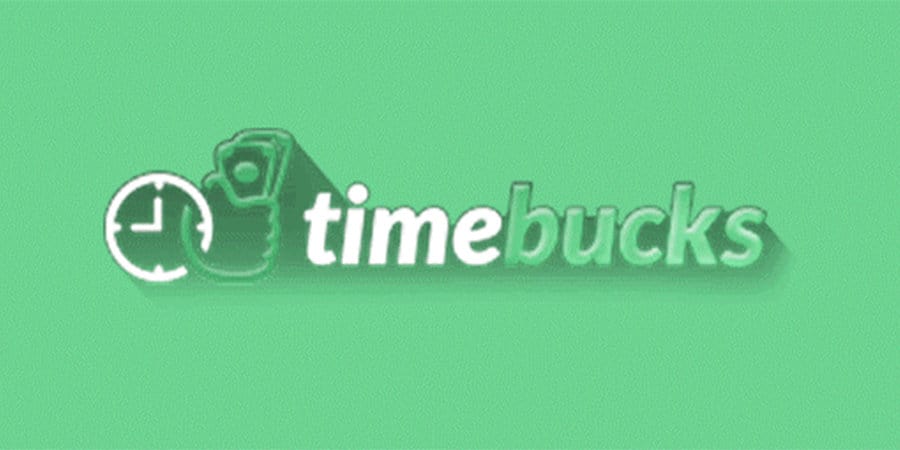 What Is TimeBucks?
TimeBucks is an online reward system that allows you to make money in a variety of ways.
A GPT (get-paid-to) platform is another name for this kind of website.
It is owned by Australian Clearing Pty Ltd, but it is available globally for everyone interested in making money online easily.
Is TimeBucks Legit?
Yes, TimeBucks has been around since 2014. Within the online world, the survey platform has established a strong reputation.
Account closures and a lack of surveys have been mentioned in several TimeBucks reviews. The majority of the feedback, on the other hand, lauded the support, legitimate, and earning opportunities.
How Does It Work?
Companies pay TimeBucks survey platform in exchange for candid opinions and insight. TimeBucks share a portion of their revenue with you as a reward for your participation. This data aids businesses in creating ad plans and developing new services and products.
You can join Timebucks from anywhere in the world. The site is completely free for anyone to join, and then they can take surveys and complete small tasks to earn money.
Your details can be entered manually or connected to your Facebook account to sign up for a free account on TimeBucks.
While this procedure takes just a few seconds, it is important that you complete your profile and payment details at this time.
It's a smart idea to finish this phase before you start because you'll need this information to fit with surveys and collect your rewards.
Who Is TimeBucks For?
You are free to register on TimeBucks no matter where you live in the world. Based on the country you are from, the options available can differ.
However, as opposed to other survey platforms, it offers a vast range of options.
So, even if you live in a country where survey opportunities are scarce, there are still many other ways you can earn yourself some money.
Most countries will have access to the stuff you can stream, Instagram, interesting games sweepstakes, tasks, and videos you can watch.
In most countries, you can also find surveys and coupons, but some countries can need a little more patience.
What Does TimeBucks Offer?
Many of the offerings are comparable to those offered on other paid survey platforms and online reward platforms, but it does have certain exclusive features not available on other sites.
One thing to keep in mind is that this paid survey site is constantly evolving and adding new ways to earn money.
When they discover that a procedure isn't working out, they often delete it.
For example, it used to have a grow a beard challenge where you could get some bucks by taking selfies.
These offers are no longer available, but they have replaced them with new ways to make money on the platforms.
But first, let's take a look at what the survey platform has to offer, one by one, to see if it's worth it for you:
Paid Surveys
TimeBucks has a good selection of paying surveys.
When logging in, you will take surveys from a variety of different services and get paid into your TimeBucks account.
The majority of surveys are available via survey routers or offers walls.
The wonderful thing about this is that there are surveys available in almost every country.
The drawbacks include the fact that finding surveys that fit your demography might take some time. However, TimeBucks' survey choices are really very fine.
Overall, surveys are one of the easiest ways to make money on TimeBucks, and it's certainly a segment you can look at if you decide to join.
Despite the fact that it has surveys for most countries, the exact number of surveys available can differ based on where you live.
There are other ways to make money on TimeBucks if you don't have a lot of surveys available.
TimeBucks Micro-Tasks
Timebucks has a segment titled literally "Tasks."
You can earn money by installing games, viewing YouTube videos, visiting specific websites, and following people on social media, among other things.
The tasks are normally fast, but not all of them are worth your time.
Since not everybody pays you fairly for their time, these jobs are generated by other Timebucks participants. So choose your assignments carefully.
You can still choose which assignments you want to do, review the conditions, and pay before beginning.
And, if you chose carefully, it can be a simple way to supplement your earnings on the platform.
Content Options
On Timebucks, the content tab provides access to a variety of earning options.
In fact, at the time of writing, there were nine different ways to make some cash in this segment alone.
You can make some bucks by clicking small advertisements and visiting a page for a certain amount of time.
It may even be liking TimeBucks' Facebook profile, among other things.
You will watch slideshows and get rewarded for seeing 10 pages of a slideshow.
This can be very amusing, as there are some fantastic slideshows available, such as the most bizarre puppy videos, the best MMA battles, surprising celebrity facts, the worst tattoos ever, and so on.
You can also find the following earning opportunities in this section:
Solving captchas (more about this later)
Tap a few times (get paid to click on ads delivered as push notifications in your browser)
Earn money by searching the internet (depending on where you work, you can receive up to $0.01 per online search).
Earn money by posting videos on YouTube.
Watch slideshows from the news
The best thing about the content segment is that no matter the country you are based, you will still find opportunities to earn money here.
Some choices in this segment won't make you a lot of money, but many of us watch slideshows, news, and other similar things anyway, and the tasks are mostly simple and quick to complete.
Watch videos
In the video section of TimeBucks, there are a few different ways to get rewards by viewing videos.
One of them is similar to most other GPT sites in that you must watch three videos plus advertisements about a specific subject.
They still have some short separate videos for which you will be paid after seeing a certain number of seconds.
These videos can be found by going to the "content" tab in the earning section and then scrolling down to the "video" tab.
In some ways, it's a simple way to earn a little extra money.
However, the incentives for this choice are very modest, so it's not an option to use to significantly increase your earnings. So, it's a good way to make a little extra money while you're watching a video you'd want to see anyway.
What I really like about TimeBucks is that the requirements for each video are very simple and straightforward.
You can then quickly make a decision as to whether it's worth your time.
You can also make money by viewing YouTube videos in addition to these content options. This alternative can be found under the "Engage" tab.
After that, you'll be guided to a third-party website where you can earn money by watching random YouTube videos.
This requires a few moments to set up, but there are excellent tutorials available to help you get started, and once you're set up, you'll be paid well to watch videos, compared to anything else you can do.
Playing Games
What's better than earning cash for doing what you enjoy?
Play games on your desktop or mobile device and earn rewards including CASH and gift cards.
Play games on the go by downloading the TimeBucks app on your Android phone.
They have many fun games to choose from in a variety of categories – everything from action to sports to a casino.
Weekly Sweepstake
TimeBucks has a weekly sweepstake for which you can earn entries simply by using the web.
It is one of the best draws on any Get-Paid-To platform, and if you win it, you can dramatically increase your earnings, as it is one of the most lucrative.
Any time you log in to TimeBucks, you will receive 100 entries; for every mission you complete, you will receive 1 entry for every $0.001 you earn; and for any member, you invite to enter, you will receive 200 entries.
Furthermore, installing the TimeBucks Sweepstakes app is a simple way to get a lot of free entries passively.
You can get 100 free Sweepstakes entries every 10 minutes simply by running the app.
Only keep in mind that it's only compatible with Windows PCs right now.
It's available for download in TimeBucks' Sweepstakes section.
TimeBucks will provide you with Sweepstake entries in exchange for mining cryptocurrencies with your unused computing capacity.
TikTok
In the TimeBucks earning tab, there is an entire TikTok segment.
On TikTok, you can earn money by performing various small tasks.
Generally, you can make money by uploading duets in which you include other videos.
Just keep in mind that there are some very stringent guidelines to follow, so make sure you read the words thoroughly before getting started.
You'll see a screen with the terms and conditions you must accept before you can enter this site, so they're easy to find.
If you want to earn money with TikTok, each choice has a detailed tutorial video on TimeBucks.
Make sure to watch this if you want to earn money this way.
The amount you will earn with this offer is determined by the quality score you get after connecting your TikTok and TimeBucks accounts.
It won't give you a lot of money, but if you like using TikTok, it might be a nice way to earn money.
Daily Bonuses
Every day, the top five Timebucks performers will be awarded extra money. The first-place prize is $20, with the fifth-place prize being $1.
And since earning enough to be at the top isn't tough, this can be a perfect way to earn a nice bonus.
Referral Program
You can earn a commission by inviting other people to join TimeBucks.
You will be paid in five stages. That means you'll be paid fees for the clients who are recommended by your referred people.
Generally, they aren't very high, but a little is nice too.
It will build up to be a fantastic way to make more money if you invite a lot of people who end up welcoming a lot of people.
It has a stronger referral program compared to many other competing survey sites and it has five stages.
So, if you participate and like using it, it's a smart idea to start inviting others to join as well.
Since commissions are charged out of TimeBucks' pockets, they will receive the same whether they enter through your connection or not.
Instagram Tasks
TimeBucks has an offer to help you make money with your Instagram account.
Most of these activities include following certain Instagram accounts for a few cents each.
If you love spending your spare time on Instagram, though, it can be a good way to supplement your earnings on TimeBucks.
Advertize With TimeBucks
Advertizing is another sure way to earn money on TimeBucks.
You have a variety of choices here, so you can, for example, help promote YouTube videos.
So, if you have a YouTube video that you want to advertise, you can do so here.
You will choose the number of views you want, as well as the regions, age groups, and other factors, before paying for them.
Other participants would then be compensated for watching the videos.
Well, I won't recommend you use it to advertise your videos because it carries certain risks.
Nevertheless, if you take into consideration the consequences and know what you're doing, you may be able to take advantage of this to target a certain target audience with your videos.
Solving Captchas
On TimeBucks, you can make money easily by solving captchas. You will be mainly tasked with solving some kind of small data problem.
The best thing about these assignments is that you can repeat them as many times as you want.
The tasks, on the other hand, are not simple and need some effort – particularly at first, as you get used to them.
To get $0.003, you must solve 15 captchas, making it one of the lowest-paid tasks on TimeBucks.
It would be better to concentrate on any of the other offers unless you have a lot of spare time.
However, what you get on TimeBucks is really very decent as opposed to what you would get on many other captcha-solving websites.
Most other sites want you to complete at least 1,000 captchas in order to get paid, but TimeBucks pays you for every 15 you complete, making it easier to get paid.
This earning offer can be found in TimeBucks' content section.
TimeBucks Pros

1. Has a Mobile App
It has many advantages to be able to use a GPT site on a mobile device, especially when it comes to TimeBucks, which has quick and easy tasks you can do whenever you have a spare moment.
Members can simply download and use the TimeBucks mobile App. It is, however, named TimeBucks Surveys, and it is unlike most other GPT sites' mobile app.
Only a particular form of the survey can be found among the TimeBucks earning approaches.
You'll also need to connect the app to your TimeBucks account after you've downloaded it.
You can do this by going to your Timebucks account's profile settings and looking for something called a TimeBucks Connect code. You'll need that to log into the app.
Only members using Android devices can download and use the app.
However, whether you wish to use TimeBucks on other devices or you want to try all of the earning options from your mobile devices, you can just open TimeBucks in your browser tab, which is designed for mobile too.
Some tasks (such as TikTok tasks) can only be completed on a mobile device. As a result, it's a good idea to look at TimeBucks' smartphone options as well.
2. Anyone Can Join For Free
Sign up for a free account with TimeBucks and start earning money.
Regardless of where you are in the country, you can sign up for TimeBucks.
Members of TimeBucks are asked to take part in free polls to express their opinions on goods, programs, and topics.
This forum is perfect for making some extra cash or filling in the gaps between jobs for a daily survey taker.
This is one of the most popular and lucrative online survey platforms.
Members take short surveys every day, covering anything from products to services, and they don't have to pay anything to participate.
Instead, they are rewarded for their efforts.
You'll earn cash (instead of points) for each survey you complete, which you have multiple options to withdraw.
3. Multiple Payment Options
You can earn some money on TimeBucks in a number of ways. And you get paid in dollars any time you complete a task on the website.
At the moment, TimeBucks supports Skrill, Payeer, Bitcoin, AirTM, Neteller and, bank transfer as payment methods.
PayPal was once one of the payment methods, but that service is no longer available.
However, in my view, this isn't a big deal because the other TimeBucks payment options are just as good, and they also make it simple to get paid in cash if that's what you want.
So, if you choose, you can always get your earnings in cash or gift cards if you chose a payout method like AirTM.
In several ways, the payout mechanisms have become more versatile, and they now accept bank transfers (via Wise), which is uncommon for a GPT platform.
When you've made $10, you can withdraw, which is a good low payout threshold.
It's good to be able to request a reward right away rather than having to wait until you've won a lot more, as some other survey sites need.
If you've hit the minimum threshold, your money will be automatically paid out, and TimeBucks processes payouts once a week.
So TimeBucks offers some really decent payout options and conditions.
4. Large Variety of Opportunities
TimeBucks offers hundreds of surveys and other offers, with more added every day.
Unlike many other survey sites, this platform offers you many ways to earn money even if you choose not to participate in a survey.
You can choose to watch videos, follow people on Instagram, promote videos, play games, solve captchas, and refer your family and friends among many others offer available.
There's always something for everyone on the platform, and it's easy to make some extra cash on the side.
5. Good Customer Support Service
TimeBucks is all about helping you make some extra cash, which is why they go above and beyond to make sure any issue gets fixed quickly or the advice is given is on point.
TimeBucks offers excellent customer service and never leaves you without the support you deserve.
They have top-notch support and are very responsive to complaints, requests, and issues.  
That means when you are having trouble with an associate they get right on it, and will even keep following up with you via email to make sure everything gets resolved.
The customer service team is polite and quick to respond, which is critical for any service or network.
TimeBucks Cons
1. Pays Only Once a Week
While TimeBucks does not payout instantly like a survey site, there is another upside to this.
Earning with TimeBucks requires effort – you have to log in every day and complete little tasks that all add up over time.
If you withdraw your rewards this week, you will have to wait till next week before you make another request.
You only get to cash out once a week. And that's if your reward is $10 upward.
Alternatives To TimeBucks
There are many other services like TimeBucks that lets you take surveys and perform various research tasks in order to make money in your spare time. These sites include:
FAQs
Can I withdraw my earnings on TimeBucks at anytime?
You can withdraw your earnings on TimeBucks anytime you need to.
You won't be blocked from withdrawing and if your earnings are processed quickly you'll have your withdrawal in a few hours time.
Payments are processed automatically when they reach $10, so with a bit of hard work and consistency of earnings, you could have some money in your bank account in no time.
However, TimeBucks only processes payment once a week. So be aware you can only withdraw once a week.
Is TimeBucks really worth it?
Yes, it is worth it. TimeBucks has been around for a long time and has a good reputation in the online survey industry. It does have a variety of ways to make money as well as access to some fun surveys.
Many of the activities are low-paying, but depending on the level of participation, you could earn $10-$20 a week.
This makes it a good option for stay-at-home parents, teachers, or seniors who choose to make some extra money in their free time.
How much can you possibly make?
How much money you can make is determined by a variety of factors.
First and foremost, decide how much time you want to spend on TimeBucks and how many chances you want to take advantage of.
Your earning will also be influenced by the country you live.
There will be more polls and wall deals in some countries than in others.
However, since there are so many different ways to make money, and many of them are not dependent on your venue, everyone can make extra money.
It would, however, be easier for you to make more money if you live in a country where surveys and other offers are available on a daily basis.
What commission does TimeBucks pay for referring people?
A membership with TimeBucks offers a highly lucrative commission rate. The more people you refer to TimeBucks, the more money you earn. Their current commission rate is 15%.
Hover over the Earnings tab and choose Referral Earnings from the drop-down menu. You'll get your referral unique link and be able to watch all of your referral earnings from there.
Conclusion
TimeBucks has all the characteristics that make a decent GPT website: a wide variety of activities, multiple payment options, and a generous payment structure.
It takes time to earn a few dollars on TimeBucks, as it does on most Get-Paid-to platforms.
If you like solving captchas, sharing your thoughts, playing games, viewing videos, and posting on TikTok, TimeBucks is a wonderful way for you to earn money while doing what you already enjoy.
Invest a few hours a day in earning money/bitcoins with TimeBucks instead of mindlessly browsing through Facebook or watching TV.
There is no risk.
Try cashing out your earnings through Bitcoin if you don't need the extra cash to pay bills.
The weekly payment schedule could frustrate some members, but this is an enjoyable and satisfying website overall.
However, you should be mindful that, as in any other survey or GPT platform, you should not hope to make a living off it.
You can earn any extra cash on the side, but you would be disappointed if you plan to become through GPT sites.
Ready To Join?
The easiest way to join TimeBucks is by clicking the button below to be taken to the sign-up page. You will be done and ready to earn money ASAP. It'll only take a few seconds.
You will only need your email and password and then you will be emailed a confirmation e-mail. If you prefer signing up with your Facebook account, it only takes a tab on a button.
Now is the time to act. Sign up for free and earn yourself a $1 bonus.
I hope this comprehensive review has made you understand just what TimeBucks has to deliver and if it is the right survey panel for you.
You can also check out our SurveyTime Review.