Welcome to my detailed Zoombucks review.
Online reward websites are platforms that are usually used by people that are looking for how to make money online. These platforms are not only simple but also legit. They provide opportunities for people to earn dollars for doing simple tasks that do not require any skill or qualification.
One of these platforms is Zoombucks. In this Zoombucks review, I will cover what Zoombucks is, its payment methods, and how you can make money from the platform. These will help you to decide if the site is right for you or if you should find another option.
Quick Review
Here is a summary of this Zoombucks review; it contains all you need to know about Zoombucks: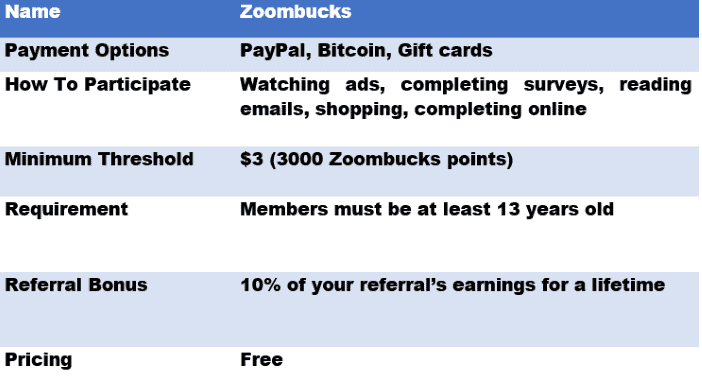 Detailed Guide
What is Zoombucks?
Zoombucks is a classic get-paid-to (GPT) site that allows its members to earn cash and other rewards by watching ads, completing surveys, reading emails, shopping, completing online offers, playing games, and referring friends.
The website has a nice layout. It is easy to navigate and reveals what you can earn and how long it will take you to complete each of the surveys. This is a great feature because it allows users to plan before they join the platform and spend time completing the different tasks it offers.
In most of the tasks that the site offers, the effective hourly rate is reasonable (about $10 to $20 per hour). You can optimize this rate by completing the best surveys with the highest pay which you can have access to beforehand.
The information provided about the length of the surveys is accurate. You can also watch videos and complete offers.
The video option is, however, more challenging with low pay. It is also not effective in increasing your earnings. Thus, you should check out the other options on the site. You can focus more on offers and surveys.
Zoombucks: A Platform With An Easy Earning Method
I am sure you are looking for different ways to make money from different websites. The interesting thing about Zoombucks is that its tasks are very simple. That implies that you do not have to resign from your full-time job to earn from Zoombucks. Its earning methods are passive. You don't need to do anything difficult to earn from these tasks.
If you are interested in making money in addition to the other side hustles that you are involved in, give Zoombucks a try. Its membership is free, so you have nothing to lose.
Who is Zoombucks Meant For?
Just like all get-paid-to sites, Zoombucks is designed for anyone interested in making money online by doing small and simple tasks, such as watching videos, completing surveys, and completing offers.
Most online reward websites ask members to be at least 18 years old before they can take part in their programs. However, Zoombucks requires members to be at least 13 years old. That being said, I believe there will be some tasks that cannot be completed by a 13-year old; such as offers that ask for credit card information.
How To Join Zoombucks
It is easy to sign up and become a member of Zoombucks. The registration is also free.
You can join Zoombucks in two ways. The first method is to provide your email address and password, while the second method is to sign up via Facebook.
If you register with your email address and password, Zoombucks will send you a validation email message that will ask you to verify your email and confirm that you own the email.
When you register, you will be required to provide other details like your age, occupation, and location. This will allow Zoombucks to send you surveys and offers that align with your specific location because some offers are restricted to people living in the United States.
How Zoombucks Works
1. Answering surveys
On Zoombucks, you will come across different surveys that you can answer. These surveys will depend on your demographics. Before answering a survey, you will know the estimated time it will take you to complete the survey.
2. Completing offers
Zoombucks also works by allowing members to participate in both free and paid offers. If you want to participate in free offers, all you need to do is to create an account on any paid survey website or register for newsletters.
You will not be asked to pay anything when you participate in free offers. These offers are also easy to complete
Paid offers, on the other hand, will request your credit card details to buy a product or subscribe for a free trial. If you don't want your card to be charged, you need to cancel your subscription before it elapses.
3. Watching videos
If you are okay with earning 1 to 3 Zoombucks, watching video ads of about 5 minutes or less is the way to go. This option does not require you to do anything special apart from watching the short video clip. You will have access to about 5 to 7 videos every day.
4. Listening to radio
This option is hosted by a third-party provider known as Radio Loyalty. The option allows you to earn 3 Zoombucks by listening to a radio station. Once you listen to a radio station for 3 minutes, you will earn 3 Zoombucks.
5. Sharing on social media platforms
Just as the name implies, all you need to do to earn via this option is to post ads using your social media accounts such as Twitter and Facebook. You need to apply for this program before you get started.
6. Playing games
Zoombucks does not have a mobile application, but the platform is mobile responsive. This allows you to play games and get rewarded. You need to reach certain milestones to earn Zoombucks. Some of the milestones include reaching a new level, attaining a high score, and winning a competition among others.
7. Completing tasks
The tasks that you can complete on Zoombucks are provided by a third-party site referred to as CrowdFlower. You can complete simple tasks such as data entry, photo animation, and lots more.
Although the earnings for this option are small, it becomes something reasonable when you complete the tasks continuously.
8. Promo codes
Zoombucks usually post promo codes on their social media platforms. You can earn Zoombucks points through this option by entering the promo codes provided on the corresponding page.
9. Referral program
Just like other online reward websites, you can increase your earnings by inviting your friends and loved ones to join Zoombucks.
When anyone joins the platform through your unique referral link, you will earn 10 percent of your referral's earnings for a lifetime.
See also: TimeBucks Complete Review
How Do You Make Money With Zoombucks?
Zoombucks uses a point system to reflect what you've earned on the platform (and not money). The platform's 1 point equals $0.001. This means that 1000 points equal $1.
Irrespective of the task that you complete (whether answering surveys, watching videos, or completing offers), you will earn points.
Each task on the platform has a different amount of rewards. You will earn more from tasks that require more time and effort to complete. It is therefore advisable to focus on tasks that pay more.
Also, there are smaller tasks that are very simple to complete; these tasks are so simple that you may feel stupid for not completing them. Some of the tasks require providing your email address. The best thing is to find what works for you and stick to it.
The more points you earn on Zoombucks, the more money you will have in your account balance. The withdrawal threshold of Zoombucks is very low; you need only $3 to request for payout (an equivalent of 3000 Zoombucks points).
Zoombucks Alternatives
Some of the other online paid rewards sites that you can earn from include:
How Zoombucks Pays Members
This is the most important part of this Zoombucks review. The main reason why you are reading this review is to learn how to increase your income through online rewards sites. So, it would make sense to also know how to lay your hands on your hard-earned money.
The process of getting paid on Zoombucks is simple. As stated earlier in this Zoombucks review, the minimum threshold is 3000 Zoombucks points (ZB) which are equivalent to $3. This low threshold makes the site to be ahead of the competition in terms of payment.
There is nothing as disheartening as a high minimum threshold- it makes it difficult to lay your hands on your money.
Once you have earned the required amount of points, you can redeem them via the rewards section of the site. This simple process allows you to choose between gift cards (offered by popular brands like Amazon, Best Buy, Google Play, Walmart, etc.) and PayPal (if you prefer cash).
Zoombucks does not have a like-for-like conversion rate when you are exchanging. This common practice is an avenue through which the platform makes money. For instance, a $5 PayPal card costs you $5.15 or 5150 ZB points.
See also: LiteGPT Review
Pros
Unlike many get-paid-to websites, you can refer as many people as you want to Zoombucks.
Zoombucks allow people from anywhere in the world to join the platform. However, people living in the United States, United Kingdom, and Canada earn more since more advertisements are targeted at those countries.
Judging from the reviews of users online, the platform is legit. The site pays its members for their activities on the platform. You can easily find the proof on different blogs and forums.
The minimum threshold is very low and you can easily attain it.
Cons
There are some cases where payments were slow or where Zoombucks withheld payments for reasons best known to them.
The platform has fewer tasks for international members.
See also: The Dangers Of Online Surveys
FAQs
1. How can I contact Zoombucks customer service?
You can get in touch with Zoombucks customer service by filling in a support ticket on their website. You should be patient while expecting their feedback because users have experienced slow responses.
2. Is Zoombucks free?
Yes, it is free to join and use Zoombucks.
3. Can I work on Zoombucks with a mobile app?
Zoombucks does not have a mobile app. However, the platform is mobile-friendly. It will run nicely on your mobile device and it is easy to navigate the site on devices with smaller screens.
Some surveys may not work very well on a mobile device, and you may have to adjust the zoom level of the screen of your mobile device while working on such surveys.
4. Is Zoombucks a scam?
No, Zoombucks is not a scam. The platform is legit and it rewards its members for completing different tasks. However, some users believe this form of opportunity is not real because they have high expectations.
Since most of these programs are advertised with the wrong approach, many people see them as get-rich-quick schemes.
When you join Zoombucks, you will discover that it is not as rosy as advertisers paint it. For example, when you complete a survey, you will earn points but before cashing out the points, you must reach a particular amount of Zoombucks.
Also, your earnings are less than enough and that's how it is on all reward websites. Platforms like Zoombucks are only ideal when you are looking for ways to earn a few dollars in your spare time. You shouldn't use them to replace your full-time job.
See also: Branded Surveys Review
Conclusion
Zoombucks Review Final Verdict: Is Zoombucks Worth It?
As you can deduce from my Zoombucks review, the platform is a legitimate GPT site that allows its members to earn money from completing different tasks. You can complete many tasks on the site. Most of the tasks are simple and quick.
Zoombucks offers a great way to make money as a supplement to your existing source of income. Don't see it as a get-rich-quick scheme or as a replacement for your full-time income.
Zoombucks is ideal for students, retirees, or stay-at-home parents that are interested in making extra money online.
InboxDollars is another online rewards site that pays its members for completing surveys and carrying out other tasks. Read our detailed InboxDollars review here. Also, don't hesitate to find out how you can do surveys fast.