Welcome to my detailed Clickworker review.
People are signing up on Clickworker to work on projects remotely and earn some extra money every single month. But, is Clickworker legit?
As a platform that boasts of over 1.8 million active members, with over 10,000 logged into the site at any given period; those are impressive stats that show that the platform is giving its members what they want. And we may say it's legit because of this. But we will find out later in this Clickworker review.
One of the major benefits of websites like Clickworker is that you can join without any formal qualifications or experience.
You can also set your schedule and work based on your schedule. All you need to get started is a mobile device or a computer with an internet connection.
Apart from considering if the platform is legit, you may also be wondering if it's worth it and how much you can make per hour.
In this Clickworker review, I will shed light on all you need to know about the platform. I will also share my honest opinion about the platform with you.
Without further ado, let's get started.
Quick Review
Here's a quick Clickworker review: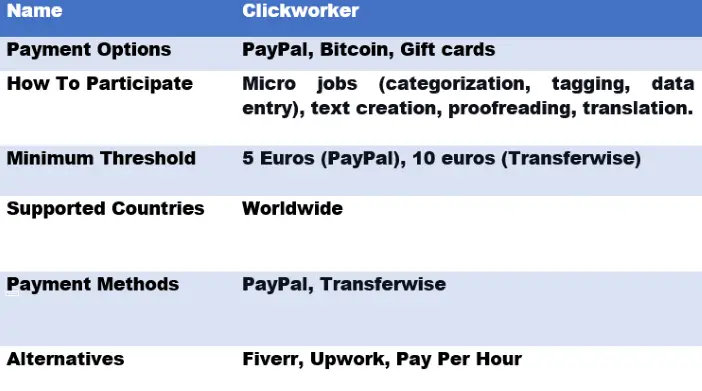 Detailed Guide
What is Clickworker?
Clickworker is a crowdsourcing platform that allows people to complete small tasks online (these small tasks are also referred to as micro-jobs).
A micro-job is a small part of a big project that many people need to complete within a short period.
The simplest tasks, such as web search, categorization, and copy editing cannot be automated by computers. As a result, companies hire people to carry out these tasks.
They prefer hiring freelancers and not permanent staff because these tasks are simple and repetitive.
How To Join Clickworker
Register
It is free and straightforward to register on Clickworker. Simply provide your name, date of birth, home address, email address, username, and password.
Once you provide these and you register, you need to check your email and click the link sent to you to confirm your email address.
Complete your profile
After logging into your account for the first time, you need to go to your Clickworker profile and fill in the four categories. These categories include:
About me:  In this category, you need to provide information about yourself, your education, and your career. You may also provide your blog if you have one, and any sample that you have.
Languages: State the languages that you speak. If you have a certificate to prove this, it will be helpful.
Skills:  This is the section where you will state if you are experienced in copywriting. You can also select the different forms of texts that you are proficient in. Certification of training or degree in translation will also be helpful here.
Hobbies and know-how: Here, you need to select your hobbies and expertise.
Complete assessments
To qualify for jobs, you need to complete assessments. There are two types of assessments which are:
Basic assessment: You will be able to complete more tasks in the future if you get a high score in this assessment.
Project-specific assessment: Passing this assessment will give you access to specific jobs.
Unfortunately, both of these assessments may not be available every time. The best thing you can do is to check every day for new opportunities.
How Clickworker Works
There are different types of jobs on Clickworker. In this section of my Clickworker review, I will explain some of these tasks.
Categorization
In this type of job, you are expected to separate different products into categories or tags. For instance, you may be asked to categorize pieces of shoes, clothing, and accessories. This is a simple task, but it can be tricky in some cases.
Product data digitization
In this type of job, you are expected to digitalize the information of different products from PDF, Excel, illustrations, and catalogs.
Image and video tagging
Tagging refers to the process of giving a relevant word or phrase to a text, image, or video. For instance, let us assume you searched for a Greek beach called Porto Katsiki on Google images, the owner of the picture needed to use the tag 'Port Katsiki' so that you can easily find the picture.
So, in this type of job, you will assign the most relevant tags to pictures or videos.
The oldest museum in the world (George Eastman House), hired people from Clickworker in 2011 to help tag and catalog 400,000 images from their International Museum of Photography and Film. That was a huge and impressive project that was executed by many Clickworkers throughout the world.
Text creation
This is likely the job that has the highest pay on Clickworker. However, it is not meant for everyone. You need to have a high score in the assessments if you want to write texts on the platform.
Also, you will need to select only the areas that fit your knowledge, language, and interests. You may be required to write texts on the following areas:
Search optimized texts: These are texts that contain specific phrases or words. The texts are usually written for blogs and websites.
Glossary:  These are definitions on specific topics like finance, fashion, food, animal, etc.
Traveling destinations: Here, you will write about cities, countries, as well as tourist attraction sites.
Company profiles: These refer to 'About Us' pages and other information about companies.
In most cases, you will write short texts of about 250 or 300 words on specific keywords. After submitting your text, Clickworker will review and proofread it for spelling, grammar, and style.
If you need to make corrections or if the text is below standard, it will be returned to you for revision. Simple texts on everyday topics attract about $3 per text, while high-quality texts on challenging topics can earn you more than $10 per text.
You can earn a good hourly rate on Clickworker if you write these texts in less than one hour.
However, freelancers working as a writer at People Per Hour, Upwork, and Text Broker earn more.
Proofreading
If you score high in further assessments, you can qualify to proofread other people's work and get paid about $0.50 per 250-word text.
Translation
There are thousands of translators from over 70 countries on Clickworker. If you can prove that you are proficient in a second language, you will get access to translation tasks.
You can translate for the following combinations:
English to German
German to French
German to Dutch
Italian to German
Spanish to German
You can translate product descriptions, blog articles, glossaries, instructions for computer games, and lots more. Translation pays less than $0.07 per word; an amount that is less than the average pay rate reported by ProZ.
Mystery photographers
You can find different mystery photography opportunities depending on your location. Here, you will need to take pictures of sale displays, products, tourist attraction sites, buildings, menus, restaurants, and lots more.
These pictures will be used by companies for marketing purposes. You can earn a few cents per task for this type of job.
Online surveys
Clickworker is in partnership with a survey company known as Peanut Labs. This opportunity will help you to get paid for sharing your opinions.
The drawback of this type of job is that its pay is low and you can end up wasting a lot of time due to survey disqualifications.
UHRS
You may come across two assessments to qualify for UHRS depending on your location, language skills, and availability.
UHRS (Universal Human Relevant System) is a website that is in partnership with Clickworker. The site provides more micro-jobs that members can complete on Clickworker.
All jobs that you complete using UHRS will be paid through your Clickworker's account. The jobs on UHRS usually comprise the categorization of website pages and internet data.
Features of Clickworker
Referral program
As a member of Clickworker, you are free to refer your friends and loved ones to join the platform. When your referee signs up and earns 10 euros, you will be paid 5 euros.
Although this is a great way to earn extra income, you need to refer people that will take the platform seriously.
Clickworker support
If you encounter any issues with Clickworker, the platform's email support service is efficient and fast enough to sort out your problems. You can ask the support different types of questions such as technical and assessment questions.
Pros
Payments from Clickworker go through PayPal, thereby making it as straightforward as possible.
It has a low withdrawal threshold. You can also withdraw your earnings every Wednesday.
Clickworker accepts people from anywhere in the world.
It has Android and iOS apps which make it convenient to work on the go.
You can get more and better gigs in the future if you are fast and accurate.
Cons
The pay is very low; in most cases, you will earn less than the minimum wage.
Jobs are not always available. You may experience dry periods sometimes.
Assessments are not always available. If you don't complete the basic assessments, you will not see many opportunities.
Your location will determine the number of jobs you will see. Those in the United States usually have more work than those living in other countries.
Some jobs do not have good guidelines.
FAQs
How much money can you earn on Clickworker?
It is not easy to determine the exact amount you can earn on Clickworker because this will be determined by your country and the types and number of jobs you execute
However, it is possible to earn over $10 per hour on Clickworker, but the average rate is lower. To prevent your wage from dropping, you need to be fast and accurate.
Can you make $500 per month on Clickworker?
I came across a Reddit thread where someone stated that he earned between $400 and $500 per month on Clickworker. So, it is possible to earn $500 monthly on the site, especially if you are a UK or US resident. The type of tasks that you complete will also determine if you can attain this figure.
For instance, the pay rate for translation jobs is ten times more than that of categorization.
However, don't think you will make the same amount every month due to the inconsistent availability of jobs.
What are the requirements for working on Clickworker?
You need to be at least 18 years old and must have an active PayPal account. The platform may also request your tax information along the line.
Does Clickworker have an app?
Yes, Clickworker has both Android and iOS apps for mobile devices.
Conclusion
Clickworker Review Final Verdict: Is Clickworker Legit?
This Clickworker review has confirmed that Clickworker is a good and legit platform for making money online. Its apps make it easy for you to have access to more options.
If you are granted UHRS access, you will even have access to more earning opportunities. The main challenge many freelancers encounter in their freelancing journey is the instability of income. So having a platform that you can easily turn to when you need to earn some cash is very helpful.
You may need to find out if Clickworker is accepting people in your country and if there are UHRS assessments, but the platform is worth giving a try. As of September 2020, UHRS applications were open to all countries, but this may change anytime.
If you want to kick start your freelance journey or you're looking for a platform to earn extra income, you can sign up to Clickworker right away and take advantage of the opportunity provided by UHRS.
You may not even opt for any of the micro-jobs now, but knowing that you have a platform that you can fall back on when the need arises will make you feel secure.
For more legit home-based work opportunities, check out our Swagbucks review. If you need more ideas about making money from online surveys, check out our list of the best GPT sites.