Dropshipping is a popular method of making money online. With dropshipping, you don't need to keep stock because when someone buys something, it is stored and sent directly from the supplier to your customer.
Suppose you've decided to take the plunge and try your hand at running a dropshipping business. It's now time to find a dropshipping supplier that can deliver goods to a customer who places an order on your website, collect payment from the customer minus a seller fee, and then ship the goods out. 
By partnering with overseas clients that store, fulfill, and ship your products, you can easily build a physical product business. Although, it may appear difficult to start an online store, especially if you don't know where to find a reliable dropshipping supplier. 
There are a few suppliers out there, although not too many. Are you interested in making money with dropshipping? This article highlights reliable dropshipping suppliers you can count on all day.
Quick Review
SEE: How to start a successful dropshipping business
Detailed review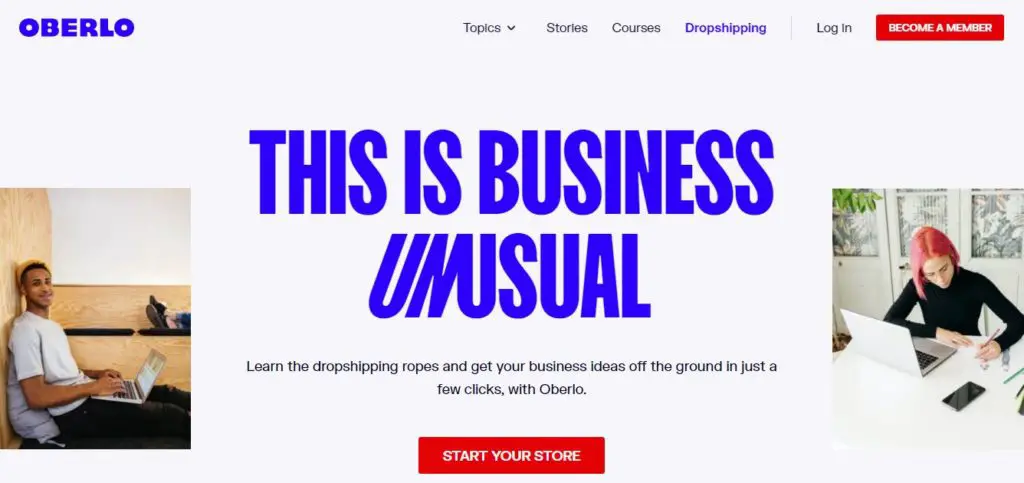 Dropshipping with Oberlo is the easiest way to start an online business and make money with products online. Oberlo makes it simple for anyone to import and dropship online.
The Oberlo plugin service allows Shopify stores to easily integrate with its platform. There are a wide variety of products available on Oberlo. Furthermore, the dashboard displays the number of views, sales, and star ratings each item and seller have.
Oberlo lets you order the item for your customer to be shipped from your store once you make a sale. Their team chooses and fulfills the products for you. As a result, you have more time to drive traffic to your website.
Features
No monthly limit to orders
Chrome extension by Oberlo for free
Wholesale orders
Real-time tracking of orders
Variant mapping
Solution for CAPTCHA
Tools for learning online, including free eBooks and guides
A 24-hour customer support service
Personalized listing information 
A powerful tool for product data
Pricing
Monthly subscriptions begin at $29.90. A plan with this feature supports up to 10,000 products.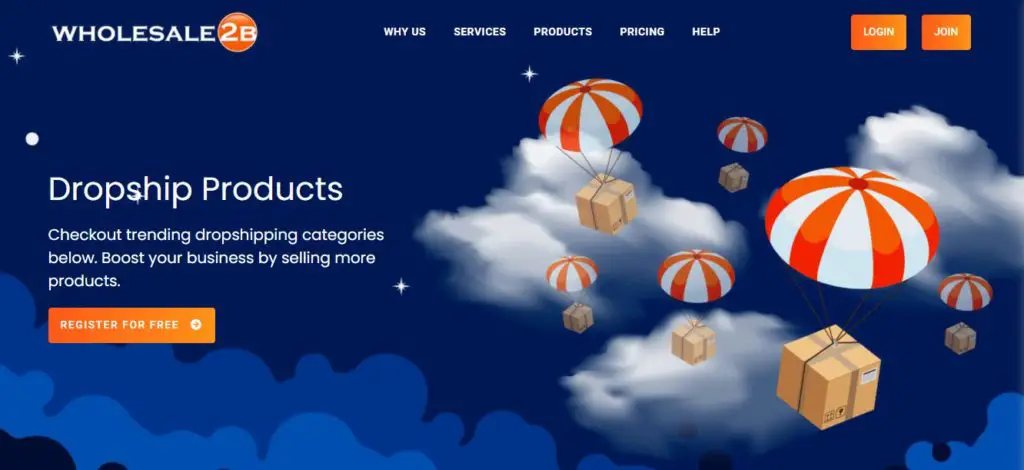 Don't you want to sit back, click a few buttons and watch the money come rolling in with dropshipping? It can be that straightforward using Wholesale2B, a service that simplifies many things. 
Finding the right products is one of the biggest struggles. A broad selection of products across this website's many categories means that you can find something that matches your needs.
Wholesale2b has all of the tools necessary to help entrepreneurs start and run an eCommerce business efficiently.
Features
Registration is free and requires no credit card
Simple to use
Various product options across a wide range of categories and industries
The Wholesale2b network has more than 100 dropshippers
Tracking of inventory and automatic order imports
Creating a new eCommerce site from the ground up is possible
Pricing
It's free.
Dropshipping is a breeze with Spocket's great database application. Using their platform, you can sort your products by country and upload them into your Shopify store. Numerous suppliers, mostly in the U.S. and Europe, are available to you.
Within minutes, the Spocket integration allows you to add the company's products to your eCommerce store. It is truly that simple. As far as manual processes are concerned, you'll be glad to hear Spocket handles both your inventory as well as your order fulfillment. 
You don't have to worry about these processes since they are all automated. Consequently, you can concentrate on more important matters like increasing your business's customer base and making more money with dropshipping.
Features
Daily updates on new suppliers from Europe and the United States
Request product samples for testing
Select from a wide range of high-quality items
Customers in the US and Europe can expect short shipping times
Pricing
You can sign up for 25 free products with an unlimited order plan for free. Additionally, there is an option to upgrade to a Pro plan for $49 per month for 250 products and an invoice with your branding. Lastly, there is a $199 Empire plan which allows you to unlock unlimited products.
Rather than simply presenting a list of businesses to partner with, SaleHoo looks to provide companies with detailed information about themselves and their products. 
Wholesaler database access is just the beginning of what SaleHoo can offer. Additionally, you'll gain the flexibility that is unmatched by other dropshippers.
What makes SaleHoo great is the community that surrounds it. SaleHoo offers a blog and forum to help you learn something new and talk to people who have the same interests as you. You can also use the Market Research Lab to find out what type of product will more likely bring profits.
Features
Suppliers are vetted before being approved
A dropshipping training program that is unlimited
Outstanding customer service
Money-back guarantees are available for 60 days on all plans
High-profit margin products and tools to research the market
The interface is user-friendly and easy to navigate
Automation of your online store
Pricing
SaleHoo charges $67 per year for its supplier directory. You may also opt to pay $127 for lifetime access as an additional payment option.
You can manage all aspects of your Shopify store with Dropified from one location. Using this tool, you can automate all the time-consuming, tedious tasks that come with drop shipping. Therefore, you can put all your focus on dropshipping business, promote your products, and provide excellent customer service while making money.
It's easy to import products and choose the vendor you want with one-click order fulfillment. All Dropified has to do is contact suppliers, ship products, send tracking information to customers, and handle shipping and receipts.
Dropified lets you dropship from several sources like ShineOn, eBay, AliExpress, Costco, Wish, Walmart, Etsy, Amazon, among others.
Features
Fulfilling orders automatically
Updates to prices automatically
Live Facebook feeds
Updates on product availability automatically
Configuring product variants quickly and easily
Easy filtering of products
Inventory and product synchronization
Single-click integration for your eCommerce store
Customization of products
Easily import vendors' product reviews
The ability to change vendors easily
Pricing
A 14-day free trial is available. Then there is a $47 monthly charge for the Builder plan or a $39 annual monthly charge. Premier plan members can get unlimited high-speed captcha solving and a profit dashboard for $127 per month or $97 with annual billing.
Providing dropshipping services, Megagoods specializes in electronics and offers a great array of electronic products. With over 10 years of experience, they are one of the leading dropshipping companies in the USA as well as internationally.
On the website, you can find items like kitchen appliances, cameras, clocks, and televisions, as well as Bluetooth products.
If there are any problems with the products, your customers can return them within 30 days. The Megagoods team can be reached via phone and email.
Features
Data export for custom purposes
Export photos of products
Export data from eBay and Amazon
A tracking system for products
Anti-fraud measures
Furthermore, they don't require a minimum order quantity
Pricing
The monthly subscription for Megagoods costs just $14.99. Access to this exclusive pricing is part of your membership fee. Take a free trial for 30 days.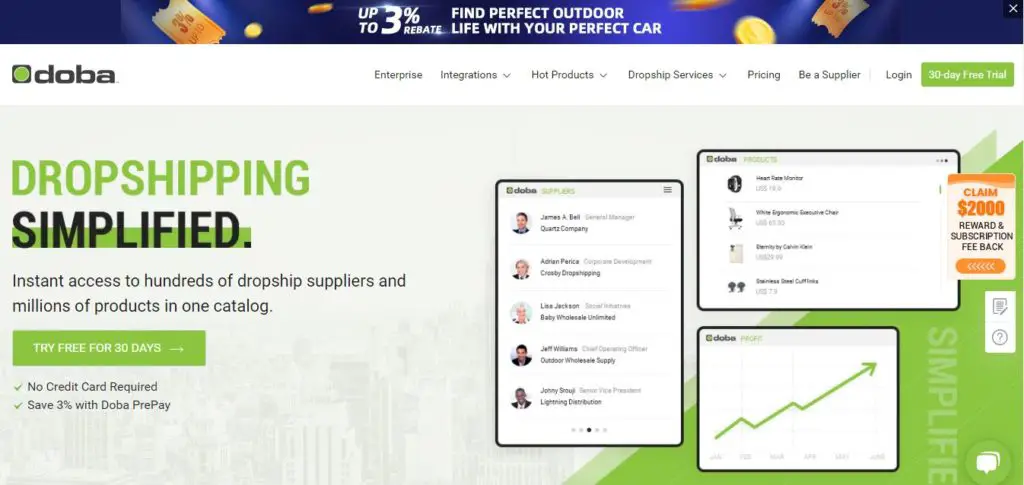 Dropshipping services are available from Doba, one of the most comprehensive dropshipping services in the industry. Besides providing manufacturers and wholesalers with detailed information, it also provides a simple method to purchase products instead of going through multiple drop shippers.
Most often, you have to partner with more than 20 dropshippers. Doba is a simple way of finding products, listing them on your site, and then selling them.
To eliminate the hassle of managing dropshippers, Doba will contact the supplier and deliver the order to the customer. 
There's no way you won't make money using Doba for your dropshipping business.
Features
Compatibility with over 100 eCommerce platforms. Includes Shopify, Magento, BigCommerce, Volusion, eBay, Amazon, and more.
Details, such as processing times, fulfillment rates, costs, etc., on each provider.
Discover trending products and manage product lists
Filtering and search at an advanced level
Various formats for data export
Tools for inventory management
Alerts about inventory changes and price changes
Pricing
Monthly plans start at $29 a month. You will automatically receive two months free when you subscribe annually. Furthermore, you get to enjoy 30 days of free access.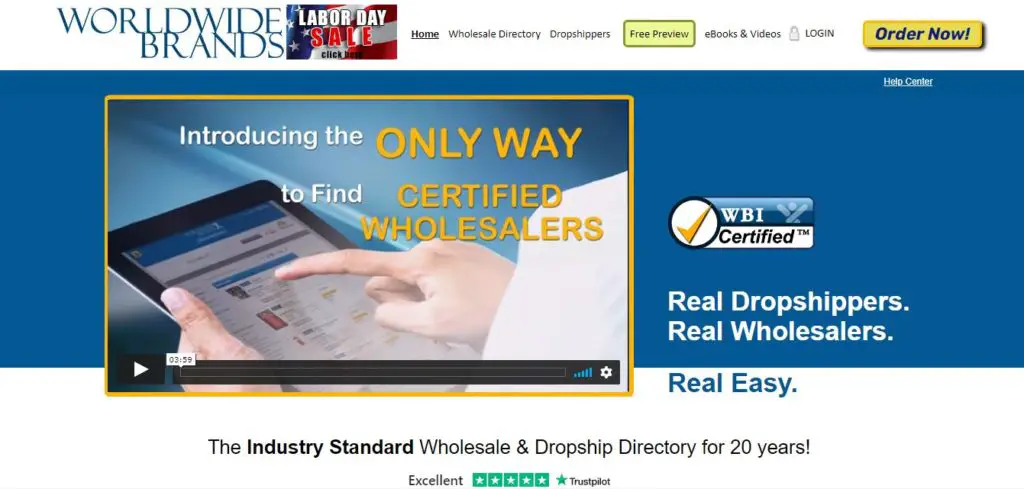 Worldwide Brands prides itself with its wide range of dropshippers in the upmarket and its easy-to-use, reliable customer service staff. It is a great solution for people selling products on Amazon, eBay, and Etsy that are on a tight budget.
Retailers from all over the world use Worldwide Brands products. Since the company is a wholesale distributor directory, shipping costs and suppliers vary according to the wholesale distributors it features.
A wide variety of products are available, including jewelry, watches, pets, consumer electronics, home decor, clothing, and many others.
You can have lifetime access to a quality directory if you're willing and comfortable with making a large one-time payment.
Features
A great customer service experience
An extensive list of suppliers with hundreds of millions of products
Access to a diverse range of educational materials, market tools, and a vibrant community forum are just some of the benefits you'll receive
Pricing
Worldwide Brands' database of wholesalers and dropshippers is available for $299 for a lifetime subscription.
With Importify, you can dropship products based on your specifications as well as integrate with eCommerce platforms like Shopify, WooCommerce, and Jumpseller. You can choose from hundreds of suppliers on websites such as AliExpress, Alibaba, Amazon, Etsy, Walmart, Banggood, Dhgate, Gearbest, and Taobao.
Additionally, you can edit products on your site, add products via Chrome extension, and get real-time customer support.
Features
Gold plans offer semi-automated order fulfillment
Exceptional customer service
Store imports are unlimited
Pricing
The basic plan is $14.95 per month with Importify. For $27.95 per month, you can import from Amazon and AliExpress.
Importify's Gold package, available for $37.95 a month, is the best solution for dropshippers with high traffic. Automation of order fulfillment is enabled through that.
This is an automation tool that enables you to integrate the buyer's products with your page. This is known as inventory automation.
Furthermore, you can integrate the entire customer purchase process so that orders are placed automatically with your supplier. This considerably reduces the amount of tedious work.
Inventory Source automatically uploads product information like quantity, weight, color, and title. Since the data comes directly from the suppliers' feed, it's always up to date.
Features
Supports over 25 eCommerce platforms (Shopping Cart Pro, eBay, Amazon, Walmart, Magento, WooCommerce, etc.)
Full integration of product data
Automating dropship orders
Syncing inventory automatically
A directory of 230+ suppliers is available for free
Inventory Source gives you the capability to add your vendors not listed on the inventory source website
Manage bulk feeds
Pricing
It costs $99/month for inventory automation and $199/month for full automation. In addition, creating an account is free, and you have access to supplier feeds, automation tools, and integrations.
How much money can I make with dropshipping?
Depending on the quality of the products and the way you advertise on social media, dropshippers can make $1,000 to $50,000 per month. 
Furthermore, you can maximize profits for your store by tracking your best-selling items, online trends, and social media efforts.
SEE: Most Reliable Passive Income Ideas
FAQs
What is the dropshipping model?
The dropshipping model is a fulfillment model where a store owner buys products from a supplier and then sells those products to customers. In the case of the store owner, there is no need for inventory as he/she does not stock or own the items that he is selling. 
In fact, as soon as the store owner receives the order from a customer, he simply asks his supplier to ship the item directly to the customer. As you can see, there are no middlemen in this method at all – only a small commission goes to the supplier.
Is dropshipping legal?
Yes, dropshipping is legal. The reason why is simple. The parties involved are not obliged to disclose any information, as they are completely separated. Seller only needs to ship the item after the payment is made.
Is dropshipping all that profitable? 
Yes, it is. There are many aspects of dropshipping that make it an extremely lucrative business. For one, you do not have to worry about being short on inventory.
It's one of the easiest ways to get into an online business because you don't have to buy the inventory to sell, unlike with other business models.
SEE: Which is Better Between Blogging and Dropshipping?
How do I choose a good dropshipping product?
Choosing a good product requires some research and time. To begin with, you need to have a brilliant idea about a product. Thereafter, you have to thoroughly examine the market. 
What is the market size and the growth rate of that particular market? 
What is the average price of a product in that market? 
After this, you have to conduct a thorough investigation of the product of your search. Have a look at its demand and also check if it fits into your company's profile. 
You should also keep several other things in mind, like selling price and ensuring it is unique, not sold by anyone else on any other e-commerce site.
Final thoughts
Dropshipping can be a great way to make money while spending less time and money on the business. This article has given you an overview of the top dropshipping suppliers and their features to make an informed decision. 
Oberlo is the overall best dropshipping supplier due to the fact that it is easy to use for both newbie and pro dropshippers. Besides, you have access to different items with high profit plus various shipping methods.
Go for Worldwide Brands if you want products that are of the highest quality for a lifetime. Considering that you get lifetime access for $299, it is quite competitive, especially if you are planning on staying in business for some time.
Additionally, if you are a beginner and want to get a sense of what dropshipping is like, I suggest you start with Wholesale2B first.
It's no more new people now use different platforms and get paid for various things. Perhaps you are a teacher and would like to teach online, here are the best platforms that will pay you to teach online.
In addition, you are likely reading this because you've been thinking about how to make money online, and dropshipping seems to be a good option. I also have a post on the easiest ways to get paid online if you would like to see other options.
I hope you found this post useful. Thanks for reading.
Ready to Try Oberlo?
Click the link below to get started. You will be on your way to making money dropshipping in a matter of minutes.