Are you looking for the best bitcoin survey sites to complete and win free bitcoins? In this article, I'm going to reveal the best bitcoin survey sites that pay and I will tell you how to get started with these companies.
Online jobs are driving many people toward financial freedom, whether it's full-time or just extra money in their pocket. Everyone is looking for a way to get ahead and some of the most popular ways of doing that are through surveys, reading emails, watching videos, or playing games.
In 2015 I started my passion for bitcoins and started searching all over the internet for survey sites that pay in bitcoins. 
For some years I tested hundreds of survey sites and worked thousands of hours only to find the best bitcoin survey sites you can use today.
Bitcoin is a worldwide cryptocurrency and digital payment system and it has been getting more popular in recent years. Anyone with internet access can use it as a payment method. 
This means that in theory, you can turn any online activity into cash. One of the most simple strategies is taking surveys and earning bitcoins for it. 
Today we will take a look at the best bitcoin survey sites where you can earn bitcoins or other cryptocurrencies for answering survey questions.
Quick Review
TimeBucks– Available in all countries
Cointiply– Appealing loyalty bonus
Cinchbucks– A lot of earning opportunities
PointsPrizes- Has a mobile version
InstaGC- Many different opportunities
Bitcoin Reward- Pays directly in bitcoin
Timebucks is a company that helps people earn Bitcoin for taking surveys, answering quizzes, watching videos, etc. The bitcoin payout threshold for Timebucks is $10. 
They pay via Skrill, Payeer, and many other ways. You will not find a better site to make money online. It's 100% free to join and it's super easy to get started. 
You will also get special offers from them from time to time, which means even more free bitcoin for you. The other ways you can earn through Timebucks is by:
Signing up to various websites
Playing games
Clicking small ads
Watching online videos
Installing free apps
Completing captchas
Timebucks is available in all countries which means you can earn bitcoin by taking surveys, playing games, and doing other fun things online.
Pros
1. Available in all countries around the globe
A good service should be available in all countries. This is the case with Timebucks as it can be used even when you are in Thailand. 
Although located in the United States, Timebucks services have been made available all over the world because they can be accessed via an app or through a website and used by anyone, anywhere.
2. Uses social media
TimeBucks is a unique platform that uses the power of social media, and its users to provide additional income for their users by performing simple tasks. They have rewarded many people with payments without letting them down.
Timebucks also facilitates contests on social media websites such as Facebook and Twitter. It is possible to win from one of these contests by posting your Timebucks referral links on Facebook or sharing them on Twitter.
I won a $10 Steam Gift Card this way that I applied right away to purchase an indie title from Steam.
3. Many tasks to choose from
TimeBucks acts as a marketplace for tasks, offering many different tasks from a wide range of fields. This means you can find something that interests you no matter what your niche is and how much or often you want to work.
4. Weekly sweepstake entries
The weekly sweepstakes allow you to win a variety of prizes every week. These prizes range from gadgets, VR headsets, and gift cards. You can even win a $500 iTunes or Steam store gift card. 
If you're just looking for a small prize to get started, you may be able to find exactly what you want in the random draw prizes section.
Cons
1. Has faced data protection issues in the past
There have been complaints about the company misusing personal data, which means potential problems in regard to data protection might arise. 
It is still unknown whether or not these allegations are true, so if you do decide to proceed with joining Timebucks – you need to proceed with caution.
2. Has low earning potential
In terms of earning potential, Timebucks is definitely an avenue for extra spending money, not a way to make a living. 
The reward rates are low compared to many other survey sites so the payout potential is also a bit more limited. 
Earning won't be quick and easy (not everyone gets paid right away) but it's worth giving a shot if you want to spend a few minutes on a survey and get rewarded with $.50 to $5.00.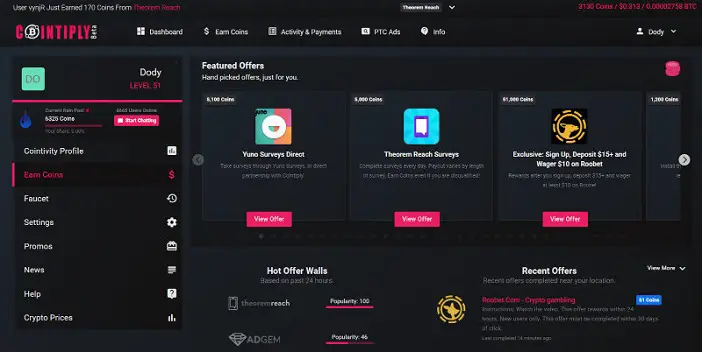 This is one of the best bitcoin survey sites. Cointiply is a bitcoin survey site with hundreds of ways to make money. Cointiply allows members to earn bitcoin for taking surveys and participating in quizzes.
Simply sign up, choose the types of surveys that interest you, and start sharing your opinion.
You can also earn coins by completing different tasks like:
Installing apps
Completing free offers
Playing online games
Watching videos 
Taking surveys
This site makes use of the points reward system. 10,000 coins equals $1. This means that you can get $10 when you get 100,000 coins.
You need to have at least 50,000 coins which are $5 to cash out as bitcoin while you need 30,000 coins which are $3 to cash out to a Doge wallet.
Pros
1. Appealing loyalty bonus
This is the most alluring thing about this website. You get a loyalty bonus for your online activities, which I consider to be the biggest advantage of Cointiply. It gives you a chance to get more coins and enjoy more benefits provided by the platform. 
On all occasions, you will be given an opportunity to reach out to receive interesting bonuses as well as gifts in no time.
2. Plenty of ways to earn BTC
I love how you can use Cointiply to gain plenty of ways to earn BTC without any effort. This is so awesome, as I feel many of these other companies take too much time to set up or are more complicated.
3. It has a global coverage
It is a website that you will love using since it is huge. This means that it has been able to cover large sections of the world, giving its global coverage. 
This will let you enjoy anonymity without worries since you are not limited to any part of the world as long as there is an internet connection. 
Cointiply has equal chances for everyone and anyone can be part of it and win monetary rewards.
4. Convenient payment methods
The platform allows you to choose from a range of convenient payment methods. You can use either a traditional credit/debit card payment or Bitcoins. 
The first of these methods is internationally accepted but users can only make purchases with their virtual currency wallet. That makes it possible for buyers to use the platform without divulging their personal identity.
5. Easy-to-understand points and reward system
After playing for a while, you could see the advantages of Cointiply's "gamification" strategy. In the beginning, when I was just starting to play, I wondered why those who had been playing for some time got so many points. 
But when you look at the rules, you realize that earning points is actually a pretty straightforward task.
Cons
1. No option to receive cash for your earnings
Cointiply is a commonly known and reputable site for Bitcoin faucet and bonus opportunities. I've had a fair amount of experience trading on this stock site. 
The one thing that I think it lacks in the website's design is the option to receive your earnings from the site as cash, instead of Bitcoin. A lot of brokerages allow you to do this through Paypal or similar services, but Cointiply does not appear to offer this at this time. 
This has never been much of an issue for me personally, but upon first signing up for Cointiply I did take notice of the fact that they didn't offer this option.
2. Low earning potential
If you want to use Cointiply just for fun, that's fine. But if you plan to use this site as a way to make money online, it is better to look elsewhere. 
You can earn some money with Cointiply but the earning potential is low and even lower if you have a low down-line status. 
This means, even if you reach their highest rank, you are likely going to be getting very small returns on your investment.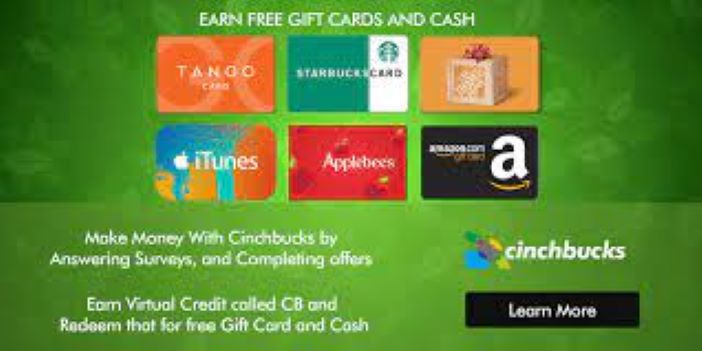 Cinchbucks is a bitcoin-based rewards site where you can cash in and earn money just by taking surveys, playing games, or using chat rooms. You can get paid with gift cards for restaurants or online shopping. 
Cinchbucks surveys are fun and easy to take. You can earn as little as $1 per survey, but some surveys pay up to $5 each. 
Plus you can win gift cards from places like Amazon, iTunes, and Nike – the total value of which could be hundreds of dollars.
Pros
1. You earn points for signing up and completing your profile
If you're new to Cinchbucks, you'll start off by earning points for signing up and completing your profile. You can earn up to 500 points which are worth $5.00. This will get you on your way to earning some cool stuff. 
2. You only get surveys that are relevant to you
There are many things I like about Cinchbucks. One of my favorites is that if you are invited to a survey that is not relevant to you, you don't have to take it. 
This makes sure that you're only getting surveys that you actually qualify for, and leaves no room for junk. 
Other sites send out mass amounts of invitations to fill their own pockets with money, but not Cinchbucks.
3. The point and reward system is easy to understand
Whenever you sign up on any site using your email address, you get 10 CB points which you can then redeem for various rewards. The point and reward system is easy to understand, and you'll love how rewarding it really is.
Cons
1. The platform doesn't have a global coverage
It doesn't operate in all countries around the world. The number of members from one country is not particularly large.
If you are looking for another place to get bitcoin online, then sign up for PointsPrizes. PointsPrizes is a bitcoin survey site that offers 1 satoshi to their users for completing surveys.
They also offer instant payments and have a wide range of surveys in the areas of entertainment, technology, lifestyle, and marketing. 
Sign up for free and start receiving free bitcoin. Don't forget you can invite your friends and earn even more.
Apart from completing surveys, there are other different ways you can earn with PointsPrizes and they are:
Getting free trials for products and/or services
Watching videos
Signing up for contests
Playing games
Downloading free apps
PointsPrizes also has free bitcoin earning apps where you can earn satoshi through watching videos or surveys. Plus there are many more features that make this website one of the best bitcoin survey sites.
Pros
1. Reasonable payments for all tasks
Earning points from online tasks is the best way to get money with minimum effort. PointsPrizes gives you one of the highest numbers of tasks in which you can participate. You get reasonable payments for all completed tasks.
2. You can redeem your points to bitcoin straightaway
Yes, that's the biggest advantage. Each and every point could be turned to bitcoin in just one click. Don't want to exchange your points with other reward options? You can simply keep them in your account and wait until the bitcoin rate rises.
3. A plethora of tasks to choose from
Being a points rewards site, PointsPrizes boasts over 30 different ways to earn points. From completing surveys to watching videos and reading emails, a wide array of tasks are available at your disposal. 
Every task comes with an estimate of how long it will take to complete, so you can plan how many points you'll have enough to redeem for prizes.
4. A simple cash-out system
In contrast to other sites, PointsPrizes has a simple cash-out system. You only need 50 points to request a withdrawal and there is no minimum range of points you have to redeem.
Not only is the concept of PointsPrizes unique and extremely rewarding, but the cash-out system is very simple. 
I'm able to withdraw my winnings in just a few minutes. I love being reminded of my balance after each month!
Cons
1. It is difficult to make a significant amount of money from the site
There are some issues with the site that have been reported by almost all of the members. The main problem is that it is difficult to make a significant amount of money from the site, which means you're better off using another rewards site that can give you better rewards.
2. You don't get rewarded much for your time
There are a lot of tasks that require you to watch ads, visit websites, or complete offers and surveys. Each one usually gives relatively small rewards when compared to the investments you make into completing these activities.
InstaGC is a service that allows you to be paid in bitcoin for doing tasks you would usually do anyway. The service is completely automated, and instead of filling out tedious surveys or sharing your private information, you simply complete tasks and get paid. 
Plus, unlike other ways of getting paid in bitcoin, there is no fee. Many people do not even realize there are many free ways to earn bitcoin. 
This includes completing simple offers on downloadable apps or playing games. InstaGC is one of the best ways to discover these opportunities.
The sweetest thing about InstaGC is that you can redeem your points for different reward options like Bitcoin, Litecoin, Ethereum, cash via PayPal, or Amazon Gift Cards.
Pros 
1. This site is easy to navigate
This site is easy to navigate. After registering, I didn't have a problem finding the dashboard. It was easy to search for tasks. Each task was easily differentiated from all other tasks. 
It also provides a good amount of information about what is expected of you and how to perform them.
The site's design is extremely organized, and it adapts to the screen size of the device being accessed. 
Different promotional links are listed at the top and the right side corner of the page, making it very easy for website visitors to find what they need on InstaGC.
2. It is available across the globe
InstaGC has a worldwide presence. It means that this site can be accessed by members from any part of the globe. The best thing about InstaGC is that it doesn't care about your location, gender, or age to give you free gift cards.
With InstaGC, people from around the world can participate and win rewards in a lot of different ways. You can be in Canada, Great Britain, or even Indonesia and play games or surf anything available at this site and that is what makes it attractive to people from all over the globe.
3. There are lots of cash out options
At InstaGC, you can cash out your earnings for gift cards, PayPal, and even bitcoin. Before you are awarded your first payout, you will need to reach $25 or 2500 points. This is a relatively low threshold to reach and only requires around 5 hours of making offers.
4. The points system is easy to understand
InstaGC has a points-based system, which basically means you earn points by doing things like taking surveys, searching the web, and completing offers. You can redeem these points for Amazon gift cards and other prizes such as the PayPal cash option.
Cons
1. It might take you a long time for you to start earning in bitcoin
It can take time until you've fulfilled the requirements for a bitcoin payout, after which you need to wait for one to three days until your request is reviewed and processed.
2. Users in different countries don't get equal earning opportunities
Apart from the US and big countries where people can earn more by completing tasks, the other users have fewer tasks available for them to complete. 
I'm talking about countries like India, Pakistan, and Vietnam. In countries like these, you have hardly any task options from the offers tab if you are an active user.
This is a survey site that rewards you with Bitcoin for your surveys and it is one of the best bitcoin survey sites. You can earn free bitcoin by completing simple tasks like taking a short survey or playing a game.
Get paid to share your opinions with the Bitcoin Reward survey site. Bitcoin Reward gives you the freedom and flexibility to make money online while helping people learn about the exciting world of digital money. 
It's 100% free to join and takes less than one minute to sign up. After that, it's just a matter of minutes before you can get started earning bitcoins.
You also get to earn free bitcoin when you refer people. You stand a chance of getting 50% of their total earnings.
Plus there are no caps on how many surveys you can take or how much you can earn. If you are looking for a way to buy bitcoin, you can learn how to buy bitcoin now.
Pros
1. Generous referral system
The Bitcoin Reward referral system is a great way to earn bitcoins. Your referral link will receive 50% of the earnings from your direct referrals, who will also get 50% on their referrals and so on. 
The system generates an unlimited number of levels, leaving the possibility up to you how many extra bitcoins you can earn!
2. You earn bitcoins directly, not points
Instead of receiving points, you receive bitcoins for your time. There is no waiting time to get a payout. You earn bitcoins directly with each completed reward survey. 
3. You get rewarded for signing up and confirming your email
Yes, you read that right. You will get paid to confirm your email. When you sign up, a small sum of cryptocurrency is sent to your wallet address as soon as it is confirmed by email.
Cons
1. The earning potential is quite low
Even though the earning potential is quite low, if you are willing to do the work and abide by the rules, there really are many legitimate ways to earn a "bit" of bitcoin with this website.
2. It takes time to receive your earnings
Bitcoin Reward is a great cashback service. It's easy to use and comes recommended. However, it does take quite a bit of time for the earnings to be added to your account. 
From our experience, it ranges from 3 days to a week or two for your earnings to come through.
FAQs
What is Bitcoin?
Bitcoin is an electronic payment system, also called cryptocurrency. It's a decentralized virtual currency and worldwide payment system.
Bitcoin is a virtual cryptocurrency managed by a peer-to-peer network. The currency's issuance and transactions are based on an open-source cryptographic protocol and are not managed by any central authority.
Are bitcoin surveys legit?
Yes. Bitcoin surveys are a great place to earn some extra money online.
Can bitcoin make you rich?
Well, you might be able to. There's no guarantee that it will happen so you shouldn't invest and just wait to become a millionaire of course. But yes, there are people who have become rich by owning bitcoins.
Final Thoughts
So, this is the end of our best bitcoin survey sites list and before ending off I want to say one thing – this is just an opinion-based article. 
It was not written to market any site or to promote a survey platform but to provide you with entertaining and comprehensive reviews about all of these survey sites. 
I hope that you enjoyed this my best bitcoin survey sites post? You can read more articles like this here!
Well, that's all folks. The final post and the final takeaways from this article series on the best bitcoin survey sites. 
If you are interested in knowing more about other survey panels, you can check out my best-paid survey panels for more.