Want to earn enough cash back for shopping online? This post is a review of Rakuten, a leading Japanese shopping site with an English interface. Rakuten has been one of the major e-commerce websites in Japan for years. Recently, Japanese people started using Rakuten more than Amazon. 
You can learn all you need to know about Rakuten in this review. It will provide you with information about their products and services, as well as their pros and cons.
Rakuten is an online marketplace and search platform that has something to offer everyone. They have sales, coupons, gift cards, and rewards for online shoppers. Find out more information about Rakuten today in my review.
Is Rakuten safe? What about its legitimacy? Is it worth my time? I know these are all the questions running through your mind. So, let's find out. 
Quick summary
Eligibility: Anyone above 18 years.
Supported devices: iOS, Android, browser extension
Possible cashback earnings: up to 40%
Payment options: PayPal or gift cards
Minimum cashout: $5
Cashback payment period: Quarterly
Signup bonus: Spend $25 and get $10 when you sign up.
Detailed review
What is Rakuten?
Rakuten is a Japanese eCommerce and affiliate marketing business. Customers can buy bulk products online and have them delivered right to their homes. You can find all types of products, services, and discounts from thousands of sellers from all over the world.
Whenever you shop on this site and via this affiliate marketing platform, you will get your money back. You can earn cash for buying everything from toiletries to high-end techs through Rakuten.
Is Rakuten legit?
Yes, Rakuten is 100% legit and, therefore, safe to use. In fact, it's the leading e-commerce website in Japan and among the top 10 in the world. From electronics to apparel to cosmetics – you can shop across categories. Furthermore, you will enjoy guaranteed competitive prices on all your purchases.
You can trust them because they bring you products from all over the world, directly from manufacturers and shipping companies. Due to so many customers, Rakuten has implemented a wide variety of security features to keep you, merchants, and shoppers safe!
With Rakuten, you earn free money when you shop. Almost everyone will be able to earn cashback with 2,500+ retailers. One thing to keep in mind is to read the details on what stores are providing cashback.
Rakuten is a great new way to shop online. It is different than anything else that has come before it. Despite being comparable to Amazon, indeed, it is its own entity.
How does Rakuten work?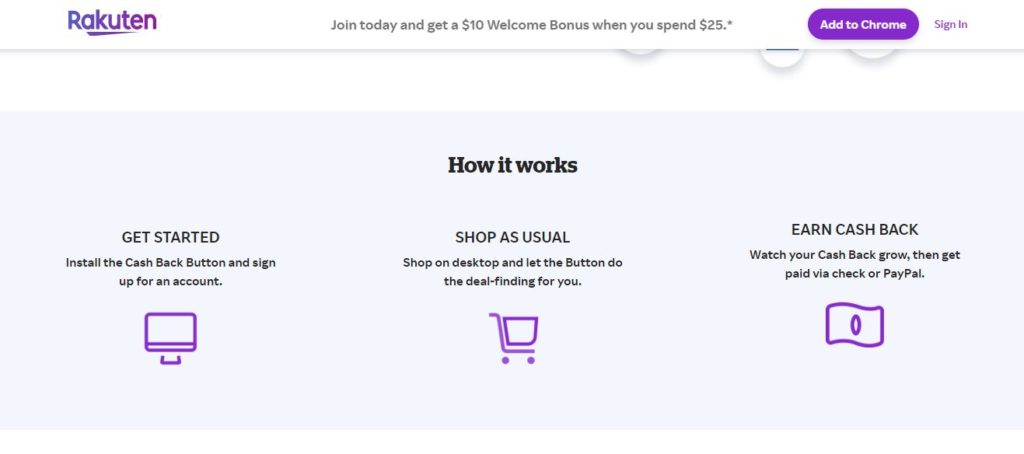 Sign up for the cashback button by installing it
Install the Rakuten button in seconds. The Rakuten button is a free browser add-on that gets you the cashback from your shopping at no extra cost. It's as simple as clicking the button before you shop online at hundreds of your favorite retailers. 
You can shop as usual while the button finds you helpful best deals
What if there was a way for you to find the best deals online all at once? That's what the Rakuten button is all about. Rakuten works with hundreds of partners across the web to bring you special deals, coupons, and sales right to your toolbar. 
So go ahead and shop as usual. The button will work quietly in the background and let you know whenever it finds an incredible deal that you can purchase with a click.
Rakuten Instant Buy Button makes smart shopping easy. See what the button spots, and then decide if you want to buy! This feature, combined with the power of Rakuten, searches for the best deals for you so that you can always purchase at the lowest price.
Okay, let's agree that this is nice.
Watch your cashback grow, then get paid by check or PayPal.
Get new deals, trends, and topics delivered to your inbox. Find products you love and get useful tips about stores, restaurants, and things that interest you. 
If you see something you like, click the Rakuten button to buy and get a little cashback. Then Rakuten pays you a check or deposits your money in your PayPal account. The more you use Rakuten, the more cashback rewards you get! 
Rakuten in-store shopping
First of all, I'd like to mention the in-store shopping feature on Rakuten. With over 1.4 million shops available worldwide, customers can find what they are looking for quickly and conveniently. 
Rakuten also offers cashback purchases in-store. To use the in-store offers, you have to activate them either through the website or the app. It is also necessary to link your credit card to the system to track your purchases.
When you make the purchase, the retailer confirms it and sends it to Rakuten. Your cashback should show up in your account after the store confirms your purchase, which can take a few hours or days.
You will need to reactivate the in-store offers each time you buy a product so that they remain valid. While it's more complicated than doing your shopping online, you can still earn cashback.
Rakuten browser extension
The browser extension is probably Rakuten's most helpful feature. Navigating to Rakuten to make all of your online purchases can be difficult. By using their browser extension, you can do away with this step entirely.
By installing the browser extension, you enable Rakuten to track your visits to retail partners' websites. At checkout, you'll see a little popup indicating you're eligible for cashback rewards. You can earn cashback by buying goods with the click of a button.
The Rakuten browser extension gives shoppers a second chance at excellent products they missed! Get automatic coupons and discounts sent to you – so you don't miss great deals ever again. Click the Rakuten badge at the top of any page to shop smarter.
Rakuten app
Alternatively, you can install the Rakuten app. There is a Rakuten app available for iOS and Android. With the Rakuten App, you can enjoy everything Rakuten has to offer in one convenient place. Easily access product information, browsing, and checkout directly from your smartphone.
Apps are much easier to use than coupons since you can use the search function to find offers for any retailer. You can search for cashback offers just like the website.
Rakuten cashback amount
There is no charge to use Rakuten. You won't pay any fees or incur any hidden costs. When it comes to Rakuten, what matters is what you get back rather than what you pay.
Rakuten has many retail partners offering different levels of cashback. However, the average consumer can earn anywhere between 1% and 40%.
Rakuten referral program
Rakuten also has a fantastic referral program. You can earn money by referring friends to Rakuten. If the person uses Rakuten to earn cashback, they will pay you $5 for each referral.
You do not get a commission unless they use Rakuten at least once and purchase over $25. No need to worry about this. The only thing you need to do is encourage your friends to buy one or two things. 
Rakuten offers a $10 signup bonus when you spend at least $25 on products with them.
Learn more: How to get referrals for survey sites.
Rakuten security
Rakuten is one of the most secure eCommerce sites available today. To use their services, you don't have to enter payment information. A valid email address is the only requirement for registering.
During its acknowledgment, Rakuten admitted to selling marketing data acquired from location tracking to third parties. The privacy policy on Rakuten's privacy policies allows you to ensure that your information is not misused. 
Rakuten customer support 
Customers aren't likely to get much assistance from Rakuten. Their website has a help section that you can find by scrolling to the bottom. It simply takes you to a knowledge base page that offers answers to FAQs if you click on it. 
In general, people don't seem to need much assistance from Rakuten. They have a contact page, but they appear to use a ticket system to manage customer service questions. The process begins with a general inquiry that then translates into specifics, followed by a description of your problem. 
Pros of Rakuten
User-friendly
Rakuten is a relatively easy website to navigate. The color scheme is not overwhelming, and there are no useless advertisements that clog up your screen. 
The layout offers the user just about whatever information they feel like they want to see. This user-friendliness makes it easier to find what you are looking for and find other exciting products.
A wide range of options
Rakuten is a legitimate website that offers a wide variety of products from top brands. They also offer free shipping for some products and a low package fee without taking long to show up after your order. They have managed to become one of the biggest retailers for Japanese goods overseas by doing this.
Earn cashback for shopping online
Do you like a deal? Fancy a bargain? Check out our partner stores to discover deals, discount vouchers, and cashback offers. Once in a while, you may even get a ridiculous amount of cashback. 
Imagine what you could do with an extra $40 or more at the end of each quarter. Sounds pretty good, huh?
Referral program
Rakuten provides you with a unique way to earn cashback rewards. As if that wasn't enough, you also get a $5 – $25 bonus for every friend you refer to Rakuten!
Cons of Rakuten
Encourages impulse purchases
For many customers, impulse buying is an issue with online shopping. Online stores offer a lot of variety and options for customers to purchase. Due to this, potential buyers may buy products they don't need.
Quarterly payouts for cashback accruals
If you want immediate payment, it may turn out to be disappointing. To encourage you to use Rakuten more often, Rakuten will only issue a cashback payment if you have accrued at least $5. 
You'll have to wait until the next quarter's payout before getting your cashback if you don't meet the minimum threshold by the end of the quarter.
Rakuten may permanently disable your account without notifying you
Multiple reports indicate that Rakuten closed the user's account and failed to send out the last check as a result.
The reason for terminating accounts is unclear, but the terms of service mention this under "terms and conditions." If you are going to use Rakuten, keep this in mind.
Cashback is not available in specific categories.
Many new users find that the most significant disadvantage of Rakuten is their lack of a cashback program for all products. Having a credit card with a cashback percentage but no rewards system will cause this to be problematic for many new buyers.
FAQs 
Can Rakuten scam me?
No. The website is unlikely to scam you. It is an established business. Rakuten is a Japanese company with many years of experience. They are highly committed to their customers, and for this reason, make every effort to follow all the rules. 
Your private information is safe with Rakuten. You can get bonuses for being a frequent customer, and they ship almost everywhere in the world apart from a few restricted countries. But remember to be careful and vigilant, like for any online transaction.
Learn more: How to avoid survey scams.
Do you have any tips for foreign buyers that want to shop in Japan?
Yes! It is sometimes difficult to find information for foreign buyers that are shopping online in Japan. Here are some tips to make your online shopping experience as smooth and straightforward as possible. 
If you're going to be buying from Japanese sellers, I think it's best to do as much research as possible before actually making a purchase. There are many things to consider, such as shipping costs, exchange rates, and additional fees that the seller may charge. 
Always make sure that everything is transparent before deciding whether or not to buy an item from Japan.
How does Rakuten make money?
Rakuten is Japan's largest e-commerce marketplace and one of the largest e-commerce marketplaces in the world. Rakuten makes money on its marketplace through commissions on sales and fees for using specific tools within its marketplace. 
Many small businesses in Japan sell their products on Rakuten because it connects them to a global audience. When you shop at the stores, the stores pay Rakuten a referral fee, and Rakuten gives you a cashback. In the end, it benefits everyone involved.
How do you use Rakuten? Is it only available online?
You can use Rakuten for both online and offline shopping. Online shopping makes it easy for you to visit online auctions, stores, and marketplaces you like. 
Today, Rakuten is just as handy when you shop in-store at a nearby boutique, department store, or shopping mall.
Does Rakuten ship overseas?
Yes. Rakuten ships to several countries via Rakuten Global Express. You can use this service to ship products overseas when you purchase them on Rakuten or another shopping site.
Why should I use Rakuten?
Rakuten is the Best Buy or Amazon of Japan. It aggregates the best products from Japanese online vendors and delivers them to you. In fact, you get prices that are much cheaper than average, including free delivery. 
With Rakuten, the more you shop, the more you save. The platform gives you more value for your money by offering an array of coupons, advanced search features, rewards points, and savings on shipping. Rakuten users can earn up to 40% cashback.
Final thoughts 
One of the largest Japanese online retailers, Rakuten, is an e-commerce website. The company offers products of superior quality at great prices to its members. The eCommerce site is also similar to Amazon and Alibaba. Reviewing Rakuten was a pleasure.  
Rakuten strives to provide excellent customer service to each of its customers. If you think their service could be suitable for your business, then it's worth trying. It's free, safe, and worth your time.
I recommend you check out other reviews on the blog if you found this interesting. Choosing the best cashback site will be a lot easier with this information. In addition, there are sections on Survey, GPT, PTC, Cashback sites on the blog. 
Thank you very much for reading. You can find valuable information in these sections to suit all your needs. Finally, be sure to read my article on how to get paid for your opinions.