Have you ever thought, "Man, I wish I could make money by scanning receipts?" I mean, who wouldn't want to! After all, scanning receipts is a breeze and most people – honest people anyway, have no problem doing this. But then again, there has to be some catch right?
Are you looking for a full review of the ReceiptPal app? Read this ReceiptPal review and find out how others are making money with ReceiptPal.
Does ReceiptPal work? How much money is it possible to make with this? Is their customer service helpful? How easy is it to get started with ReceiptPal? Is ReceiptPal legit? I will answer all these questions in my honest ReceiptPal review for you. 
Here we go. Let's get down to business.
Quick summary
Eligibility: United States, Puerto Rico, Virgin Islands, and Guam
Supported devices: iOS and Android
Possible earnings: $5 – $100 depending on the level
Payment options: Gift cards (Amazon, Target, Lowe's, The Home Depot)
Minimum cashout: 2,200 points ($5 in gift cards)
Point value: 4 valid receipts for 100 points
Validation: maximum of 72 hours to validate e-receipts 
Signup bonus: 150 points
Detailed Review 
What is ReceiptPal?
A company called NDP, a massive market research company, developed ReceiptPal, a receipt scanning application, in 2013. It allows you to earn money back when you shop online. You can then use this cashback to buy gift cards or straight-up cash. 
Simply put, ReceiptPal is an app that helps you scan all your purchase receipts from the week and get money back for your trips to the stores. As with other scanning apps, ReceiptPal allows you to use your receipt to earn rewards at stores.
Is ReceiptPal legit?
Yes. ReceiptPal has a decent reputation and a loyal user base since it has been around for quite a few years. There is a slight difference in how point cards work, but the result is the same. 
As a result of your time spent on the app, you will receive small amounts of money. They offer actual points, which users can later convert to gift cards as rewards for uploading their receipts. 
ReceiptPal is probably going to appeal to you if you earn money with similar apps and online surveys. 
How does ReceiptPal work?
ReceiptPal lets you earn points by scanning receipts. Moreover, you will be able to track your spending through the app's receipt storage.
It's as simple as snapping a picture of your receipt and uploading it to the app. Each receipt you share will earn you 25 points. What you need to do to get started is as follows.
Download the ReceiptPal and sign up
There is an iOS and Android app available for ReceiptPal. You'll need to download the app from the relevant app store. You will need to provide the following information to sign up:
A valid email address
Date of birth
Gender
Demographic information about other household members
Once you create an account, you can start earning rewards on the app. You will see your points, your rewards value, your account history, and any notifications on your home screen.
Use the ReceiptPal app to scan your receipts at checkout
When you shop, you take a photo of your receipts using the ReceiptPal app on your phone. Each time you submit a receipt through the app, ReceiptPal will reward you with points. You can expect ReceiptPal to approve your receipts and credit your points within 72 hours.
In the case of blurry or incomplete receipts, you won't receive points.
Earn cashback and gift cards
Retailers like Target and Amazon have gift cards you can use to buy products. Additionally, every week ReceiptPal sponsors cash sweepstakes giving away cash prizes. Easy money! "Whoa!"
Earning more with ReceiptPal
Referral program
ReceiptPal occasionally offers referral programs. Usually, limited-time offers like this are temporary, and you may not know when they will be gone. You must have a valid email address to participate. 
Whenever a referral program is running, ReceiptPal will notify you. Within the Account tab, select "Refer a Friend" once the referral program starts. This process will then initiate the referral process, such as placing your unique ReceiptPal referral code on an invite. 
It is possible to earn up to 6,250 points in referrals per month on ReceiptPal. It is a super-easy way of getting extra points quickly, so take advantage of it as soon as possible.
Learn more: 10 best ways to get referrals for survey and GPT sites.
Sweepstakes
Whenever you upload a receipt, you're eligible to win the weekly sweepstakes on ReceiptPal. You can win a $250 gift card in this contest.
A valid receipt counts as one entry. Each week, three people win. Those who win will receive an email notification. Please always check your spam folder to avoid missing the information.
Getting that $250 is not as easy as it seems. There are a couple of other people competing for it, and only three people win each week. Having a high expectation of winning is exciting, but don't let it overwhelm you.
Bonus game
After submitting four receipts, you'll receive what's known as a bonus game. Each week, you are eligible for five bonus games. You'll find them under the Receipts tab in your account. You can win reward points or sweepstakes entries by following the instructions you receive for the bonus game. 
How to redeem your rewards
Following the steps below, you will be able to cash out your ReceiptPal rewards after earning enough points to redeem them.
To view the rewards, click the Rewards tab.
Make a selection from the list of gift cards
Then, select "Redeem."
After you redeem the reward, you will receive an email confirmation with the reward code.
There are three levels in ReceiptPal's rewards system:
Level 1: $5 gift cards (2,200 points minimum)
Level 2: $10-$25 gift cards (4,000 points minimum)
And, Level 3: $50-100 gift cards (17,250 points minimum)
Before redeeming any ReceiptPal rewards, you must reach the 2,200 point threshold. Generally speaking, you can get half of that within a few minutes of signing up and scanning.
Expiration of points
As long as you remain a member, you can earn ReceiptPal points indefinitely. The receipts won't expire as long as you submit them the right way on a relatively regular basis.
The only downside is that if you fail to snap a receipt for 90 consecutive days, you forfeit all points and your bank of points turns to zero. 
Information privacy
By combining your receipt information with receipts from other ReceiptPal members, ReceiptPal anonymizes your information. Your phone does not save receipts. ReceiptPal uploads them to its servers over an SSL-encrypted connection.
Customer support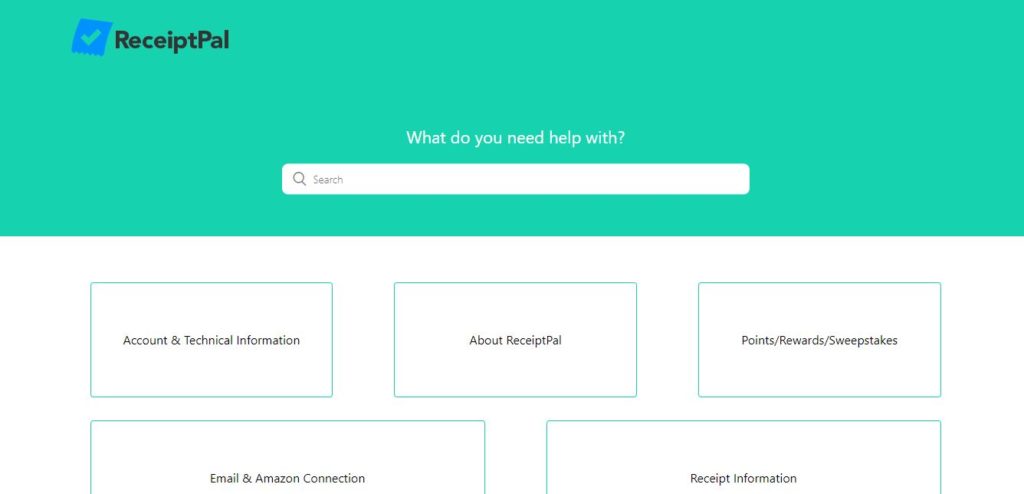 You can review the FAQ page on their site if you have any questions about the app before installing it. It seems pretty informative to me. You might be able to find the answer to any questions you have on their FAQ page. 
Should you be unable to find the answer you need, feel free to contact their support team. If you want to get ReceiptPal customer service, log into the app and navigate to the Help Center. 
Since their site does not have a contact form, that is the only way to reach their support team. Nonetheless, I would say the company offers decent support to its customers since it provides a way for you to contact them.
Pros
Acceptance of all receipts
This is by far the most unique and most appreciated feature of this service. It accepts receipts from almost every store as long as the images meet their standards. You'll find an example of receipts they don't take below.
Sign up for free
ReceiptPal is a free app that allows you to snap a photo of your receipt and then get paid for it. It's that easy! Sign up for free and take pictures of your receipts with the ReceiptPal app.
Only a few details are needed to sign up.
Another thing I want to point out is how easy it was to sign up for the ReceiptPal app. All you need is a valid email address and a few basic details (date of birth, gender, and a few household details). 
It is excellent because you don't have to input any extra information about yourself. This makes things run pretty smoothly.
There's a $250 sweepstakes every week.
The Sweepstakes are what make ReceiptPal shine. All a member has to do is upload receipts from the week. Then every week, on a random basis, three lucky persons will win $250. 
That's right, $250 bucks just for uploading your receipts. The odds of winning these sweepstakes are fantastic!
Both iOS and Android compatible
The ReceiptPal app has an excellent user interface. It is easy to use, and not only are the scan results incredibly detailed, but the dashboard upgrades are also helpful. The best part about the receipt storing process is that the ReceiptPal app allows you to scan directly from your phone.
Ideal for frequent shoppers
The ReceiptPal app keeps track of every receipt. The app allows shoppers to create an organized personal database quickly. If you're a frequent shopper who might need itemized receipts down the road but do not want to carry around bulky folders, this is the ideal solution.
Cons
Potential earnings are low.
The ReceiptPal offer is not as good as it sounds. With a limit of 300 points per week, it will take about 7 or 8 weeks to reach 2200 points to earn a $5 reward. Assume you submit one receipt per week if you submit the maximum amount. 
Direct deposit or PayPal cash is unavailable.
We should note that ReceiptPal does not offer direct deposit or PayPal cashouts. Gift cards are the only withdrawal method; you can use them online retailers such as Target and Lowe to shop. Your only choice is to select a gift card from a list.
Globally unavailable 
While ReceiptPal is a great app, it is only available in some select countries for the time being.
Validation of e-receipts may take up to 72 hours.
As stated on their website, it can take up to 72 hours for ReceiptPal to validate the e-receipts. This is a very long time and makes the service less reliable than competitors.
Also, while an account is active, points will not expire. Inactive accounts forfeit points if they remain inactive for 90 days. 
FAQs
What are the benefits of using ReceiptPal?
There are many benefits to using ReceiptPal. First, it's a free service. There are no costs involved and no membership fees, unlike other websites that charge money. Aside from being free, it is also convenient. 
Being able to take photos of your receipts with your phone on the go is pretty sleek. Last but not least, there is security in using ReceiptPal as your information is secure with SSL encryption.
How much money can I make with ReceiptPal?
As soon as you join ReceiptPal, you'll receive five Points Cards that give you 100 points each. Then you will receive three Points Cards per week worth 100 points each.
If you complete all three forms with receipts, you will earn 300 points (or 500 points if it is your first week). Earn 100 points for every four receipts. By making twelve receipts per week, you earn the maximum possible amount in a week. 
Although you can scan more than twelve receipts, you will not receive points for those receipts. The entries will allow you to enter sweepstakes. 
The more you save, the more you earn, so it makes sense. You shouldn't expect this app to make you rich or pay for your electricity bills every month. Nonetheless, why not take a picture of your receipts and get some free money? 
Are receipts the only thing I can upload?
Yes, only receipts. ReceiptPal does not accept any other types of photos for scanning.
Why should I use ReceiptPal over other sites?
If you love to shop online and don't want to miss out on cashback opportunities, ReceiptPal is your new best friend. Keep track of your cashback earnings, discounts, deals, and freebies. It's super simple to use – just snap a photo of your receipt and post it.
Do ReceiptPal accept all kinds of receipts?
Scan receipts from any store, and you can earn cash using the app. The app allows anyone to scan the receipts of consumer goods in retail stores, which is positive for ReceiptPal. 
Purchases made by you or someone living in your household are the only ones that qualify. The receipt should also have the store's name, date, and total amount spent, as well as the store's phone number or zip code.
Below are some examples of receipts the app rejects:
A receipt without the purchase date, store name, or total price
Personal purchases only (no business purchases, please)
No-cost receipts
Refund receipts
Buying lottery tickets or similar items
Payments with third-party payment processors (such as Groupon or PayPal)
Double submission of receipts 
Images that appear to be fuzzy
Photos from a screenshot
Also, the only acceptable receipts are those printed in English and paid for in U.S. dollars.
Is it compatible with a desktop?
No. ReceiptPal is only available for mobile devices. Therefore, earning money will require you to use a mobile device. It's not possible to access it from a computer or laptop. 
Conclusion 
Finally, I've come to the end of this ReceiptPal review. This review explains everything you need to know about ReceiptPal. Despite its evolution, the idea of scanning receipts for money and points is one of my favorites.
There are so many things I love about ReceiptPal. It's easy to use, and signup is a breeze. The service is better than any receipt organizer out there. 
When uploading receipt photos for your account, make sure you follow the guidelines carefully. As far as I am concerned, it's a great app. You mustn't have high expectations regarding the amount of money you can earn.
If you found this review interesting, I encourage you to read some of the other reviews on the blog. What if I told you you could earn money by sharing your opinions online? Learn how you can get paid for your opinion in my guide. 
Furthermore, the blog is a valuable resource if you love to make money online through survey sites and the likes. Regards and thanks for reading this. Don't hesitate to share.