Have you ever thought about doing surveys online? But were annoyed by how long they take to qualify for payout? And what about the minimum payout requirements for surveys? The only thing that could be better than getting paid for surveys, is not having to reach a minimum payout to cash out.
There is no shortage of survey companies that are happy to accept your feedback in exchange for rewards. However, with so many low-paying surveys, finding the ones that are worth your time can be a challenge.
Are you interested in signing up with sites that have surveys with no minimum payouts? This article highlights the top websites you need to get started.
Quick Review
Minimum payout threshold: None
As a survey site, Qmee offers you the opportunity to earn money online. Qmee, which started in 2012, is a legit survey site.
Qmee offers an extension that lets you earn money while browsing the web alongside taking surveys. The browser extension will then display ads that you can click on and view to earn money. Simply search the web as you normally would, and you'll make money.
With Qmee, you'll be able to earn cash, and gift cards. And you can cash out your rewards as well. When you take surveys with this site, cash rewards can be redeemed directly to your PayPal account without a minimum payout requirement. 
Besides redeeming for PayPal, you can also obtain gift cards with cash rewards.
Pros
Surveys without minimum payout
Payouts within minutes
Apps are available for mobile devices
In most cases, they are not disqualifying
Most surveys let you see what they are about before taking them
Cons
Notifications on mobile phones are buggy
This is not the best gift card option
There is only one payment option, PayPal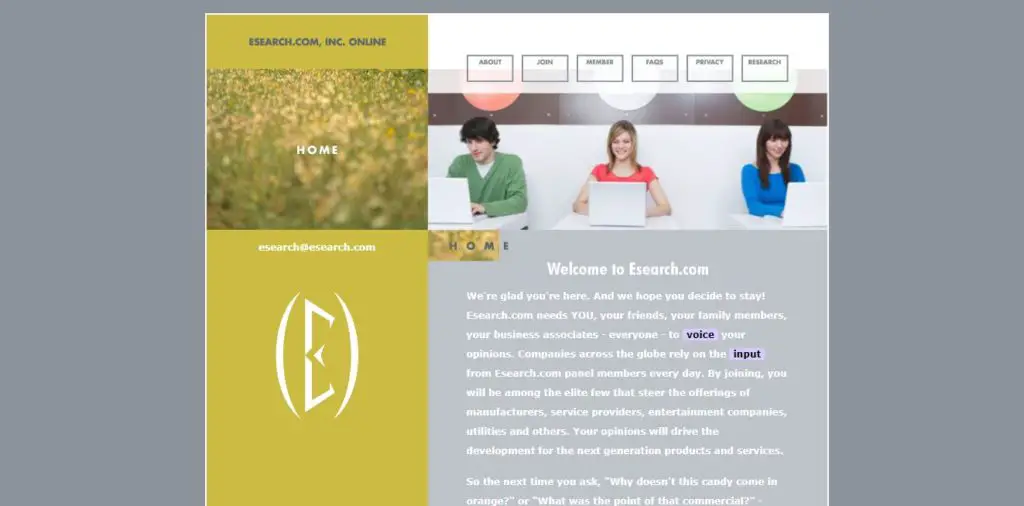 Minimum payout threshold: None
Esearch uses an innovative method to distribute surveys. Additionally, there is no minimum payout for taking surveys on this site. It isn't necessary to sign into Esearch to take surveys, as there are no dashboards. An automatic email will notify you of available surveys.
Every month, you'll receive a survey invitation in your inbox. To participate, simply click on the link. In general, surveys last for 10 to 15 minutes and pay $1 to $5 or even more.
The purpose of Esearch is to provide access to consumer opinions and feedback. Having consumer information is key to developing marketing plans and improving products. 
In return for their time and effort, Esearch members receive prizes and cash, making it a great side job.
Pros
Surveys pay between $1 and $5
You can complete most surveys within 10-15 minutes.
Surveys without minimum payout
You can win prizes through a sweepstake
PayPal Payments assures quick payment receipt
Cons
Insufficient survey invitations
A dated interface
If you have any support issues, it can be difficult to get support, according to some Esearch review comments.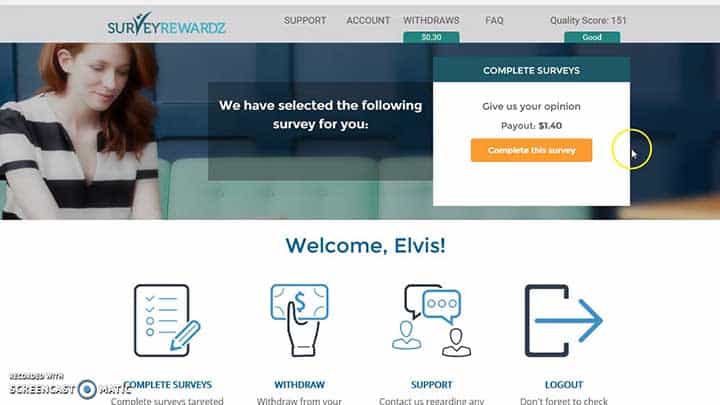 Minimum payout threshold: $1
You can also participate in surveys at Survey Rewardz, which has a minimum payout of just $1. As a member of Survey Rewardz, you will get paid for sharing your opinion. Becoming a part of this platform and receiving payments for giving your opinion is a breeze.
When you are done with the surveys, you will receive payment. They are available to most countries, and they pay between $0.50 and $10 per survey.
This company offers a great payout after just completing two surveys, which makes it an excellent choice. You need to be at least 18 years of age or at least 13 years of age with parental consent to join Survey Rewardz. 
Pros
The platform is completely free to use
The average survey lasts 15 minutes or less
Multiple payment methods are available. Payable methods include Amazon gift cards, PayPal, checks, and virtual Visa cards
It is open to most countries
Cons
Taking a screening test can disqualify you most of the time
There is a small fee charged by Survey Rewardz when redeeming rewards
There is no other way to make money with it
You won't receive a signup bonus
Minimum payout threshold: $1
Having $1 in your account with SurveySavvy gives you access to withdrawing your earnings. Simply create your profile and sign up. SurveySavvy will invite you via email to participate in a survey when your profile meets the requirements. 
During the survey invitation, you will also receive information about your potential earnings. SurveySavvy pays by check, and that is its only disadvantage. 
Rather than confusing users with a points system, SurveySavvy simply pays you a dollar amount, with surveys paying $1 to $2 on average.  Even before you begin taking surveys, you will know exactly what you will be paid.
Besides surveys, SurveySavvy also offers a monthly reward program – SavvyConnect. With this reward program, you can earn up to $15 just for downloading the tool and surfing the web.
Pros
Has support for many countries
Offers high-paying surveys
The minimum cashout amount is very low
You can earn some money with an excellent referral system
The site is easy to navigate and safe to use
Complete online surveys for free
Cons
Payments aren't made with PayPal
Payments can sometimes take a long time to arrive
A very small number of surveys are sent to non-US members
Minimum payout threshold: $1
instaGC allows you to earn money from surveys with little or no minimum payout, as you can get paid as soon as you earn $1. Since it is very easy to make at least $1 worth of offers, this is almost as good as a no minimum offer.
This is an easy-to-use site that anyone can join, regardless of location. Plus, you can cash out quickly after completing at least two offers. Nevertheless, it offers more opportunities for English-speaking countries, but it also offers some opportunities for other countries. 
You can earn money in addition to surveys by watching videos, taking online surveys, clicking ads, predicting sports results, and taking surveys. They can pay you via PayPal, gift cards, or through donations to charity.
Pros
You can sign up for free
Just by joining the platform, you will receive 10 points
Paying for points instantly via PayPal
Cons
The site has a mobile version but no dedicated app
There isn't much value in points, and it takes many points before the money starts adding up
The higher-paying surveys aren't always available, as with other GPT sites.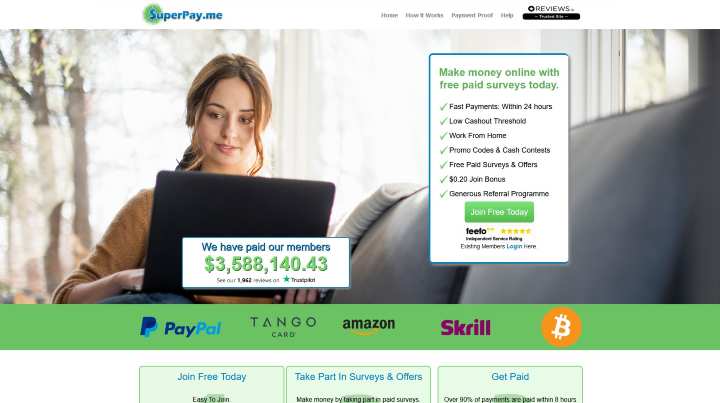 Minimum payout threshold: $1
Superpay.me offers surveys with a low payout minimum. If you take just one or two surveys, you can earn $1 and cash out right away.
Compared with other survey sites, Superpay.me can be confusing to use. The key to finding surveys you qualify for is to learn how to find them. You can, however, join from nearly every country if you have a little patience, and it offers great earning opportunities.
The payment can be made with PayPal, Skrill, or Bitcoin (Bitcoin has a higher payout threshold). Besides the very low payout threshold, you will receive your funds within hours after you have requested them, thus Superpay.me is among the fastest paying survey sites.
Pros
There is a very low minimum payout threshold
Earn money with a simple sign-up process
PayPal, gift cards, and bitcoins are available as methods of payout
Excellent customer service
Tasks and games that are entertaining
Cons
Payment withdrawals on the site are subject to a commission
Possibility of low income
It can be time-consuming to complete offers and surveys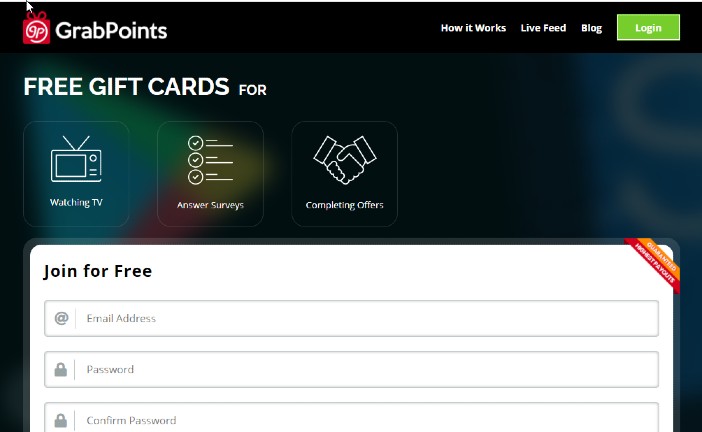 Minimum payout threshold: $2
There is also GrabPoints, an online panel that offers low minimum payouts for surveys. It includes a range of activities, including survey-taking, watching videos, completing offers, and downloading apps.
The Reward is based on points, and you will need at least 300 points for redemption, but this is not difficult because each point is only worth one cent.
There are different redemption options on most such websites based on the total, but you can cash out for as little as $2 if you are motivated to do so.  Other rewards are also available through the company, including gift cards and even Skrill payments.
Pros
With GrabPoints, you can earn rewards at high rates
Payouts are easy and reliable
Provides a wide range of rewards
A simple-to-use platform
Cons
The amount you can earn from some tasks is limited
There are some tasks that you will not qualify for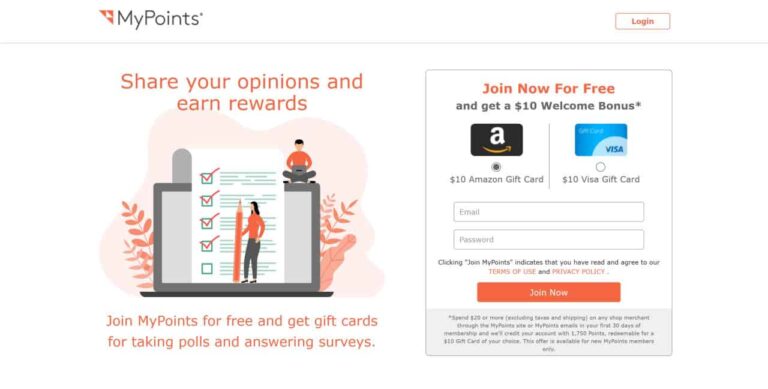 Minimum payout threshold: $3
Founded in 1996, MyPoints rewards its members for watching videos, taking surveys, and doing other online activities.
Aside from that, MyPoints has a very low minimum payout, allowing you to redeem your points for multiple rewards, mainly gift cards from major retailers. You can accomplish this minimum within an hour if you use a variety of survey possibilities and tasks. 
If you're wondering how to make money online through surveys, MyPoints can help.  With the MyPoints reward website, members can earn points by interacting with advertisers. The more surveys you complete, the more points you earn.
Pros
The app has a lot of features
As soon as you sign up, you receive points
You can sign up for free
To make money and earn points, there are many ways to do so
You earn money immediately and get paid by this legit company
Cons
You may have to wait longer than expected for some earnings to appear in your account if you use coupons for example
The program is only available to residents of the United States and Canada
You can't keep track of your survey points with their system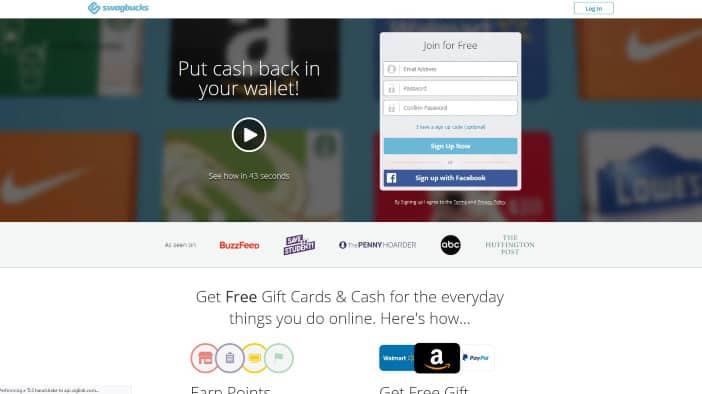 Minimum payout threshold: $3
Swagbucks is the world's most popular survey site and online reward platform, and it's easy to see why. Some surveys have low minimum payout thresholds and starting at $2 – $3 you are already eligible for payment. Some tasks have a higher payout threshold. 
There are many ways to receive payment, including PayPal and Amazon gift cards. You can reach the payout threshold very easily with Swagbucks. Another interesting thing is that you have several options to make money with Swagbucks.
If you join through an invitation link, you will receive a $5 joining bonus. You can also earn by taking surveys, taking offers, shopping online, watching videos, entering free contests, and more.
Pros
Swagbucks is free; you do not have to spend anything
Earning points and converting them into cash can be done in different ways
Accessing and using the site and apps is easy and quick
Receive a bonus of $5 when you sign up
You can get a 10% cashback
Cons
There are very few payouts in games and videos
It's not always possible for users to qualify for surveys
Money-saving offers can encourage consumers to spend
Limited to certain countries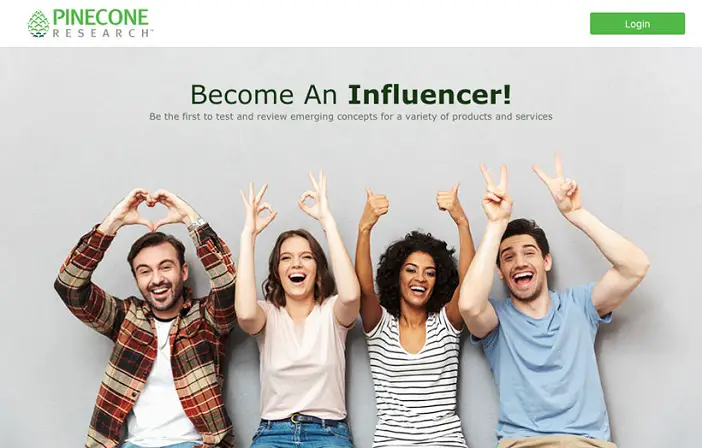 Minimum payout threshold: $3
In Pinecone Research, points are based on an easy-to-understand system. You can earn $3 for completing any Pinecone Research survey. There's no catch. Every survey pays 300 points. The best part is that you know exactly how much you will receive for every survey.
One of the cool options that Pinecone Research offers is product testing. They send you samples or actual products to test and you fill out a follow-up survey to get credit for $3.
The earnings you receive from completing surveys will be added to your account 3-5 business days after you submit them. A check will always be sent to your physical address for your first earnings redemption. 
In the future, you can choose to have your money transferred directly into your Paypal account, receive a virtual prepaid Visa gift card, or receive a check.
Pros
Market research platform that is trusted by many
You can redeem points for gift cards, checks, and Paypal payments
Surveys are sent to you if you qualify, saving you a lot of time
Their payments are prompt and reliable
A quick payment system
Cons
There are some issues with Pinecone Research and it needs an update
Support is not as good as other companies
There are usually only 2 to 4 surveys available per month
There is a limit to how much money you can earn
Why Are Some Sites' Minimum Payout Amounts So High?
Every panel has to set the amount of cash or points members need in their accounts before they can redeem their points for rewards. Various numbers can be set by each panel. To encourage members to stay active and continue participating, some panels raise their cashout minimums.
By setting a high goal for members, they hope to give them an incentive to keep taking surveys and reach this minimum payment threshold. In theory, that would benefit the panel, but it would be unfair to reward members of the panel for participating in surveys. 
In reality for survey takers, it is easy to stay motivated when you can see a little extra money in your account and can get paid for surveys fast when a low minimum payout is available.
FAQs
Why should I start taking paid surveys?
The short answer is that it can earn you money. If you like filling out forms, reading reviews, or trying new products, paid surveys are a viable way of getting money for your time.
Are survey websites safe?
Yes, but like everything else in life, you must always use common sense. Never give out information about yourself to strangers online. The best survey websites will never ask for your credit card number or social security number.
SEE: How to avoid survey scams
What is a low payout threshold for survey sites?
The low payout threshold is the minimum amount you can get paid by a survey site. Minimum payout thresholds vary from survey sites to survey sites.  
Final thoughts
There are hundreds of survey sites online. Some with big minimum payouts; others with none at all. The most difficult part with most survey sites is the amount of time it can take to cash out. 
This is why I've created this list with the best survey sites that offer a quick payout for surveys, and no minimum payout amount needed.
The best overall site if you're looking for surveys with minimum payouts is Qmee. You also have the option to make money by using their browser extensions. If you want to have various money-making options from a survey site, Swagbucks is the ideal fit for you.
People take on paid surveys for different reasons. Some take surveys because of the special rewards or just for the fun of it. If you'd like to take surveys for iTunes cards, there's something for you. See best survey sites that will pay you with an iTunes card.
For others, you want to get your money immediately. If you're that kind of person, see survey sites that will pay you cash instantly.
Surveystor aims to provide you solutions to all your survey needs. Feel free to explore the blog.
Thanks for reading.
Ready to try Qmee?
Start by clicking the link below.