Is GrabPoints legit? Yes, GrabPoints is one of the very few reliable and legitimate GPT sites to make money online. You will find out all you need to know in this GrabPoints review.
Making extra money online is one of the fastest and easiest ways to make money, and survey sites are among the easiest ways.
And if you've ever wanted to win gift cards or wondered what to do with them, GrabPoints is a good place to start. Survey takers can earn points in exchange for enthusiastically participating in surveys related to a wide range of topics.
Is it, however, genuine? Is it true that GrabPoints pay you? Or is it just another ruse designed to defraud you while wasting your time?
In this in-depth and candid GrabPoints review, I'll go over everything you need to know about this GPT platform, including whether you should join or not.
We'll see how it works, what to expect, give you a behind-the-scenes look, and expose whether it's actually legit and better than other comparable choices.
So let's get to it.
Quick GrabPoints Review
What makes GrabPoints shine?
Free to join
Easy to join
Available worldwide
Many earning opportunities available
High rewards
Fully optimized for mobile
Multiple payment methods
Variety of e-gift cards available
Low payout threshold
Great reward options
Detailed GrabPoints Review

What Is GrabPoints?
GrabPoints is a GPT platform where you can make some extra money or win gift cards by completing simple online activities.
These are things you probably do on the internet every day.
Consider video streaming, shopping, completing deals, taking polls, downloading and checking out new applications, and so forth.
It's essentially a rewards website similar to Toluna Influencers and TimeBucks.
GrabPoints has only been around since 2014, but it is relatively recent compared to other related platforms.
In spite of this, they have acquired quite a good reputation.
GrabPoints is one of the reliable survey sites in the world with a knowledgeable team of market research professionals, a strong base of loyal customers, and access to large consumer survey panels.
They are constantly innovating and bringing valuable rewards to their users.
Even though it hasn't been around as long as some of its competitors, GrabPoints has built a solid foundation, and I'll tell you right now that it's legit and safe, and you can make money here.
We'll go through the different ways you can make money and how good they are, so you can decide if it's worth it for you.
How Does GrabPoints Work?
GrabPoints is a platform used by companies for their market research. Members are the provider of this market research data.
They will use this information to assist their client's businesses. Every day, they have a range of surveys available of which some are their partners' surveys.
Another way to get points is to watch videos that are 2 to 10 minutes long. To advertise their services or products, many businesses give free trials for a short period.
GrabPoints links you with these businesses and provides you with points for each bid you complete. You can also win extra points by downloading applications.
To get the reward for this, you must keep the apps for a certain amount of time or pass a certain level whether it is a game.
It's that simple.
GrabPoints Payment Process
On GrabPoints, there are numerous ways to earn money. But there is one thing to consider: the number of points you will receive.
Another consideration is what you will get in exchange for these ratings, which is a critical feature of any get-paid-to platform.
GrabPoints offers a diverse range of prizes. You earn points by participating in polls, offers, and other activities on the website.
You will still see how much you'll get for doing something on the website before you do it. After that, the points can be traded for gift cards or cash.
The types of gift cards available vary by region, but examples include Facebook credit, IMVU Nintendo eShop, Minecraft, Xbox, Starbucks, Amazon, iTunes, and others.
If you choose to receive your earnings in cash, you can use PayPal or Skrill to do so.
Many people like cash benefits, and I think it's awesome that GrabPoints accept PayPal because it's such a simple and quick way to get your money.
See also: Best Survey Sites For Direct Transfer
What Does GrabPoints Offers?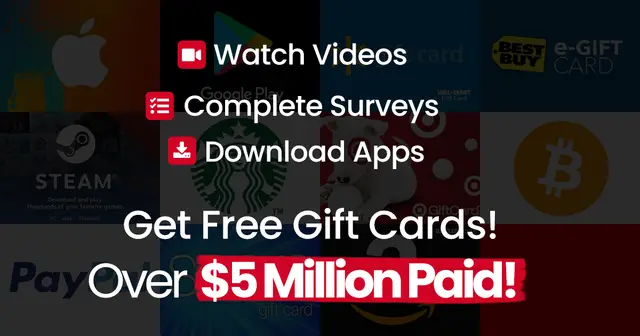 1. Paid Surveys
Paid polls are a perfect way to make money and still have your voice heard. GrabPoints has a large number of paid surveys available.
The majority of them are provided by survey routers or third-party vendors, which means you'll see the survey on GrabPoints, so when you click on it, you'll be taken to a new screen where you'll complete the survey.
When you complete the survey, the payment will be deposited into your GrabPoints account – in most situations, you will be able to see the reward in your account immediately.
GrabPoints works with a number of survey routers and associates, so you'll find a large number of surveys here.
You should be mindful that, as with any other survey platform, you may not be eligible for all of the surveys you try. Therefore, you will need to try many times before you find the surveys that you qualify for.
However, GrabPoints has a large number of surveys, and you should be able to find those that you are eligible for.
After a while, you'll be able to find out what types of surveys you're most likely to qualify for and concentrate your efforts there.
GrabPoints claims that their survey prizes are better than those offered by rival platforms. They often build reference charts on a daily basis to demonstrate this.
No doubt, GrabPoints offers some of the best rewards in the survey industry.
However, if you see a reference chart in general, it's a smart thing to double-check it for yourself before believing it, so you know when it was last checked or what data was used to make it.
Overall, taking surveys with GrabPoints is an easy way to earn money, and you can easily earn a significant sum. This is definitely an earning opportunity worth considering.
2. Online Offers
Paid offers can be a perfect way to increase your earnings on Get-Paid-To (GPT) platforms in general, and they are frequently ignored.
GrabPoints has a variety of offers walls and a lot of deals that you can take to make money. It may be to sign up for a free trial, purchase a product, or download a game, among other things.
However, know that you might have to sign up for or pay for some of the trials that, if not canceled, will accrue a premium membership.
Paid offers will also be worthwhile in some cases, as you will find offers where the benefit you can get is greater than the expense you will incur.
Even, if you like the discount regardless, it can be a perfect way to save money. In general, this may be a perfect way to increase your earnings.
You simply must read the terms and conditions carefully when accepting an offer so that you are aware of the requirements for receiving the reward.
3. Get Paid To Watch Videos
On GrabPoints, you can even get paid to watch videos. You can watch as much as you like, and there will still be videos to watch in order to make more money.
There are videos in a variety of categories, so you can watch the sort of video you want, whether it's about food, science, movies, celebrities, fitness, or something else.
This is not, however, a quick way to make money. To get rewards, you must watch three videos, each lasting about two minutes, plus advertisements in between.
In all, you'll have to watch for around 8-10 minutes to get the reward, which is 7 points (equals around 0.007 cents).
The main benefit of this earning option is that videos are always available to watch.
However, as you can see, you would not be able to make as much money watching videos as you can by, say, taking paid surveys.
Well, you could theoretically let the videos play on a computer you aren't viewing and earn without exerting much effort.
To make some real money, it will take a long time and a lot of patience. In my view, the video alternative is only interesting if you want to watch videos in the first place.
If you just do it to make money, it will be a long process, because there are other ways to make money on GrabPoints.
4. GrabPoints Invite Code
As an internet user, you may get GrabPoints to invite codes that will earn you a bonus when you sign up. It's a fun and easy way to get a payout right away.
If you enter via the code, you will immediately receive 500 free points in your GrabPoints account.
You'll also get another 50 points for verifying your email and another 10 points for answering a few simple demographic questions.
5. GrabPoints Referral Program
You get paid by inviting friends that you think would like GrabPoints. When you register, you'll get an invitation link (referral link) that you can send to your family and friends.
Once they have received 1000 points after they register, GrabPoints reward you immediately. The amount of a bonus you get is determined by the country where the friends you invited live.
There are three levels to choose from. Tier 1 countries will receive 250 points, Tier 2 countries will receive 150 points, and Tier 3 countries will receive 25 points. You will see which countries belong in which tier on the platform.
It can be a fun way to earn some extra cash, but as you can see, you'll need a lot of friends who can actually join in order to make some actual money, as the prizes aren't very high.
6. Downloading Apps
GrabPoints has a large number of games for which you will be compensated for downloading. Some of them are excellent and simple ways to make some money, while others are less so.
Before downloading any app or game, read the terms and conditions, much as for paying deals, so you know exactly what you'll need to get your incentive.
You may be asked to complete a certain amount of action before receiving your payment, or you may simply need to download and launch the app.
The more time you have to put in to meet the expectations, you will usually get a higher payout.
When you find the right deals, the applications are certainly worth trying out once in a while because they can be a perfect way to quickly boost your earnings.
GrabPoints Pros
1. Completely Free To Join
GrabPoints offers its members a free membership without purchase obligations.
Members receive free points for getting the word out about both the GrabPoints survey platform and their affiliated businesses and brands. You can redeem your points and trade them for cash or gift cards.
2. Fully Optimized For Mobile
Using a survey or GPT site on a mobile device is a perfect way to make some money on the go and anytime it fits your schedule.
GrabPoints does not have an app that allows you to do this, but it is also not needed on this website.
The app is entirely designed for smartphones, so all you have to do is open it in your mobile device's browser and start taking surveys and offers.
It's just as easy to use on smartphones as it is on a computer.
The benefit of using a mobile-friendly platform rather than an app is that you conserve disk space by not needing to add another app.
So GrabPoints can certainly be used on a mobile device, and it is still really user-friendly.
3. Good Customer Service
It's cool to be able to get help and it reflects how much an organization cares for its clients. If you need assistance, you can submit a ticket on GrabPoints.
It can be difficult to locate this option at first. The option to request a ticket can be found at the top of the screen if you go to the support section of the FAQ.
In any case, you should first visit the FAQ, as it contains answers to a number of the most frequently requested questions.
4. Low Payout Threshold
GrabPoints, unlike other similar sites, has a $3 minimum cashout cap for its members.
This essentially means that members can request their first GrabPoints payment after completing a few paid survey forms, which shouldn't take anything more than an hour.
Among many others, GrabPoints has one of the lowest payment thresholds in the GPT and survey industry.
5. Available Worldwide
GrabPoints is available worldwide and you can be rewarded for your opinion no matter where you live. It is a survey site where everyone is rewarded.
Help improve the products you use in your daily life by sharing your thoughts and opinions with the companies behind them.
Get free gift cards and vouchers by simply taking surveys on behalf of our clients – Apple, Argos, Boots UK, and many more.
It's safe, fun, and easy to join GrabPoints to make some money.
GrabPoints Cons
1. Survey Disqualification
You'll have to live with being rejected from a lot of surveys if you use GrabPoints.
As a result, if the responses do not reflect the survey's target audience, you will be refused the ability to participate.
You should be mindful that if you expend a significant amount of time answering screening questions, you are likely to be disqualified.
However, the survey disqualification problem isn't exclusive to GrabPoints; it's a problem that affects most GPT and survey platforms.
Alternatives To GrabPoints
There are many other legitimate survey panels like GrabPoints that lets you take surveys and perform various research tasks in order to make money in your spare time.
These sites include:
GrabPoints Review – FAQs
Who is GrabPoints for?
GrabPoints has the advantage of being accessible all over the world. However, you must be at least 13 years of age to be able to register from anywhere.
The number of opportunities you would have varies by region, but it generally provides good opportunities for many countries. In most nations, it would be worthwhile to give it a shot.
Overall, GrabPoints is one of the survey platforms that people in many countries of the world can register with.
What is the minimum payout threshold on GrabPoints?
Members can request a payout as soon as they have earned $3 (3,000 points), which does not take long.
Furthermore, since the turnaround time for payments is just 48 hours, it does not take long from the time you receive a payout to receiving the payment.
Depending on the reward you chose, the exact amount of your points can differ. However, 1,000 points are equal to $1 in most cases.
How much can you possibly earn on GrabPoints?
Well, how much you will earn is highly dependent on the amount of time devoted and the country in which you live.
Because GrabPoints offers so many different ways to earn money, you can easily spend a lot of time there and earn a significant amount of money.
However, if you just want to devote a short amount of time every now and then, this is also possible. There are no restrictions on how involved you would be.
GrabPoints has a leaderboard that displays the earnings of the top earners. So that should give you an insight into how much you could make.
One thing to keep in mind for every GPT or survey platform is that you will not be able to make a full-time salary or become wealthy from it.
GrabPoints Review Conclusion
GrabPoints is a legitimate platform that is among the finest in the industry. They have a variety of surveys and assignments available at all times.
When compared to many other paying survey pages, it is unquestionably one of the best. Of all the GPT sites available, the website has high payouts.
It has a low minimum cash-out threshold of $3, so you won't have to work too hard to get the points you need to withdraw.
The payment is prompt and safe. As a result, GrabPoints meets all of the criteria for becoming a top-rated survey destination.
The abundance of rewards, a wide range of earning options, and safe and timely payment make the platform stand out. Members can easily supplement their income when working at their own pace.
You will find many earning opportunities on this platform if you are interested in earning some extra money.
Ready To Join?
If you've made up your mind that GrabPoints is the perfect choice for you, it's quite simple to sign up.
Once you tap the button below, you will be taken to the sign-up page where you can complete your registration (it takes just a few seconds).
After you register, like many other platforms, you must confirm your email address before you can begin earning.
Make sure you fill out all of their demographic questions. This is important because they would use this information to pair you with polls that need to be answered by people from your location.
You can also check out our Mobrog Review.