Toluna Influencers is a GPT platform that promises to enable you to get your voice heard while still earning money.
Is Toluna, though, a legitimate company or a scam to avoid? Let me start by saying that this is a legitimate and reliable survey site.
This does not, however, imply that it would be the perfect choice for you. Continue reading to learn more about the survey platform, whether it will make you money, and whether it is worth your time.
In this Toluna Influencers comprehensive review, I'll give you a behind-the-scenes look, go over all the specifics, and show you exactly what to expect, so you can decide for yourself if it's the best fit for you.
Toluna Influencers Quick Review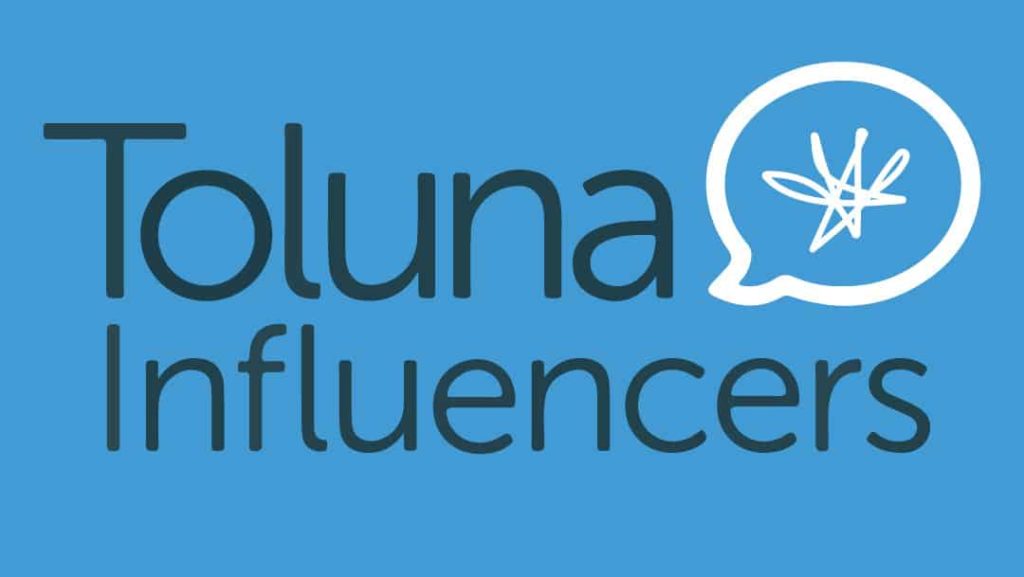 What makes Toluna Influencers shine?
There are a lot of surveys available
User-friendly and easy to use
PayPal's payment method
Available in many countries
Earn from anywhere with Toluna mobile app
Several gift cards available
Have a very engaging community
It provides several ways to earn
Low payment threshold
Toluna Influencers Overview
What Is Toluna Influencers?
Toluna Influencers was founded in 2000 and has since expanded to become one of the most well-known, trustworthy, and influential online survey websites.
Toluna Influencers is managed and run by Toluna Group, a market research leader with millions of survey participants who engage in a range of market research opportunities and help shape the future of the world's biggest brands.
It's well-known as a survey website with a heavy focus on community, which makes it a common pick.
Toluna was the previous name for this survey panel. However, in 2018, it underwent a rebranding and is now known as Toluna Influencers.
The website address, however, remains toluna.com.
You will hear either name, and many people still refer to it as Toluna; however, both names refer to the same survey site.
How Does Toluna Influencers Work?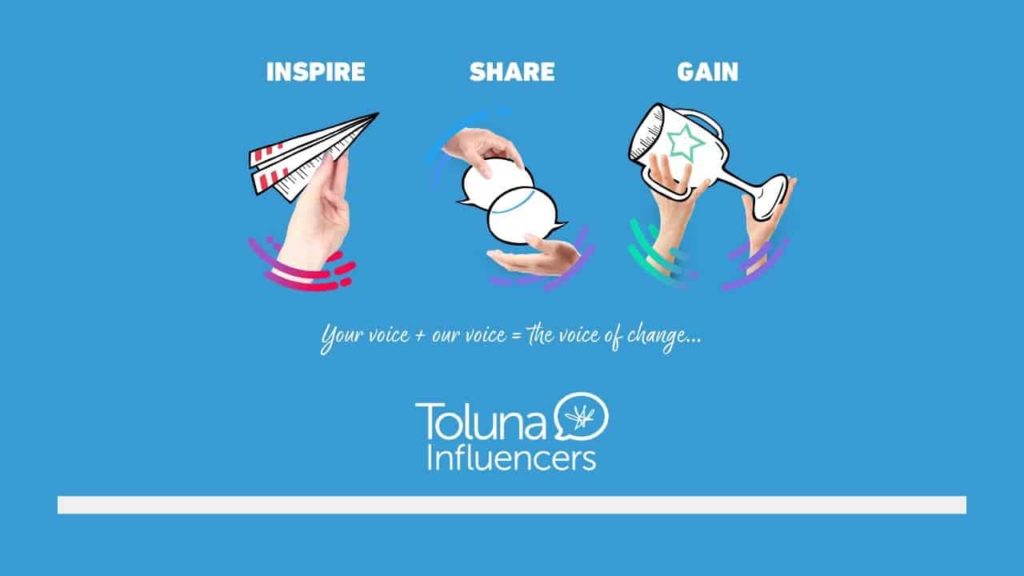 It would be of great interest to you to know that, signing up and creating a membership account is generally free and easy to complete.
This also happens to be the first and major step to becoming a member of the platform.
Personal basic information and demographics would be required to effect authentication of membership profiles on the platform.
The panel is highly competitive, as the surveys conducted daily are of high class and place its participants on a greater edge.
Not only are you presented with the opportunity of participating in their online surveys, but you also get to earn points that can be converted to e-gift cards or even real cash.
After registration has been fully completed, you automatically become eligible for the platform surveys and other cash prize offers, and there are other means of earning on the platform.
It is an online market research community that provides different available surveys for its members, and pays them in return.
Like every other blossoming and fast-rising survey platform, Toluna gets paid for these completed surveys which they give out to major brands, who in turn use these surveys as a check-in to improve their products and services.
So it's a win-win platform where everyone wins.
How Much Can You Possibly Earn?
On Toluna, it's relatively simple to earn enough for a payout or a gift.
However, how much you can make so depends on how much you participate in surveys, where you live, and whether you use any of the other forms to win points on the platform.
A survey worth 4000 points might take you about 10-15 minutes to complete.
That's perfectly acceptable for a survey website. Around the same time, the polls are always about fascinating subjects, making it a perfect opportunity to get your voice heard.
You can also make your own content on Toluna and earn bonus points.
If you can create content that earns you some points, it can be a quick way to earn some extra cash, as the surveys and questions you can create take so little time.
However, you will not know if you will be paid until you do so.
It will award you between 100 and 1000 points, so if you want this choice, make sure you make something that people will like to engage in.
Overall, Toluna platform will help you earn some extra cash to help cover little bills, treat yourself to a little extra comfort, or treat someone you care for.
Know that, as with any other survey platform, you can not determine how much you can earn per hour when deciding whether to apply.
What Does Toluna Influencers Offer?
In addition to paid surveys, the platform provides a variety of other options to supplement your earning, but online surveys are the primary source of income.
Toluna Influencers offers a variety of ways to earn money, so let's break down all of that, so you know what to expect.
1. Toluna Influencers Surveys
This is the major and most lucrative way to earn on this platform. There are a lot of surveys, and you'll usually have access to at least 5-10 per week, but sometimes even more.
Even if your profile is not fit for a survey (which does not happen as much on Toluna Influencers as it does on some other survey panels), you will still get 200 points for attempting it.
It is a smart idea to search the platform on a daily basis to see if there are any available surveys for you since you might not get emails when new ones become available.
You will sometimes get an email when a new survey is available, although much of the time it is an additional survey that you will not be able to see on the website.
Whenever you receive one of these email invitations, please complete the survey as soon as possible, since these types of surveys usually fill up quickly and only a small number of respondents are required.
To get the best out of Toluna Influencers, you should log in on a regular basis to check for surveys. You can rarely receive email invites when new Toluna surveys are available.
As opposed to its competitors, Toluna surveys compensate very well in comparison to the time invested.
However, the amount of money they give you in comparison to your time ranges greatly from country to country.
Though, you can still see how much you'll get and how long it'll take before beginning a survey, and then decide whether or not you want to take it.
Keep in mind that you would not be fit for all surveys, which I understand can be irritating. However, this is something that occurs on all survey sites, and Toluna Influencers is not an exemption.
Filling out the profile increases your chances of qualifying for the surveys you're given, it's a smart idea to start filling them out as soon as you register.
2. Mobile Surveys
You can register your phone number on Toluna Influencers as a member. You will then opt-in to receive special mobile surveys via SMS as a result of doing so.
Don't expect a lot of extra surveys like this, but there will be surveys sent via SMS that aren't available on the website from time to time.
You can opt-out at any point, and Toluna is a reputable and trustworthy firm, so you shouldn't be concerned about them misusing your information.
Ensure you register your phone number if you want to maximize your earning potential. However, you can still receive several normal surveys without entering your phone number.
SEE: Easiest Way To Make Money With Your Smartphone
3. Daily Games
Toluna Influencers has a regular game called the Toluna Fortune Wheel. Every day, you can turn the wheel for a chance to earn bonus points.
It just takes a few seconds, even if you're new on the website, it's worth giving it a shot. I'm not sure how good your odds of winning are statistically, but I can assure you that it's not unlikely.
You won't get big prizes, but a few extra free points for spinning a wheel isn't bad. Aside from the Toluna Wheel, there are a few other little games that you can enjoy from time to time.
The precise availability of these games is determined by the location (country) in which you reside.
Some games will award you points if you win, while others will only be for entertainment. They are, however, all open to every member.
SEE: How to Get Paid to Test Games
4. Sign-up Bonus Surveys
Not every survey site graces you with such a rare opportunity of earning points during registration.
You will have to complete some brief profile surveys when you first enter.
You will be given some cool prizes right away, and it will also help you get paired on more surveys. So, they are certainly a smart thing to fill out and a good way to start earning right away.
How? During the sign-up process, the platform gives you about 14 profile surveys to complete, with each profile survey attracting a reasonable number of points.
This is quite impressive, which is why it is very important you complete the registration surveys, so as to earn points and in turn giving the platform a better knowledge of you.
SEE: Best Survey Sites With Sign Up Bonuses To Make More Money
5. Sponsored Polls
Sponsored polls are polls on a certain subject for which you can get 15 points if you respond correctly. Quick surveys are another name for them.
If you log in, you can check the suggested section and the news stream to see if any are available.
Look for the word "poll" in the rest of the content to identify them.
These fast polls provide very limited incentives, but they only take about 10 seconds to complete, and they can be very fun to partake in because you can see a statistic about other participants' responses after you've completed them.
You'll have many of these at times, and sometimes, it can be very difficult to find any at all.
However, it seems that the mobile app has a greater number of these fast surveys, so if you like polls, this might be worth trying out.
6. Toluna Influencers Contests
Contests are occasionally offered by Toluna Influencers. It may be a photo contest with a prize, a short quiz, or other types of competitions.
They will last a few days or up to a month, and they can provide you with some extra cash. You will see the most recent announcements to see if there are any new competitions after you have signed in.
They will also be announced and clarified in greater detail on Toluna's official blog for your region, which you can access through the link at the bottom of their website.
The number of contests available varies by country; some have regular contests, while others have weekly or monthly contests.
7. Toluna Influencers Blog
If you are a member of Toluna Influencers, you can visit their official blog, which will be of benefit to you. A link to it can be found at the bottom of their website.
It is not a way to really make money, but it is often updated with content, and it is here where you can see recent challenges, past champions, new updates to the website, and more information on all of these topics.
Therefore, it's always a smart idea to check out the blog often and stay up to speed with what's going on with the platform.
Every nation where Toluna is available has its own blog, so you'll only see content on the blog that is important to you and available in your native language.
8. Sweepstakes
Toluna Influencers holds regular draws for cash prizes and other prizes, such as gadgets, for which tickets can be redeemed for a limited amount of points.
The Toluna Millionaire Sweepstakes gives committed Toluna Influencers participants a chance to win $1,000,000 every day.
You can earn entries by taking surveys or by purchasing them for 500 points through the reward center.
Please keep in mind that sweepstakes draws are not available in all areas. So you might not be eligible due to your location.
9. Content Creation
Toluna is attempting to be both a polling site and a forum where users can generate engaging and interesting content.
You may do this by creating surveys, subject debates, or fights, or by engaging in them.
Short surveys and topics or brief conversations in which people can voice their opinions and interact on a subject selected by the author are called polls.
Battles are where you can have a little fight for two options in order to get people's opinions on two different topics. For example, it might be sugar vs. biscuit, Superman vs. Batman, Banana vs. Apples, and so on.
For each piece of content you make, you can gain up to 1000 points. Since the Toluna team wants to promote entertaining, high-quality content, this will be manually compensated.
This will be a perfect way to win some bonus points if you are excellent at making entertaining content.
Refer a Friend Program
You can get bonus points by referring friends and family to Toluna Influencers.
After you've logged in, you'll see some buttons beneath your username that allow you to send a connection to your friends via social media or email.
However, each person who enters through your referral link can only get you 500 points (roughly 15 cents), so this isn't a great way to rack up points.
SEE: Best Ways to Get Referrals for Paid Surveys and GPT Sites
Toluna Influencers Pros
1. Anyone Can Register For Free
Start earning money with Toluna Influencers by creating a free account.
You can register with Toluna no matter where you are in one of the countries in which the platform is available
Toluna Influencers members are invited to participate in free surveys to voice their views on various products, projects, and subjects.
This forum is ideal for supplementing a regular survey taker's income or filling in the holes between workers. This is one of the most well-known and profitable online survey sites.
Every day, members take brief polls on a variety of topics ranging from services to products, and they are not required to pay extra to join.
They are instead paid for their contributions.
2. Has a Mobile App
If you want to make some money when on the go, visit survey sites that have a smartphone app or are at least mobile-friendly.
Toluna is one of the survey sites that has a mobile app, which you can get for Android or iPhone.
Access your profile from a mobile device and remain up to date on the most interesting research opportunities.
The Toluna Influencers app includes functions such as taking photos on the go and quickly creating polls.
Start winning prizes on the go by downloading from Google Play or the App Store.
It is pretty simple to use, but if you want to use it, I suggest that you first sign up on the website and familiarize yourself with the platform before using the app.
The website, in my view, has the best rundown and experience, but the app is fantastic and simple to use and can be a perfect improvement and convenient way to try out the site's offers options during the day.
3. Offers Several Ways To Earn Money
Toluna Influencers has a number of options for earning money.
You can select from a variety of options, including surveys, sweepstakes, content creation, Toluna blogs, contests, and referring your family and friends.
So, even if you are not qualified to participate in taking surveys, there are still many other ways to make money on Toluna.
On the website, there's always plenty for everybody, and it's simple to supplement your earnings.
4. Good Customer Support Service
The quality of a company's customer service will reveal a lot about it.
If you need assistance or technical support, Toluna's support team responds quickly. This reveals a lot about a website's trustworthiness.
However, these can vary from country to country and each country has its own support personnel that will assist you in your native language.
As a result, it's possible that things are different in your world.
If you have more general questions, Toluna Influencers has a FAQ segment that is very comprehensive and addresses a lot of them. But that's a decent place to begin and the quickest way to get assistance.
Toluna Influencers Cons
1. Accumulated Points Disappearance
Unused or dormant or stored-up points disappear from your account after a year. Unless converted to e-gift cards or to cash and transferred to a PayPal account would be much better.
Storing up earned points will only lead to the disappearance of it after a few months (probably after 12 months).
2. Payout Is Slow
Unlike other survey websites, Toluna will probably be the only one that takes a long time before you get your rewards.
Imagine waiting for about 8 weeks before you get your rewards. This is really frustrating, and it's a big drawback the platform should work on.
Online survey can't replace your monthly salary and the only way it can appreciate your time and effort is to get paid ASAP.
But unfortunately, Toluna doesn't pay its member instantly. Therefore, it won't be a good choice if you don't have the patience to wait so long before getting paid for your time and effort
Alternatives To Toluna Influencers
There are many other GPT sites like Toluna Influencers that lets you take surveys and perform various research tasks in order to make money in your spare time. These sites include:
Alternatives to Mturk
FAQs
Who are Toluna Influencers for?
Toluna Influencers is available in over 60 countries, and in most cases, in the local language as well. From country to country, the prizes and the number of points earned in relation to time will differ.
Toluna has opportunities for a lot more countries than many other paying survey platforms, which only have opportunities for English-speaking countries.
On Toluna Influencers, you'll find great opportunities in the United States, Canada, Australia, and the United Kingdom, but also in India, Belgium, Singapore, Malaysia, Denmark, Japan, South Africa, New Zealand, Sweden, Russia, the United Arab Emirates, Hong Kong, China, and several other nations.
Many countries require that you be 14 years old or older to sign up, but this varies by country and depends on local rules.
Be mindful that if you are under the age of 18, all benefits will have to be paid out to a guardian or relative – again, this varies by region, so you can find the exact guidelines for your country on Toluna's website for your country.
Also, remember that you won't be eligible to participate in polls if you're in a country other than the one where you signed up, because you won't be able to do them when moving.
How long can you accumulate your credit points?
The Toluna points are only valid for a year. You have the opportunity to save them up before you consider they're large enough, but not after the 12-month period has passed.
They are removed from your account once they have expired (after 12 months).
Can I shop using Toluna points?
No, you must exchange your credit points for e-gift cards or request cash through PayPal. However, there are times that you can win actual gift cards. You can also play the Toluna lottery every day.
How fast is the reward process of Toluna Influencers?
According to Toluna Influencers' website, prizes can take up to 8 weeks to arrive after they've been requested.
Many members, on the other hand, collect virtual gift cards and PayPal payments within a few weeks of requesting them.
All prizes must be redeemed from Toluna Influencers' "Rewards Center," which can be accessed from your profile's group menu.
Gift cards to Groupon, Overstock.com, Best Buy, Redbox, PayPal, The Cheesecake Factory, and other retailers are among the rewards.
Conclusion
Toluna Influencers is a legit and reliable platform. It is not a scam, and millions of people from all over the world have taken their surveys for over ten years.
This is a survey site you should try out because it offers a lot of good opportunities and can be a good way to win some extra money or incentives. However, after you cross the bonus cap, certain countries take a long time to payout.
However, if you use Toluna on a daily basis, you will be able to request payments on a regular basis. And then you'll almost always get the money into your account, and you won't even mind the delay.
Overall, Toluna is a decent and trustworthy paid survey platform that offers a variety of options, is simple to use, and is completely legitimate.
Ready To Join?
Signing up with Toluna Influencers is easy.
Simply click the button below, select your country, and you'll be taken to the page, where you'll need to fill out some simple registration information (takes less than 1 minute).
You will get an email after you have signed up. To validate your account, open this email and click the link in the email.
After that, you can start participating in surveys and earning money.
I hope this comprehensive review has made you understand just what Toluna Influencers has to deliver and if it is the right survey panel for you.
You can also check out our TimeBucks Review.