Surveys can be a pain, and some sites just aren't worth going through all the hassle for. By joining the best survey sites with sign-up bonuses, you can know which sites are worth it to really pay you.
In this post, I have compiled the list of the best survey sites with sign-up bonuses plus a short review of the pros and cons of each site.
Also, included is a link to the full review of each site to help you make an informed decision if they are worth your time.
What Are Survey Sites?
Survey sites are companies or organizations that pay people to participate in online surveys. This is a way of gathering information for market trends or new product development by utilizing the public's opinions.
Although there are many ways to make money online, survey sites are quickly becoming one of the most popular ways for people to earn a little bit of extra money in their spare time from home.
While some pay cash, many of them will pay you with points, which can be redeemed for gift cards, cash, or other prizes. The types of surveys and rewards vary by site.
What Are Signup Bonuses On Survey Sites?
Signup bonuses are rewards that you are eligible for after signing up for certain types of paid survey panels. They consist of points, cash, or gift cards, which can be redeemed to a wide range of reputable companies such as Amazon, the iTunes store, PayPal, Walmart, Target, and many more.
Giving you a bonus on sign-up is a great way to encourage people to join their surveys site. This can make your opinion valuable to the survey platform as you are more likely to choose them over others.
Why Join The Best Survey Sites With Sign Up Bonuses?
With all the top-rated sites to choose from, why should you join the "Best Survey Sites With Sign Up Bonuses"?
Sign-up bonuses from survey sites are the way to go if you want to make more money taking surveys on the internet.
Most survey sites, particularly the large paid survey panels will pay anywhere from $1-$25 for each online survey you take. However, with sign-up bonuses, and by referring friends to these sites you can actually make a lot of money in additional lump sums of cash.
Also, with a sign-up bonus, you can be sure that you are dealing with a genuine survey site and not some scam hiding under the hood.
It's a great way to get rewarded for being a member of some of the largest reliable survey sites that are LEGIT. Best of all, each of the survey sites listed below is completely FREE to join.
Which Are The Best Survey Sites With Sign Up Bonuses?
With a $5 sign-up bonus, one of the best GPT sites you should check out is PointClub, which will allow you to earn rewards on a regular basis. It's available all around the world, however, the earning potential varies by country.
It offers the most earning opportunities for those living in the United States. Members living in the United Kingdom, Canada, France, Brazil, Mexico, Germany, and the Netherlands, among other countries may have limited options.
It does, however, have a somewhat high payment threshold of $25. You can withdraw your money via PayPal or a prepaid Visa card once you've earned $25. Various gift cards can also be redeemed.
Pros
Earn points even when you're disqualified
Multiple and flexible payment options
Has a mobile app to take surveys on the go
Great earning opportunities
Excellent customer support
Cons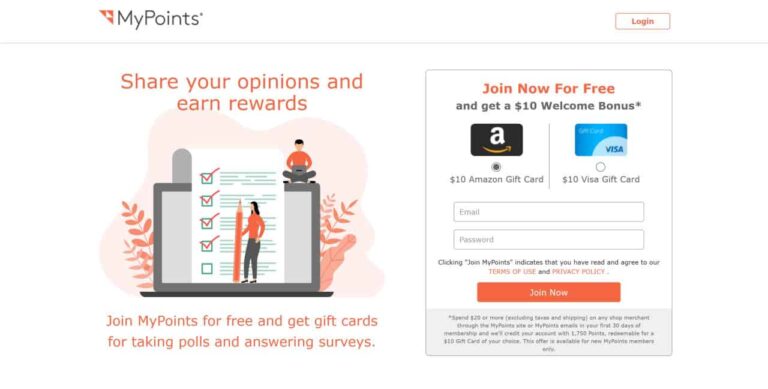 MyPoints is a GPT site where you get to make money in a variety of ways. If you're searching for a site to reward you on a regular basis, this is a good place to start.
Also, If you are a fan of online shopping, MyPoints has cashback rewards for its members.
The platform is only for residents of the United States and Canada.
If you want to withdraw your money via PayPal ($10), it has a $10 payment threshold. However, if you choose to withdraw your earning as gift cards, some of the gift cards available just require you to earn a minimum of $3.
If you spend at least $20 through one of MyPoints' cashback offers during the first 30 days, you'll get a $10 welcome bonus.
Pros
Free to join
Has a mobile app
Offer lots of earning opportunities
Good payout methods
Low payout threshold
Cons
Some earning methods have low rewards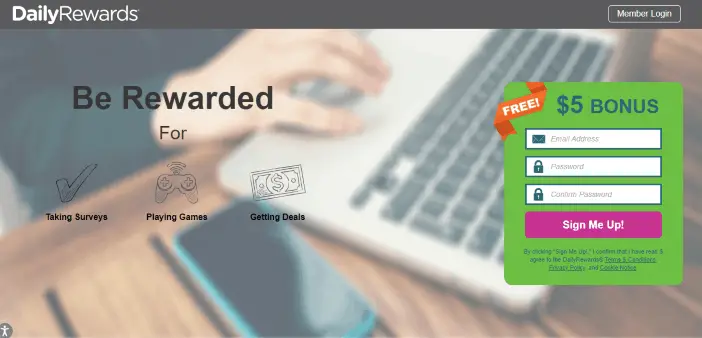 DailyRewards is a GPT site that is only available to Canadians. You will be able to make a fair amount through their earning opportunities if you are eligible to sign up.
It does have a high payout threshold of $30, and it only accepts PayPal as a payment method.
However, it will help you earn the payout threshold much faster because you will get a $5 signup bonus as soon as you finish the registration process.
Pros
Easy to use
It's mobile-friendly
Pay you real money
Payment via PayPal is available.
Has several earning opportunities
Cons
Relatively high payment threshold
Has only one kind of reward (money)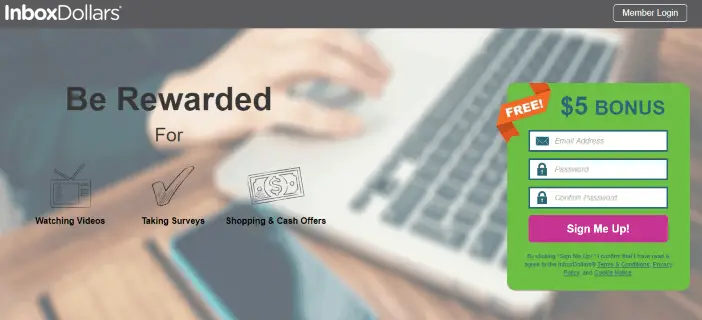 InboxDollars is one of the popular GPT sites with numerous earning options. It also provides a significant number of reward options.
Like some other GPT sites, InboxDollars have a quite high payout threshold of $30, although the $5 welcome bonus makes it easier to meet it.
You may cash out your money using PayPal or a prepaid Visa card once you earn $30. Other payment methods include cheques and gift cards you can use to shop on your favorite online store.
InboxDollar is only accessible in the United States and it's completely free to join.
Pros
Easy to use
Free to join
Multiple payment methods
Many ways to earn
You can get paid in cash
Has a user-friendly mobile app
Cons
High payout threshold
Processing fee of $3 for each payout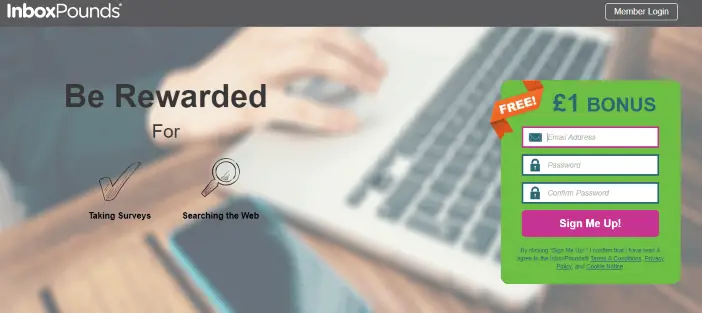 The UK counterpart of InboxDollars is InboxPounds. It's a GPT site with a lot of different ways to make money. It has a rather high payment threshold of £20, however, there are lots of ways to make money on a regular basis.
As a member, you can withdraw your earnings once you've made up to £20. Also, you have the option to withdraw your earnings via PayPal or gift cards which you can use to shop online.
You will earn a £1 registration bonus as soon as you join the site. It's not much, but it's a good addition to help you the payout threshold faster.
Pros
Free to join
Easy to use on mobile
Has some well-paid offers
Many earning opportunities
Cons
Take time to find the surveys you qualify for
The payout threshold is a bit high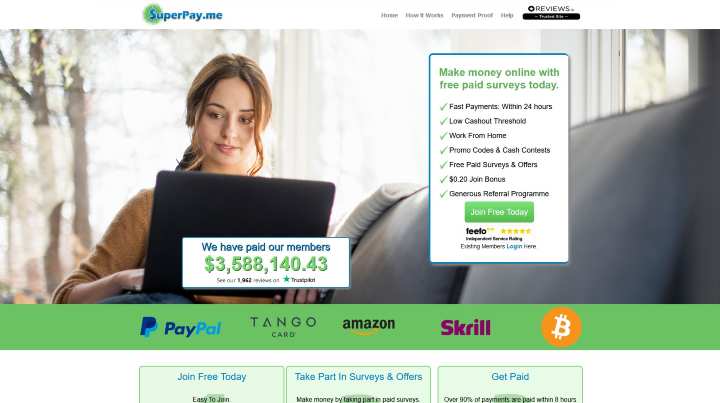 Superpay.me is a fantastic GPT site with a low payout requirement. This is one of the reliable alternatives if you want to withdraw your rewards promptly. It also has a variety of payment methods.
Your earnings may be withdrawn via PayPal, Payza, or Skrill. Interestingly, you can also exchange your points for Bitcoin or gift cards.
As soon as you join, you will earn a $0.20 registration bonus. It's not a lot, but it'll help you get to 20% of the way to earning the $1 payout threshold. So, in terms of value, it's a fantastic bonus.
Pros
Several daily opportunities to earn
Get paid fast via PayPal, Skrill, etc.
Offers a free cash contest with big prizes
Offers promo codes
Good customer support
Cons
High rate of disqualification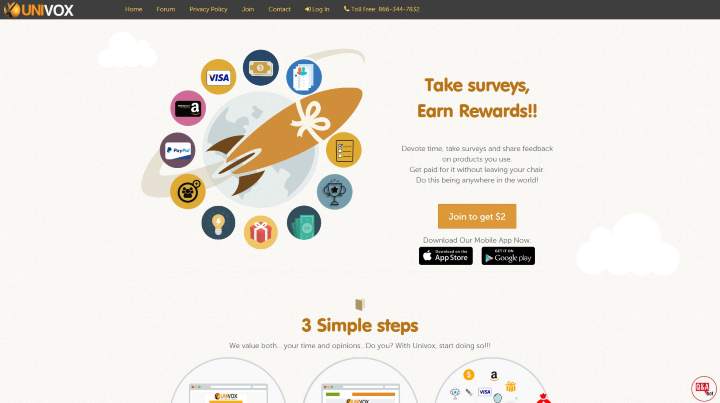 Univox Community is one of the best survey sites which will pay you for doing surveys, participating in contests, and referring others to join. It pays nicely for each survey you do, and there are plenty of them to choose from.
Univox offers gift cards, PayPal, and prepaid MasterCard as payment methods to withdraw your earnings once you hit the $25 payout threshold (which is only this high the first time).
Once your membership reaches the highest level, which you may accomplish just by being active on the site, the threshold is reduced to $10.
To earn its $2 welcome bonus, simply complete the registration process and answer a few profile questions.
Pros
Excellent reward options
Easy to use on the go
Multiple payment methods
Interesting bonus system
Plenty of available surveys
Cons
Payout threshold is a bit high for some membership levels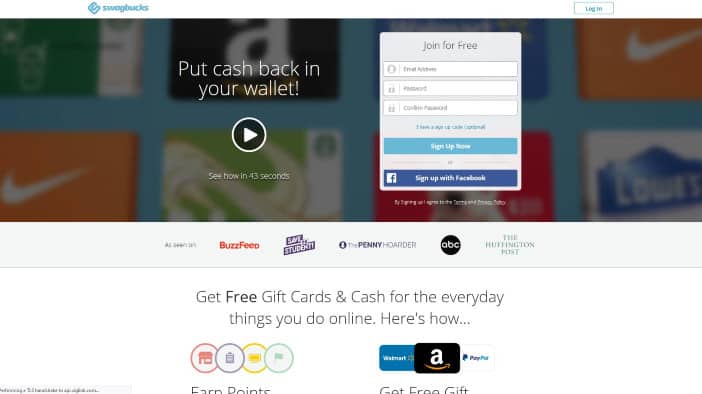 Swagbucks is a popular GPT site because of the numerous earning options available. This is one of the greatest sites to join if you want to earn incentives on a regular basis.
Another amazing thing is that the payout threshold is only $5 compared to other sites with a $20 or $30 payout threshold. However, it is important you this can vary from country to country.
You may either withdraw your money via PayPal or convert them to various gift cards once you have a minimum of $5.
Swagbucks usually does not offer cash welcome bonus. You will receive a $5 bonus if you join using an invitation link (like the one below), but only after you have earned your first 2500 points.
Pros
Owned by a reliable company
Payout via PayPal
Many different opportunities
Has a great app that makes it easy to earn on the go
Chrome extension to earn while surfing the web
Cons
Has a limited options in some countries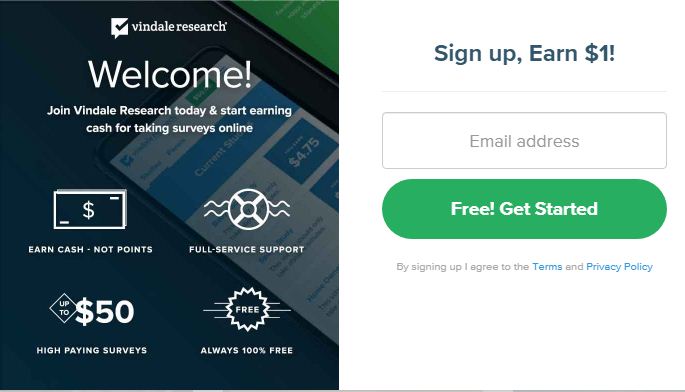 Vindale Research is a leading online survey website that was founded in 2005. It's a survey platform where you can join for free without having to provide any credit card or other payment details.
To join Vindale Research, you must be at least 18 years old. People from Australia, the United States, Canada, and the United Kingdom can join and take advantage of the platform's numerous offers.
Transparent payouts, timely payments, and member information protection are all key features of the site. The company has paid out over $8 million to its customers since its inception in 2005. After completing the registration process, the platform rewards you with $1.
Pros
Free to join
Offer several ways to earn
Site user-friendly
Some surveys really pay well
Cons
High paying surveys fill up fast
High payout threshold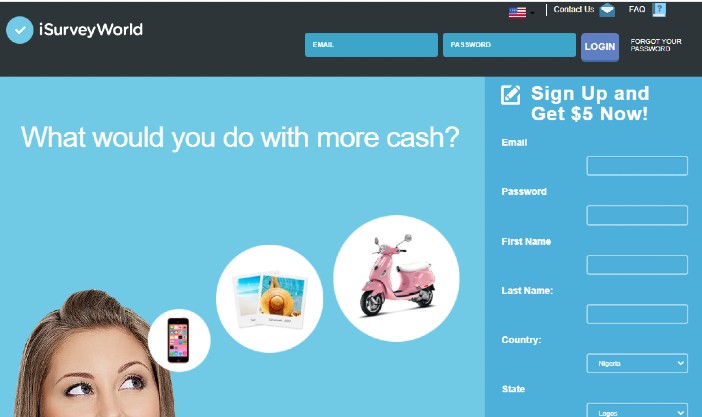 iSurveyWorld is one of the leading international survey platforms and is used by a wide variety of businesses to help them gather data that they need for product development, marketing, etc.
You can join iSurveyWorld if you are 16 or older from anywhere in the world. Although most of the survey invitations are more likely to be sent to members in the USA and Europe.
So, if you're not from any of those places, you might not have many surveys to participate in.
The payout threshold on iSurveyWorld is $25, which means you must earn this amount before you can request payment.
Sign up process just takes a few minutes and you will get a $5 sign-up bonus after the registration.
Pros
It's user-friendly
Available worldwide
You earn actual money and not points
Cons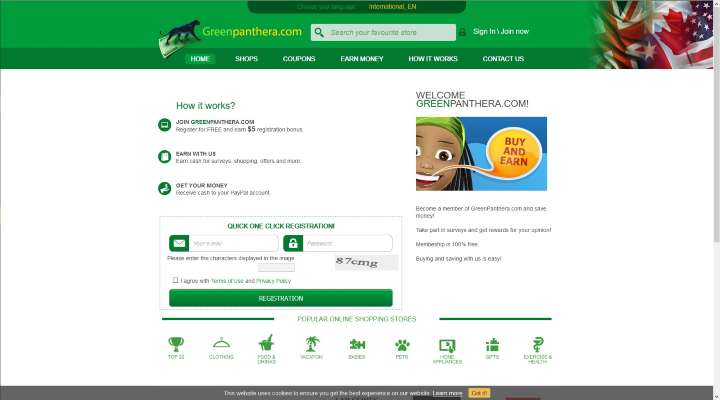 Green Panthera was founded in 2015 by A & K International Inc., It's a cashback platform and also survey website where you can earn money by taking advantage of special discounts, offers, and online paid surveys.
GreenPanthera is accessible globally and users must be at least 13 years before having access to the site, but you must be 18+ to withdraw your earnings to your PayPal account.
As a member of GreenPanthera, you have the opportunity to earn money by participating in paid surveys, referral programs, online shopping, and more.
The site offers multiple language options such as English, German, French, Italian, and Spanish. While the payment threshold is $30, it's interesting to know that you will get paid a $5 sign-up bonus.
Pros
Easy to use
Mobile friendly
Available in many countries
Pays out through PayPal
Decent rewards in relation to time spent
Cons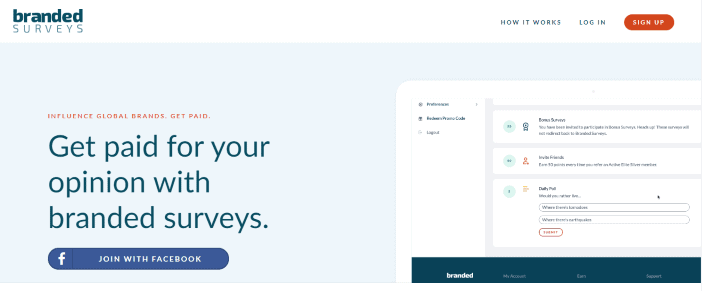 Branded Surveys (formerly known as Mintvine) is one of the best survey sites with sign-up bonuses. The platform is owned by Branded Research and was founded in 2012.  Apart from surveys, you can also make money from daily polls and referring people.
The options of surveys on the platform include product reviews, online focus groups, and video testing. This gives you lots of ways to earn from the platform.
It's completely free to sign up with the platform. Once you're done with the registration (which takes a few minutes), you will get a welcome bonus of 100 points worth $1.
You need to earn at least 1000 points (equivalent to $10) before you can request a payout on the site. You can redeem your earnings for PayPal cash or gift cards.
Members living in the United States can be paid directly to their bank account through Branded Pay. You can also choose to donate your earnings to charity.
Pros
Free to join
Good payout options (including cash)
User-friendly interface
Offer bonuses that can boost your earnings
Good support
Cons
Take time to find surveys you qualify for
Some surveys have low rewards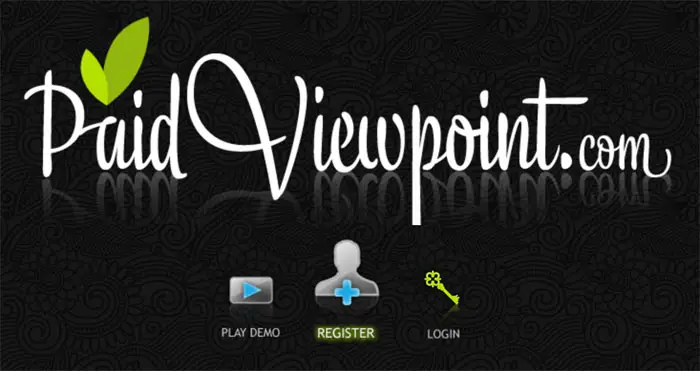 PaidViewpoint is run by AYTM (Ask Your Target Market), a reputable market analysis firm with millions of members around the world. They provide their users with legitimate surveys and pay them on schedule.
One of the great things about this survey site is that you get $1 for signing up and more for referring your friends to join.
With this survey platform, as soon as you start participating in a survey, you are never screened out. You don't even have to use your legal name when opening an account with them – your privacy is respected.
Once you've earned $15, you can cash out your earnings. Additionally, you can receive your reward within 72 hours of redemption.
Payment is available via PayPal for all countries and via e-gift cards for Walmart and Amazon (only for the United States).
Pros
User-friendly and easy to use
Pays out through PayPal
Good rewards in relation to time spent
You are offered only the surveys you qualify for
Surveys are quick to answer and interesting
Cons
Limited daily opportunities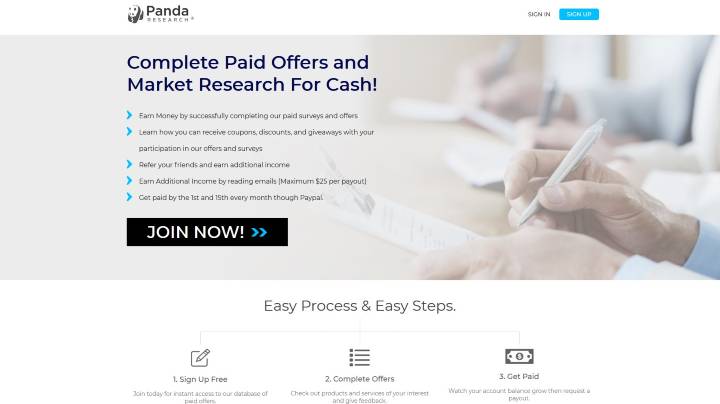 Panda Research is commonly referred to as one of the highest-paid survey sites since it has some of the highest-paying offers ranging from $10 to $25 or even more.
Aside from surveys, you may also receive discounts on deals, coupons, and occasionally prizes, as well as rewards for reading emails and referring family and friends.
Panda Research's payment threshold is $50 which is a bit high. However, this shouldn't be a concern since you get a $3 sign-up bonus and some of the high-paying surveys on the platform can earn you $25-$75.
Payment is made in cash via PayPal and you'll have to wait 30 days for it to arrive because payments are always made on the 1st and 15th of each month.
Pros
Free to join
Easy to use
Variety of ways to earn
Cons
Slow customer support
High payout threshold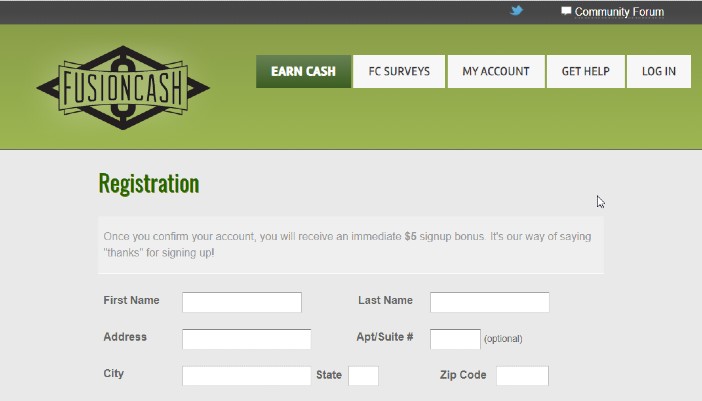 FusionCash is a Get-To-Paid (GPT) website that provides a number of different ways to earn money. Paid surveys, referral programs, paid offers, Figure 8 tasks, and get paid to click are some of the earning opportunities on the platform.
The platform's registration process is easy and takes only a few minutes. To join, you must meet a number of requirements, including living in the United States or Canada and being at least 18 years old.
After you've finished creating your profile, you'll be asked to take your first survey. As soon as you finish your first survey, FusionCash will pay you a $5 sign-up bonus.
FusionCash provides some fairly decent payout choices as you may get paid in cash through PayPal, cheque, or get paid through direct deposit. You won't be able to seek payment until you've earned at least $25.
Pros
Free to join
Easy to use
Sends multiple surveys a day
Offers good payout options
Pays out with PayPal (without fees)
Has several ways to earn
Cons
Slow payout process
Not optimized for mobile use
How Much Can You Possibly Earn With Sign-up bonuses?
Sign-up bonuses can provide anywhere from $1 to $10 depending on the survey company or platform you choose. It's not much money, but it's a pleasant bonus to have because you typically don't have to do anything special to receive it.
Signup bonuses, in my opinion, are designed to give you a small boost so that you will be more encouraged to work on the site and achieve the payment level faster.
How Can You Make More Money On Survey Sites With Sign Up Bonuses?
Survey sites with sign-up bonuses are the single best way to make more money on survey sites. By being an active member of a survey community and signing up for a lot of survey sites, you are able to maximize the returns you get.
It's important that you aren't signing up for these survey sites willy nilly because some of them are intended specifically for people in the US & Canada while others are for people all over the world.
Understanding what they ask and how much they payout is key to maximizing your earnings.
See also: How To Qualify For More Surveys – Top Secrets You Need To Know
FAQs
Are there really free gift cards or cash on survey sites?
Yes. Cash and gift cards are being given away to members of legit survey sites. This money and many other freebies are available from trusted businesses that want your opinion.
Of course, you must qualify for some offers but if you do, you will be able to enjoy gift cards for online shopping or cash from taking surveys. You may want to check out the Best Survey Sites For Amazon Gift Cards To Shop On Amazon For Free
What's the difference between surveys sites and GPT sites
Survey sites and GPT (get-paid-to) sites are considerably similar with one of the major differences being that surveys sites focus on giving members surveys to fill. While GPT (Get Paid To) offers can include surveys, clicking on ads, watching videos, and so on.
Here's a comprehensive post that discusses the difference in detail.
How can I qualify for a sign-up bonus on survey sites?
Sign-up bonuses are given when a new member signs up for the survey site through a referral link. So, basically, you don't have to do anything other than put in the few details required during the registration process.
Conclusion
All of the sites above are the best survey sites with sign-up bonuses. LEGIT and completely FREE to join, you won't have to worry about any hidden charges. All which is required is time and a little effort.
Overall, if you're looking for a survey site with an awesome sign-up bonus plus more than enough earning opportunities, Swagbucks is the best. Aside from the $5 welcome bonus, there's something (offer) for everyone.
You may want to read through the Swagbucks in-depth review to see for yourself.
Joining multiple sites to have access to increase your earning opportunities is one of the smartest decisions you can make if you to earn more money with online surveys.
To help you have more options at your reach here are the Best Paid Survey Panels – All Legit!
Lastly, perhaps you're a fan of online shopping who preferred gift cards instead of getting paid via PayPal, you should check out the Best Survey Sites For Amazon Gift Cards and also the Best Survey Sites for Walmart Gift Cards.