Are you probably still wondering if paid surveys are legit or scams? If yes, this GreenPanthera review will be an eye-opener.
GreenPanthera is a rewards platform that aims to pay you for taking surveys as well as give you cashback when you visit some online stores.
This seems to be a successful deal as you will make money with one hand while saving money with the other.
Typically, survey sites have issues, such as paying very little or making it impossible to complete surveys due to ads and third-party surveys, among other things.
There are several reports on the internet that GreenPanthera is a scam. In this article, we'll go through a detailed GreenPanthera review to see whether it's a scam or worth your time.
Quick Review
Payment threshold: $30
Website: greenpanthera.com
Sign up bonus: $5
Age limit: 13 years
Referral bonus: 10%
Free registration: Yes
Multiple language options: Yes
Detailed GreenPanthera Review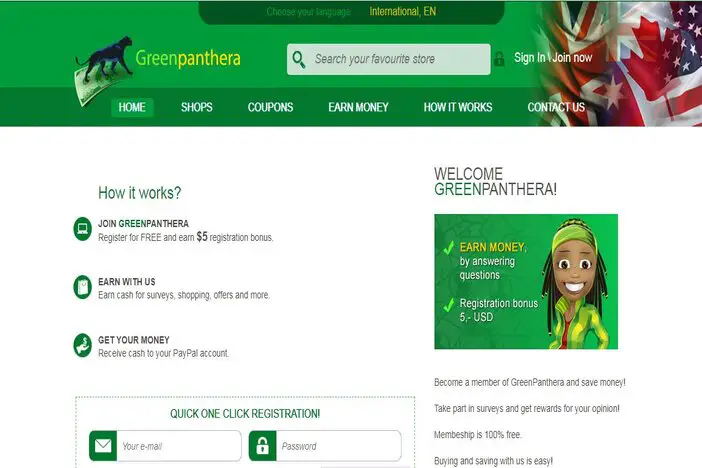 Green Panthera was founded in 2015 by A & K International Inc., They are a cashback platform where you can earn money by using special discounts, deals, and online paid surveys.
GreenPanthera is an online cashback platform where you can also earn money by completing deals and surveys.
The site is a two-in-one online platform that lets you earn money while still saving money.
What makes this unique is that there aren't many other sites that provide both, particularly in the survey space, but GreenPanthera does.
GreenPanthera helps you to conduct surveys for businesses looking for input on their target market.
Yes! GreenPanthera is a paid survey site, and that is the primary goal of the platform. It conducts several surveys each day.
What is so unique about this paid survey site is that you'll be notified by email whenever a new survey is open, so you won't have to visit the site to search.
However, you might want to log in now and then since some of the additional earning methods are only available on the website.
The GreenPanthera website is intended for two groups of people. The first of which are retailers and companies seeking to draw customers to their businesses. While people who are searching for ways to earn money online make up the other category.
GreenPanthera provides retailers and brands with the ability to increase the number of customers who visit their online stores.
They will do this by working with the site and providing users with cash back or coupons. Aside from that, they can use the site's survey functionality to gather more information about users.
They can also offer deals and ask people to complete various tasks.
As a member of GreenPanthera, you have the opportunity to earn money by participating in the various activities already mentioned about GreenPanthera in this post.
GreenPanthera has been steadily expanding over the last five years, and it is now accessible in approximately 41 countries as of date.
How to Join GreenPanthera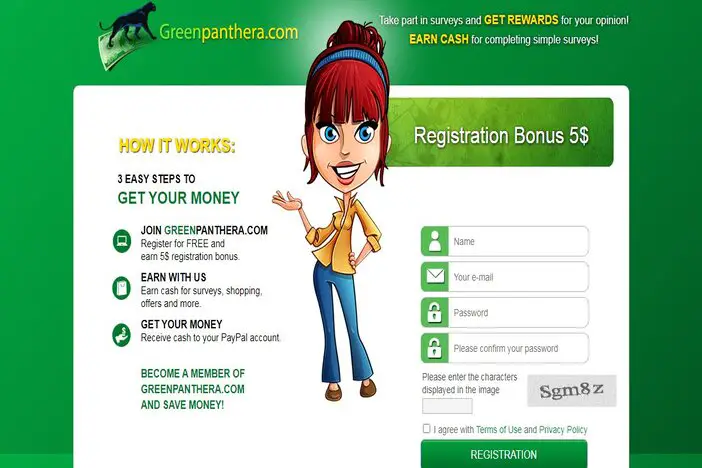 Although this is not exclusive to GreenPanthera, you may be interested to know that joining and using GreenPanthera is completely free.
Signing up is simple and fast. To register, simply go to the top of the page and click the Register button, and then fill out the simple form.
You must confirm your email address by clicking the link in the email that GreenPanthera will send to you.
Doing so will take you to your profile, where you can fill out additional details such as your PayPal email address to process your payment, birthdate, and more. All of these only takes a minute to complete.
Remember that you must have a PayPal account to participate. When you sign up, you'll get a $5 bonus in your account.
The site offers multiple language options such as English, German, French, Italian, and Spanish.
GreenPanthera is accessible globally and users must be at least 13 years before having access to the site, but you must be 18+ to withdraw your earnings to your PayPal account.
How to earn on GreenPanthera
As already stated, GreenPanthera is a website that offers a variety of online money opportunities.
Online shopping, paid surveys, web deals, referrals, and discounts are just a few of the ways you can make money from the site.
The services currently being offered by GreenPanthera are available in the following countries: Argentina, Australia, Austria, Belgium, Brazil, China, Colombia, Denmark, France, Germany, India, Italy, Mexico, Netherlands, and the United Kingdom, Poland, Portugal, Spain, Switzerland, and the United States You must register to enjoy the services.
1. Referral program
Greenpanthera, like all GPT pages, allows you to earn commissions by referring others.
If they sign up and complete registration after you refer them to the site, you will be able to earn 10% of their earnings for life. 
As a result, the more people who sign up through your referral link, the more money you get.
Simply share your referral link with your friends on WhatsApp, Facebook, or any other social media platform to boost your chances of getting sign-ups.
SEE: Best Ways to Get Referrals for Paid Surveys and GPT Sites
2. Offer wall
Adscend, Persona.ly, and OfferToro are among the three offer providers that GreenPanthera has partnered with.
These sites allow you to complete deals and earn money by testing various products and services
GreenPanthera has a fantastic deal wall. You'll find a variety of deals to try out in return for money on their platform.
These deals normally include signing up for a free trial membership, such as a magazine subscription, or and playing a game for a certain amount of time on your computer.
However, it is worth noting that these deals can auto-renew after the trial period, resulting in a charge to your credit card.
Be sure to opt-out of the auto-renew option once you've signed up for the deal unless you just want to keep the subscription.
GreenPanthera also has an offer wall with deals in addition to surveys. It may be anything as simple as receiving a discount for downloading an app or game to your computer, registering for a website, or other similar offers.
You'll find some amazing deals here with great rewards but make sure you read all of the terms and conditions before selecting any of these products.
This is because some of the deals will enable you to do things like play a game for a certain amount of time, be contacted by an advertiser, and so on. So make sure you understand exactly what you need to do to earn the reward.
More surveys can be found on the contract wall. GreenPanthera may not have the best selection of paid deals compared to many other survey websites, but you can still find some decent ones.
3. Paid Surveys
After registering with GreenPanthera, you will receive an email notification if new surveys become available. You can also check to see if any surveys are accessible by logging in to your members' area.
Many participants have expressed their dissatisfaction with the email's dead links. In that case, it's a good idea to log in to the website to see if there are any surveys available.
Survey Sampling International (SSI), YourSurveys, SpeakUp, and OpinionWorld are only a few of the companies involved.
You can earn $0.75 to $1 per survey, but bear in mind that you will not qualify to be paid for all surveys you take.
If your profile, such as your country, does not meet the survey's requirements, you may not be eligible to participate.
It also takes into account your gender, age, hobbies, and other factors when making a decision. As a result, it is important to complete the profile surveys accurately and honestly.
You will be automatically filtered out if you attempt to fill in incorrect details.
It's important to note that all of the surveys on GreenPanthera are provided by a third party, which is why clicking on a survey, will take you to a different website.
4. Online shopping
GreenPanthera has collaborated with several major stores, and if you shop online often, it will save you a lot of money.
When you shop at any of GreenPanthera's affiliated online stores, you will earn some pretty good cashback rewards. You will earn up to 3%, and sometimes even 9% of your purchase price.
GreenPanthera has partnered with a variety of online stores to provide you with discounts on their items.
The following brands can also be found among the shops listed on GreenPanthera Accessorize Birchbox, Giuliana Florals, Imaginarium, Jack the Barber, Lab Sequence, Lavish Alice, Macy's, Martins Fontes Paulista, Masculina, Navabi, Nike, Pacsun, com, Samsonite, com, VIKA, Discover the world, Avada,  DKNK, DonnaKaran, Elementar, Elemis, Expressions Des Bijoux, Forzieri.
SEE: Best Cashback Platforms to Earn Rewards for Shopping Online
5. Using Coupons
You can also print coupons to use in specific stores. Coupons may not be open to members from certain nations. Green Panthera's partner stores are mostly located in North America.
Though this isn't a way to make money, when you purchase an item or a commodity, you can save money by obtaining coupons.
These coupons aren't all the same, and they differ depending on where you live. Your IP address is used to pick them. However, it appears that there are currently no coupons available, regardless of venue.
GreenPanthera Payment Method and Threshold
It may take up to five days for your earnings to appear in your GreenPanthera account after you complete a survey or task.
After you've earned a minimum of $30, you can request a payout. That's a huge amount considering how long it will take you to reach that amount.
GreenPanthera uses PayPal to send payout requests. Your earnings can also be spent at any of GreenPanthera's affiliate stores. The website also serves as a shopping destination.
You'll have to wait for two weeks after requesting a PayPal payment for the money to be transferred into your bank account.
GreenPanthera Pros
1. Sign up bonus
It's also a plus that this opportunity is available in a variety of countries and comes with a $5 sign-up bonus. This would make it easier to introduce it to others and increase the likelihood of a referral.
SEE: Best Survey Sites With Sign Up Bonuses To Make More Money
2. Multiple languages
GreenPanthera is unique in that it is available in several languages, including English, German, French, Italian, and Spanish, effectively breaking down language barriers.
3. Survey availability
The first thing I like about GreenPanthera is that it provides a variety of ways for you to earn money.
It's always a good thing when a website or app provides several ways to earn money, it does allow you to earn more quickly and withdraw your funds more quickly.
GreenPanthera Cons
1. High payment threshold
Green Panthera has a high cashout threshold, which is the first thing I didn't like about it, reaching $30 is not an easy task.
Unless you can refer a large number of active members, meeting the minimum cash out threshold would take longer than a month.
2. Low earning potential
Even though the platform has many revenue streams, the earning potential is poor when compared to other platforms.
This requires users to spend between 1 to 2 months to earn $30, and the opportunities the platform provides aren't very lucrative.
To add, the cashback isn't very useful since many of the stores they've partnered with aren't the ones that most people visit.
3. Limited site information
The site lacks useful content that can help users to start with. There is no About us page or FAQS section for better clarification about the site.
GreenPanthera Alternatives
Alternatives to Mturk
FAQs
Is it possible to use GreenPanthera on a mobile device?
GreenPanthera can theoretically be used on a mobile device. There is no GreenPanthera app to download, but you can access the website from your mobile device.
However, the website is not well suited for smartphones, so you'll have to zoom in and out to navigate on smaller screens.
Is GreenPanthera a legit company?
Yes. GreenPanthera isn't a scam, but it does have a small profit advantage. Surveys aren't supposed to cost you a lot of money, but they can at least pay you something.
GreenPanthera is a website that allows users to win cashback when they shop at their partner merchants.
However, there are other ways to earn money on this platform, such as taking surveys, completing deals, and so on.
Green Panthera appears to be a legitimate opportunity that will actually pay you after you meet the minimum cash-out threshold.
Does Greenpanthera offer gift cards for payout?
No. They only use PayPal as a payment form. The only catch is that in order to collect your earnings, you must first hit the $30 mark.
Sure, if you fill out your personal information, you'll get a $5 bonus, which means it'll only cost you an extra $25 to reach the minimum payout threshold.
Conclusion
Here you go, after a complete GreenPanthera review, I have come to terms that the site is not a scam.
You can earn money by taking surveys, completing deals, and shopping online and getting cash back. Anyone can use this site since it is accessible from anywhere in the world.
In contrast to other GTP sites, the GreenPanthera platform pays very little. Reaching four figures would take a long time.
Not to mention that you will receive a $5 sign-up bonus as well as 10% of your referral earnings.
The amount of money you make will be determined by how much time you are able to devote to paid surveys. £0.75-$1 will be awarded for each completed survey.
Remember that you can save money on your online shopping by going to "Shops" and shopping through the GreenPanthera site, where you will be able to take advantage of their discounts.
When compared to other survey sites, GreenPanthera offers a variety of language choices.
The GreenPanthera website is legit, and you can use it to supplement your income. However, it is not for you if you are looking for a full-time job or get-quick-rich scheme.