For a lot of marketers and corporates, consumer purchase decisions are highly dependent on customer sentiments. Research on consumer sentiments can help decide something as trivial as whether a movie will be a hit at the box office or not. 
Based on the analysis of trends and opinions, companies can enhance their marketing campaigns, plan brand-building strategies as well as predict stock prices. 
This is where YouGov comes in handy. The essence of this organization lies in its ability to reveal consumer opinions and assess market situations. It helps companies arrive at workable data about how consumers think, make their choices, and prefer one product over another.
In this review, I will mention interesting things that YouGov has to offer and also address some of its drawbacks. It will answer most of your questions.
Quick summary
Eligibility: 18+ for the United States, UK, and other limited-income countries.
Supported devices: LaptopDesktop, iPad/Tablet, Mobile (Mobile Web, iTunes App, Android App)
Average Payout per survey: 40 – 400 Points
Survey duration: 10 – 30 Minutes
Minimum earnings to cashout: 5000 points
Payment options: Bank transfers and virtual gift cards
Cashout period: Payments are made within 7 business days
What to do: Online surveys, product testing, surveys on politics, mobile surveys, daily surveys,  business surveys, IT surveys, referral program
Signup bonus: 100 points ($1)
Detailed Review
What is YouGov?
YouGov is a non-biased market research organization that provides quantitative and qualitative data for business, opinion polling, and public research. 
With the assistance of YouGov, over half of the Fortune 500 companies are now able to scrutinize and gain a deeper insight into the needs and aspirations of their customers. 
YouGov is used by marketers, academics, businesses, government departments, nonprofits, and charities. It's a great platform to use.
Is YouGov Legitimate?
Yes. YouGov.com is one of the most reputable polling sites on the internet today with a strong reputation as a credible political opinion pollster and survey research firm. 
YouGov has used this reputation to build a profitable market-research business by charging consumers to fill out detailed surveys about their opinions and behaviors concerning all sorts of modern-day issues and concerns. 
While participation in the surveys and data collection is completely voluntary, they pay participants for completed surveys.
It's impossible to say enough what you'll be able to gain from the information and resources on the website if you own a business. Polls and surveys make up most of the content on the site, and they differ in length.
Furthermore, your personal information will also remain confidential, so you won't need to wonder if it's being shared with other businesses or published in a survey. 
In accordance with their strict and inclusive privacy policy, all personal data is kept confidential, and nothing identifies you or links you to your responses. YouGov understands that the invasion of privacy is one of the biggest deterrents to contributing to such research.
Learn more: Are online surveys legit?
Is YouGov worth my time?
Yes, YouGov is worth your time. Your responses will make a real difference to YouGov and its clients. Your thoughts will help politicians understand you better, media companies tailor their news, corporations reach out to new customers, science researchers highlight important issues, and more. And of course, the rewards for participating in their surveys are valuable, too.
In addition, If you are interested in public opinions regarding politics, social issues, products and services, entertainment, etc… YouGov can provide you with data that will help understand the views of people within the United States and many other countries.
How does YouGov Work?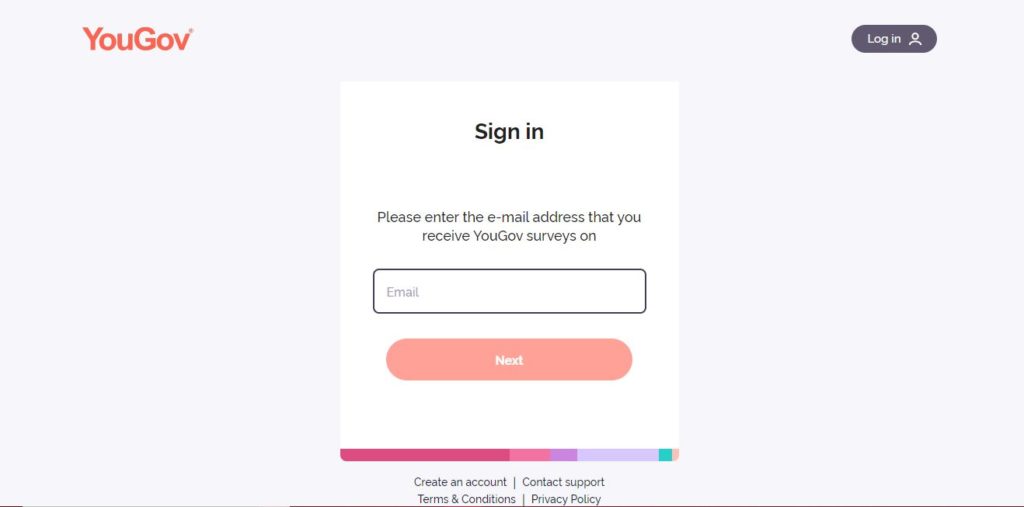 YouGov is the world's leading website community for opinions. Members share ideas, campaign for causes they believe in, or just browse to find out what is going on in the world. 
This "opinion platform" allows you to be recognized and rewarded for the valuable information you provide when participating in surveys and evaluations online. 
To get started, sign in to create your own profile. Questions will be sent to you by email or via the YouGov app, on a wide range of topics. Every time you complete a survey, you'll get points. Taking more surveys will earn you more points.
By taking part in surveys, you will earn points for taking the survey which can be redeemed for cash or gift cards. The survey results are used by businesses to understand customers' preferences, needs, and behavior.  
This in turn allows them to help brands identify their target market better for new product development, advertising, and sales.
YouGov reward payment and rewards
Payment options
YouGov runs hundreds of surveys every month, from big issues to the tiniest niggles. YouGov is your chance to have your say on the most popular topics and get rewarded for sharing your expert opinion. Every time you take a survey you'll earn points and these can be exchanged for our rewards.
Several redemption options are available through YouGov, and these options vary widely from country to country. PayPal is the means of payment in some countries, and gift cards are an option in most countries. 
Amazon, Best Buy, iTunes, Walmart, and more are some of the retailers available. Additionally, merchandise branded with YouGov is available. 
Signup bonus
Everyone loves a signup bonus. Get paid for participating in online surveys and focus groups when you join the YouGov online panel. 
You will get your first 100 points for taking a short welcome survey of about 3 minutes as a signup bonus.
After that, earn even more points for sharing your opinions in surveys on topics such as business trends, consumer buying habits, brand awareness, and more. 
Referral program 
Another key feature of the YouGov survey is its referral scheme. The referral program gives the users a chance to increase their points. Each time someone signs up using your unique referral code and completes six surveys, you receive 200 points. 
As a result, you are relying on those who take in your invite to do some surveys. But if you successfully get four friends to do this then you will have earned 800 points for just giving out a code.
Learn more: How to get referrals for survey sites.
Compensation per survey
Like most other survey sites, YouGov has a points system. Points are awarded when you answer surveys and can be redeemed for money, charity donations, or gift cards.   
YouGov's sophisticated scoring process provides each member an estimated value of their feedback. This is based on how many variables are used, how well these respond to change, and the groups it will affect, as well as how much change there is in attitudes and behaviors.
The compensation for each survey varies according to the client's potential value of the feedback. In most cases, respondents will receive 300-500 points; longer surveys are generally awarded more points. 100 points equates to $1
YouGov lottery
What's more fun than a lottery? How about the chance to win YouGov's cash for a shopping spree? 
YouGov offers a lottery in some countries, and users use their points to promote their chances of winning. If you enter the lottery, your chances of winning can be high!
Survey experience
Wide range of topics
Committed to transparency, one of the best features of YouGov is that they collect data from a very wide range of topics and polls. 
They have different surveys on pretty much everything, and they cover a huge range of topics. Nonetheless, some will argue that they have more politically focused polls and surveys. Your opinion matters – make your voice heard and have your say on issues that matter to you. 
Length of surveys
Generally, the length of online surveys varies, but most last 10 – 20 minutes. The maximum length of a survey is usually not more than 30 minutes. When compared to other sites of similar nature, YouGov offers paid surveys often. 
If a new survey is available, you will be notified. In general, you can expect two to three surveys a week, though this may vary from country to country.
It's nice to know that YouGov won't send you a link to a survey that you are not eligible for. When you are excluded from a survey, you are more likely to be matched with another.
What's more?
With YouGov, you'll see a survey panel of people like you, who honestly answer questions about their opinions. YouGov lets you see how your responses in surveys are used. A newsletter is sent out once or twice a month, in which it links to news articles citing their survey findings. 
If you do not wish to receive their newsletters, you can find this information on their website. Discover what the YouGov community thinks about your viewpoints! The opinions of others are a great way to get ideas, find inspiration or simply learn more about different topics.
How's the customer support?
Any survey site is incomplete without support, and YouGov is not lacking in it. To begin, visit the FAQ section if you have any questions. It is worth your time as they have almost every question you might possibly want to ask them.
The YouGov support team can assist you further if you have more questions. In general, the response time varies with the country. Occasionally, some respond quickly, but others get quite upsetting.
Pros of YouGov
1. The interface is user-friendly with their mobile app, particularly
Ease of use is one of the most important aspects of any survey site, and YouGov has some of the best that I've come across. They offer an easy-to-use and user-friendly web application with an equally robust mobile application. 
YouGov has a dedicated app for iOS and Android, making it really easy to conduct surveys on the go. With such positive feedback about their app and its easy navigation, be sure to try out this survey network if you've not yet experienced its interesting polls.
2. Justifiable rewards for time spent 
YouGov is best described as a "market research panel site," where members (that's you) provide consumers and businesses with information that helps them make decisions. The surveys are easy. The more surveys you do, the more rewards accrue. 
Some of these are in the form of points, which can be redeemed for cash via PayPal or gift cards. They understand your time is valuable, and they want to return value for the time spent on providing YouGov with honest feedback
3. They have been paying members for years 
YouGov has been in the market since 2000 and is one of the most credible ones. Their service has a lot of reviews which show that they are doing great in paying their members. They have been paying members for years, and they are very active in the community. 
The forum is also a great place to get additional information or help with surveys that you may have not answered correctly the first time.
4. Good referral scheme
YouGov also has a referral scheme that allows you to gain extra points if someone registers using your unique referral code. 
Not a bad deal if you can find lots of friends who want to earn some money by answering surveys online. For each person you refer, you get 200 points. But there's a catch, they have to complete six surveys.
Cons of YouGov
1. You need a minimum threshold of 5000 points for redemption
For me, this is the big con. Anything below 5000 points cannot be redeemed at all. This means that you will be stuck with the point that had been earned. 
The threshold itself is not really a huge problem but the fact that you don't get the surveys always is a problem. So, how long do you have to wait to accrue a total of 5000 points?
2. Surveys can be clunky on certain devices
YouGov's greatest strength, its surveys, also presents a large obstacle for many people who use the app. While YouGov does have a survey feature to take surveys on the go, there have been reported cases where answers or questions to be answered would begin scrolling off the screen. This was quite frustrating.  
Overall, they have been doing a good job removing these bugs and improving their systems to support more people.
3. Some cases of delayed cashout have been reported
Another issue that you may face with YouGov is that the cashout process can be extremely slow. 
Most of the time, there is a delay in receiving the payment and it can sometimes drag on for a couple of days. 
Some of the members have even reported not receiving their payment even after 1 or 2 months.
4. You only get 2 – 3 surveys per week or month
A good thing about YouGov is that they have a wide range of surveys for you to take and you get paid for your opinions. The more surveys you do the more money you earn. The bad thing is that it takes a while for them to send out surveys. 
However, keep in mind that this organization only sends you notifications when they have added new surveys. This means that it can take many days or even weeks before a certain topic or survey pops up again. 
This is why I recommend signing up for other survey sites so you can have a steady flow of money coming in from various platforms.
YouGov alternatives
FAQs
What is a YouGov point?
A YouGov point is earned for each completed survey that you make accurate answers to.  You can then redeem those points for gift cards from several retailers including Amazon, Best Buy, and many more. 
The amount of points you'll receive varies depending on the length and subject matter of the survey. You can view more details about how many points you'll earn in each specific survey by reading it in the queue or when running the survey itself.
Are the YouGov surveys interesting?
Yes, they are. The YouGov surveys are unique in that they are conducted online via the internet and have a focus on consumer and market research. They are normally about brands and politics, so are often more engaging than regular surveys.
It's fair to say there is a fair amount of political component to the surveys. Also, many of their questions are interesting and relevant to current events. They are questions that YouGov asks of a range of institutions and companies on subjects related to research the public was asked about.
It might feel like getting involved with these surveys would allow you to voice your opinions. A chance to openly challenge the politicians – and just about everyone would love that!
How much do I get paid? 
For completing a survey of 10-15 minutes, you should earn up to 400 points. Each survey has a different chance to win, and depending on how many surveys you complete, the more chances you have at winning!
Do YouGov points expire?
No. There is no expiration date on points that you have earned. Please keep in mind that YouGov can only recognize points for completed surveys. They do not recognize any points for incomplete surveys or skips.
Who can join YouGov? 
Anyone aged 18 or over who has access to the Internet can join YouGov.
How long is the survey?
Most YouGov surveys are very short and should only take about 10 to 30 minutes to complete. The average survey is about 20 to 30 questions long in total. 
In some cases, the survey will last longer or have more complex questions. Nonetheless, you should not spend more than 30 minutes on the longest survey.
Is YouGov a high-paying survey site?
Yes. Although this survey site is run the same way as all of the others, with short surveys to be taken and rewarded when you complete them. 
There are many factors that determine how much you can earn from this survey site, such as the number of surveys you qualify for and take, their length and complexity,
Nonetheless, you need a minimum of 5000 points to redeem your rewards.
Learn more: Best survey for money apps.
Who pays for the YouGov poll? 
YouGov is not a biased organization. To better understand public opinions regarding current affairs, and consumer products and brands, they conduct surveys for a diverse group of clients.
The clients that commission the survey pays for the polls. YouGov claims that the surveys they conduct aim to measure your opinions rather than to influence them. 
Whenever you answer a poll on YouGov, your information is secure, and your responses really do make a difference.
Is YouGov bank transfer safe?
Yes, the payment system is completely secure and they take protecting your personal information very seriously.
How often can I do YouGov surveys?
YouGov surveys are usually available for new respondents to take 1 to 2 times weekly. It varies a lot.
Final thoughts
In conclusion, based on our YouGov review, this is a good market research company that can provide you with everything you need in terms of finding the right audience for your business. So I encourage you to use it and check how helpful and suitable it is for you!
Nonetheless, if you plan to take on surveys with this site, be sure you know you know what you are getting into. Every good thing has some drawbacks.
Hopefully, the organization will work on some of the critics listed in the review. As I would advise you if it were to be a different survey site review, have multiple accounts so you can maximize your potential earnings.
Lastly, this review covers what YouGov has to offer, plus the specifics of its payments, rewards, and referral policies, to help you decide whether or not YouGov is a good fit for you.
Check out other reviews on the blog and also learn how to be aware of the dangers of online surveys.