Have you heard of FeaturePoints? If yes, do you know how it works? If not, keep on reading to discover what you should know about this FeaturePoints review. 
I know a lot of people that have questions about the site but are too afraid to ask because they don't want to look silly. 
Are you looking for an easy, reliable way to make money online on your own time from home? FeaturePoints has a one-of-a-kind concept that they're ready to share with you.
FeaturePoints is a company that helps connect you with all of the best surveys and offers hundreds of rewards including gift cards for Amazon, Target, Groupon, and many others. 
In this FeaturePoints review, we'll take a look at what services they provide and whether or not they're worth your time.
FeaturePoints Quick Review
What makes FeaturePoint unique?
Great surveys
Great referral commission
Paypal transfer
All countries are eligible
User friendly
Has many earning opportunities
A very low payout threshold
Take paid surveys
Profitable mobile applications
Download app for free
Multiple payment methods
Registration is free
Detailed Guide
What is FeaturePoints?
FeaturePoints is a platform that allows you to earn real cash for doing what you love, giving your opinion on products, services, and brands.
FeaturePoints keep your opinions coming by rewarding you with points every time you participate in a survey. 
Points can easily be exchanged for cash at FeaturePoints.com or can be traded with your friends.
The power behind FeaturePoints is that the program offers the opportunity for obtaining rewards while viewing advertisements. 
Also, with the addition of everyday user points generated by viewing ads, FeaturePoints users are given real reasons to return to the site again and again.
How does FeaturePoint work?
Simply visit FeaturePoints.com on your device. You will automatically be redirected to the Apple App Store or the  Android Play Store where you can begin earning points by downloading apps, taking surveys and incentives that are all available within the app. 
Once you've got enough points, you can redeem them for any rewards offered within the system on a sliding scale. The rewards can be music downloads, gift cards, electronic gift cards, and more!
Who is FeaturePoints for?
Those that shop online frequently and want to earn cashback.
Those who try many apps and want to earn money downloading them.
Those that have spare time to earn extra money.
How do you make money from FeaturePoints?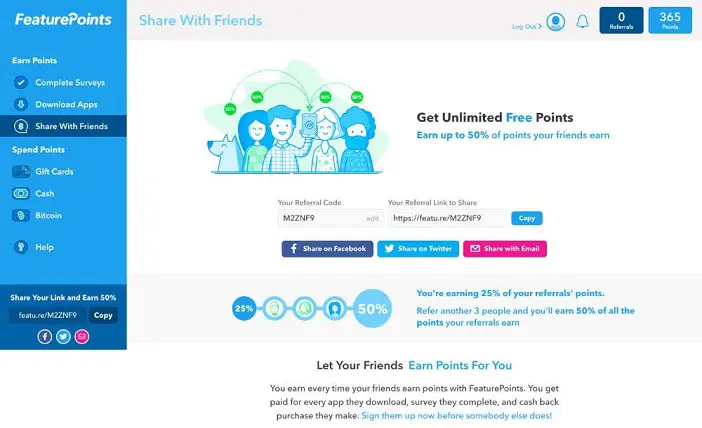 The idea behind FeaturePoints is that you can earn points for daily actions on your phone or on your computer. Each of these actions earns you different point values.
So, there is not just one way to make money with FeaturePoints. Here are the steps to earn with FeaturePoints:
Download free apps through their platform
Download free apps through their platform, to increase your rewards. FeaturePoints rewards you with points for downloading free apps while your phone's idle. 
You can increase the number of points you get by using the unlock features on the app, such as watching ads or answering surveys. 
You can redeem those points for gift cards and other prizes. The app is available for free in the Apple Store and Google Play Store. Try the apps for a few minutes and then delete or keep them.
Watch videos
FeaturePoints pays you to watch videos, try apps, and visit websites. Each time you do, you'll earn points. 
You can redeem these points for real cash by spending them on gift cards or donating them to specific charities. 
These activities often take just a few seconds and sometimes as little as 10 seconds. These are activities you do every day on your phone, anyway.
Take surveys
You can take surveys as many times as you want and in return, FeaturePoints will reward you with cash, gift cards, and travel vouchers.
Get paid in minutes, test products & services that you know and use, and see how easy it is to make money from home.
You can take a survey at any time that is convenient for you.
Shop online
FeaturePoints pays you to shop online. It's that easy, sign up for a free account and start earning points today.
Simply download the free FeaturesPoints app on your phone today, complete basic profile information, enjoy instant cashback offers and then shop at hundreds of the hottest big-name online retailers and get rewarded with exciting rewards.
Refer new users
Refer new users to FeaturePoints and get rewarded. That's it! You earn cash for every person that joins, and you'll receive a portion of all the credits they earn by completing offers. 
Every user that enters through your link will see a text on the home page telling them how many points they have helped you make.
Whenever someone joins FeaturePoints using your referral code you get 50% of his earnings. 
Join contests
The FeaturePoints contests let you earn or win free stuff. Think about one of your favorite brands and how they give away prizes. Or, think about those surveys on websites that ask you to register, answer questions to test a product, then enter to win a free prize. 
They work with brands and retailers to launch contests for their customers, and reward winners with their products. 
FeaturePoints uses contests to reward customers with extra FeaturePoints, or FPs for short. Contests can be targeted to a specific customer base, so everyone in the group is competing against one another. 
Some contests can be restricted by geography (e.g., a contest for U.S. customers only would only allow U.S. customers to participate). 
Some contests are restricted by what product was purchased, or how much a customer spent during a contest time period. 
Participate in offers
Participate in offers and surveys to earn FeaturePoints, redeem them for discounts or gift cards. It's that easy. 
Select an offer to try out, and get rewarded with points if you accept and complete the offer. The less time it takes, the more FeaturePoints you get.
 To learn more visit: TimeBucks Complete Review
How does FeaturePoints pay you?
It's a reasonable question for a new user. FeaturePoints pays you through:
FeaturePoints pay you via Gift cards to Amazon, iTunes, Google Play, Starbucks, BestBuy, Walmart, etc. As of May 2020, they have about 35 gift card options.
FeaturePoints also pay via PayPal and Visa gift cards so you can spend the rewards you earn wherever and however you want.
Users can choose to withdraw FeaturePoints earnings via Bitcoin.
How many points do you need to cash out?
With FeaturePoints, you could cash out with as little as 5,000 points, or you can keep them in your account and accumulate more for bigger prizes.
Get paid directly to your PayPal account and use it to shop at thousands of stores online or at your favorite local retailer. You can even get gift cards for your friends and family.
Just visit the site, find the apps and services you already use, submit your feature codes, and redeem your cash.
How much does their referral program pay?
FeaturePoints pays you, the referrer, $20 per friend that signs up. The referred friend gets $5 off their first purchase at FeaturePoints.com for every friend that signs up to receive a FeaturePoints invitation referral link from them.
How fast does FeaturePoints pay you?
While other survey sites promise to pay you within 5 working days, FeaturePoints pay you within 24 hours. I usually cash out via Paypal.
See also: Best Time To Do Paid Surveys
Now let's talk about pros vs cons:
Pros
1. Easy to use
FeaturePoints is designed to be easy and convenient for the user. Whether on your computer or through mobile applications.
FeaturePoints is easy to use and doesn't take long before you're getting offers. You can literally be set up within minutes and start getting paid within hours.
2. Pays fast
In the fast-moving, technologically-driven world of mobile devices and the Internet, FeaturePoint understands that you need your money as fast as possible. 
FeaturePoints is one of the fastest paying survey networks online, with payment always coming in fast.
FeaturePoints pays out within 24 hours. You'll receive an email saying you've been paid, and then your money will be in your PayPal account.
3. Many ways to cash out
FeaturePoints gives you multiple ways to cash out your points. You can redeem directly into your PayPal or Amazon wallet, donate to a charity, or have them send you a check each month. 
No matter where you are, what device you're using, or what time it is. 
You can win prizes like gift cards from top brands like Uber, Starbucks, Amazon, Sephora, and more. 
Some rewards programs limit your redeeming options but FeaturePoints offer many different redemption choices to best fit its members' needs.
4. Great referral program
The best thing about FeaturePoints is that you are in complete control over your account. Referrals can be earned along with opportunities to earn free Amazon, Walmart, and Target gift cards as well as Paypal cash. 
You can choose how many referrals you wish to have per month, and even decide whether to go for the referral bonus or the opportunity to upgrade to Level 2 with more bonus points by completing surveys. 
As a member there will always be new opportunities to earn free money in ways you would never imagine, including playing games, shopping online, or watching videos!
5. Available for both Android and iOS
FeaturePoints functions on both iOS and Android mobile platforms by allowing users to earn points through several methods such as surveys, downloads, offers, etc. 
Points earned on the app can then be converted to redeemable rewards including gift cards to stores like Walmart, Target, Amazon.com, Netflix, and more.
6. Lots of ways to make extra money
There are lots of great ways to make extra money with FeaturePoints. From earning $10 for installing an app or just playing a game, there are opportunities to make money on your terms.
Earn by playing games and by completing surveys from home. These can be traded in for discounts on music, movies, electronics, and even gift cards!
7. Available world wide
FeaturePoints is a universal loyalty program – available worldwide allowing anyone to exchange points for rewards in any country and on any online shopping site.
There are no regional restrictions on offers.
Whether you want to travel to the other side of the world or visit a neighboring country, you can do it with a little help from FeaturePoints.com.
See also: Are Paid Surveys Scams?
Cons
1. Is only going to pay you a little side cash
FeaturePoints will never pay you huge sums of money for filling out a survey. For example, you cannot receive $500 for filling out an online survey. 
Instead, the site will pay you $0.10 for each survey that you complete.
So if you are looking to make living or even extra money to pay your bills, then you should definitely work harder when using FeaturePoints.
2. Points can expire
The main negative of feature points is that the points can expire. The method for users to avoid this is to use them each month, but in rare cases, some people may lose their points due to expired accounts.
3. Some earning methods not available in all countries
One of the biggest setbacks of FeaturePoints is that not all features are available everywhere. At this point, FeaturePoints offers only a limited number of features to be earned in select countries while the rest of the world still gets to enjoy earning sweet cashback rewards and products. 
See also: MyPointSaver Review: Is MyPointSaver A Scam?
FeaturePoints overall rating by others
If you check on google play, you will notice FeaturePoint has a 4.2 out of 5 star rating.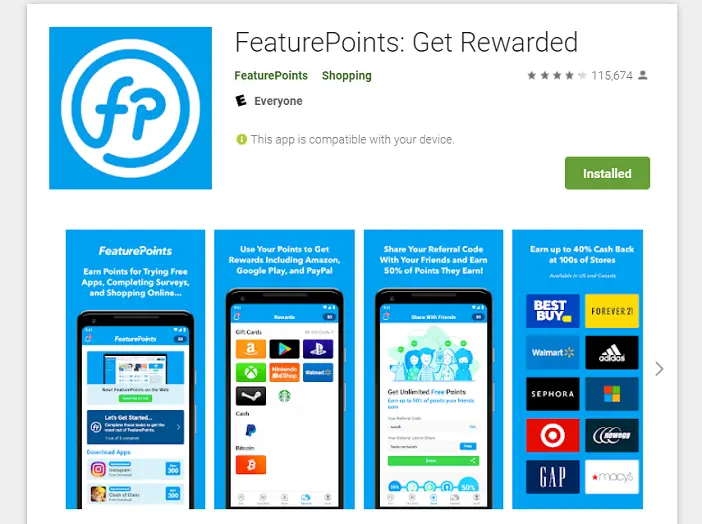 If you check on iOS, it has a 4.3 out of 5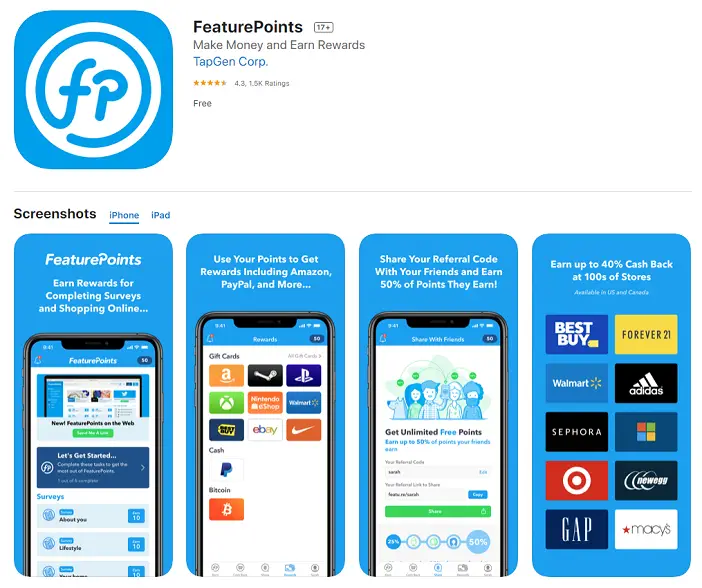 Alternatives to FeaturePoints
FAQs
How much can you make from FeaturePoints?
There is no limit on how much you can make with FeaturePoints.
Many customers are making $300.00 to $500.00 a month from FeaturePoints. A few people make $1,000 and above a month.
Who can join FeaturePoints?
FeaturePoints is open to anyone who has an interest in the company's products, and who is at least 18 years of age. FeaturePoints does not discriminate based on sex, race, creed, or religion.
You must also have an email or Facebook account, regardless of where you live.
Can you use it both on mobile and computer?
Yes, it comes with both mobile and computer layouts. You can use this software on any device with an internet connection.
Conclusion
If you are asking me if I would recommend FeaturePoint. Absolutely YES! But I would recommend FeaturePoint on one condition alone, and that is if you are not looking to make fast money but to earn extra income to settle your bills.
The app won't make you wealthy but you could earn a decent amount of money by dedicating your time to it.
So, I recommend you make FeaturePoints your preferred survey site and check it out if you haven't already.
Overall, FeaturePoints is worth the try!
To get further paid survey sites reviews like this FeaturePoints review, check my other survey reviews.