If you're looking for a way to make extra money online in your free time, consider participating in paid surveys through Pinecone Research.
Pinecone Research is one of the most well-known survey sites out there. Pinecone is a legit paid survey site where you can make an extra income each month. 
It's also one of the highest paying survey sites, with some opportunities offering up to $25 per completed survey. This review was written based on my own experience with Pinecone Research, and by speaking with other Pinecone users. 
I've also interviewed a source close to Wes Neiswander, creator of Pinecone Research. Their goal is to help companies get the best results possible. 
In this review, we'll take a look at how they compare to other survey sites and find out whether they are really as good as you think they are.
Quick Review
Pinecone Research is legit and safe
Members must be 18+ and a resident of the United States, Canada, and Germany
Offers a variety of gift cards for payment redemption – Walmart, Amazon, Home Depot, iTunes, Starbucks…
Offers other rewarding activities such as product testing
Fast redemption processing
Points based system – 100 points equal 1 USD or 1 CAD or 1 Pound depending on your location
Cash redemption available via PayPal
Sign up is by invitation
Pinecone pays well. An average survey pays 3-5 bucks and takes 5-10 minutes
Prequalified surveys
Inactive panelists can be removed at any time
Mobile app available
Detailed Review
Pinecone is a trusted brand in the survey industry. Their primary goal is to help companies get consumer opinions about their brands and products.
Let's learn more about Pinecone from a panelist's perspective.
What is Pinecone Research?
Pinecone Research is a company that recruits people to participate in surveys for market research purposes. These surveys are then supplied to companies who want to know more about their customers and the way they think. 
In exchange for this, Pinecone will pay you with cash, or with points which you can redeem for items of your choice worth up to 150 dollars.
What Are the Features of Pinecone Research?
1. Access to exclusive market research
Pinecone Research is an online panel of over 1.5 million consumers who are paid to participate in market research surveys. With Pinecone Research, you have access to exclusive market research that most other firms cannot access.
All members automatically receive instant access to a vast library of exclusive market research, which is updated on a regular basis.
2. Receive survey invitations via mail
This is their unique offering that will likely stand out to many survey takers. Pinecone Research provides consumers with the opportunity to provide opinions and feedback regarding consumer products and services. 
As a survey participant, you will receive periodic invitations via mail asking you to participate in online surveys, provide opinions through online product testing, or complete other research activities.
Through this method, they anticipate receiving a response rate well over 50%.
3. Earn enough points for gift cards
Earning points is easy with Pinecone Research. Its members earn points by giving their opinions on surveys and offers, and redeem them for rewards from leading brands like Amazon, Starbucks, Target, Home Depot, Gap, and more … 
It's that simple! Just think – with Pinecone your opinion can get you gift cards to your favorite stores and restaurants. Plus earnings can add up quickly since members can earn 2X points every day without even taking a survey or offer. 
This is the list of gift cards you can earn with Pinecone Research.
Amazon gift cards 
Walmart gift cards 
Starbucks gift cards 
Prepaid debit or credit cards 
Home Depot gift cards 
iTunes gift cards 
Movie vouchers 
4. Security
They adhere to high-level security standards in order to protect the personal information collected. Pinecone Research uses a secure web server, which encrypts all sensitive data before it is sent over the Internet. 
Pinecone Research is very secure – all information you provide, except your password, is encrypted with SSL (Secure Socket Layer) technology. 
Your Pinecone password is stored safely and securely on their servers. Please do not share your password with anyone. 
The personal information you enter during the registration process is not disclosed to any third parties or given to others for any purpose other than as required by law.
All Pinecone panel members must read and complete a customer agreement prior to joining the service.
5. Customer support
Pinecone Research will provide you with outstanding customer support before, during and after your participation. All inquiries are answered within 24 hours. 
What really sets Pinecone apart is that all of their research is done by email, which means they can answer your questions in a timely fashion and are more available to address your concerns when needed. 
Pinecone has a full-time staff of friendly, knowledgeable customer service representatives who have been trained to manage the feedback process effectively.
See also: Are Online Surveys For Money Legit?
Do I pay before signing up?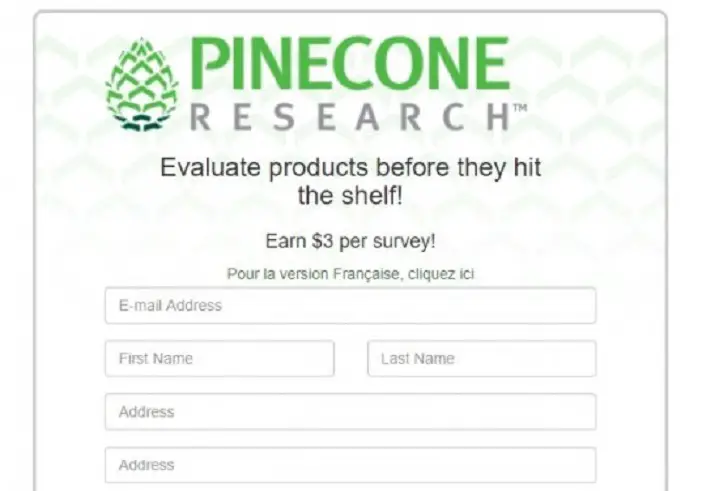 Pinecone Research is one of the longest-running survey websites and has thousands of consumers nationwide who are very active on their panel. It has definitely been one of the top paying survey panels in my experience. 
You don't need to pay any amount of money to register on Pinecone Research. The beauty of this company is that it's totally free to sign up.
Pinecone Research is very professional, only pays via check or PayPal, and sends out your payments on time with no problems.
How to Join Pinecone Research

Sign up
Get survey notification
Take surveys
Earn points
Redeem in cash or prizes
When you decide to signup for Pinecone, you will be required to fill out a questionnaire about your personal opinions on products and services. The questionnaire is completely confidential and the results will never be shared with any companies or outside firms.
All you have to do is go directly to the Pinecone Research official website and sign up for FREE by providing your email ID only. You will receive a confirmation mail, follow the link, and you are done.
Pinecone will never share your information with anyone. Moreover, you can withdraw anytime. 
Also, it is absolutely FREE earning opportunity and no investment is required.
There is no recruitment process or application to be a Pinecone panel member and joining is easy! You'll receive a short survey that helps Pinecone understand what you already do online. 
From there, all you need to do is to join the email list. You will be notified when new surveys are available.
See also: Best Time To Do Paid Surveys
Pros of Pinecone Research
1. It's free
It's free to join, and signing up to Pinecone Research is completely and totally free. You do not pay to join Pinecone Research, as a member you will receive surveys by email from Pinecone Research members. 
2. Prequalified surveys
The majority of Pinecone Research surveys are prequalified. If you qualify for a survey, it means that Pinecone Research wants to hear from you.
Whenever you get a survey notification, Pinecone Research has determined the survey is a good match for your demographic profile.
The prequalification process ensures that you receive the questions that you answered "Yes" to when you signed up with Pinecone, so you'll spend less time once the surveys start dropping. 
3. It is not a scam
Pinecone Research is not a scam and the payments are real. At Pinecone Research, money is sent as soon as you have completed the necessary surveys to earn it. It doesn't matter when – you will get your money if you do the work and follow up with their answers when and where they ask for it.
4. They pay on time
Pinecone Research is a long-running survey company that pays in cash via PayPal. One of the main pros of Pinecone is that they pay on time, which is something you can't take for granted in the survey world.
Pinecone also has very few "bad surveys" compared to many other survey companies we have tested.
5. They pay well
As an ethical company, Pinecone Research has proven time and again that it takes care of its customers by offering the highest pay in the industry, giving you the freedom to choose what works best for you.
6. Multiple reward options
Some research companies offer just the standard cash for surveys rewards option whereas some have multiple options to choose from such as gift cards or Amazon vouchers. 
Pinecone Research has a mix of both fast payments by check and more unique rewards like shopbop vouchers. 
One of the greatest advantages Pinecone Research has to offer its survey takers is the instant availability of reward payments in approximately 2 days.
7. Long point expiry dates
Pinecone offers the longest expiration points within the industry, which means more points for you if you decide to take the survey.
8. No minimum redemption balance
No minimum redemption balance unlike other sites where you have to maintain a minimum account balance, you can redeem payout from Pinecone Research every time.
9. They are considerate
They are very considerate, and they make sure you get your prizes every month. Pinecone also tries to give you a heads up before sending out the surveys, to give you time to study.
See also: Are Paid Surveys Scams?
Cons of Pinecone Research
1. Poor mobile app design
These days, everything can be found on a mobile device. Not only is it easier to use than a computer, but it's also easier on your eyes.
Some mobile app users complain the app is quite buggy.
2. It is Invite-only
Pinecone Research has another major drawback they need to work on – the invite-only registration system.
They only send out the "Invite" link and then you have to follow different steps to fill out a survey, but all these processes are just one time.
3. Age and location restriction
The issue of age and geographic location is also one to be aware of when joining Pinecone Research. 
In order to be eligible to join the survey panel, you must be at least 18. You must also be a resident in the United States, Australia, United Kingdom, Canada, Germany, and other specified countries. 
This may not be a drawback to everyone but if you live outside the specified locations and cannot move until your retirement age it might be an important factor that affects your decision.
The age restriction could be because they do not want minors to have access to content that is focused on the purchase of alcohol, tobacco, and other items that fall into that category. 
However, there are some users who believe that it is too restrictive and unfair to exclude individuals from joining the platform based solely on their age.
4. You can be removed from the panel
If you miss too many surveys, or if you fill out the surveys very quickly so as to not answer all of the questions thoroughly, you will be removed from the panel. 
Pinecone Research has claimed that this is because they want research participants to answer all survey questions so that they can provide companies with good quality data. 
However, I (and other ex-panel members) suspect it is simply because they are only interested in paying people who are willing to take their time answering questions properly.
5. Restrictive membership
One of the most significant drawbacks of the platform is, understandably, the fact that they're a membership-only survey panel. As mentioned earlier, they have many available surveys and panels but are continually looking for new members. 
6. Outdated site
The Pinecone Research site is outdated. The site has been out for a while now and hasn't been improved upon or changed much. It looks clunky and can be difficult to navigate. 
It's not user-friendly by any means, especially given the fact that the surveys are meant to be taken by people on the go who do not have time to deal with a complicated site.
7. Limited customer support compared to other companies
There is limited support given to those that join Pinecone Research. This means you may not always have questions answered from a customer service standpoint. 
There is an email support line that you can try to contact, but there is no live chat option like other survey sites offer.
8. Difficult sign up process
The sign-up process is longer than other survey companies. You will need to fill out an application. Once the application is approved you will receive an email invitation to sign up for Pinecone surveys.
Alternatives to Pinecone Research
See also: Best Paid Survey Panels
Pinecone Research FAQs
Is Pinecone Research Worth My Time?
Pinecone Research provides 7-10 surveys per month and offers average earnings of 3-5 bucks. This means you can potentially earn up to 50 bucks per month on the platform.
Pinecone has more than 2 million members worldwide. Their steady growth in the last few years has given it the foundation to become one of the best sites to make money with surveys. 
Also, the company is highly transparent and its payment process is fast.
Is Pinecone Research legit?
Pinecone Research is a legit survey company with a strong focus on customer satisfaction and member retention. They are well-reviewed online and have an A rating with the Better Business Bureau.
If you are really intent on making money from online surveys, Pinecone offers one of the best legitimate opportunities online.
Pinecone will not pay you unless you qualify for a survey.
3. How much can you make from Pinecone Research?
There are no guarantees as to how much you will be paid for your time or opinions however, you can expect to earn $3-$4 per survey. 
The higher value surveys are much more common than the lower-paying ones which are why we recommend if you want to take full advantage of Pinecone, sign up and complete a survey every day. 
Doing this over a period of time, you will gradually work your way up the survey hierarchy on the platform.
How do I join Pinecone Research?
To join, you must be a resident of the United States and at least 18 years of age. Pinecone is an invite-only survey panel. You have to be invited to join the panel. If you happen to see one of their ads online, that might be a good chance to join the platform.
You can join Pinecone Research via Surveystor using this link.
How much does Pinecone Research pay?
Pinecone Research has 7-10 surveys every month. They usually give you an option to pick which one you want to do. Each survey pays around $3-$5. 
If you are chosen for a survey and it involves a product trial, they pay you $5 in addition to the product and shipping fees, $1 per day for trying out the product, and taking short surveys about your experience with the product.
How long do Pinecone Research surveys take?
Finding the time to complete your surveys can be a bit of a challenge. Depending on your survey, they can take between 5 and 30 minutes. 
Pinecone aims to make it as easy as possible for their panelists to do their surveys, and they'll vary the length and number of questions included in each study according to the length of time you are given to complete the study. 
Is Pinecone Research safe?
Yes, Pinecone Research is safe; it's not a scam. They will use your email to send you offers but don't worry if you don't want to participate just delete the emails. 
Pinecone doesn't charge upfront or ongoing fees to join or participate in the program. You are paid directly for each survey you complete and can cash out via PayPal.
How old do you have to be to join Pinecone Research?
You must be 18 and above to join Pinecone Research.
In addition to the age restriction, the platform is only open to residents of the United States, Canada, and Germany.
See also: DailyRewards review
Conclusion 
Pinecone Research is one of the best survey sites that you can join. It's easy to navigate and the surveys pay very well for your time.
I love that so many surveys are available and the fact that the platform is somewhat restrictive. I believe this slight barrier to entry helps the platform ensure quality in every aspect.
If you like this review, you can check out our other reviews.