A lot of people are wondering what GPT (Get Paid To) sites are and how they work. Believe me, I was once in the dark myself. Let me shed more light on this topic for you.
For most people, they know nothing about GPT sites and how it works. This is not just any other site, these sites offer you real money for doing the simplest of tasks. What is even more amazing is that there are no strings attached to what you can get from it.
What are GPT sites?
A GPT site (Get Paid To) is a website that allows users to earn small amounts of money by completing simple tasks, such as watching a short video clip, clicking on an advert, or filling in a survey. These sites offer payment via PayPal (or similar) and are often used to refer traffic to affiliate programs.
Sometimes they allow you to complete multiple offers at once to boost your earnings and the time spent is usually reasonably short.
A GPT (get paid to) site is one that exposes its users to advertising in exchange for some form of compensation–monetary or otherwise. You can then use your earnings to buy gift cards from the hundreds of retailers who accept gift cards: Universal, Wal-Mart, Amazon, Starbucks, Macy's, Gap.com, and many more!
Are GPT sites legit?
Yes. GPT sites are a get-rich-quick scheme, it is legit and people actually work for the money like they do at any other job.
It may not be the most pleasant job out there but it does pay pretty well and it is possible to make a full-time income from them if you do it full time. Just have to work hard to earn your money!
What are the ways you can earn points and cash?
Taking online surveys
Signing up for survey sites
Watching videos
Reading emails
Completing offers
Completing Micro tasks
Listening to a radio station
Playing games
Earning rebates or cashback for shopping online
Conducting internet searches
Referring friends
Advantages of GPT sites
1. GPT site require no skills
GPT sites do not need a special skill or education. You just need some free time and you can start making money at home. You can keep your job and work as much or as little as you want, at any time and anywhere you want.
2. GPT sites are open to teens
Offers a platform that is open to teens. Teenagers have matured more in the past decade and many have started to earn pocket money sitting at home. The site also encourages them to save their money and let it accumulate over time.
3. Flexible work
Participating in compensated surveys, watching videos, completing special offers and other activities is NOT your main job. But these activities certainly "earn" extra cash while you are working on something else. 
It is flexible and gives the possibility to stay in control of your time while getting some money on the side from the comfort of a couch or a beach chair. This means that you can set a goal for each day and earn $5-$10.
4. Many ways to earn
GPT sites have many strategies for earning. There are daily, weekly, monthly, and even yearly competitions that greatly increase your chances of making some money. 
You can do anything from filling out surveys, searching the web, watching videos, and much more. One of the best advantages to these sites is that you can do things when you're usually doing something. 
So if you're checking your emails, why not get paid for it? Or while surfing the web why not get paid while doing so. As long as you are logged into the website you can be doing things and get paid as well as get some free gift cards.
5. Earn free money from GPT sites
GPT sites are an easy way to make money online with no investment on your part. It is one of the fastest ways to make money online. They are 100% FREE. You won't need to buy anything, anyone can do it; even if you have never made any transaction on the internet. You can do it in your spare time, even while watching TV shows at home.
6. Lots of payout options
The more ways you have to get paid, the more flexibility you have in determining how and when to get your money. Cash-out via PayPal, Amazon gift card, Bitcoin, Western Union, bank transfer, or check. 
7. Mindless work
Work as you please ­from any location and from any internet-capable device. Choose your niche and start earning cash fast. Some GPT sites display ads, some don't.
Disadvantages of GPT sites
1. Low earnings
Sites like GPT are fine for earning a little pocket money or trying to get some referral invites but they are not the best option if you want to earn serious money online.
2. The work is boring
Despite the occasional fun tools or interesting subject matter, most of it is just plain tedious. For example, I spent an hour laboriously filling out a survey for which I was paid $1. 
3. Many GPT sites host the same tasks
There are lots of sites out there that host the same tasks. This creates a competitive marketplace where each task is vying for your attention and sometimes, bidding wars erupt.
For example, if 10 different GPT sites are hosting the same survey, you could choose option A on one, option B on another, and option C on another and get 3 different rewards. 
While it's nice to have choices of what to do next when you finish a task, having 30 different options of surveys or offers can be overwhelming.
4. GPT sites are full of spammy links
The biggest reason to avoid GPT sites and rely on genuine traffic is the spammy links they create. GPT sites flood your links by the thousands to random pages around the web which mostly contain some form of linkbait, whether it is an article about "the best way to eat a cheeseburger" or a word puzzle. 
These links are then picked up by Google's spam engine and you get slapped with a penalty.
5. Survey disqualifications
Most GPT sites don't pay for surveys when you have been disqualified. Although, in some cases, you can get paid whenever you have been disqualified from a survey. It depends on your point balance and the survey providers.
Some survey panels provide incentives to users for keeping their points up, some don't.
6. You could get wrongly banned
Several times in the past, GPT sites have wrongfully banned individuals for no reason, or, they ban you by mistake without giving you a valid reason for being banned. One prime example of this is Swagbucks, which was asked to refund one person's balance and his credit, but the firm refused to do so. Many others have complained about SwagBucks unfairly banning them. 
In any event, if you get banned from these sites, it is very hard to get your money back.
7. Earnings vary greatly based on demographics
Admittedly, the number one complaint about GPT sites is that earnings vary greatly based on demographics. How much you earn from GPT depends greatly on where you live. You will definitely make more money in a larger, more populated/developed city than you would in a small rural town.
Rewards for participating
Cash
PayPal
Check payments
Bitcoin
Giftcards
BestBuy
Amazon
iTunes
Home Depot
Playstation
Starbucks
Walmart
hundreds of others – most, to major stores and restaurants
Top GPT sites that pay
Top GPT Apps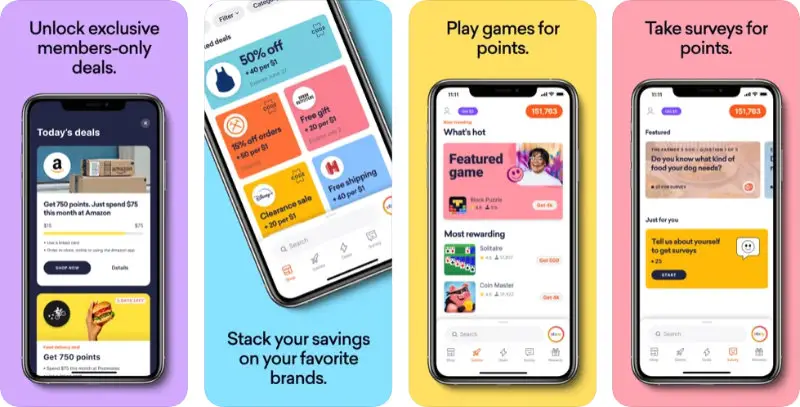 Drop is an app unlike any other. It's simple, beautiful, and addictive. You start with a cube of ice and each day you get to move one side out. When it reaches room temperature it melts and you earn what's inside the cube!
The app helps you earn free gift cards, online coupons, and promo codes from dozens of popular retailers. Simply install the app on your phone to start earning cash for every 2-3 minutes of your time. This is a very quick and easy way to make some more cash online!
Caddle is a new app that pays you for watching videos and completing tasks. Earn gift cards, donations to your favorite charities, and more!
You can get $1.00 just by signing up and installing the app Caddle from Google Play. This essentially gives you free $1 on your myCaddle account. If you want to watch videos, read articles, or press ads to earn money then this free money will be added to your balance very fast. The minimum cashout is $2.50 through PayPal!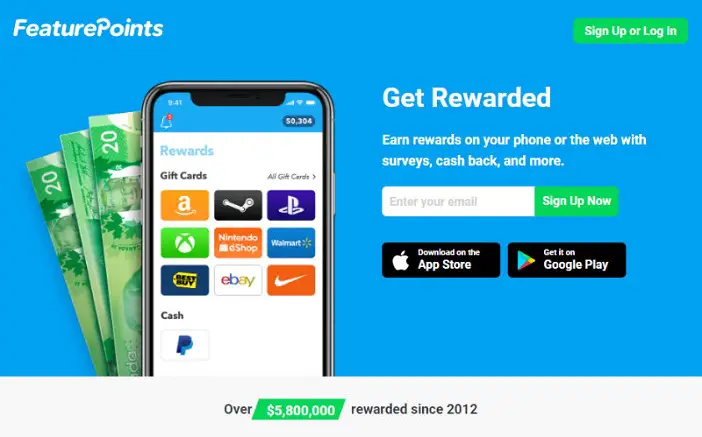 Developed by a leading global digital marketing and incentive platform, FeaturePoints provides an opportunity for anyone to participate in the digital economy by rewarding them with cash or prizes every time they use any mobile or desktop application.
FeaturePoints is an innovative way for you to get paid for reading emails, shopping online, filling out surveys, and more.
The payouts are really high and from time to time (they) offer some promotional products in the app, and bonus point offers as well.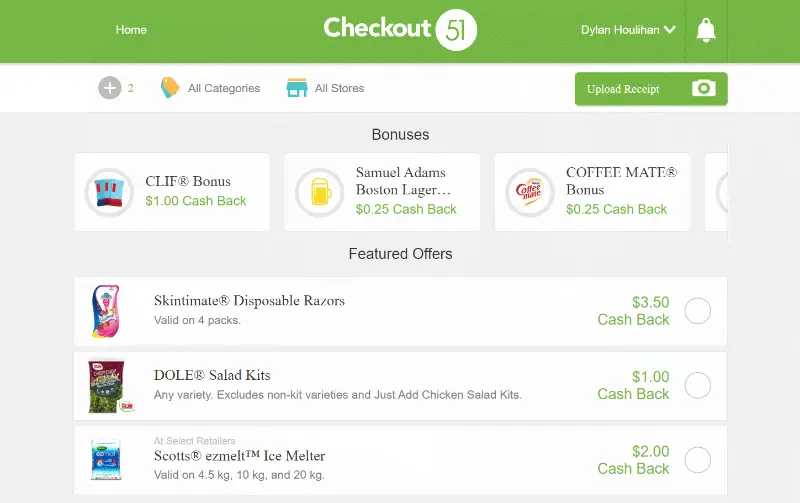 Checkout 51 is a free cashback shopping app that gives you money back on the groceries you already buy. 
Thousands of shoppers are finding extra money every month with Checkout 51! Download the iPhone or Android app and start saving money today. You'll earn cashback on groceries and other items, for FREE.
Checkout 51 connects you to a growing list of almost 1,000 items you can conveniently buy at your local grocery store and redeem for cashback. You'll also find exclusive online offers from retailer partners so you'll never miss out on the deals.
How to get started the right way with GPT sites?
Sign up
Just sign up using your email address, mobile, or Facebook. There is no credit card needed to join and create your first listing. The next step is to choose which category you would like to offer your product under. The process is self-explanatory from here on out. This concludes the signup process for any new members on the platform!
Get my free GPT income tracker
Automatically log all your income on this free Google sheet, allowing you to track how much monthly passive income you're making from each GPT site. This spreadsheet will automatically do the math for you, allowing you to see how much money you are making weekly, monthly, and yearly.
Start slow
Join one or two GPT sites and add a few gigs to your profile every day (there's no need to be a workaholic). At first, instead of building up a large number of connections, focus on adding two or three new connections each day. This will increase the likelihood that they will check out your profile.
Track everything and keep evidence
Nothing motivates like proving you're on the right path. However, with GPT, you'll feel inspired to track your progress toward your goals through the day-to-day numbers instead of just trusting a gut feeling. Although tracking everything takes a little effort, it's easier than you think thanks to helpful features like tags, date ranges, and more. Start tracking with a goal today!
Referral
Everyone loves to earn free money! You will receive $0.50 for every referral, and your friend will earn $0.75 for completing each offer they view! Every time you refer a friend through your special link, you are entered into a weekly drawing that gives you a chance to win 10,000 GPT and a $5 Amazon gift card just for entering!
FAQs
How do GPT sites make money?
GPT sites generate revenue from referral fees that are paid by third-party advertisers. These companies pay the GPT sites for ad space on the site and the more a person does the offer, the better an opportunity there is for GPT sites to generate a commission. 
When a person refuses to do an offer or does not complete it, GPT sites often penalize them by censoring them because they aren't adhering to their rules.
How much do GPT sites pay?
The amount the sites pay varies from place to place. Some offer cash, while others only offer points that can be redeemed with their store. Sometimes, you might even get a product as a reward if you are lucky!
Is it possible to earn more?
Yes! If you are an active user on the platform, meaning you stay logged in and you are actively performing actions, you will be able to earn more.
The more you drive, the more you can earn. You can significantly increase your earnings by completing short simple tasks such as downloading the app and inviting your friends to do the same.
Conclusion
So there you have it. Essentially, you can use these sites by completing offers and tasks. Some of these offers are one-time surveys, free trials, etc., while some require you to sign up for a company's services and pay a monthly fee. 
Thus, these GPT (Get Paid To) websites aren't really free money-making sites — they're more like paid survey websites.