Interested in making money from online survey panels but don't know where to start? This Swagbucks vs Survey Junkie article will be helpful.
If you've been searching for the best online survey panel, you must have stumbled on Swagbucks and Survey Junkie. These panels are two of the biggest platforms in the online survey industry. Both are reputable for offering one of the best pay rates.
So, if you've been thinking about the platform to sign up on, I understand how difficult it can be to choose since both platforms have great features.
We have previously written a Swagbucks review and a Survey Junkie review. But in this guide, we will compare the features of both platforms so that we can decide the website that is better for earning points.
In this Swagbucks vs Survey Junkie article, you will have a better understanding of what the websites offer and how they compare to each other.
Quick Comparison
Here's a summary of what we will consider in this Swagbucks vs Survey Junkie article: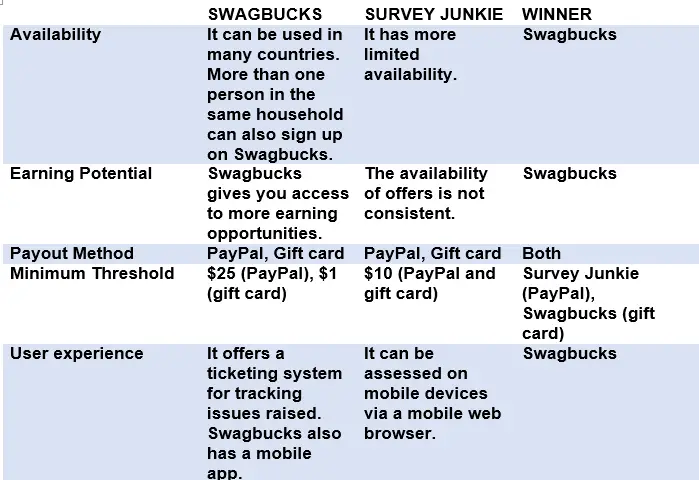 Swagbucks Vs Survey Junkie: A Detailed Comparison
1. Availability
One of the most important factors that you need to consider when choosing an online survey panel or comparing reward sites is their availability. You need to consider this because it plays a key role in choosing the site you should opt for.
Swagbucks
Swagbucks can be used in many countries; this is a big bonus. However, it is not available throughout the world.
The site is only open to residents in the United States, United Kingdom, Canada, Australia, Ireland, France, Spain, and Germany.
Those living in India can also join Swagbucks but there are few earning options there.
You will not be able to work on Swagbucks if you don't live in any of the countries above. You must also be at least 13 years old before you can join Swagbucks.
Swagbucks is unique because more than one member within the same household can join the site. This implies that other members in your household that are interested in Swagbucks can sign up on the site.
Survey Junkie
Survey Junkie, on the other hand, has a more limited availability when compared to Swagbucks. The site is available in the United States, the United Kingdom, Canada, and Australia. This is one of the main differences between both platforms.
Just like Swagbucks, you need to be at least 13 years old before you can become a member. There's no information about the number of people per household that can join.
Read Also: How Do Online Surveys For Money Work?
Winner
Considering the number of countries that are allowed, Swagbucks wins this comparison. Swagbucks is available in more countries than Survey Junkie.
2. Earning potential
This is a very important factor that should not be overlooked when comparing two survey websites. To increase your earning potential, you need to choose the option that will allow you to earn the highest amount of money.
To know the better option, you need the time it takes you to earn rewards. If you consider the earning opportunities that both sites provide, you will discover that Swagbucks has more opportunities than Survey Junkie.
In other words, Swagbucks has more earning opportunities than Survey Junkie.
But there are other factors that we need to consider; such as how consistent the offers on each of the platforms are.
If we consider the earning potential, Swagbucks has a higher earning potential than Survey Junkie. Members will have access to more opportunities to earn rewards on Swagbucks.
Survey Junkie is limited because you need to be invited before you can complete surveys. You may also be required to join a focus group or test products.
While you also have to wait for invites to complete paid surveys on Swagbucks, other opportunities don't require you to wait for something before you do them.
You will always find offers to complete on Swagbucks. This increases your opportunity to earn rewards. You will even find a daily to-do list on Swagbucks (you can follow this list to earn rewards).
With Swagbucks, there are always tasks available that you can execute to earn points, but with Survey Junkie, you need to wait for invites before earning rewards.
Based on my findings, Swagbucks has one of the highest-earning potentials in the paid survey industry. However, you need to spend lots of time on the website so that you can earn a tangible amount of money.
The advantage of Survey Junkie is that it sometimes gives you access to high-paying opportunities. If you are invited to some of the platform's focus groups and research projects, you can earn a good amount of money. But this is not consistent.
Winner
Both survey panels have good opportunities. However, the opportunities are more consistent on Swagbucks.
3. Payout method
When deciding to choose between two survey platforms, another factor that you should not ignore is their payout method.
Your main aim of signing up to survey sites is to make money and you want to be able to receive your money conveniently. Let's compare how you can withdraw your earnings and what you will get from both platforms.
Both Swagbucks and Survey Junkie can pay through PayPal, which is the most convenient means of receiving money from online paid survey sites.
However, the main difference between them lies in their minimum thresholds. Swagbucks has a higher minimum threshold (2500 points or $25) than Survey Junkie (payment threshold of $10) if you want to withdraw your earnings through PayPal.
But if you want to redeem your points for gift cards on Swagbucks, you need to earn at least 100 points ($1) and you will be able to redeem for gift cards. Survey Junkie, on the other hand, requires at least 1000 points ($10) before you can exchange your points for any gift card that you want.
Winner
If you prefer to withdraw your earnings through PayPal, Survey Junkie, with a lower minimum threshold wins.
For those that prefer to redeem their points for gift cards, Swagbucks is the winner. Also, Swagbucks has a wider selection of gift cards than Survey Junkie. This makes Swagbucks more advantageous for those that want to use gift cards.
4. User-experience
User experience or ease of use is a big factor that needs to be considered when comparing two paid survey sites. You'd want to go for a platform that makes it easier for you to earn rewards.
Different things contribute to the experience users have with a site. They include the quality of support received, the user interface, and the ease of using the site on mobile devices.
Support is very important because you will want a website that responds swiftly to your concerns if you encounter any challenges with your account. That will help you to quickly find solutions to your issues and focus more on earning more rewards.
The ability to work on offers on a mobile device will also make you more efficient since you will be able to complete offers wherever you are and whenever you want.
The user interface also matters a lot because it allows you to enjoy a smooth end-user experience when the interface is properly designed.
Swagbucks
If we compare the support offered by both sites, Swagbucks is ahead because users can track the issue they have through the site's ticketing system. This ticketing system can be found on the website's support platform (apart from their contact form).
However, both sites are on equal terms in terms of how quickly they reply to members' concerns. The ticketing system on Swagbucks just gives it an edge over Survey Junkie because it gives room for an organized form of support.
Also, if you run into the same problem, you can easily go back to the ticket you raised and repeat the same thing to solve the issue. There's no need to contact them again for their help.
As for compatibility and availability on mobile devices, Swagbucks is also ahead because it has an app that you can download and install on your smartphone. This allows you to complete offers wherever you are and whenever you want.
Survey Junkie
On the other hand, Survey Junkie can be accessed through a mobile web browser. The mobile version of Survey Junkie is optimized for mobile devices.
However, I feel that having a dedicated app for a website portrays you as being serious about catering to the needs of mobile users and allowing them to complete offers when they are not with their computers.
In terms of the user interface, both Swagbucks and Survey Junkie are well designed. So, there is a tie here.
With Swagbucks, you need to click more but that is not an issue. It simply shows that it has more to offer than Survey Junkie.
Winner
In my opinion, both Swagbucks and Survey Junkie are user-friendly.
FAQs
Does Survey Junkie pay?
Yes, Survey Junkie pays members in real money. Survey Junkie is part of the company Blue Media Ventures.
This survey app rewards members in points and these can be redeemed for PayPal cash or gift cards to different retailers.
Is Swagbucks legit?
Swagbucks is a legitimate online survey platform. The company has paid out more than $400 million to members.
Based on findings of the site, lots of members have earned as much as $12,000 completing offers and doing other tasks on Swagbucks. The site is also safe for teens to earn some pocket money.
Is Survey Junkie worth the time?
Yes, it is. If you need an easy way to earn some income in your spare time, Survey Junkie is worth trying out.
Although you will not make a lot of money for each survey that you complete, you can easily increase your points if you are active on the site and you complete all surveys that you are eligible for.
Is Survey Junkie legit?
Yes, Survey Junkie is legit. It allows users to earn money in the form of gift cards or PayPal cash by completing simple tasks online. These activities are easy to complete and are legal.
5. Is it safe to use Survey Junkie?
Survey Junkie is 100% safe to use and it is not a scam. You can get started for free and you can easily have access to your earnings via gift cards and PayPal. They also offer good support that can attend to your needs when you run into issues with your account or the platform.
Read Also: How To Do Surveys Fast
Conclusion
Swagbucks Vs Survey Junkie: Which Survey Panel Should You Choose?
I believe that after reading this Swagbucks vs Survey Junkie article, you will be able to decide which website to join.
In my opinion, both Swagbucks and Survey Junkie have great features and good earning options. I believe that they complement each other very well since they offer different earning opportunities.
Hence, if you reside where both sites can be used, it is better to join both of them so that you can have access to more earning opportunities.
You can sign up on Swagbucks by checking out our Swagbucks review and receive a $5 signup bonus. If you want to join survey Junkie, read our full Survey Junkie review to find out how you can join.