Looking for the most detailed Valued Opinions review? You're in the right place.
The internet era has made it very easy to make money online. You can work from anywhere, start a blog and monetize it, and also do online paid surveys. One of the most popular online paid survey sites is Valued Opinions. However, most people are not aware of this platform; a promising and rewarding survey platform.
Since many people are not aware of this site, the few that know about it see it as an illegitimate platform and a scam. This Valued Opinions review aims to shed light on Valued Opinions and how it works so that you can make an informed decision before joining the platform.
We all know how tedious it is to make money. However, with this review, you will learn about a platform through which you can make money without any skills or qualifications. I have provided an exhaustive analysis of Valued Opinions in this Valued Opinions review.
Quick Review
Here's a quick Valued Opinions review: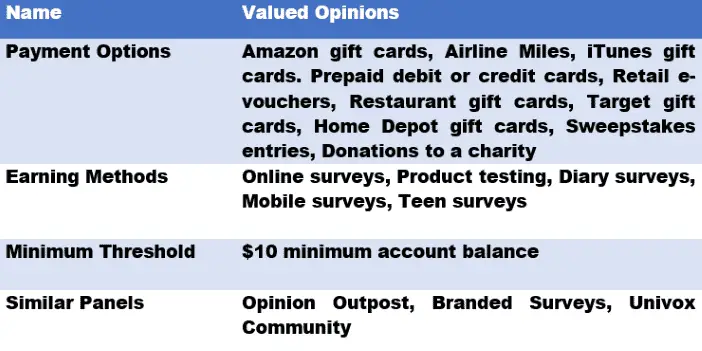 Detailed Guide
What is Valued Opinions?
Valued Opinions is a research panel that is owned by Dynata Global UK Limited Company. The company pays its members for sharing their feedback about products and services. Valued Opinions then compile these feedbacks and sell them to researchers that are willing to pay for them.
It is available globally and has over 3 million members that are always ready to share their feedback for rewards. The survey niches differ, but they are very exciting and suitable for all demographics.
Valued Opinions was established in 2004. The platform is currently available in over 15 languages in more than 20 countries. A key difference between Valued Opinions and other online paid survey platforms is the amount paid per survey.
With Valued Opinions, you can earn between $1 and $5 per survey completed. The surveys on this platform are more detailed and you may need to spend more time to complete them. However, you can make a reasonable amount of money for the time spent.
If you're wondering how the platform works, if it pays, and how often it pays, we will consider these in the next sections of this detailed Valued Opinions review.
How Does Valued Opinions Work?
All market researchers want to know what customers in particular demographics think about the products or services they intend to promote. Valued Opinions help the companies they partner with by giving them an avenue to have access to users that want to share their opinions about their products and services.
Users will share their opinions through surveys that contain questions about the products or services being considered. Every time a user completes a survey, he or she will be rewarded for the effort and time spent.
It is easy to sign up
You can easily create a free account on Valued Opinions within a few minutes. All you need to do is to enter your name, email address, address, and password on the registration page. If you want to register via your Facebook account, you can link your Facebook profile and easily register through that route.
You will be asked to provide more information in your profile after registering. This will enhance your chances of qualifying for a wide range of surveys.
The completed profile gives access to more surveys
Valued Opinions contains 20 categories where you will be asked to provide more information about yourself. You will be prompted to provide information about your political beliefs, health conditions, and shopping habits. You may not qualify for many surveys if you don't fill out your profile. So, it is advisable to make your profile as complete as possible.
After filling your profile, you will come across the available surveys on your main dashboard. You will know the reward for the surveys before you start them. The company will reward you once you complete each survey. You will be able to withdraw your earnings once you accumulate at least $10 in your account. The earnings can be converted to virtual gift cards.
How To Make Money on Valued Opinions
1. Sweepstakes
As a member of Valued Opinions, you can enter quarterly sweepstakes where you can win a prize (usually a Samsung Galaxy Tab). You can have a chance of winning a sweepstakes entry by joining the survey panel.
2. Focus groups
As a member, you will receive an invite to take part in a focus group. A focus group refers to a group interview situation where you can participate in a panel discussing a particular topic.
Apart from being paid for your time, you may also earn extra rewards that are related to the product or service that you are discussing. This is an interesting way to learn more about a topic, share your opinions, and hear what others think about the topic being discussed.
If you get a focus group slot, you need to act fast because the rewards are reasonable for the time spent.
3. Diary studies
A diary study is different from the other opportunities. You will need to keep a diary over a particular period. To get rewarded from diary studies, you will need to fill out your feelings about a particular product or service every day.
If you like writing about your reactions to events and you're detail-oriented, you will love this option. This earning option is rare so if you are offered this option, don't joke with it.
Valued Opinions Features
1. You can earn from other options apart from surveys
As a Valued Opinions member, you can earn from other options that we discussed earlier.
2. Participate in the debate on social media
Valued Opinions always post questions for their community on social media. You need to follow Valued Opinions on Twitter, Facebook, or Instagram to share your opinions with other members.
3. Member badges
Member Badges is a unique program whereby the active members collect 'badges' for their participation on the platform. As a member, you can achieve 5 levels from completing mini tasks. The levels (listed from lowest to highest) include:
Bronze
Silver
Gold
Platinum
Diamond
4. Monthly red cross donations
Valued Opinions donates $10,000 (from its profits) to the American Red Cross Society every month. You can help the company to keep donating to this society by participating in Valued Opinions regularly.
How Legitimate is Valued Opinions?
Valued Opinions was started by Chris Havemann and Cooper in 2000. It started with the name Research Now Limited and was then acquired by e-Rewards Inc. in 2009.
Valued Opinions have become very popular and the number of users in the United States alone is more than 600,000; over 13,000 people sign up to the platform every month. The company is available in 37 countries with over 6 million members.
However, we cannot base its legitimacy on the number of users it has because a high user base does not mean that a company is trustworthy and reliable.
Valued Opinions had a great rating on MoolahNinjas.com. This implies that the users are very satisfied with the platform. The company allows users to complete paid surveys in 15 different languages.
How Valued Opinions Payment System Works
You can redeem your earned rewards for a voucher (also known as a gift card). You cannot redeem your earnings for cash.
For the retail vouchers, you can use an e-voucher that can be available within 24 hours of requesting it. You can also opt for a physical paper voucher that can be mailed to you (this may take about four weeks of requesting payment).
Although the minimum threshold is $10, the actual value depends on the retail outlet of your choice. Irrespective of the retail outlet that you choose, the value of the credit will not be affected.
As stated earlier, Valued Opinions does not offer cash. However, you can easily get a shopping voucher that supports the following:
Visa Promo code
$20 App Store and iTunes gift card
Spa and Wellness e-gift card
Com e-voucher
Com e-gift card
Nike Digital gift card
Com gift card
Giftpax multi-brand gift card
Macy's e-gift card
CVS/ pharmacy e-gift card
Rapid Rewards Points
Also, you can donate to nonprofits such as UNICEF.
Pros
Most of the survey takers receive at least 2 to 6 survey invites every month.
The surveys are fun to complete.
Valued Opinions allows international users to complete surveys without any challenge.
The badge system of the platform allows users to advance and receive more targeted surveys.
Cons
Some users complain about payment denials just because they did not complete their surveys on time.
There are surveys that take about 5 hours to complete where users can earn $35. However, you need to complete such surveys in a single sitting to avoid being disqualified.
The system may disqualify you from completing surveys. There are lots of complaints about users being disqualified for no reason.
Vouchers and gift cards are the only reward options. Although the Amazon voucher is a popular option, it is not always.
FAQs
What do I need to join the platform as a survey taker?
If you want to become a survey taker on the platform, you need to reside in the United States and must be at least 13 years old. You must also provide your email address, physical address, and must have a valid US phone number.
What is the importance of mobile verification?
Mobile verification is necessary for data security and to protect your earnings. You need to verify your account using a valid US phone number before you can redeem your gift cards. The platform may also ask you to re-verify your account when you want to redeem your earnings afterward. Valued Opinions will send you a validation code during the verification. You need to input this code so that you can complete the validation.
How long will it take to complete a survey?
The surveys on Valued Opinions have different lengths, but you can complete most of them within 15 to 20 minutes. Some, such as studies, are very long and may need hours or even days for you to complete them.
Why is the survey closed?
If the completion date of a survey has passed or when the required number of survey takers has been met, a survey will be closed. Most of the surveys that you are invited to complete have a deadline after which they will become obsolete. Valued Opinions make this date known in the invite email sent to users.
In addition, a survey may suddenly close while working on it if it has received the required number of respondents.
Why am I disqualified from taking a survey?
You may be disqualified from completing a survey for different reasons, such as failure to meet the requirements of the survey. Varied Opinions assess each user to determine if they are suitable for the profile and meet the survey's criteria.
Each of the surveys on the platform has its specifications and some of them are meant for a particular gender, age, or people from a particular region. You will qualify for a survey if you meet these requirements.
Are all surveys on Valued Opinions paid?
Surveys such as short questionnaires are aimed at assessing your ability to carry out a particular research project. Such questionnaires can be completed within a few minutes but are unpaid because they are used to build your profile. Valued Opinions use these questionnaires to qualify researchers for high-paying projects.
Conclusion
Valued Opinions Review Final Verdict: Is It A Good Idea To Register On Valued Opinions?
I have reviewed many online paid survey websites; Valued Opinions is one of the best survey sites on the internet. Users love completing surveys on Valued Opinions and they are also rewarded for their time and effort. The payout process is easy you can easily receive the Amazon gift card in your email account.
If you want to make money from home through online paid surveys, then you can consider Valued Opinions. Apart from being a reliable platform, it is also one of the best-paid survey sites that pay a fair income.
If you loved this review, you can also check out our Branded Surveys review. You can also check out our collection of the best 22 paid survey panels.