This article is about how to get paid on Medium. I will share how it works, how you get paid, what you need to get paid, and how much you can make. Okay, got your attention. Who wouldn't be interested in that? 
You have been writing for a while now and have been publishing on your own blog. You have at least a few hundred followers and have been hoping to receive a check from a publication. 
After all, you're getting a lot of traffic, but no money. Medium offers a way to get paid for posting articles you wrote on the Internet. Are you interested in learning how to get paid on Medium as a writer? This article will serve as a guide to make this process easy for you. 
Quick Review
What is Medium?
Get paid on Medium through its partner program
Get paid on Medium with affiliate marketing 
Make money on Medium with its bonus payment features 
Get paid for writing quality articles on Medium
How Does Medium Make Money?
How much money can you make writing on Medium?
What is Medium?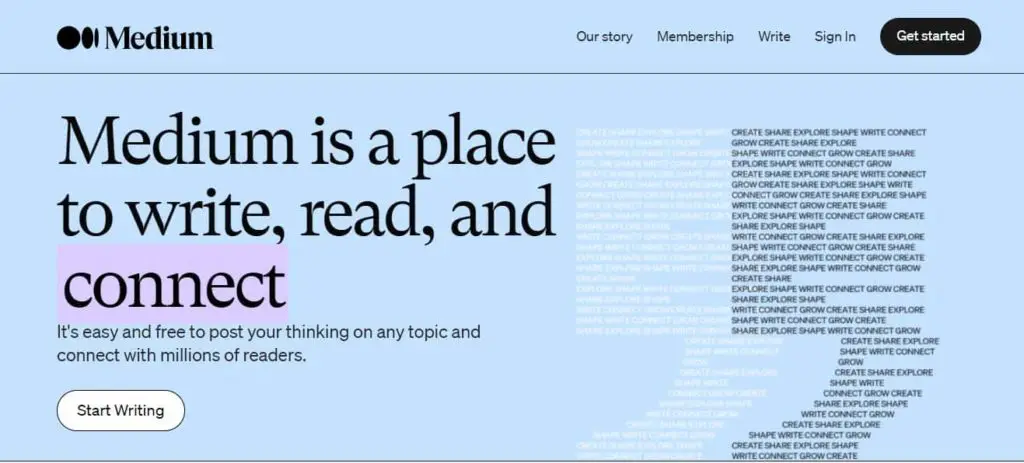 Medium is a platform designed to help readers and writers express themselves and connect in deeper and broader ways. As a writer, your stories will reach people around the world who might not otherwise hear you or read your writing. 
As a reader, Medium will give you access to the stories and insights from talented contributors. Their perspectives span technology, business, media, and art in addition to challenging and changing how you view the world.
The best part is that you can also get paid on Medium. If you'd like to get paid on Medium, carefully digest the following paragraphs.
1. Get paid on Medium Through Partner Program 
Signing up as a writer and becoming a member of the Medium Partner Program is the first step to earning money on Medium. It is pretty easy.
Medium makes money by charging $5/month for memberships. If members clap after reading a story, their membership dollars are donated to the writer. Due to the unknown value of each clap, it is not possible to determine the claps to dollars ratio. 
Donations to Medium are handled in a secretive manner to prevent people from abusing the system. Joining the Medium Partner Program is easy as the program looks to get talented writers up and running as fast as possible. Getting started with writing is made easy with this. It means earning money right away.
There are also in-house curators at Medium Partner Program who sift through every published Medium story and select the best of the crop for promotion across 140+ categories. Money is made here.
New writers can easily sign up since the website is open to all. Payments can be made using your Medium account regardless of whether you have a bank account or debit card with it. Transactions are processed through Stripe.
You, therefore, need to be located in a country that accepts Stripe payments to receive payments. Despite being a growing company that serves several countries worldwide, Stripe is not yet ubiquitous. Therefore, you should check if you are eligible or not.
If you live in a country that Stripe supports, you can instantly enroll in the Partnership program. Every month, writers are paid by the eighth of the month.
2. Get Paid on Medium With Affiliate Marketing 
Adding affiliate links to your stories is another way to get paid on Medium. Affiliates can put links in their stories, so that if a reader clicks through and purchases from them, they can receive commissions. 
To maintain reader trust, you should be completely honest and clear about your affiliate relationship (as well as the fact that you'll be compensated for purchases made via the link). 
Additionally, you will want to make sure that you're following the publication's rules and Medium's guidelines when composing your story.
As most of the bloggers are already earning on affiliate programs on Medium, you can also make a lot of money. A majority of bloggers and marketers say they prefer affiliate marketing as their preferred method of earning money online.
Start making money on Medium by finding an affiliate program that fits your niche. Make sure your articles are informative, and that your customers believe you offer them the solution to buy the product rather than you attempting to force them to do so.
You will be able to make more money depending on the product that you are marketing on Medium. Furthermore, you should also consider the person or company you work with and the rate you have agreed upon. However, it is generally possible to earn 1% to 45% of revenue for each sale.
Medium is a fantastic way to build an audience for your business. However, if you want to bring home the bacon, you'll need to start offering a paid promotion of your stories or brand on Medium.
SEE: Best affiliate networks and platforms for bloggers
3. Get Paid on Medium With Its Bonus Payment Features 
On Medium, you can receive bonuses. Medium's editors sometimes recognize outstanding articles. Occasionally, the editors reward those articles. Nonetheless, the definition of a bonus payment is not clearly defined.
There appears to be no clear guiding principles or guidelines. Nonetheless, an editor or reviewer may award a bonus payment for an exceptional article. According to most writers who have received these bonuses on Medium, they are generally $100 flat.
It takes time for Medium members to receive their payments. Payments for their monetary earnings for the month are made once per month when the rest of the writer's earnings for that month are paid.
4. Get Paid for Writing Quality Articles on Medium
With Medium, you can make money easily. When you publish your writings on Medium, you can get paid if you have incredible writing skills.
Adding a lot of posts to your profile or writing long articles is not necessary. The key is to create quality and informative content. This is because when searching for information, people prefer only to have informative content.
You will gain followers if you provide a solution to their questions by creating an informative article. Getting more followers will enable you to gain more claps. 
Claps are basically a way to thank the medium for publishing a post that recommends another article to the followers. With more claps, your articles will become more valuable.
There is no restriction on what you can write on Medium. It's best to pick a single niche and then write about it instead of writing about multiple niches.
SEE: Easy ways to get quality backlinks for your blog
How Does Medium Make Money?
It is important to understand how platforms make money to understand how they can pay you. The Medium platform allows users to read up to 5 articles each month. For access to any content beyond that threshold, readers must become a Medium member for the price of $5/month.
Strangely enough, Medium does not seem to be able to find success with traditional advertising practices. Rather than clogging up the platform with banner ads, their focus is on quality and minimalist design.
Therefore, Medium seems to be relying on regular subscriptions and fundraising campaigns to sustain its platform.
Watching Medium grow and monetize its platform will be fascinating. But for now, all of its attention is focused on high-quality content and Medium members.
How much money can you make writing on Medium?
The average income of authors on Medium is approximately $100. On the surface, that amount may not seem like much, but some top writers can earn $2,500 or more every month.
Success on Medium is mainly a matter of writing consistently and making a few dollars a month from each story over time. So even if you only make a few dollars a month, all of that adds up.
Besides, how much money you can make on Medium depends on how many writers are consistently posting, which is hard to predict. There is perhaps a greater likelihood of being in that 5% if you write regularly.
FAQs
Can Medium be a full-time gig for me?
Yes. A full-time income is indeed possible based on the numbers available on Medium earnings. Furthermore, the site is quite transparent about its numbers. There are very few opportunities for a new writer to earn money from writing just one story. 
For you to make more money, you have to be consistent with writing. Besides, becoming a successful blogger or writer on any platform is achieved by writing high-quality content. 
SEE: How to overcome writers blog – Top tricks that work
How are earnings calculated on Medium?
Your earnings in the partner program are based on how long members spend reading your stories. 
There is no exact formula to figure out how much you'll be paid, but generally, the more time members spend reading a story (and the more members who read it), the more money you'll make. Writing longer articles is a great way to boost your earnings.
How quickly can I get paid on Medium?
You can earn income immediately upon publishing your stories. You will receive payments once a month (on the 8th) and they will be deposited into your account within 3-7 business days. Remember that Medium users will have to read your stories before you can get paid for using the platform. 
Are there any requirements to get paid on Medium?
Medium is open to everyone and anyone can start publishing articles on it. Sign up for Medium and you're ready to go. 
This media partner program is a great way to make money as an additional income if you are a good writer. Some people are making money with their writings in ways that are unbelievable.
SEE: Best second job ideas to max your monthly income
Final Thoughts
Did you know that people get paid for publishing articles on Medium? While it was once thought that this publishing platform was purely for writers, it's now paying professionals to submit posts. The payment that authors receive differs depending on how many followers they have.
Now you know that Medium pays for publishing your content. But there are no clear instructions on how to get paid, and the process isn't exactly straightforward, either. So I made this post explaining exactly what you need to do to get paid by Medium.
It is easy to see why so many people now choose to become writers because becoming a writer has many perks. Several ways exist for aspiring writers or those who already write to earn money. Well, you might be doing it for the money… That's pretty good too.
See the article on the best websites that will pay you to write articles for more information on that. So, what if you know how to write reviews so well or you are vast in many topics and you'd like to get paid for it? You're not left behind too.
If you'd like to get paid to write reviews, see the websites that will pay you for reviewing products. Additionally, if you are interested in getting paid for opinions, then see my article on how to get paid for opinions.
However, with so many people online these days trying to get paid for sharing their opinions, it might seem tricky to qualify for surveys and offers. It is for this reason I wrote an article that will solve this problem. See the article on how to qualify for more paid surveys for more information.
Feel free to explore the blog for other guides on how to make money online. Thanks for reading.
Ready to write and get paid with Medium?
It's easy. Click the button below to get started.