This LEO review is meant for those that are looking for simple ways to make money from home without any special skills or experience.
LEO surveys (also referred to as Leger Opinion) is the largest online survey community in Canada. It conducts about 500 surveys online every year. The platform was founded in 2004 and focuses on Canadian survey takers.
Those living in the United States can also take surveys from the platform. Most of the surveys on LEO are targeted at Francophone Canadians and are thus offered in French.
A platform that has paid out over $20,000,000 to its members is legit; no doubt about that.
However, is this survey panel right for you? Keep reading this LEO review to find out.
Quick Review
Here's a quick LEO review: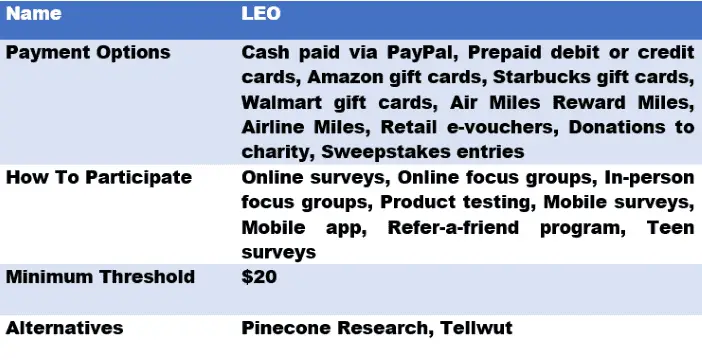 Detailed Guide
What is LEO?
LEO (Leger Opinion) is one of the most popular survey websites in Canada. It was named Legerweb when it first started but its name changed to Leger Opinion in 2019. LEO is the largest market research panel that is owned by a Canadian. It has over 600 employees and 400,000 users.
The platform was initially founded in 2004 and it rebranded to Leger Opinion in 2019. It has offices in Montreal, Toronto, Calgary, Quebec City, Philadelphia, and Edmonton.
How To Sign Up On LEO
The signup process is simple. All you need to do is to enter your name, email address, and password. After confirming your email, you will be redirected to your dashboard.
Before you can see the kind of surveys that are available and the amount you can make, you need to answer 7 pre-surveys.
Although the pre-qualifying questions may be tedious, you need to supply your details so that they can match you with surveys that align with your profile. One of the biggest issues that users have with the platform is getting disqualified from completing a survey in the process of answering the survey.
The pre-surveys take about 20 to 25 minutes to be answered. Some of the questions you will be asked include:
Who lives with you?
What vehicles do you have?
How much money do you earn?
What is the total worth of your assets?
What insurances do you have and when are they up for renewal
And lots more.
You will earn $0.50 per survey and will also receive 5 entries into the monthly draw.
Read also: How Do Online Surveys For Money Work?
How To Earn From LEO
This section of my LEO review will take a look at the different ways through which you can earn rewards from LEO:
1. LEO surveys
Since LEO is a survey website, it's not a surprise that they offer paid surveys as one of the ways to earn from the platform. There are many surveys on LEO.
Once you join the site, you will be able to log in to your account and see the available offers. This will be the first thing you will see once you sign in to your LEO account.
If you're logging in to your account for the first time, you will see a survey offer that you need to answer to build your profile. You will also be rewarded for completing this survey. So, ensure you complete it.
Generally, the survey offers on LEO have a specific number of respondents for each socio-demographic profile.
Thus, between the periods a survey is sent to your account and the moment you complete it, other members may have had the opportunity to complete the survey and they may have received the required number of responses.
This is why you sometimes get a message that states that you've been disqualified from completing the survey and cannot proceed with the survey. It is, therefore, important to always check your account and see if there are any available survey offers because they may not send you a notification email.
Read also: How To Qualify For More Paid Surveys
2. Monthly contests
You can also receive bonus rewards when you complete offers. The contests allow you to win significant prizes.
LEO usually holds monthly contests that you can participate in. You will earn entries into contests after completing a survey offer.
For instance, when you complete your profile survey after logging in to your account for the first time, you will receive 5 chances to participate in contests.
LEO holds more than one contest every month. You can focus on just one contest or join all the contests, provided you have enough chances.
Note that you must use all these entries every month since they will reset at the end of the month. So, there is no way to accumulate your entries. The prizes of the monthly contest are significant. You can win checks or cash of a reasonable amount.
3. Referral program
You can also earn from LEO by referring your friends to join the platform. Referring your friends and loved ones to LEO will earn you 1000 points and one entry into the monthly contest for each of your referrals.
Your referrals need to complete their profile and also answer at least one survey so that you can earn the rewards. The referral system is good because you will receive something for referring people. All you need to do is to remind them to complete a survey.
Read also: Best Ways to Get Referrals for Paid Surveys and GPT Sites
4. Rating
This is a feature that I have not come across on any other survey panel. You will find this option in the main menu as "Love, Hate, Rate."
Here, you can share your opinion about anything, such as a brand, company, product, or service. You can do this confidentially.
For instance, you can rate the store you visited the previous day or the coffee shop you bought your last coffee.
LEO will then assign a rating to businesses, brands, products, events, and services based on the feedback it gets from you.
Just note that you will not earn from this option. It is, however, unique to have your voice heard about anything you want.
Getting Paid on LEO
LEO makes use of a point system for their rewards. You will earn a certain number of points for every survey that you complete.
There are different payment methods on the platform. Members can use the points they have accumulated to exchange for rewards. They can exchange their points for Starbucks or Tim Hortons gift cards.
If you want to receive real money, you can withdraw your earnings through PayPal. You can also receive your earnings through a prepaid Visa debit or credit card. Members need to earn at least 20,000 points before requesting payment.
Also, you can convert your points to reward miles for Air Miles. You can use a check from LEO to receive your payment.
On LEO, 1000 points make $1. A unique feature of their payment system is you can only redeem the exact value in the reward.
For instance, if the PayPal reward is $20, you will only be able to redeem this value.
Redeeming your earnings on LEO is straightforward. But it is less versatile since you can only redeem a certain value for each form of reward.
Pros
LEO has a huge inventory of rewards. You can get your money in various forms through PayPal, a Visa card, or a check.
Although $1 per survey will not pay your bills. However, you can complete the surveys within 10 minutes and the pay is higher than what is obtained on some platforms.
You can complete the surveys on your mobile, tablet, or desktop.
The platform gives North American residents more ways to earn some money.
Cons
It has a high minimum threshold.
LEO only accepts people from Canada and the United States.
It has a high disqualification rate.
The payment processing time is determined by the value of the reward. Processing time on Leo varies from 5 days (for airline miles) to 30 days (for checks).
FAQs
What is LEO panel?
LEO (also known as Leger Opinion) is the largest survey panel in Canada. The platform was created by Leger (the largest Canadian-owned survey, market research, and analytics company) in 2004. Survey takers can complete surveys on the platform.
How much can you make on LEO?
The amount you can earn on LEO depends on the number of offers you complete. You need to complete lots of surveys to earn more rewards from the platform.
The challenge is there is no guarantee that there will be regular survey invites every week. You may receive survey invites every quarter, month, or week.
The actual frequency will depend on the current needs as well as the availability of surveys that match your profile. Since you need to earn at least 20,000 points before you can redeem your rewards, it may take some time before you can withdraw.
In general, the earning potential from LEO is low. However, if you are lucky in the contests, it can increase your earnings.
Is LEO legit?
Yes, LEO is the largest web panel in Canada with over 400,000 members. The company has a privacy policy on its site that spells out how it uses your details. Its app has positive reviews from over 1,100 user reviews on Play Store.
Can you use LEO on your mobile phone?
You can complete surveys using your mobile device. Thus, you don't need to use your computer to complete a survey.
All you need to do is to download and install the LEO app on your mobile device. You can download the app from the Android Play Store or Apple app store.
Being able to use LEO on a mobile device since you're competing with other users for available surveys. This is because each survey has a predetermined number of respondents.
If the app is installed on your mobile device, you will be able to log into your account and check if you have any available projects. This increases your chance of getting the available surveys.
Who can join LEO?
LEO is based in Canada. So, Canadians are eligible to join the site. The site is also open to those living in the United States.
They do not state the minimum age that is required to join their platform. However, since they accept PayPal as a form of payment, then you must be at least 18 years old before you can register if you want to withdraw your earnings from LEO.
If you want to register on LEO, all you need to do is to fill out the registration form. You will receive a confirmation email that you need to click so that your account can be activated.
Once you've activated your account, log in to the site and start completing surveys. You can only have one account on the website.
If the platform detects that you have more than one account, both accounts will be closed immediately, and you will lose any earnings in the account.
Read also: Are Online Surveys For Money Legit?
Conclusion
LEO Review Final Verdict: Is LEO Right For You?
Thank you for reading this LEO review to this stage.
Now that you know what LEO is all about, is it right for you?
I'll be honest with you, LEO may not be the best survey panel for you, but it is a great platform to earn a decent income.
The platform is legit and offers nice rewards that you will not have to wait for months for before laying your hands on them.
If you are interested in making extra income, and you reside in Canada, you need to check out LEO.
To make your income stable, combine LEO with Tellwut. You can also see other survey panels that you can work on to increase your earnings.
Although you won't get rich from these activities, you can earn an extra $200 to $500 every month if you are diligent enough to spend a couple of hours completing online surveys. That's a good amount of money when you consider how simple and easy it is to complete the tasks.