This iPoll review is one of the most in-depth article reviews I've ever written. I decided to create it because I was extremely impressed with this company.
They have excellent features, an incredible user interface, and rates lower than any of their competitors.
This iPoll review will examine what their services provide, how they stand out among other survey sites, and whether or not the company can really be considered a solid reliable survey site.
In addition, I'll cover the key features and pros/cons of iPoll and what makes it unique from other survey sites. 
Whether you're thinking of trying out iPoll or are just curious about what it has to offer, I promise this is a well-researched and objective review.
iPoll Quick Review
What makes iPoll unique?
Legit paying company
Pays out with PayPal or Visa Prepaid Card
Pays you for profile surveys
User friendly mobile app
The app has over one million downloads to date
Free registration
10 members win $20 weekly
Amazing site
Simple to use
Great surveys
Detailed Guide
What is iPoll?
iPoll is a leading provider of online professional surveys and has the widest selection of topics, industries, and countries to choose from. 
iPoll is a survey platform that offers a convenient, affordable, and exciting way for companies to collect data from consumers on new products and services. They make it super easy for companies to run online surveys as often or as little as they need. 
iPoll surveys are quick, entertaining, and most importantly fun. To ensure your company gets the best information possible in the shortest period of time there are simply no other services like iPoll's on the market today.
With an experienced team and technology in place, their aim is simple: to be the world's favorite opinion site.
See also: Google Opinion Rewards Review
What makes iPoll Unique?
What makes iPoll unique is its large online research community. The members are active and the number of responses is steadily growing. 
In addition, iPoll's large panel is vital to producing a truly significant result for clients' studies. iPoll offers the most convenient way of taking every kind of Internet survey. 
It is also the only way you can get paid for your opinion, there is no limit on the amount you can earn by taking surveys online. 
iPoll has a very large database of companies and is continually adding new participants through different methods; from its own dedicated site, iPoll has added more than 1 million users and regularly conducts thousands of polls.
Members can participate in daily polls on a wide range of important topics, as well as perform data entry and other online tasks.
See also: iRazoo Review
How to use iPoll to earn money?
There are many options for earning with iPolls, and you can do the following things to get paid faster:
Market and product surveys
Take part in market and product surveys to get paid for your opinion.  Earn money answering questions about the fashionable, modern world. 
By completing market and product surveys you will be paid in cash. To get rewarded just take part in interesting surveys about fashion, food, marketing, technology, social media, education, customer service, and many more topics.
Net promoter score surveys
iPoll is one of the best sites for getting fast, free feedback. You can earn money with iPoll by doing Net promoter Score surveys for global brands.
Each time you receive a new survey invitation, you'll be asked to rate your interest in the topic and whether or not you plan on buying the product or referring people.
Missions
Through Missions, you will be able to earn the income you deserve in exchange for completing a simple task. 
Missions are available for all users across the globe and vary depending on your individual skillset. They will never ask you to complete an illegal, immoral, or unethical mission. 
Once you choose a mission, work at your own pace towards completion. When you've finished, simply submit your work for review and receive your payment via PayPal.
Events and conference surveys
iPoll's survey platform is perfect for events or conferences where the objective is to collect information, share specific topics and themes with delegates. 
iPoll helps you gather qualitative data during events through surveys that are easy to fill out on smartphones or tablets.  
And it's easy for participants to share their feedback through social media like Twitter and Instagram while they are at the event.
Human resource and employees survey
Imagine a service that lets you make money by simply giving your opinions. Well, it's not just a dream! 
With iPoll, you can earn money from home, providing HR insights to some of the world's best companies.
Badges
The badge is a sign of professional achievement for iPoll panel members. A badge holder has successfully completed multiple surveys and shows the result of a system. 
iPoll users build a badge collection as they earn tokens for voting in Polls. Profile badges show off your Poll experience and achievements, and you can earn community badges that make you eligible for cool rewards.
Customer satisfaction survey
Ever wished you could do customer surveys and earn a little cash back at the same time? With iPoll, you can. iPoll is a user-friendly survey site that earns you points for sharing your opinion.
Customer satisfaction surveys are more than just invaluable sources of information for an organization's managers. 
They can also be a great and affordable way to earn money for you. Surveys often have cash prizes that can range from $1 to $50, depending on when you participate. 
Also, there are chances for winning instant prizes like cash and gift cards.
How much can you make with iPoll?
Earn $100 or more per month with iPoll. As a member of iPoll, you earn money for sharing your opinions. They pay you by check, PayPal, or gift cards. Furthermore, you can redeem it any time you like.
Well, you can easily be earning anywhere from $1 to $10 per question! 
As a general guideline, iPoll surveys tend to pay anywhere between $0.50 to $30 with most surveys usually averaging around $10. 
If you start answering a lot of surveys, the amount you earn will increase pretty quickly.
See also: Vindale Research Review
How to redeem points with iPoll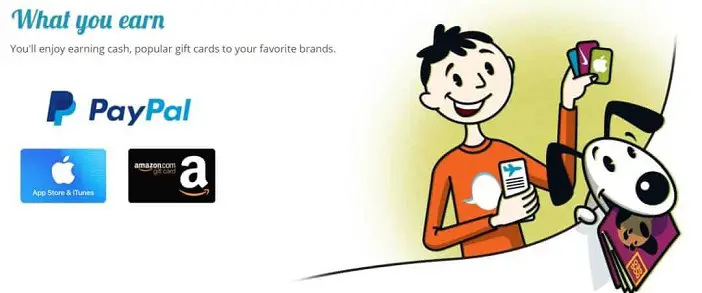 PayPal 
You can also convert your iPoll points into a PayPal account which is one of the popular online money transfer services globally. You can use your iPoll points to top up your PayPal account today.
Gift cards
With iPoll, you can turn your unused points into gift cards from Amazon, Walmart, Starbucks, Apple, and more. 
When you want to redeem your points, visit the iPoll Rewards Store and select the card you want. 
The value of your points will be automatically deducted at checkout.
Check
iPoll points can be redeemed as cash via checks that are sent at the beginning of each payment period.
Donations
When you redeem your points for donations, iPoll grants cash donations to charities in two different ways. 
The first method is called 'Single Donation', in which the charity nominated by you receives a single cash donation from iPoll of $5 per point (minimum 300 points) that you redeem. 
The second is known as 'Partner Donation' and 'Partner Sponsorship'. In this method, iPoll donates your points combined with those of other members to the charity(ies) of your choice. 
In order for us to process these types of donations, it requires that the charity(ies) provides their bank account details.
Now let's talk about pros and cons:
Pros 
1. You can choose PayPal or gift cards for payments
Payments are processed via PayPal or gift card. With PayPal, payments are transferred immediately to your account and you can withdraw it directly via PayPal. 
With gift cards, five business days are enough for payment to arrive at an e-mail address, but from time to time it may take up to 2 weeks. 
If you wish to cash out smaller amounts regularly, then an iPoll gift card is the right solution for you.
2. iPoll is available in 32 countries
iPoll surveys can be taken from computers, smartphones, and tablets. This means that their audience isn't limited by the number of internet users in any one particular country.
They have a global network with 32 countries worldwide including United States, Canada, Argentina, Australia, Azerbaijan, Bangladesh, Belgium, Brazil, Brunei Darussalam, Bulgaria, Chile, China, Croatia, Czech Republic, Denmark, Egypt, Finland, France, India, Indonesia, Ireland, Italy, Japan and so on.
3. Anyone over 17 can sign up
Anyone over 17 can sign up. However, you must be either 18 or have your parents' permission to do so.  As long as you request permission, iPoll does not collect any more personal data such as your real name or address than is necessary for the completion of the task.
You'll need to have a working email address to sign up, as this is where your password will be sent. 
In addition, you'll need to provide a username and password to log in to iPoll.
4. iPoll sign up is easy and free
There is no charge for signing up to iPoll. It's quick, it's easy and it's free. There are no setup fees, no data handling costs, and nothing to pay unless you win a prize.
5. The app layout is sleek and user-friendly
The website design is incredibly user-friendly and could not be simpler or easier to use. I found that the site is well organized, and arranged in a way that allows users to find what they're looking for with little to no effort. 
The app layout is sleek and user-friendly as well, which makes it pretty simple for users to transition from the online format to the mobile one.
6. There are other ways to earn money/rewards
With iPoll you have a wide selection of surveys in different categories to work on. Just pick on the vast array of surveys to start earning.
7. There is a time estimate for surveys before you take it
There's always a chance that the survey you're looking for is no longer being conducted. That's why iPoll provides you with a time estimate for each survey, so you can determine if it's something that you want to commit your time to.
8. You earn badges for meeting milestones
When you join iPoll, you can make good money by taking surveys in your spare time. iPoll has features that ensure your surveys are top-notch and rewards you for taking them. 
You can earn badges for meeting milestones too. The more you take, the better off you are and the more rewards you get! All this is possible with the iPoll app.
9. The amount you earn per survey is shown before you take it
You'll find fun, online surveys for iPoll on a variety of subjects while earning points and rewards for every one you complete. 
Plus, the amount you earn per survey is displayed before you begin answering questions – so you can make sure it's worth your time.
10. $5 on sign up
Get paid $5 just for signing up for iPoll. It doesn't cost you anything to join and all the rewards are completely free. 
Then you receive $0.50 for each survey you finish, and even more, if you qualify for special surveys!
You can also get a $5 bonus for every friend you refer.
See also: Best Survey Sites With Sign Up Bonuses To Make More Money
Cons
1. Users get disqualified from surveys after answering lots of questions
Many users have found themselves disqualified after answering a lot of questions on any iPoll survey. 
These surveys are notorious for being short through the use of unnecessary screeners that disqualify most users before they can complete the desired survey.
2. Users have problems of payment via the app
Users of iPoll online surveys have complained that they experience problems trying to cash out through the app. One user said he tried taking a survey but didn't succeed because he answered it incorrectly.
Most reviewers are claiming that they never got paid for their surveyor mini-survey. 
There are many issues that users have to go through while they try to get paid, and many of them are forced to contact customer service to get their problems resolved. 
Sometimes you will see the money that you think you have earned, but then when you go to cash it out, it disappears.
3. Low payments for survey
One of the main concerns that users have with iPoll is that it can be difficult to qualify for surveys. 
Some users reported that while they were able to finish a survey, it took them multiple attempts. This can sometimes lead to low rates of pay for survey participants.
4. The app freezes occasionally
The iPoll survey app is easy to use and responds quickly, but occasionally freezes during the survey process. The app also refuses to give credit for surveys that don't load properly or are abandoned too soon.
5. iPoll accounts get terminated or suspended without reasons
If you are suspended or terminated, users are not given reasons or explanations. You will find this to be the case with most of these sites, however, iPoll in particular has a high amount of users that have had issues with this happening to them.
6. Poor customer support
The customer service experience on iPoll left a lot to be desired. There was one instance of people going without pay for weeks. 
Since there is no phone number to call, customers are left with only an email address where they can complain.
Although the company responds quickly, their responses never resolve the issue.
7. 3% fee on PayPal cash outs
The biggest downside to iPoll is that you have to pay a 3% fee on PayPal cashouts, which means that you make a lot less money from this survey company than from others.
How to get started with iPoll
Create an account
Signing up is quick and easy. Just enter your name and valid email address, verify your account, then select a password to create your iPoll account. That's all there is to it!
Confirm your email address
Once you have signed up for an iPoll account, go to My Surveys and enter your email address. They will send you an email with the subject line "Confirm your email address". 
Simply click the link in that email, confirm your email address, and start taking surveys!
Complete your profile
By completing your profile you'll be able to start taking surveys for Rewards Points and redeem these points by shopping for free gifts. 
As an iPoll member, you'll also receive email alerts whenever a new survey is available and be invited to other members-only promotions and special offers designed just for you.
Check your dashboard
Start by checking your dashboard for the latest surveys that match your profile. From there, you can respond to any survey that interests you.
This is where you'll find all the surveys that have been made available to you today. 
From here, you can also access the Rewards Store, which holds different offers for earning credits for taking surveys and other activities online.
Start taking surveys
Get ready to take surveys whenever it's convenient for you. You'll be rewarded for completing online surveys with immediate payout into your PayPal account. 
Quickly build your rewards balance simply by answering questions – no complicated downloads or installs required.
See also: E-Research Global Review
Alternatives to iPoll
See also: GrabPoints Review
FAQs
Is iPoll a legit platform?
Yes, it is totally legit and trustworthy.
In fact, a lot of companies use iPoll to help them gather people's opinions. 
Can I make money on iPoll?
Absolutely.
iPoll is one of the most popular targeted survey panels in the world. Its members have been compensated thousands of dollars – and they are always looking for new people to sign up. 
If you want to make money online, you can do it with iPoll.
Is iPoll safe and secure?
Yes, iPoll is very safe and secure. When you take surveys on iPoll, your IP address is automatically blocked so only the survey creator can see your results. 
They also deploy the latest encryption technology (SSL) to ensure that your information is protected and you are always logged in to your account.
Can I register more than once?
No, users are not allowed to register multiple times. However, you can change your password on the Account page if you have forgotten it.
Can you fill iPoll surveys with mobile app?
Yes, you can fill iPoll surveys with a mobile app. Also, the site is mobile-friendly.
Conclusion 
If you want to start taking online surveys and make money online, then iPoll is your best bet. There are lots of reasons why you should try this survey site.
For example, sign up is for free. Their reward system is also excellent because they pay in dollars.
However, what they need to improve on is their customer support and they also need to solve the technical issue plaguing their app.
So, I recommend you make iPoll your preferred survey site and check it out if you haven't already.
Overall, iPoll is worth the try. 
For more paid survey reviews like this iPoll review, check my other survey reviews or see my list of the highest-paying survey panels.